The United Kingdom consists of four distinctly different parts, all speaking different languages and having a different history - England, Scotland, Northern Ireland, and Wales. It is a very major player internationally - politically, militarily, and economically. This is how the country compares to the United States:
| | | | | | | | |
| --- | --- | --- | --- | --- | --- | --- | --- |
| Country | Population | Population Growth | < 10 years age | GDP per Capita | GDP per Capita Growth | Toy Market Retail | Toy Market Growth 2017 |
| U.K. | 66 million | 0.80% | 12.2% | $41,603 | +1.01% | $4 400 million | -5% |
| U.S.A. | 323 million | 0.70% | 6.2% | $57,466 | +0.91% | $29.000 million | +6% |
The U.K is the fourth largest toy market after the U.S., China and Japan. It was until recently also one of the fastest growing markets - + 5.9% in 2015 and +6.3% in 2016. However, this came to a crashing halt this year when growth is projected at a minus 5%.
There are a number of reasons that led to this ,and all of them are linked to Brexit - shorthand for U.K.'s decision to leave the European Union.
The overriding reason for this drop in toy sales is the decline in consumer confidence which started at the end of 2015. Consumers knew that something was up when the Conservative Party won a majority in the House of Commons in May 2015 and immediately pledged to hold a referendum on the UK's membership of the EU. The referendum was held in June 2016 and a slim majority voted to leave the European Union - Brexit had become a fact.
This is what happened to Consumer Confidence levels during the same time: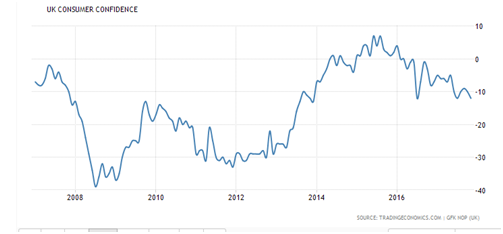 The major factor affecting consumer confidence in the context of Brexit is the question of whether the U.K. as a political entity will survive. There is the issue of Northern Ireland and the commitment by the Prime Minister, Theresa May, that there will be no hard border between Northern Ireland which is part of the U.K., and the Irish Republic which is part of the EU. once the U.K. leaves the block. This essentially means that Northern Ireland will continue to fully adhere to all EU rules even though it is part of a country that will no longer be a member of the European Community. How the powers to be will square this particular circle is so far unknown but whatever the final shape of the deal is, both Scotland and London - who voted to stay in the EU - will probably want to have the same arrangement. In other words, part of the UK would under this scenario be outside the EU, and another part be inside.
Consumers do not like uncertainly and tend to cut back on discretionary expenditures such as toys, preferring to put their pennies into a bank or under their mattresses instead. This accelerated throughout 2017 and gained further momentum when it became clear that the U.K. Government had great difficulties articulating a coherent exit strategy. At the same time, the value of the Pound dropped against the Dollar - between June 2016 and end December 2017 by 15% - which resulted in higher consumer prices since 80% of all imports are denominated in U.S. Dollars.
As far as the toy industry is concerned, most Brexit concerns center on the potential problems in bringing goods into the U.K. from the EU. Today, some 98% of the all toys sold in the U.K. are imported, and this is how these imports break out this year
Toy Imports from Asia [mainly China] 73%
Imports from the EU 22%
Imports from North America 4%
Imports from non-EU Europe 1%
The 22% from the EU would clearly be affected under most Brexit scenarios - the most likely effect would be more paperwork for the importation, clearance delays and higher import duties, All these could be handled but would not help. The most likely outcome would be an increase in imports from Asia and less imports from Europe.
Today, the U.K. is the preferred entry point to the European Market
So far, the U.K. is a pretty easy place to do business in - in fact, it is the easiest amongst the countries so far surveyed and a very desirable location given the fact that the country is safe, law abiding, and welcoming to companies wishing to establish themselves there.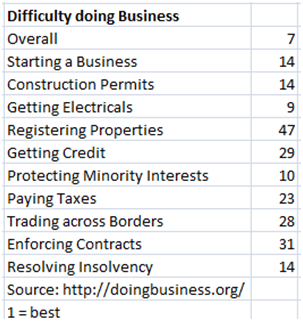 This is how the U.K. compares overall to all the other countries surveyed so far: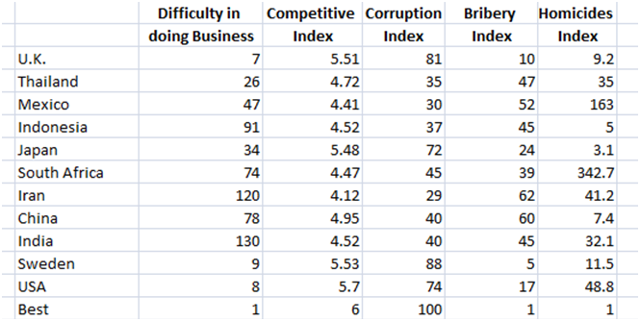 In addition, the fact that everybody speaks English is very helpful for anybody trying to operate in the U.K. and the fact that the country provides [until now] unhindered access to the huge EU market makes it the preferred location for North American companies expanding outside their base. However, most of the companies now directing pan-European operations out of the U.K. will need to rethink their geographical strategy in the context of Brexit.
This is how the U.K. Toy Market breaks out: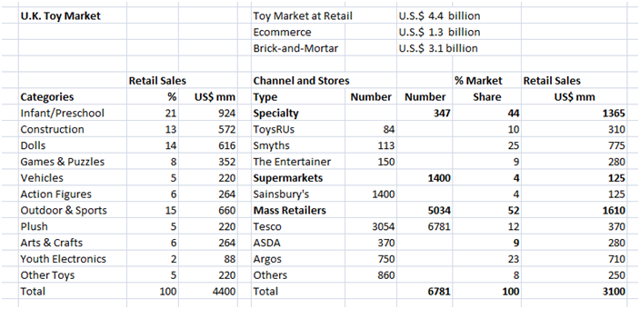 Note that Toys R Us U.K. is planning to close about one-quarter of its stores come Spring 2018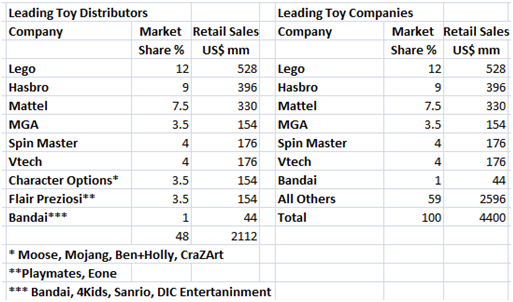 Source: Klosters Retailer Panel
Ecommerce is growing rapidly and is expected to reach 40% of all toy sales in a few years' time. This year, online accounts for nearly 30% of the total and the major factor are Argos and Amazon (NASDAQ:AMZN) who between them account for an estimated 80%.
Given the importance of the top three toy companies it behooves us to look more closely at them. One of my U.K. contacts, a national buyer at a leading retailer, who had been kind enough to provide the data indicated above, had the following to say:
Lego:
The company has its own distribution operation in the U.K. and sells directly to all major retailers. In so doing, it has, over the past three years, gained market share - from 11% in 2015 to 12% this year. However, they have in the U.K. the same problems as in other major markets - overdependance on movie IPs and absence of basic product innovation is eroding its consumer base. However, by exerting extreme pressure on the key retailers, combined with strong promotional and media support efforts, Lego has so far succeeded in maintaining and strengthening its position in this market place.
Hasbro:
Hasbro, too, has its own distribution and sales operation in the U.K. It seems that it has lost market share in 2017 - they went from 10% in 2015 to 11% in 2016 to now 9%. One reason for the decline is that they no longer have the overpowering dominance in the Action Figure space they previously enjoyed. Newcomers such as Spin Master's Paw Patrol, EOne's P J Masks, and Playmates' Ben 10 are beginning to eat their lunch. The fact that Star Wars has, in spite of all the buzz surrounding the Last Jedi movie, not made it into the top five product sales positions by end of November speaks volumes:
| | | | | | |
| --- | --- | --- | --- | --- | --- |
| Retailer | Best | Second | Third | Fourth | Fifth |
| TRU U.K. | Transformers HAS | Super Wings Sprout | Master Ram Papo France | Spiderman HAS | Minions Thinkway |
| Amazon UK | Power Rangers Bandai | Fireman Sam Simba* | PJ Masks EOne | Ben 10 Playmates | Avengers HAS |
| ASDA UK | P J Masks EOne | Batman MAT | Ben 10 Playmates | Paw Patrol Spin Master | Transformers HAS |
Source: Klosters Retailer Panel
As we have seen in the U.S. and elsewhere, movie fatigue has set in as a result of too many sequels of the same movie in too short intervals. Also, for exactly the same reasons, the collectors who represent a major consumer group for action figures have decided to take time-out. Star Wars is a good example. Three years ago, collectors in the U.S. represented about 30% of all "Star Wars: The Force Awakens" toy sales during the last quarter of 2015. Last year, this dwindled to about 15% in the case of "Rogue" and now this year we are looking at something shy of 10% for "The Last Jedi".
Mattel:
Also here we see a company with its own operations in the U.K. and has managed to lose market share in three years running - from 9% in 2015 to 8% in 2016 to now 7.5%.
The major reason for this trend is that their two previously totally dominant fashion doll brands are now being eaten alive by pesky newcomers such as MGA's LOL, Simba's Steffi Love and Funville's Sparkle Girlz. The fact that Barbie, typically in the first slot of the top five product sales positions, is now somewhere between #2 and #4 strikes me as symptomatic of the company's decline. The total absence in the same lineup by Monsters, which usually was in the #2 or #3 position, is equally telling.
| | | | | | |
| --- | --- | --- | --- | --- | --- |
| Retailer | Best | Second | Third | Fourth | Fifth |
| TRU U.K. | Steffi Love Simba | Barbie MAT | Dis Princess HAS | Trolls HAS | Enchantimals MAT |
| Amazon UK | Enchantimals MAT | LOL MGA | Barbie MAT | Muddy Puddle Lottie | Dis Princess HAS |
| ASDA UK | Sparkle Girlz Funville | LOL MGA | Sylvanian Epoch | Barbie MAT | Trolls HAS |
Source: Klosters Retailer Panel
There is little consolation in the fact that Hasbro is not doing much better in the doll space. Disney Princess used to be a clear #2 or #3, vying with Monsters for the follow-up position after Barbie. Now the brand is being beaten by Steffi Love, LOL, and other newcomers. Even worse, they did not even make the #5 cut at ASDA according to my sources.
For any toy company considering entering the U.K. market place, or contemplating a change in its distribution arrangement, this is a particularly difficult moment to reach such a major decision given the lack of certainty surrounding the U.K. toy market place. Should you go on your own or should you try to go the distributor route? It strikes me that the former has the highest risk/reward profile whereas the latter promises a much safer but potentially somewhat less profitable road. To find out more what such a company could expect from a distributor, I reached out to Mr. Clive Smith, President of Bandai UK - a company that not only distributes its own products but also represents in the U.K. market 4 Kids, Sanrio and DIC Entertainment. This is how he describes the role of Bandai UK in a distributor arrangement:
We treat any partner of ours exactly the same way as we do our own products. We have sales agents looking after the independent trade and our own sales force working with our larger national retailers throughout the U.K. and the Republic of Ireland. . We pay for all marketing costs. This, depending on the product, will cover all aspects, (excluding radio): TV, online, influencers, cinema and press. We can also discuss pan-European arrangements with our Bandai colleagues in France, Spain and Portugal. As far as new partnerships are concerned, we are always happy to discuss further opportunities, but we have to be careful to arrange a portfolio which is balanced and very importantly that does not conflict with our own Bandai IP and those of the other companies we already represent. Recently we have acquired STEM, Arts and Craft and Girls products.
In spite of all the uncertainty which Brexit brings with it, the U.K. continues to be an important toy market and one where any manufacturer with international aspirations needs to be present. For American firms in particular it is an easy market to enter and to do business in. Nevertheless, given the somewhat problematic near term outlook for the country, it is probably wise to minimize your risk exposure when making any arrangements there.
THIfraser
Disclosure: I/we have no positions in any stocks mentioned, and no plans to initiate any positions within the next 72 hours.
I wrote this article myself, and it expresses my own opinions. I am not receiving compensation for it (other than from Seeking Alpha). I have no business relationship with any company whose stock is mentioned in this article.