My September article about non-U.S.-listed drillers (read here) received warm welcome from readers, so I decided that they will be equally interested in the year-end update. Non-U.S.-listed drillers are interesting for shareholders of U.S.-listed drillers not only because they are competition, but also because they could be both takeover targets or acquirers themselves.
In this article, we will talk about Borr Drilling, Odfjell Drilling, Fred. Olsen Drilling, Shelf Drilling, Maersk Drilling and Northern Drilling. They are competitors to Diamond Offshore Drilling (DO), Ensco (ESV), Noble Corp. (NE), Ocean Rig (ORIG), Pacific Drilling (OTCPK: OTCPK:PACDQ), Rowan (RDC), Seadrill (SDRL), Seadrill Partners (SDLP) and Transocean (RIG).
Borr Drilling
Through a series of transactions, Borr Drilling amassed an impressive fleet of modern rigs: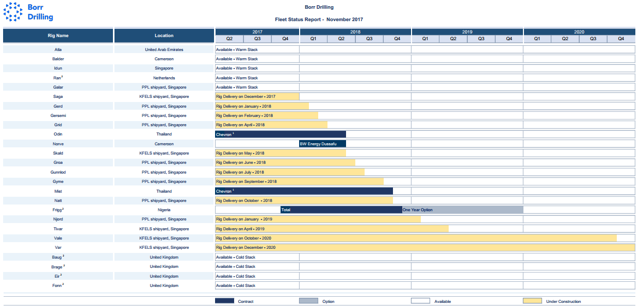 With this fleet, Borr Drilling became a mighty competitor to drillers who have significant presence in the jack-up space, like Ensco, Noble Corp., Rowan and Seadrill. Beginning in 2018, Borr Drilling will start taking delivery of its purchased newbuilds. I expect that the company will try to gradually put them to work. This situation will be a true test to Borr Drilling's ambitions and an important moment for the company's competition. In my opinion, we will hear more news from Borr Drilling as soon as the first quarter of 2018.
Odfjell Drilling
With its four harsh-environment semis, Odfjell Drilling found itself positioned to ride a recovery as the harsh-environment segment was the first one in the offshore drilling industry that got increasingly tight. Also, the company has recently entered into a drilling and well alliance formed by Aker BP.

Odfjell Drilling has a difficult maturity schedule with $950 million due in next two years. This debt will have to be refinanced as the size of Odfjell Drilling's operations leaves no chance to pay off this debt from cash flow. We've already seen how Transocean decided to purchase Songa Offshore together with its debt, so I would not completely rule out such a possibility for Odfjell Drilling.

Fred. Olsen Drilling
Fred. Olsen Drilling is a walking dead now – all its rigs are without work: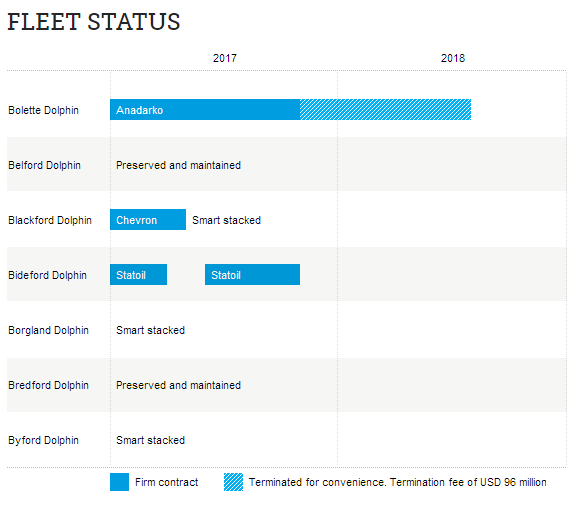 It looks like the company's strategy is to preserve its rigs as good as it can and to wait for new contracts. As of September 30, the company had $190.9 million in current borrowings and $451.9 million in cash, so the Fred. Olsen is a going concern for the next year. However, it will have to deal with almost $700 million of non-current debt, which is an impossible task when all rigs are without work.
In my opinion, the company is a clear restructuring candidate. Judging by assets (1 older drillship, 1 modern drillship, 5 older semis) and the size of the debt, the company is not a takeover candidate and not a real competitor to anyone. Perhaps, it will follow the path of Hercules Offshore and be liquidated, which will be good for the industry.

Shelf Drilling
Shelf Drilling is a significant competitor in the jack-up space. This year, the company bought 3 jack-ups from Seadrill and was able to put them to work. The latest fleet status report, dated November 19, contained a number of new contracts which was to be expected due to the company's shallow water specialization. In my opinion, Shelf Drilling will remain an independent player for the time being – the company is too big to be acquired and at the same time does not have the resources to purchase a competitor.
Maersk Drilling
Back in September, Maersk Drilling was rumored to be bought by Rowan. At that time, I argued that the rumor made no sense. My evaluation of this rumor has not changed: Maersk Drilling is just too big to be acquired. In recent news, Maersk Drilling entered into alliance agreement with Aker BP (the same agreement where the above-mentioned Odfjell Drilling is a participant), secured a five-year contract for the jack-up Maersk Inspirer with Repsol and also got a contract extension for the jack-up Maersk Intrepid with Total (TOT). As much as Maersk may want to get rid of Maersk Drilling to concentrate on the core business, it may be an impossible task given the size of Maersk Drilling's fleet and its solid backlog: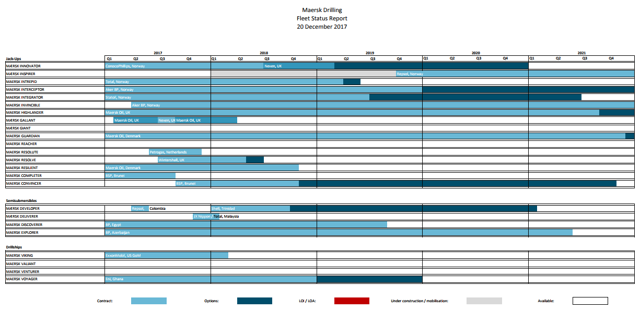 Northern Drilling
Northern Drilling is a start-up by Seadrill's John Fredriksen. The company started with a purchase of West Mira, a rig which was cancelled by Seadrill when the yard did not meet time deadlines. Recently, the company made its next move. Northern Drilling purchased a newbuild harsh-environment semi-sub Bollsta Dolphin for $400 million.
As I discussed in my offshore drilling industry outlook for 2018, the harsh-environment segment is already in uptrend. It looks like with Northern Drilling John Fredriksen is trying to make a move that failed with North Atlantic Drilling (OTCPK: OTCPK:NADLQ), which fell victim of low oil prices and sanctions on Russia. Northern Drilling is currently a small company, but it's ambitions may grow over time. It does not follow the same rapid expansion path as Borr Drilling, but may accelerate in 2018.
Conclusion: it's important to keep in mind that the offshore drilling world is not limited to U.S. – listed companies. Investors in U.S.-listed drillers should look at other industry players from time to time. The competition is intense, but both new contracts (as evidenced by Maersk Drilling and Shelf Drilling) and new money (Borr Drilling and Northern Drilling) are coming to the industry. The upcoming year will be full of interesting developments. Stay tuned.

If you like my work, don't forget to click on the big orange "Follow" button at the top of the screen.
Disclosure: I am/we are long NE. I wrote this article myself, and it expresses my own opinions. I am not receiving compensation for it (other than from Seeking Alpha). I have no business relationship with any company whose stock is mentioned in this article.
Additional disclosure: I may trade any of the above-mentioned stocks.
Editor's Note: This article covers one or more microcap stocks. Please be aware of the risks associated with these stocks.