2017 has largely been the year of Amazon (AMZN). The e-commerce giant seemingly captured one out of every five business headlines, with pundits constantly commenting on Amazon's impact on the ill-fated retail sector. Amidst the attention, Amazon stock (along with the rest of the FANG stocks) has risen to all-time highs, but there's one e-commerce company that benefits from all the same secular trends that hasn't gotten as much attention, and that's Wayfair (NYSE:W).
To be fair, Wayfair has done extremely well this year, with its stock nearly doubling as traders continue to pile onto the e-commerce trade. Yet even as Mayfair's stock sits near highs, the company still trades at a discount (on an EV/revenue multiple basis) to the majority of its peers in e-commerce, despite a growth rate that rivals its primary e-commerce competitors, Amazon and eBay (EBAY). See Wayfair's top-line growth versus peers in the chart below: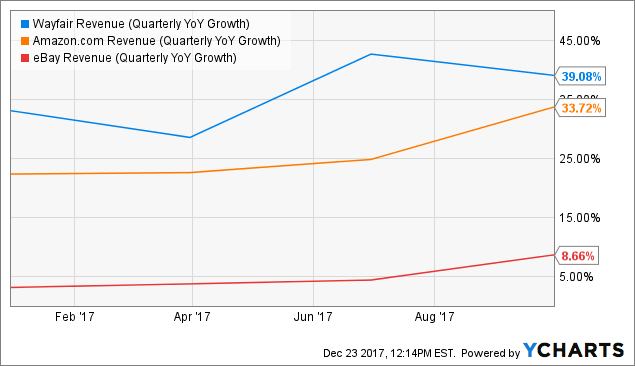 The investment thesis is a simple one: millennial generations will continue to pivot the majority of their spending into online channels in 2018, and under-penetrated categories such as furniture will see disproportionate growth as it comes off a smaller base. As Wayfair continues to capture the bulk of this spending as the e-commerce leader in the furniture space, its top-line growth, combined with margin improvements, will fuel a sustained rally in the stock.
Wayfair is currently trading off highs due to a slight Q3 miss, though much stronger-than-expected Black Friday/Cyber Monday sales have lifted the stock in early December. Any pullbacks in the stock should be viewed as a buying window to build a position for 2018 - I'm long with a price target of $115, representing 1.8x EV/FY18 revenues (assuming a conservative revenue growth rate of 30% in FY18) and roughly in line with where Stitch Fix (SFIX), the newly public apparel e-commerce company with a slightly lower growth rate, is currently trading. This implies ~50% upside to current levels, with potentially more gains if Wayfair's margins improve ahead of schedule and the company hits adjusted profitability sometime next year.
Wayfair: the leading e-commerce channel for furniture and home goods
Wayfair was founded in 2002 and is headquartered in Boston, and the company is still led by its founder Niraj Shah. In its early days, the company (then known as CSN Stores) operated an unruly network of ~250 websites each selling niche home goods items. In 2011, the founders consolidated their sites into a single online furniture marketplace called Wayfair. Today, the company operates five brands (with Wayfair as its flagship) and offers 8 million items across its portfolio:
Figure 1. Wayfair brands

Source: Wayfair investor presentation
Wayfair works directly with over 10,000 furniture suppliers and operates a lean data-driven supply chain model to minimize inventory holdings. It has also engaged a smaller set of its suppliers to create proprietary, owned brands for Wayfair. The company has also built a sophisticated logistics network, with the capability of offering 1-2 day shipping for small parcels and 1-week shipping for larger furniture items.
Wayfair has grown to over 10 million active customers (defined as a user who has made a purchase in the trailing twelve-month period), as shown in the chart below. A majority of Mayfair's revenues are driven from repeat purchases from customers, and the company generates, on average, greater than $400 in revenues from each active customer:
Figure 2. Wayfair active customer growth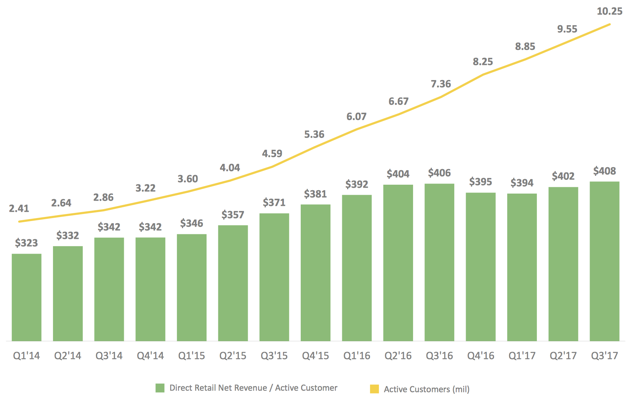 Source: Wayfair investor presentation
Wayfair offers a diversified array of furniture and home goods selections. The company's driving principle is that home decoration is a personalized choice - unlike house supplies in which consumers will search for a specific brand (Kleenex, for example), furniture buyers will want to view a wide array of choices to suit their personal style. This preference benefits the e-commerce model, where an example search for "loveseat" returns 3,293 results - whereas a brick-and-mortar furniture store can only fit a dozen models into their showrooms.
The below screenshot, taken from Mayfair's website, showcases its various departments and categories:
Figure 3. Wayfair categories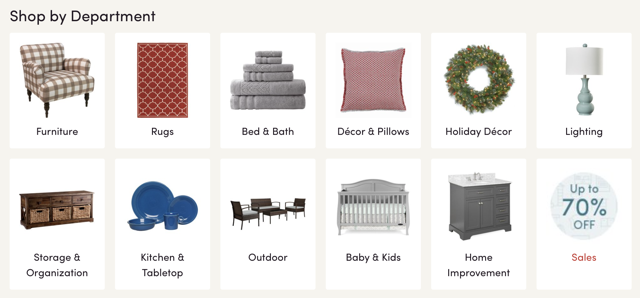 Source: Wayfair
Positioning in the industry
Wayfair estimates the annual revenue of the U.S. furniture and home goods market to be $270 billion. Of that total, Wayfair believes only 9% is penetrated by e-commerce, representing a large opportunity for Wayfair to "catch up" to the penetration levels seen in other retail categories:
Figure 4. E-commerce penetration in home goods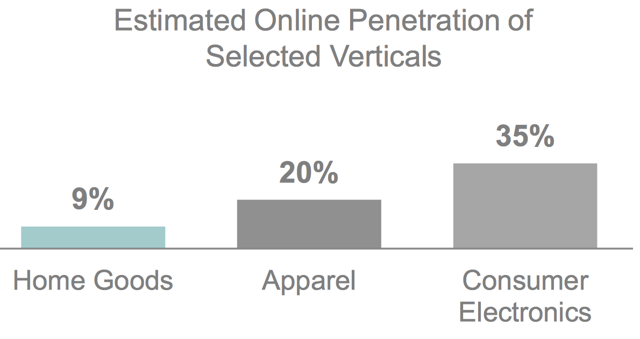 Source: Wayfair investor relations
As a side note: the European furniture market is estimated to be the same size as the U.S. Currently, Wayfair generates 92% of its revenues domestically, according to its 10-K, and has minimal presence overseas. With two major growth drivers in its belt - underpenetration of the U.S. e-commerce channel as well as overseas expansion - it's easy to understand why Wayfair has grown revenues at 50%-plus for the past five years, and why that growth trend is unlikely to decelerate too sharply.
Wayfair's primary competitors in the e-commerce channel are Amazon and eBay, though neither of those companies specializes in furniture. Brick-and-mortar competitors include familiar names such as IKEA, Bed Bath & Beyond (BBBY), and Crate & Barrel. Across its five brands, Wayfair is capable of capturing the entire income spectrum (the dollar figures in the pyramid below represent annual income of a typical shopper in that income bracket), with its high-end Perigold brand covering the luxury furniture segment:
Figure 5. Wayfair competitive landscape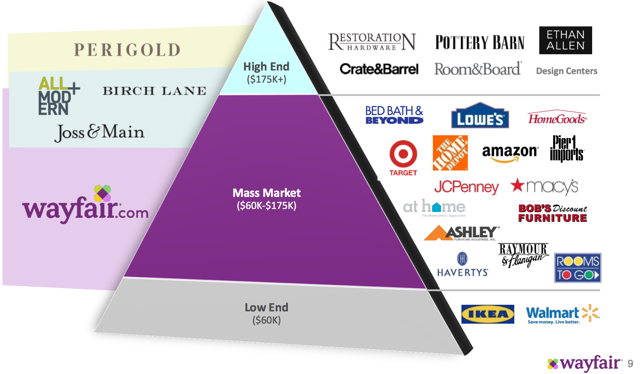 Source: Wayfair investor relations
Wayfair stock went through a scare period in early November when Amazon announced its entry into the furniture space; and typical of any Amazon-related headline, Wayfair and the rest of the furniture sector took a nosedive on the announcement.
However, the impact of Amazon to Wayfair may be more muted than one would expect. Wayfair has built a strong following and a core user base around its niche furniture market, unlike Amazon - which tries to be everything for everyone. In a market where shoppers are seeking more personalized purchases, churn to a big-box competitor like Amazon is likely to be limited. In addition, though Amazon also offers AR capabilities to project images of furniture pieces in customers' homes, Wayfair's AR features preceded Amazon and are a popular driver of downloads for its mobile app.
Financial overview and valuation implications
Though Wayfair's public profile has largely been buried under the more exciting names of the day like Stitch Fix, it belongs squarely in the high-growth technology category. The table below shows the company's most recent quarterly results from its Q3 earnings release in early November:
Figure 6. Wayfair Q3 results

Source: Wayfair Q3 earnings materials
In the nine months year to date, Wayfair's revenues have grown a robust 37% y/y to $3.28 billion. If we extrapolate the company's Q4 guidance for $1.315-1.340 billion in direct retail net revenue (which tends to be 98% of Mayfair's revenue base), we can calculate that the company's full-year FY17 revenues will be approximately $4.64 billion, based on the midpoint of Wayfair's guidance range, and representing 37% y/y growth over FY16's revenue of $3.38 billion.
Wayfair has seen a strong trend of growth over the past five years, when it first consolidated its business under the core Wayfair brand. The table below, taken from Wayfair's 10-K, shows the company's revenue growth since 2012 has remained constantly high in the mid-40s:
Figure 7. Wayfair top-line growth, 2012-2016

Source: Wayfair 10-K
These results speak volumes about Wayfair's ability to capture growing share in the furniture e-commerce space. Revenues in the most recent quarter actually accelerated to 39% y/y growth (over the full year-to-date's 37%), though it missed analyst estimates by just a hair.
As an e-commerce/retail play, Wayfair's gross margins are also extremely important. In the year to date, Wayfair has generated $786.7 million of gross margin dollars (representing 24.0% gross margin), with 30bps of margin improvement over the prior year's 23.7%. As the company continues to invest in proprietary brands and enjoy the benefits of scale, gross margin improvements should continue to drive the company's profit growth.
Wayfair's adjusted EBITDA metric is most likely the best lens from which to view the company's profitability, as it strips out non-cash charges such as stock comp and depreciation. The table below shows the company's addbacks from GAAP net income to its adjusted EBITDA:
Figure 8. Wayfair Adjusted EBITDA walkdown:

Source: Wayfair Q3 earnings materials
As seen in the results above, Wayfair has made deep strides in closing the gap in its losses - year to date, the company's adjusted EBITDA of -$45.8 million represents a loss margin of just -1.4% versus -3.2% in the prior year. Efficiencies captured in marketing and advertising costs, as well as the tick-up in gross margins, have driven the 180bp improvement in EBITDA margins year to date.
Looking longer term, the company has set an 8-10% adjusted EBITDA target as its long-term operating model. We can estimate that if Wayfair continues to improve adjusted EBITDA at a rate of 200-300bps per year, the company can hit this target in approximately 4 years, at a revenue base of roughly $12 billion. At this hypothetical revenue scale and profitability range, the company can generate roughly $1.0-1.2 billion in adjusted EBITDA per year - roughly a 5-6x multiple of its current enterprise value.
Figure 9. Wayfair long-term operating model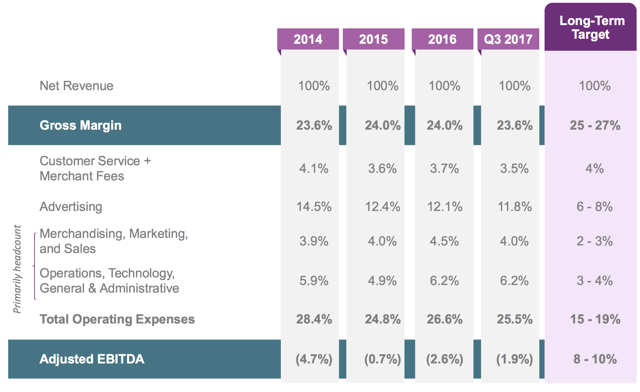 Source: Wayfair investor relations
As hypothetical profitability scenarios aren't often the best gauges of valuation, we can check Wayfair's valuation relative to its competitors in e-commerce. As seen in the chart below, Wayfair trades at a steep discount to the major e-commerce names. While it's true that, in eBay's case, the majority of revenues are platform revenues and generate much higher gross margins than Wayfair and thus deserve higher revenue multiples, eBay is growing in the mid-single digits while Wayfair's growth is sky-high in the high 30s.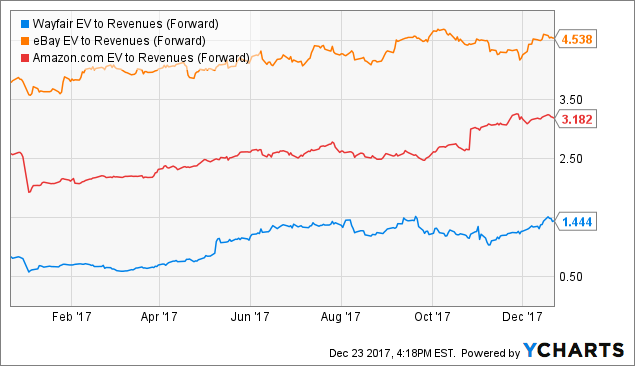 Final thoughts
Amazon has become a very crowded trade, and while its growth trajectory is virtually unassailable, the stock may be showing cracks in 2018 as investors tire of the story and the high valuation.
Wayfair, on the other hand, offers strong exposure toward the e-commerce theme at a much cheaper valuation. Wayfair also arguably offers a lot more growth potential, as Wayfair's niche in the furniture industry is vastly underpenetrated and has supported the company's supergrowth over the past five years.
Shares of Wayfair are highly likely to cross $100 fairly quickly in 2018, and my ultimate price target is $115, representing 1.8x EV/FY18 revenues (using a conservative 30% top-line growth rate).