In this article, we will elaborate how the situation in the South China Sea affects international trade. Specifically, we will point out why the South China Sea is crucial to global trade, how China's pursuit for total control over the region's trade routes and resources has led to rising tensions in recent years, how the U.S.'s involvement can affect certain companies that heavily rely on trade between both sides of the Pacific Ocean, as well as listing out companies that are benefiting the most from the status quo.
Why is the South China Sea Vital to International Trade?
Being surrounded by Hong Kong, the Philippines and Vietnam from the north, east and west, respectively, the South China Sea is an essential global shipping routs and one of the world's most resource-rich regions. 10 percent of the world's fisheries, around 11 billion barrels of oil and 190 trillion cubic feet of natural gas are located here.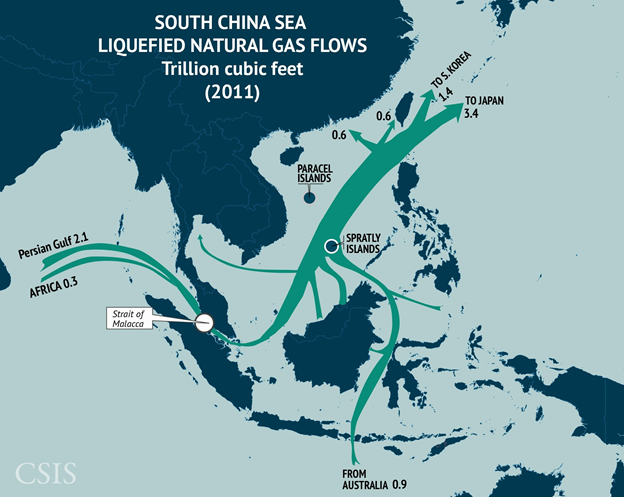 Source: Business Insider
33 percent of the world's maritime traffic flows through the South China Sea. This is a crucial trade route for China, Japan and South Korea, being the fastest shipping route between Asia and Europe.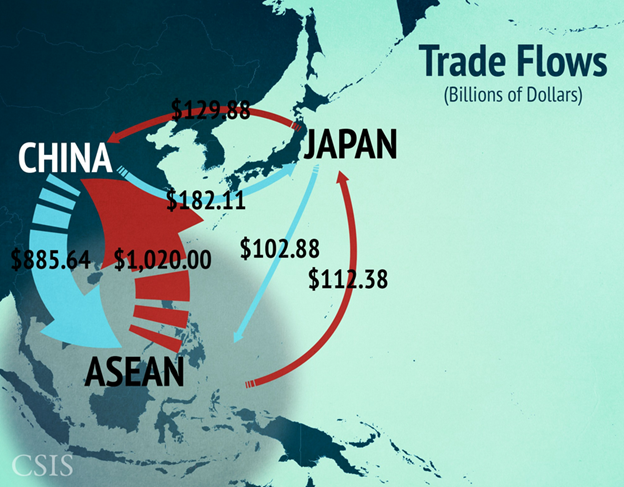 Source: Business Insider
The South China Sea is also a geopolitical melting pot, because China lays claims over the majority of the region, threatening military conflict with multiple countries, and most importantly, the U.S.
The area is claimed by Vietnam, Malaysia, Indonesia, Brunei, the Philippines and China. To further complicate the status quo, even Taiwan claims a portion of the region. However, from China's perspective, this is not a sovereign state.
How Did Tension in the South China Sea Start?
Nations have the right to claim 200 nautical miles of waters off their coastline. Since part of the South China Sea is over 200 nautical miles from surrounding nations, that portion is regarded as international waters. But with the "Nine Dash Line", China claims much more than that, 90 percent of the region to be precise.
But the whole area is boiling by dozens of incidents due to countries competing claims and defending their own territories.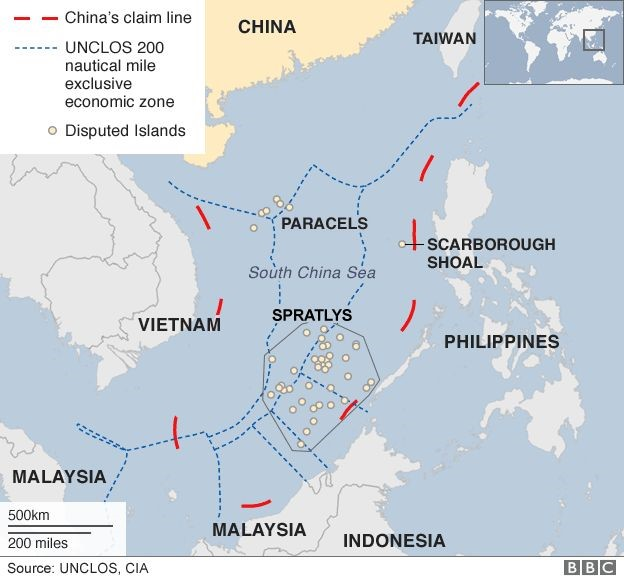 Source: UNCLOS, CIA (NYSEARCA:BBC)
After China built an oil rig in the contested Paracel Islands in 2014, it and Vietnam clashed. Recently, Chinese rocket launchers were built on a disputed reef to fend off combat divers from Vietnam.
The history of South China Sea's conflicts spans through many millennia. But the risk of worldwide conflict and international trade is quite new.
Over 250 land masses, including small islands, small piles of sand and submerged reefs, belong in the South China Sea. But when China started reclamation work, transforming artificial islands into naval bases, tensions in the region escalated.
Neighboring countries are concerned over China's 'militarization', believing that Beijing is preparing to control both resources and trade routes in the South China Sea.
China put little effort to reduce tension. It has even threatened to impose an "air identification zone" over South China Sea's airspace in 2013, meaning foreigner aircrafts need to have China's permission in order to fly over.
But in 2016, the Permanent Court of Arbitration (an international mediator) forfeited China's claim. However, without any enforcement of the ruling, Beijing has ignored this decision.
Still, after this news was broadcasted, Brent crude oil futures rose $1 per barrel.
The U.S.'s "Asian Pivot" Adds Up the Tension
These competing claims led the U.S. to become more interested in China's assertiveness.
American presence in Asia-Pacific became more prominent from 2013. U.S. warships were sent to the South China Sea, enforcing the region's principles of freedom of navigation.
The USS Chafee, a destroyer, sailed within 12 miles of South China Sea's disputed Paracel islands on October 10th 2017. Since President Trump came into office, this was the fourth "freedom of operation" mission.
Meanwhile, in another attempt to show military prowess, two American bombers flew over the Korean peninsula.
These tactics are more than just another routine patrol, since they are the most recent moves in the world's most volatile 'four-dimensional chest board'.
Yet China claims that the U.S. exaggerates the situation and promotes fear. While the U.S. claims China has violated international law, disregarding freedom of navigation in international waters and plotting for absolute control over the South China Sea.
Disputes in the South China Sea may seem to be on a regional level, but this is the centerpiece behind China and the U.S.'s geopolitical chess game.
In fact, if war occurs, not only will there be bodies lying on the streets, but jobs, markets and investments all over Asia will be affected as well.
The table below shows the top Asian companies that export to the U.S. They will suffer the most if regional conflict influences U.S. trade.
Top Asian Companies Exporting to the United States
| | | | |
| --- | --- | --- | --- |
| Ticker | Company Name | US revenue (%) | Market Cap (US$ Billion) |
| KRX: 012330 | Hyundai Mobis Co. Ltd. | 26.03 | 20.72 |
| OTC: OTCPK:KOTMY | Koito Manufacturing Co. Ltd. | 21.49 | 9.95 |
| KRX: 006040 | Dongwon Industries Co. Ltd. | 42.48 | 8.3 |
| KRX: 214370 | Caregen Co. Ltd. | 25.45 | 7.32 |
| OTC: OTCPK:TMICY | Trend Micro Inc. | 28.01 | 7.05 |
| OTC: OTCPK:KWHIY | Kawasaki Heavy Industries Ltd. | 23.77 | 5.69 |
| OTC: DNPUF | Sumimoto Dainippon Pharma Co. Ltd. | 51.73 | 5.46 |
| KRX: 085660 | Chabiotech Co. Ltd. | 67.93 | 5.25 |
| OTC: OTCPK:HPHTF | Hamamatsu Photonics K.K. | 28.61 | 5.23 |
| OTC: OTCPK:THKLY | THK Co. Ltd. | 27.75 | 4.72 |
In fact, US$5 trillion dollars of trade in Asia alone can crumble just by one false move.
But the U.S. also finds trade in the Asia-Pacific to be important. This region now accounts for 30% of the total U.S. exports, and it also provides cheap resources and labor that the U.S. needs (to ensure prices for U.S. consumers are low). 70% of the goods Walmart produces is from China. From the graph below, you can see that the South China Sea is home to 6 out of 10 of the U.S.'s major trading partners.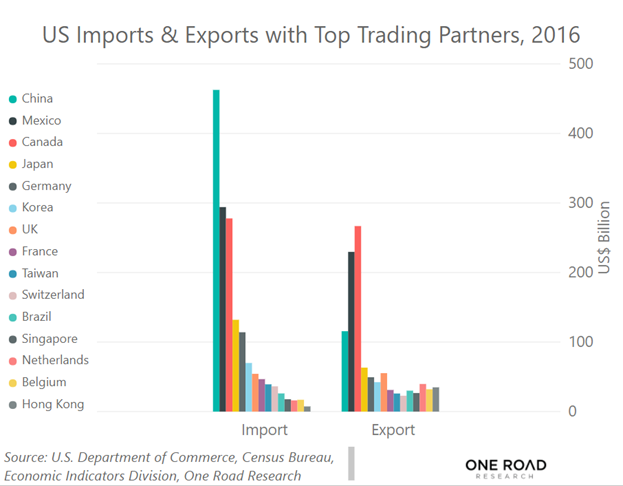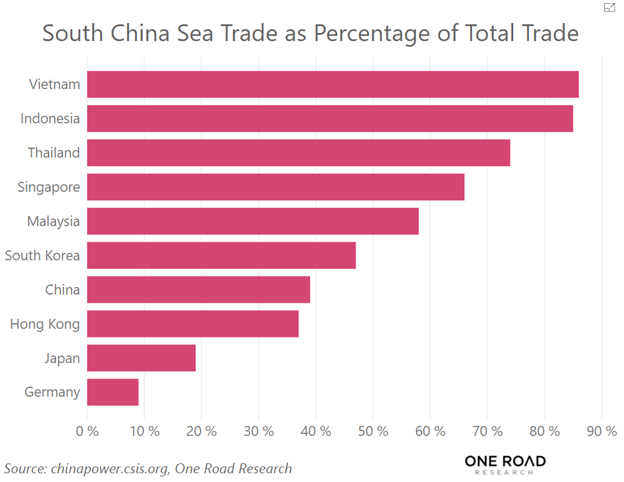 So of course, the U.S. is interested in maintaining peace.
How the South China Sea Games are Played
The South China Sea is now a battleground of pride for China, the U.S. and other smaller countries in the region.
No one wants to back off when the rules on international law and natural resources are stake. The situation is further intensified as Chinese power rises over time, posing a growing threat to the U.S.
Despite international pressure, China pledges to protect its historical claim, threatening to prevent other countries from entering the region. Other countries in turn are testing China's determination and undermining its claim.
China has told the U.S. to not interfere, and has stated that it will negotiate with other claimant countries one-by-one so that it can be on the high ground during the debate. However, the U.S. prefers the negotiation to take place with all of these countries at the same time.
Vietnam, Malaysia, the Philippines, Taiwan and other countries are squeezing themselves between two superpowers, hoping to not get crushed by either of them. The situation for these smaller countries is like being between the hammer and the anvil. Although many Southeast Asian nations rely on U.S. defense forces, as the graph below shows, the importance of trade with China is growing over time.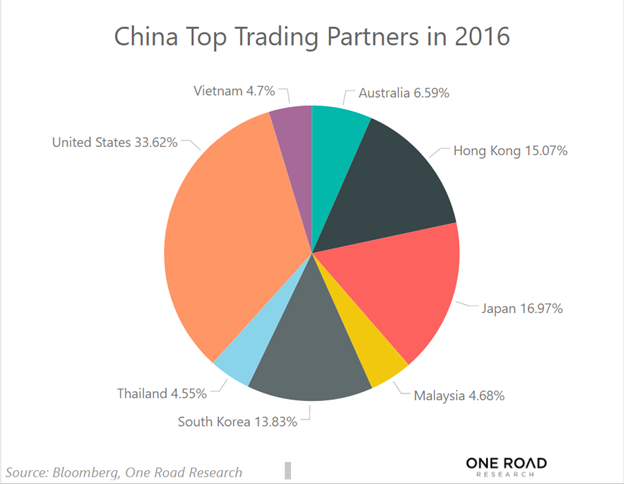 The U.S. may be Vietnam's top trade destination, accounting for 21 percent of exports (US$38 billion), but China is keeping up and by 2030, it will overtake the U.S.
Furthermore, China is Malaysia's biggest exporter of goods and service (16 percent, equivalent to US$39 billion). Also, US$16.2 billion (21 percent) of Filipino exports go to China, which is more than that to the U.S.
As a result, Chinese companies that depend on trade in the South China Sea will become more profitable as China moves forward to dominate the region.
The chart below shows that Chinese companies are going to profit.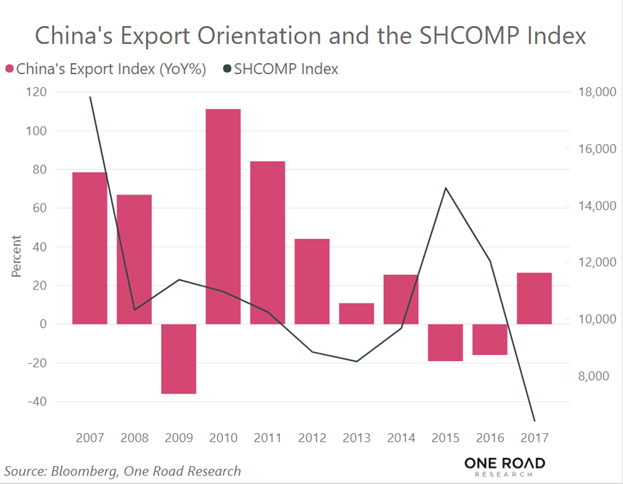 Biggest Chinese Exporters In The Shanghai Composite Index
| | | | |
| --- | --- | --- | --- |
| Ticker | Company Name | Foreign Revenue (%) | Market Cap (US$ Billion) |
| NYSE: PTR | PetroChina Co Ltd | 31.9 | 31.9 |
| OTC: OTCPK:BACHY | Bank of China LTd | 24.72 | 26.68 |
| NYSE: SNP | China Petroleum & Chemical Corp | 22.93 | 15.75 |
| OTC: OTCPK:CCCGY | China Communications Construction Co Ltd | 20.18 | 5 |
| OTC: OTC:CMCLY | China Molybdenum Co Ltd | 56.16 | 3.43 |
| CH: 601669 | Power Construction Corp of China Ltd | 22.8 | 2.83 |
| OTC: OTCPK:CGXYY | China Galaxy Securities Co Ltd | 97.73 | 2.81 |
| CH: 600309 | Wanhua Chemical Group Co Ltd | 20.86 | 2.74 |
| OTC: OTCPK:AIRYY | Air China Ltd | 34.89 | 2.6 |
| OTC: OTCPK:HRELY | Qingdao Haier Co Ltd | 39.85 | 2.07 |
Thank you very much for spending your time to read this article. We hope that it provides you valuable insights when investing in Asia.
Disclosure: I/we have no positions in any stocks mentioned, and no plans to initiate any positions within the next 72 hours. I wrote this article myself, and it expresses my own opinions. I am not receiving compensation for it (other than from Seeking Alpha). I have no business relationship with any company whose stock is mentioned in this article.
Editor's Note: This article discusses one or more securities that do not trade on a major U.S. exchange. Please be aware of the risks associated with these stocks.