If this country is ever demoralized, it will come from trying to live without work." ― Abraham Lincoln

First of all, I hope the entire Seeking Alpha community had a joyous holiday season with friends and family. May 2018 bring good health and prosperity to you and yours.
Biotech was roughly flat most of last week until a nice surge in the small biotech part of the market on Friday. Part of this was likely triggered by the buyout of small oncology concern Ignyta (RXDX) by European drug giant Roche (OTCQX:RHHBY). The ~75% premium paid to Thursday's closing price raised hopes of an uptick in M&A in the New Year now that tax clarity has been provided. Hopes that I think will come to fruition in 2018.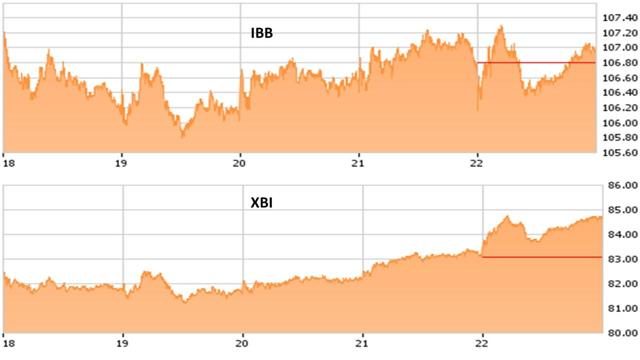 Amgen (AMGN) came out last week to say it expects to pay between $6 billion to $6.5 billion over time in taxes as it repatriates the ~$38.9 billion that currently resides in its overseas operations. This will be a 'win' for the U.S. Treasury and potential fuel for acquisitions, dividend hikes, stock repurchases and a bump up in R&D spending. Expect most of the large players in biotech and pharma to follow suit over time. This will be a nice tailwind for M&A activity in 2018 and beyond.
Author's note: To get these Biotech Forum Daily Digests as soon as they are published, just click here on my profile, hit the big orange "Follow" button, and choose the "real-time alerts" option.

Speaking of a pickup of M&A activity in the New Year, this morning it was announced Sucampo Pharmaceuticals (SCMP) will be bought out for $18.00 a share by Mallinckrodt (MNK). That is only just over a five percent premium to Friday's close but the stock is up some 75% since rumors of this deal first emerged in early December. Mallinckrodt believe purchase will add 30 cents a share to EPS in FY2018 and double that in FY2019 if acquisition is closed in a timely manner.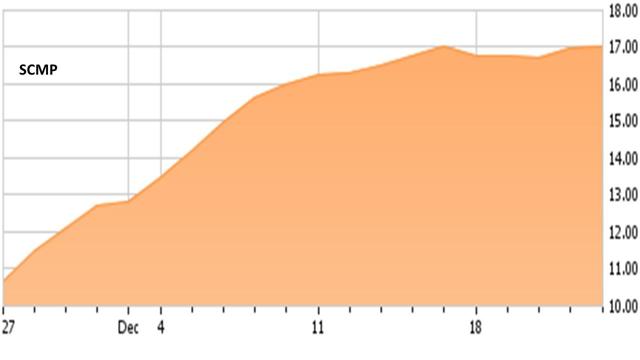 There is very little on the calendar through the rest of the year as one might expect with the holidays upon us. Neurocrine Biosciences (NBIX) could post results from a Phase 3 study of elagolix for the treatment of uterine fibroids by the end of the year but this is more likely in the first quarter. Neurocrine is developing this compound in conjunction with partner and drug giant AbbVie (ABBV).
Portola Pharmaceuticals (PTLA) is likely to take a bit of a hit in trading today. Friday the FDA announced that it was extending the PDUFA decision date for Portola's AndexXa biologic drug by 90 days to May 4, 2018. The agency has said it needs additional data from the company's ongoing ANNEXA-4 study as part of its continuing review process. AndexXa is looking to be approved for the reversal of the anticoagulant effects of apixaban and rivaroxaban in patients experiencing uncontrolled or life-threatening bleeding. I still believe the compound is eventually approved but the delay is disappointing.

Small cap Gemphire Therapeutics (GEMP) is starting to get some analyst mention in recent months after the analyst community has largely been dormant on the name through much of 2017. Last week Roth Capital ($30 price target) reiterated its Buy rating noting it like its 'transition' to a NASH play. The previous month H.C. Wainwright ($22 price target) reissued its Buy rating following Canaccord Genuity ($31 price target) reposting its Buy rating the previous month. We provided our own 'deep dive' on Gemphire in late September.
Needham ($14 price target, down from $16 previously), Jefferies ($13 price target) and Cantor Fitzgerald ($14 price target) all reiterate Buy ratings on Corium International today. Corium was set to manufactured the Twirla contraceptive patch by Agile Therapeutics (AGRX) which was closest near revenue driver for Corium. Unfortunately that product was hit by complete response letter (NYSE:CRL) last week.

Speaking of Agile, it is getting some analyst support despite the latest in a series of setbacks. Late last week, H.C. Wainwright ($5 price target), Noble Financial and Cantor Fitzgerald ($5 price target) all reissued Buy ratings after the CRL on Twirla hit. Cantor's analyst added this 'color' to his view
CRLs are a bummer but they can be revealing, too. AGRX announced today that the FDA issued a CRL for the Twirla patch ahead of the December 26 PDUFA date. According to the company, the FDA raised questions about patch adhesion testing, manufacturer facility inspection and whether adhesion may have impacted SECURE clinical trial results."
Taking a different view, Janney Montgomery downgraded AGRX to Neutral from Buy at the same time.
Note: New analyst ratings are a great place to begin your due diligence, but nothing substitutes for deeper individual research in this very volatile sector of the market. Many of the small-cap names highlighted in "Analyst Insight" will eventually appear in the "Spotlight" section, where we do deeper dives on this type of promising but speculative small-cap concerns.

It has been quite some time since we gave a positive shout out to Fate Therapeutics (FATE). We called the stock a 'must-have' small biotech concern late in February of this year. It has been a good year for the small oncology firm and the stock has gained some major momentum in trading this week.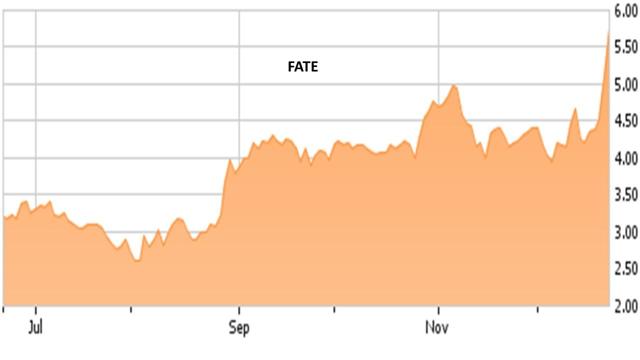 Given this, I thought we would briefly revisit this company in today's Spotlight feature.
Company Overview:
Fate Therapeutics (NASDAQ:FATE) is a small Tier 4 biotech company. The firm focused on developing and commercializing next-generation cellular immunotherapies for cancer and immune disorders. Fate Therapeutics currently has a market cap of approximately $175 million and trades at around $5.75 a share.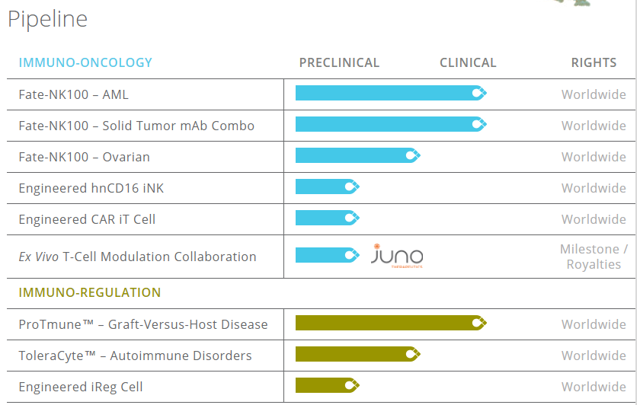 The company has several compounds in development within its pipeline which we covered in depth recently from our sister feed, The Busted IPO Forum.
Recent Events:
So what accounts for the recent rally in the stock? A few things are probably behind the nice rise in the shares. Today, the equity is probably getting a bounce due to the buyout of another small oncology concerned named Ignytaas we covered in our opening narrative..
On December 12th, the company presented positive interim data from the first phase of its Phase 1/2 clinical trial called PROTECT. This study is assessing ProTmune in patients with blood cancers. It presented these results at the 59th annual American Society of Hematology conference in Atlanta GA.
Positive analyst commentary has also been part of the recent rise of the shares. Last week, H.C. Wainwright and Raymond James reissued Buy ratings on the stock. This week it was Piper Jaffray initiated the shares as a Buy with a $10 price target. Raymond James' analyst provided some color behind his positive view on the company
We are maintaining our Outperform rating on Fate Therapeutics. At the 2017 American Society of Hematology (NYSE:ASH) meeting, the company provided an update from the Phase I portion of the ongoing PROTECT study as well as preclinical data of cell therapies derived from the company's induced pluripotent stem cell (iPSC) platform. Data from seven treated patients in the Phase I portion of the PROTECT study showcased a favorable safety, which in our opinion, serves as a foundation for the ongoing Phase II portion of the study. Additionally, given the early but promising preclinical data seen with iPSC derived off-the-shelf cell therapy products, the company expects to advance multiple product candidates into the clinic starting in 2018"
Verdict:
While the recent upward rise in the stock is most welcomed by shareholders of FATE; it is important to keep in mind the company's pipeline is still early stage. Any successful commercialization is years into the future. The company recently addressed near term funding concerns via a secondary offering. I still like the long term risk/reward of this small, speculative developmental concern. That being said, for those with large gains; I still always advise to cull some profits using the 'Jensen Rules' while letting the majority of your stake 'ride' within a well-diversified biotech portfolio.
Bureaucracy is the death of all sound work." ― Albert Einstein
Disclosure: I am/we are long ABBV,AMGN,FATE,NBIX,PTLA. I wrote this article myself, and it expresses my own opinions. I am not receiving compensation for it (other than from Seeking Alpha). I have no business relationship with any company whose stock is mentioned in this article.
Editor's Note: This article discusses one or more securities that do not trade on a major U.S. exchange. Please be aware of the risks associated with these stocks.