Stock Performance: Huge Week for Permian Pure Plays
The average stock performance in the Forge River Research Permian Pure Play fourteen-stock universe for the prior week was a strongly positive 9.47% return. This is a 9.07% over-performance versus a market return of a gain of 0.40% (based upon the SPDR S&P 500 Trust ETF (SPY)).
13 of the 14 stocks we track saw share price gains for the week, with an amazing ten showing gains of 10% or greater. The biggest and only loser for the week was Rosehill Resources (ROSE) falling 4.80% for the week. We wrote an article last week on ROSE titled: "Rosehill Resources Guides To 2018 Cash Burn Of $200M+, Completes Delaware Basin Purchase."
For the past 52-week period, our fourteen-stock Permian Pure Play index has underperformed the SPDR S&P 500 Trust ETF by 19.01%, including five stocks that are underperforming by 33% (two over 40%).
See chart below for details of the stock performance of our Forge River Research Permian Pure Play fourteen-stock universe (note, RED is underperformance and GREEN is overperformance versus SPDR S&P 500 Trust ETF).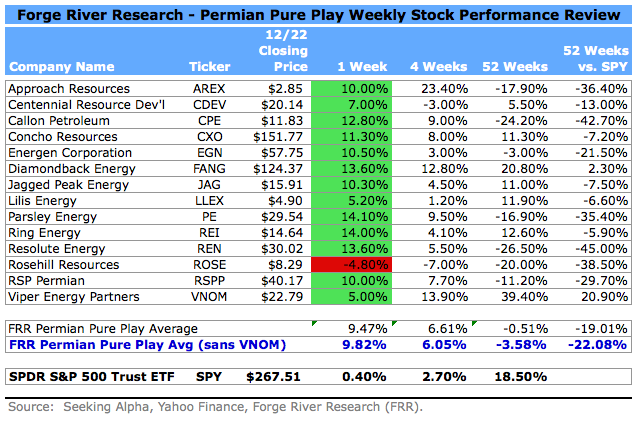 Oil Prices Remain Near 2017 Highs
West Texas Intermediate (WTI) crude oil price ended the week at $58.41 per barrel. WTI crude oil prices increased $1.11 (or 1.94%) from the prior week close. WTI is up 8.73% in 2017. Brent was up about 2.86% for the week as the Forties Pipeline System shutdown continues to support prices.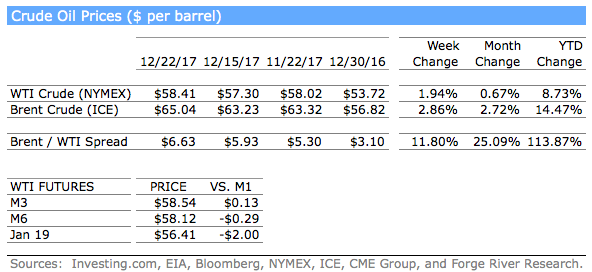 WTI Crude has slight contango in the earlier period (M3) and remains in backwardation in the outer periods; with M3, M6, and Jan 2019 trading at +$0.13, -$0.29, and -$2.00; respectively.
The Brent-WTI spread widened to $6.63 for the week ending December 22, 2017. The increase in U.S. crude oil production in Texas and pipelines bringing crude oil from other areas is putting downward pressure on the WTI crude price. The Forties Pipeline System shutdown is further exacerbating the Brent-WTI spread by pushing up Brent pricing in the near-term.
America oil exports continue to reach new highs
America oil exports are at new 2017 highs, averaging 1.53 million barrels per day for the past 13-weeks, up more than three-fold since the beginning of 2017.
We believe that the Brent-WTI spread remains a significant driver of record high America crude oil exports. Our chart below shows how U.S. crude oil exports responded to the higher Brent-WTI spread (even with the disruptions caused by hurricanes Harvey and Nate).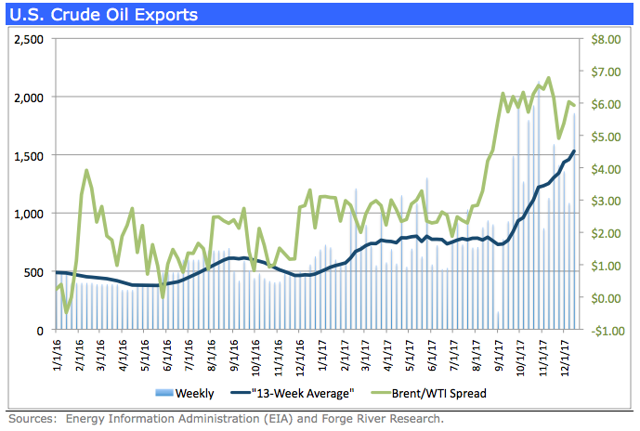 We believe that the Brent-WTI spread and America crude oil exports will be an evolving and continuing story in 2018 and beyond. In its most recent forecast, the Energy Information Administration (EIA) believes that the continued growth in crude oil production from the Permian basin in 2018 will result in a $4.00 Brent-WTI spread (EIA Short-Term Energy Outlook, December 2017). As new crude oil transport and port infrastructure comes online in 2018 and 2019, America crude oil exports should continue to achieve new record levels.
What is true for America crude oil exports is true for natural gas exports as well, on Thursday, December 21, 2017, Kinder Morgan announced a final investment decision on its $1.7 billion Gulf Coast Express Pipeline to bring up to 1.92 billion cubic feet per day of natural gas from the Permian Basin nearly 450 miles to the Texas Gulf Coast.
Company Specific News within Our Permian Pure Play Universe
With the holiday season upon us, most of the companies in our Permian Pure Play Stock Universe were very quiet.
Approach Resources (AREX)
AREX continues to see very strong insider buying activity with 1.15 million shares purchased during the week, almost double the 0.66 million shares purchased last week (see the Insider Activity section below for more information). AREX is the best performing stock over the past 4 weeks, up 23.40% during that period.
Energen Corporation (EGN)
EGN was quiet for the week other than an insider share purchase (see the Insider Activity section below for more information).
Diamondback Energy (FANG)
FANG continues to see sustained insider selling activity with another $1.86 million in stock sold week, after last week's sales of $0.70 million (see the Insider Activity section below for more information).
Jagged Peak Energy (JAG)
JAG has a new corporate address effective December 18, 2017: 1401 Lawrence St. Suite 1800, Denver CO 80202. All phone and fax numbers remain the same.
JAG has an insider sale during the week (see the Insider Activity section below for more information).
Lilis Energy (LLEX)
As part of its November 14, 2017 10-Q filing, LLEX had submitted an application under Rule 24b-2 requesting confidential treatment for information it excluded from the Exhibits to a Form 10-Q. On Friday, December 22, 2017, the confidential treatment order was approved by the Securities and Exchange Commission (SEC) as follows:
Based on representations by Lilis Energy, Inc. that this information qualifies as confidential commercial or financial information under the Freedom of Information Act,5 U.S.C. 552(B) (4), the Division of Corporation Finance has determined not to publicly disclose it. Accordingly, excluded information from Exhibit 10.5 will not be released to the public until August 10, 2027. The exhibit covers a gas gathering, processing and purchase agreement between LLEX (as seller) and Lucid Energy Delaware, LLC (as buyer).
Resolute Energy (REN)
REN saw some insider selling activity during the week (see the Insider Activity section below for more information).
Ring Energy (REI)
On December 12, 2017, REI held its 2017 Annual Meeting of Stockholders, at which REI's stockholders voted on the following matters:
Election of six (6) directors to the Company's Board of Directors to serve until the 2018 Annual Meeting of the Stockholders;
Non-binding, advisory vote to approve named executive officer compensation; and
Ratifying the appointment of Eide Bailly LLP as the Company's independent registered public accounting firm for 2017.
As of the record date of November 17, 2017, REI had 54,159,916 shares of common stock outstanding. A total of 46,583,163 shares (86%) were present at the Annual Meeting by proxy or in person. Each of the three proposals (more information available in the Proxy) was approved by REI's stockholders.
REI granted 296,000 shares (to our count) of restricted stock awards that will vest over five years to directors and management during the week. In addition, there were two significant insider selling transactions by REI's Chief Financial Officer during the week (see the Insider Activity section below for more information).
Rosehill Resources (ROSE)
On Thursday, December 21, 2017, ROSE issued a press release announcing that it completed the acquisition of an additional 1,940 net acres, certain mineral and royalty interests, and two producing wells, in the Southern Delaware Basin in Pecos County, Texas for $39.0 million ($33 million of which was allocated to the 1,940 net acres). The acreage was purchased under the same terms as the ROSE's recent, related acquisition of 4,565 net acres in Pecos County.
After the transaction, ROSE's has a total of 11,150 net acres (over 400 gross Wolfcamp A, Wolfcamp B and Bone Spring locations) with the potential for additional acreage acquisitions from the same seller, under the terms of the agreement which were amended a third time.
We covered the details of the original transaction and our reaction to the news in our article linked earlier in the piece.
Finally, ROSE continued to see very active insider activity including the continued sales by one of its largest shareholders, Geode Diversified Fund (see the Insider Activity section below for more information).
No News is, well … no news: All was quiet at Centennial Resource Development (CDEV), Callon Petroleum (CPE), Concho Resources (CXO), Parsley Energy (PE), RSP Permian (RSPP), and Viper Energy Partners (VNOM).
Insider Activity
This week we saw some insider selling activity AREX, EGN, FANG, JAG, REI, REN, and ROSE. See details in the chart below. The highlight of the week were the second straight week of substantial AREX insider buying, a positive sign for the company in our view. The insider selling at FANG remains fairly sustained and the REI Chief Financial Officer sold off a very significant 75% of his holdings.
Net insider activity for the week were sales of $1.36 million ($3.24 million in insider buys and $4.60 million in insider sales).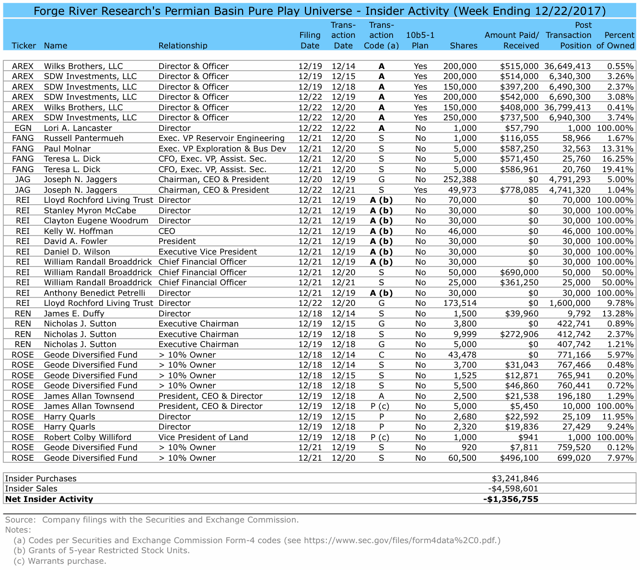 Permian Basin Rig Count
On Friday, December 22, 2017, Baker Hughes reported that the Permian Basin oil rig count increased by 1 rig to 398. Total U.S. oil rigs total 747, no change from the prior week, with the Permian Basin now accounting for 53.28% of the total.
The number of Permian basin oil rigs has grown 51.9% since last year's 262 rigs reported on December 23, 2016. Over the same time period, total U.S. oil rig count has grown 42.8% and all-other basins (excluding the Permian) have grown 33.7%.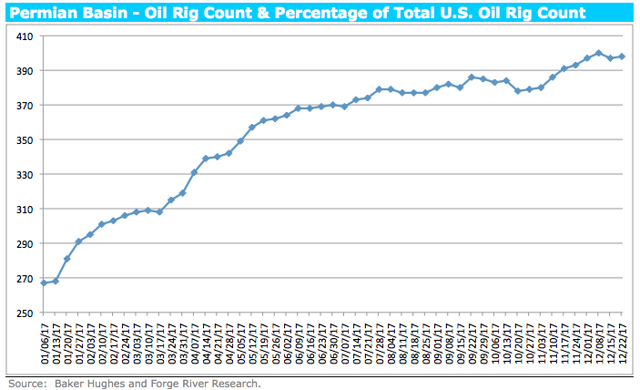 Selected Valuation Metrics
Forge River Research's Permian Pure Play universe of fourteen stocks saw an average 9.47% increase in share price this week. This pushed EV/EBITDAX to 13.8x, up from 12.6x the prior week (both based on a 3Q17 run rate EBITDAX levels). However, with oil prices rising recently and higher expected production levels, we expect EBITDA levels to increase substantially in 4Q17.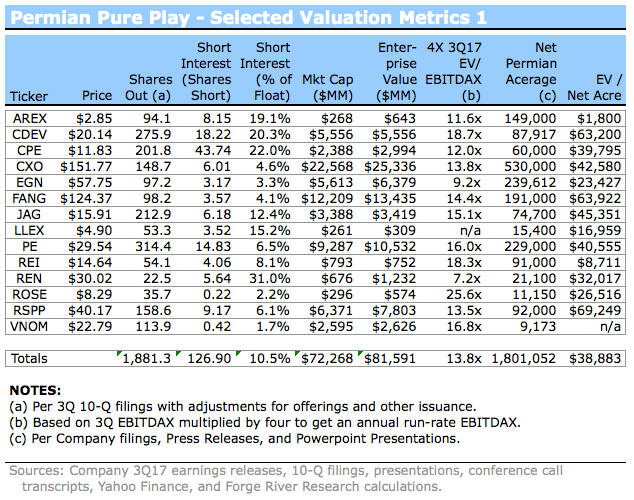 Permian Basin Mergers and Acquisition (M&A)
All was quiet on the Permian Basin merger and acquisition front, other then the previously discussed ROSE deal (see above under Company Specific News).
Check it out
Thank you for reading and please feel free to provide your comments, suggestions, or other feedback.
Also, please check out our prior weeks Permian Pure Play Stocks Weekly for information on the fourteen company in our stock universe for those weeks and other key developments in the Permian Basin:
Permian Basin Pure Play Stocks Weekly - Week Ending 12/15/17
Permian Basin Pure Play Stocks Weekly - Week Ending 12/08/17