The existing home market comprises a significantly larger proportion of the total residential real estate market than does new housing. As the economy has recovered from the deep damage of the real estate and financial crises, existing real estate sales have lagged and long reflected the extent of the damage to the average American. Existing homeowners have not come quickly to market, even as home prices have grown relatively attractive on a shortage of homes for sale. But an important shift may be in the works, as existing home sales recently marked a significant gain.
Existing home sales increased 5.6% in November to an annual pace of 5.81 million, exceeding economists' expectations for 2.4% growth to 5.55 million. Sales were up 3.8% year-over-year, again exceeding expectations for a decrease of 0.5%. The annual pace of sales in November marked the healthiest for housing in nearly 11 years.
Sales of existing homes were broad-based, save for one exception. Sales in the saturated Northeast market gained by 6.7%, while sales in the Midwest rose 8.4% and in the South gained by 8.3%. In the hot West market, where new home sales rose by a sizzling 31.1% in November, existing home sales edged lower by 2.3% in November.
This latest bit of good news followed a series of other data points also indicating a pickup in housing. More recently, I covered fresh data showing as much in new housing starts and in home builder confidence. Last week, we also received fresh evidence of stronger new home sales, which increased 17.5% month-to-month and 26.6% year-to-year.
However, last week's fresh report on existing home sales is more important proportionally speaking, given that the existing home market comprises a majority of total residential real estate sales. As of November 2017, existing home sales were running at about 89% of total sales, if we include condos and townhomes in the existing portion of the measure. If we look solely at single-family homes, existing home sales comprised about 87% of total single-family home sales, with new properties making up the rest.
For this reason, I was especially enthused to see sales activity increasing in the existing home market. However, these sales are still outpacing homes coming to market. Thus, housing inventory in the existing home segment decreased 7.2% in November, to 1.67 million homes for sale. Inventory was 9.7% lower than last year's number of homes for sale, and it was the 30th consecutive month of year-to-year decreases in inventory. At the current pace of sales, it would take just 3.4 months for the supply of homes available for purchase to be depleted, and that is down from 4.0 months one year ago. It's a problematic environment because it is driving home prices higher at a faster pace than personal income is increasing. The median existing home price increased 5.8% year-to-year in November, to $248,000.
However, rising home prices, along with a robustly growing economy and full-employment, should induce an increasing number of existing home owners to bring more properties to market. It also should serve as incentive to home builders to expand production of properties for sale. I believe that is reflected in the performance of builders' shares; but the housing demand-to-supply imbalance should serve continued gains in 2018 in my view.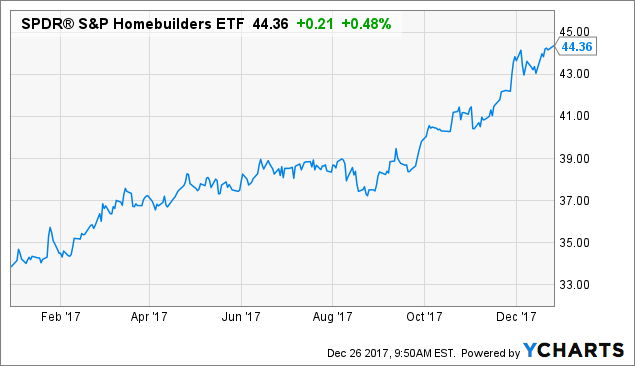 For now, I believe real estate sector investors, and investors in real estate relative shares, should be enthused to see sales of existing homes marking a decade plus high. Tax reform legislation should only serve to solidify and strengthen the economic outlook for 2018 and beyond, in my view, and should allow the real estate market to heal even further. For more of my work on the real estate sector, readers are welcomed to follow my column here at Seeking Alpha.
Disclosure: I/we have no positions in any stocks mentioned, and no plans to initiate any positions within the next 72 hours.
I wrote this article myself, and it expresses my own opinions. I am not receiving compensation for it (other than from Seeking Alpha). I have no business relationship with any company whose stock is mentioned in this article.