Note: This article was originally published December 8th on Value Investor's Edge, a Seeking Alpha subscription service.
Overview
The crude tanker market has been under pressure lately due to an influx of vessels hitting the water, which have increased vessel supply at a faster rate than demand growth for seaborne crude imports. This growing disequilibrium has been responsible for the decline in charter rates.
These rates hit an extremely low level in Q3 2017, with most segments experiencing loss-making charters. They have since rebounded but are still relatively low.
Companies engaged in the ownership of crude tankers include DHT Holdings (NYSE:DHT), Nordic American Tankers (NYSE:NAT), Euronav NV (NYSE:EURN), Frontline Ltd. (NYSE:FRO), Gener8 Maritime (NYSE:GNRT), Navios Maritime Midstream Partners LP (NYSE:NAP), Ship Finance International (NYSE:SFL), Teekay Tankers Ltd. (NYSE:TNK), Tsakos Energy Navigation Limited (NYSE:TNP), and Navios Maritime Acquisition Corporation (NYSE:NNA).
So what does 2018 hold? Will things improve, or will rates remain depressed? For the answer to that, let's take a closer look at major factors which will impact both the supply and demand sides over the coming year.
Supply
By far the biggest factor influencing the crude tanker trade in 2018 will be the ongoing oversupply of vessels, coupled with another year of high deliveries, which will continue to put pressure on the market over the course of the year.
Just how bad is it? Seatrade Maritime News reported on November 27th, that while "speaking at Mare Forum Hong Kong last week (Ralph) Leszcyznski, head of research for Banchero Costa, said that the current state of the tanker market was a "supply crisis"."
The previous update to the crude tanker supply side was published in July and can be found here. This article is available to all Seeking Alpha readers.
Supply Side X-Factors
So what are some things that can alter this outlook?
First, scrap prices for vessels have been climbing in 2017, and forecasts for 2018 look fairly positive on this front.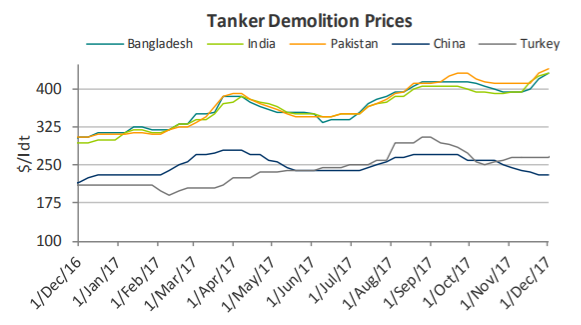 (Source: Intermodal Week 48 report)
In a September 6th report, I presented the following chart illustrating the closing gap between second-hand asset values and demolition prices.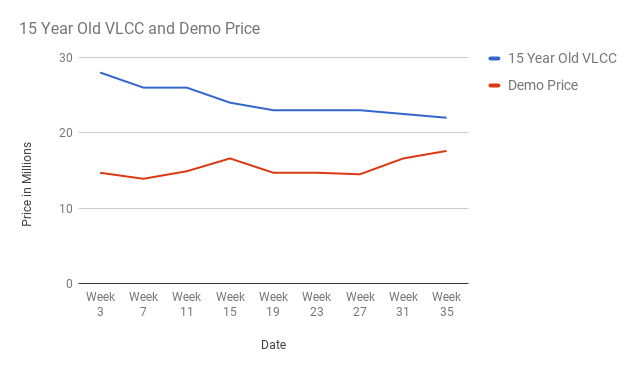 (Source: Data From Allied Shipbroking Chart By James Catlin)
Clarksons reports 11 total demolitions of vessels in the VLCC class since the beginning of the year, with 10 out of those 11 coming in the second half. Now, the VLCC class had the most pronounced move, possibly because they do experience a shorter life span when compared to their smaller counterparts, but other classes have followed suit to an extent.
Allied Shipbroking shows that asset prices have not moved much since the above chart was published, but demolition prices are up between 6% and 8% and approximately 10% above five-year averages. Heading into 2018, the potential exists for owners to send more vessels to the scrapyard than we saw in 2017 based on this dynamic. With the expectation of low rates throughout 2018, this incentive grows even stronger.
Also, as noted in the delivery schedule across all classes, while 2018 looks fairly busy, 2019 isn't nearly as bad. It is not unheard of for owners to ask shipyards to delay delivery of a vessel in order for the market to clear up. This not only helps owners take possession of their vessels at a more favorable time, but keeps the value fresh for an additional year, while delaying special surveys (a costly inspection done every five years for newer vessels and 2.5 years for older ones) at bay for another year. Therefore, the potential for greater slippage in 2018 exists.
Remember, the net fleet growth forecasts were using 2017 as a guide, but if both of these factors come into greater play for 2018, I would expect net fleet growth to be more along the lines of approximately 3.5%, which isn't so bad but still adds to a problematic situation, albeit in a very minor way.
Demand
The IEA forecasts 2018 crude demand growth to come in at 1.3%. But I believe the demand growth for crude tankers may be higher than that. The reason is because much of the global demand growth we will see will come from nations that are heavily import dependent.
In fact, China and India will lead the non-OECD oil demand growth in 2018. So let's start with what to watch in those economies and show why demand increases in these nations heavily favor crude tanker demand growth.
China
China is now the largest importer of crude, and the dependence on foreign oil continues to grow with no signs of abating in the near future. As China's domestic demand for crude oil continues to climb, domestic output has been falling.
The fall in output comes as large ageing fields mature and investment to maintain output or develop new fields has lagged, even as oil has passed the $50 mark, which would cover presumed production costs.
China's import dependence first reached 50% in 2008. Last year, the country met 64.4% of its crude oil demand with imports. This year, according to oilprice.com, Chinese oil import reliance is expected to hit 69%. In the International Energy Agency's (NASDAQ:IEA) World Energy Outlook 2017, they predict that China's oil import dependence will rise to 80 percent by 2040, which is roughly in line with BP's estimate of 79%.
Over the long run, the growth in Chinese crude oil imports is a major tailwind for the crude tanker trade, as approximately 80% will be coming in by sea even after pipelines from Russia are completed. Meaning of the 13 million bpd expected to be imported into China by 2040, 10.4 million bpd will be imported by crude tankers - the equivalent of unloading 5.25 VLCCs daily.
However, on negative factor has emerged for 2018 Chinese oil demand, and that is a likely slowdown in crude oil stocking activity according to Drewry, which is already underway.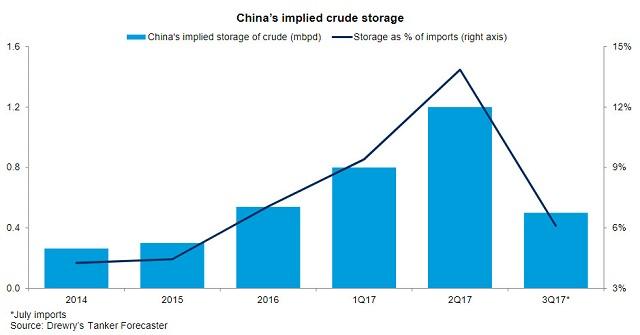 (Source: The Maritime Executive)
"We expect China's stocking activity to decline to 0.25 mbpd in 2018 from an average 0.75 mbpd in 2017, curbing global trade growth," commented Rajesh Verma, Drewry's lead analyst for tanker shipping. "The anticipated decline in China's stocking activity added to a slowdown in worldwide oil demand will keep global crude oil trade growth modest in 2018, which in turn will keep rates under pressure despite some slowdown in fleet growth," said Verma.
India
On a cumulative basis, India's crude oil production in the first seven months of 2017-2018 remained almost flat at 21,063 metric tonnes, decreasing 0.24 per cent as compared to the corresponding period a year ago.
But crude oil demand has been increasing significantly, and the country's import dependence is significant at around 82%.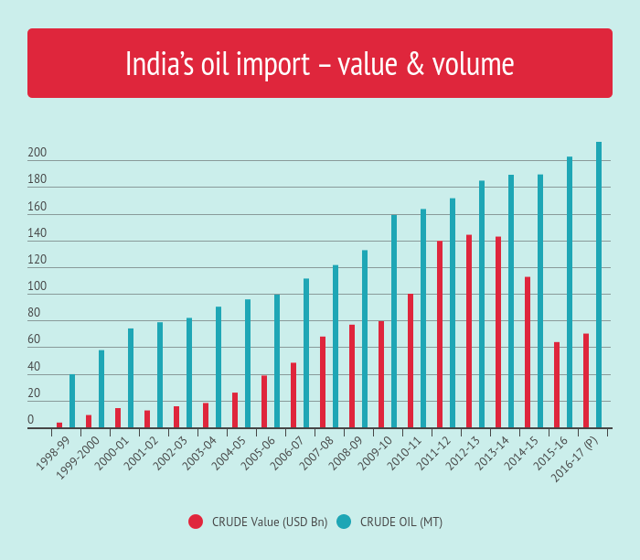 (Source: Moneycontrol)
Almost all of that is brought in by crude tankers.
Energy World reports:
Middle East region continued to be the largest source of crude oil imports at 63.5 per cent followed by Africa at 15.8 per cent and South America at 11.2 per cent during April-October 2017.

Crude oil imports from Organization of Petroleum Exporting Countries reduced to 83.6 per cent of total imports during April-October 2017 as compared to 87.8% of total imports during April- October 2016 with increased imports from non-OPEC countries like US, Canada, Russia, Kazakhstan and Sudan.
The increasing role of US imports into India is an important point, as we will see in the next section. U.S. crude oil exports to India were unheard of until 2015, when Washington eased tight export restrictions in parallel with its growing output. Rising steadily this year, U.S. oil in October accounted for about 3 percent of India's overall imports.
Going forward, India is one of the most important markets with regard to crude tanker demand growth.
Petroleum Economist reports:
Indian energy consumption has surged by around 6% per year over the past decade—and isn't about to slow.

With consistently high GDP growth - of around 7% for the past few years—the country's energy demand is set to skyrocket over the next few decades. BP expects the country's energy demand to rise faster than any other major economy between now and 2035—soaring by 128%.
By 2040, India's oil demand will rise more quickly than any other country's, according to the International Energy Agency, soaring from 6 million bpd now to 9.8 million bpd.
Getting the much-needed oil as cheaply as possible will be an important goal as to limit the impact of inflation on this red-hot economy. This could bring the price differential between WTI and Brent into play, as discussed in the next section, leading to a growing crude trade between the US and India.
Trade Flow Shifts
Recently, OPEC announced it will extend oil output cuts until the end of 2018, in a move that is expected to open the market to increased crude volumes from the United States and other exporters.
The effect (of the output cuts) we have found neutral as the reduction in Middle East export volumes was replaced by increased volumes from Atlantic Basin," said Robert Hvide Macleod, chief executive of leading tanker owner Frontline Management.
As discussed in a couple of my previous articles, this shift is a positive for the crude tanker market, as increased exports from the United States support charter rates, particularly in the VLCC, Suezmax, and Aframax classes, due to the increase in ton miles traveled.
As OPEC maintains output but demand continues to grow in 2018, with estimates at 1.5 million bpd, mostly out of Asia, several suppliers stand ready to fill the gap. Non-OPEC production is expected to grow by 1.3 million barrels per day in 2018, with most of it coming from the US, paving the way for significant ton mile demand gains, as the USG to Asia represents one of the longest hauls possible.
The back half of 2017 has already started to see significant increases in US exports, a trend which is likely to continue as OPEC maintains its production levels. Additionally, WTI continues to trade at a significantly reduced price compared to Brent, and even accounting for the increased voyage time, this difference makes WTI a much better option for those seeking light and sweet crude.
In fact, following the announced extension of the OPEC cuts, another Reuters article reported:
Asian refiners are losing no time reacting to a decision by OPEC and Russia to extend their agreed production cuts to all of 2018, ordering more oil from the Caribbean and Gulf of Mexico in a move that will result in lost OPEC and Russian market share.
But one factor that could put a damper on ton mile growth is the trouble out of Venezuela.
The South American country has lost 1 million bpd of production in the last four years and pumped less than 2 million bpd in October.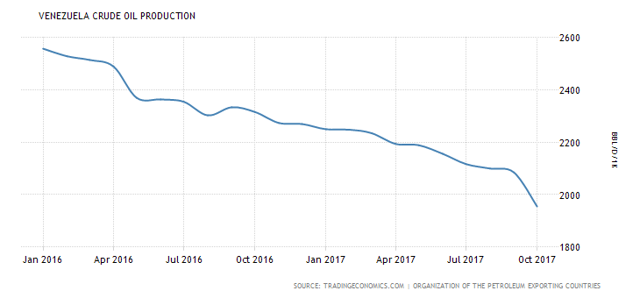 (Source: Trading Economics)
The country's crude production has been in steady decline over the past couple of years, largely due to the lack of investment, the shortage of available funds and ill-maintained production infrastructure.
Additionally, the quality of the exported crude is increasingly being called into question.
Bloomberg reports:
Refiners on three continents say that the quality of Venezuelan oil has been going downhill more noticeably this year. Buyers have turned away some cargoes, while claims for discounts on others are mounting, according to people with knowledge of the situation. In Asia, a buyer said claims for refunds on the poor-quality oil are piling up. A refiner in Europe and another in Japan say they have reduced purchases of Venezuelan oil not only because of low quality, but also because of growing concerns over doing business with the state oil company amid the ongoing humanitarian crisis and U.S. sanctions.
Europe and Asia are important consumers of Venezuelan crude. Exports to these regions represent one of the longest hauls possible, as they move to opposite sides of the world. Any loss in volume along these routes will negatively impact ton mile demand. Therefore, as US cargoes continue to grow, much of this benefit may be offset by declining long haul routes out of Venezuela. This ton mile trade off will be something to watch in 2018.
Inventories
The global build in crude inventories as prices trended lower provided some demand for crude tankers. That demand waned as inventories reached peak levels and storage became more scarce. But now we are in the drawdown phase, the first one since 2013. This distortion of trading patterns at first created a bullish trend, but now we are in a sort of bearish situation as inventories are being utilized, thus curtailing demand for crude tankers. These drawdowns appear to still be putting pressure on the market. Yes, this hurts the market but it is a temporary situation, and more importantly, a precondition for a return to more beneficial trading patterns. As inventory volumes return to more manageable levels in line with historical averages, this should allow trade flows to normalize, which could be a sort of tailwind for crude tankers once it all plays out.
What to Watch
Though charter rates would be the obvious answer, it is not the only one. Only a couple months after the dry bulk market reached a historic low, second-hand asset sales began to pick up and asset values increased accordingly. The increasing SnP activity provided confirmation that industry insiders not only saw value but were positioning themselves for an upcoming bullish cycle - one that is currently underway.
Right now, asset values in the tanker sector remain near multi-year lows.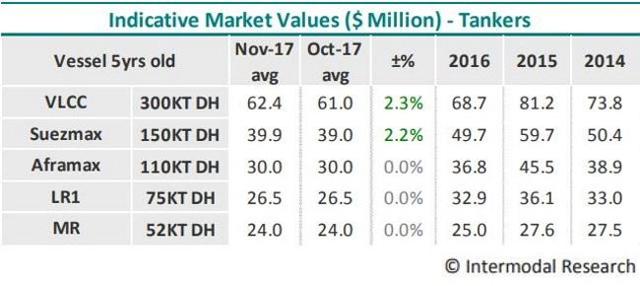 (Source: Intermodal Research)
This presents quite a bargain for a buyer able to swoop in at the right time and take advantage of these depressed asset prices with minimal exposure to a poor charter market. Therefore, timing is crucial.
According to Intermodal:
As far as SnP interest is concerned we could say that this remains flat in terms of active buyers, whereas in some cases we have witnessed a slight softening in asset values as well. This does not mean though that owners have withdrawn their interest for acquisitions; in contrast, they are closely monitoring the market in order to be able to make their move at the right time.
So, watching three areas - charter rates, asset prices, and SnP activity - will be key in helping to determine exactly when the market is starting to look up. Finally, as we saw in a previous article of mine, during the dry bulk market turnaround, stock prices of publicly traded companies did not provide a meaningful predictor of an improving market. Instead, the timing of a rise in stock prices coincided with these three indicators, which was led by charter rates.
Conclusion
The supply side paints another bearish picture unfolding for 2018, but there are a couple factors that can mitigate some of the hardship in the form of increased demolitions and the potential to negotiate planned slippage. Both, I think, are very possible and could alter the supply side picture a bit more in 2018 than 2017.
However, the demand side will need to cover some serious ground if it is to keep up with vessel supply - something I just don't see happening. Though global crude demand is expected to increase 1.3%, the demand for crude tankers should be much higher. But even if we come in at 2.5% demand growth - something my rough math shows is possible - we would still need ton mile demand to add another 1% and the bullish case on the supply side to come to fruition in order to see the market balance.
Now, this is not impossible, but something that is a bit unlikely at this point. This is why many remain a bit bearish regarding the outlook for 2018.
Drewry leaves no room for interpretation when it predicts that crude tanker freight rates are expected to decline further in 2018. And it is not alone in thinking that the demand side will not be able to overcome the supply side turmoil brought on by a thick order book which continues to be delivered into service.
Ralph Leszcyznski, head of research for Banchero Costa, was also less than optimistic, as he stated:
It's difficult to imagine how we are going to absorb these in the next 12 months or so, so we have seen poorer markets. I really don't see how things can significantly improve in the next 12 months.
But things aren't going to stay bad forever if owners can keep the supply side under control going forward.
Splash 24/7 reported some longer-term upbeat views from the recent Maritime CEO forum in Hong Kong.
Frans van de Bospoort, managing director of ship finance in the Eastern hemisphere for DVB Bank, believes we may soon be on the road to recovery, stating that "2018 will be dull and 2019 will be brighter."
Peter Sand of Bimco echoed that sentiment, noting that challenges will continue in the near term.
Henrik Hartzell, managing director of Heidmar, reckons the tanker market will start to pick up from 2019, with 2020 viewed as a very solid year.
Personally, 2018 looks like a year where crude tankers sort of muddle through as we digest the tonnage and trade flow shifts. Rates will likely stay low, but it is possible they will replicate 2017 instead of falling further if we catch a couple breaks. On the brighter side, 2019 and beyond have potential for the market to begin to turn.
The outlook I seem to agree with the most comes out of Fitch:
Demand growth will probably trough in 2017 due to high global oil inventories and OPEC production cuts. We expect rising global oil consumption, higher US exports and gradually moderating oil inventories to drive a moderate increase in tanker demand in 2018. Demand could therefore rise by about 4%, potentially matching supply growth.

This should halt the market's deterioration, but tanker rates are unlikely to receive a significant boost without further vessel scrappage or slower capacity growth. As a consequence, we expect tanker rates to remain at current low levels throughout 2018 though they should avoid the sharp falls of the last two years.
********************************

Thank you for reading, and I welcome all questions/comments.
If you would like to stay up to date on my latest analysis, I invite you to follow me on Seeking Alpha (click the "Follow" button next to my profile picture at the top) as I continue to cover all aspects of maritime trade.
For an in depth look at the current order book and expected net fleet growth taking into account demolitions and slippage please see the full article available to Value Investor's Edge subscribers.

Value Investor's Edge
Value Investor's Edge is a top-rated Seeking Alpha research service, which focuses primarily on the volatile, and therefore potentially very profitable, shipping industry. Members receive a two-week lead time on all reports by James Catlin, alongside exclusive content by J. Mintzmyer, a top-tier deep value analyst. This platform offers actionable trades and strategic income opportunities through Mr. Catlin's data-driven macro analysis, which often complements Mr. Mintzmyer's company-specific analysis. This winning team has developed a dedicated following of highly knowledgeable investors and industry professionals who also share their own thoughts and ideas on Value Investor's Edge.
Disclosure: I/we have no positions in any stocks mentioned, and no plans to initiate any positions within the next 72 hours.
I wrote this article myself, and it expresses my own opinions. I am not receiving compensation for it (other than from Seeking Alpha). I have no business relationship with any company whose stock is mentioned in this article.
Additional disclosure: I was long GNRT when this article was originally published on VIE, December 8th, but sold my position on December 22nd following an offer by Euronav to purchase GNRT.