Biotech Beast is a scientist and trader of biotech stock with a focus on trading around both clinical and regulatory catalysts. Biotech Beast's body of work on Seeking Alpha boasts an impressive proportion of PRO and Editor's Pick articles, as the author's analysis reflects a true expertise in the industry.
SA Editor Rebecca M. Oliver caught up with Biotech Beast earlier this month to get the author's take on positioning for 2018.
Rebecca M. Oliver: What do you expect to be the key driver of biotech market performance in 2018?
Biotech Beast: I can actually think of two key drivers of performance in 2018. Since biotech hit lows in 2016, the recovery has been gradual for good reason. While the dip in drug approvals which occurred in 2016 was rectified in 2017, there is still a deficit in M&A.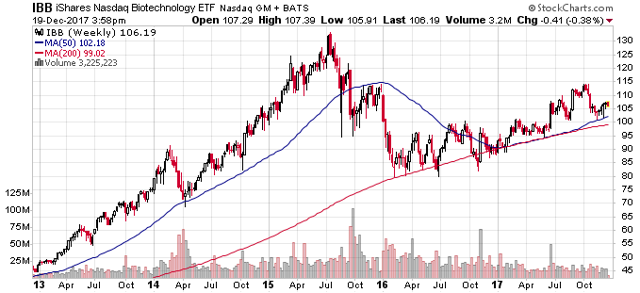 Figure 1: IBB Chart for past five years with weekly candles. Note the recent pullback during Q3 earnings, and more modest rate of growth comparing early 2016 onwards to the euphoria that was 2013 to mid-2015. Volume seems a little lighter in 2017, and the absence of generalist participation has been noted. Source: stockcharts.com.
The most recent earnings season also (Q3'17 earnings) brought some disappointment, with many key names meeting EPS and revenue guidance, but disappointing nonetheless. This has weighed on even smaller companies. I noted one example in my article on Omeros Corporation (NASDAQ:OMER). In some cases, guidance was very soft, and weak sales meant that it was barely met. In other cases, guidance for Q4/full-year sales was actually lowered.
If the rate of drug approvals holds steady, then the two obvious drivers of market performance in 2018 will be the return of M&A and fewer disappointing earnings (fueled by stronger sales and raised guidance). The latter is more important, since valuation is of course based on earnings, and so, strong sales driving revenue increases for the big names in the sector is key. A bull market can go on without M&A, provided the bottom line is intact on the balance sheet of the big names. Nonetheless, the presence of M&A fuels speculation, which allows for stretched valuations. Stretched valuations are great if you are long biotech, at least until a correction occurs, hence the importance of taking profits along the way.
RMO: As we approach 2018, are you bullish or bearish on the U.S. biotech industry?
BB: I am bullish, because I think M&A will return, because I think the rate of drug approvals will hold steady or increase, and because I think the next few earnings seasons might be a bit more encouraging.
RMO: How does the current political climate, both in the U.S. and around the globe, affect the risks and opportunities in biotech and/or healthcare for next year?
BB: What has obviously been talked about a lot is drug pricing. The cost of healthcare was an election issue throughout the 2016 election campaign in the US and has remained on the agenda in 2017. Drug pricing ex-US has also been an issue, and it is in these markets that we can see change slightly more readily. Since the election of Donald Trump, one thing that has been done about drug pricing is the more rapid approval of generics. This has some benefit on the cost of drugs but drug spend itself is less than 20 percent of healthcare spending in the US. Rapid approval of generics does nothing to stop pharma steadily escalating the price of drugs while they are still on patent, or just pricing them exorbitantly from the get go. In other markets, however, we do see a negotiating going on between pharma and government agencies which actually does affect the price of drugs which are still on patent. An opportunity presents for biotech and pharma if President Trump decides to focus his attempts to reduce healthcare costs by targeting something other than drug pricing, such as hospital costs.
The risk for the healthcare sector is that the Republican Party decides to go beyond what has been done thus far for drug pricing (I'm not sure the Republican Party can actually be credited for the rapid approval of generics, but that is another argument). Donald Trump has spoken previously about negotiating the price of drugs. I can't actually see how President Trump could achieve such a goal, but the prospect that drug companies might be able to charge less for drugs in the US is certainly concerning.
There are other opportunities created by the current political climate also. Tax reform in the US could see those generating revenue throughout the healthcare sector paying less tax, which means more money left over for R&D, marketing, dividends, share buybacks, and potential acquisitions.
RMO: Do politics or current events influence your investment strategy and/or your underlying investment principles?
BB: I think politics and current events must be considered and certainly influence my investment strategy. The healthcare sector has been reactive to lawmakers' actions in the past, so it seems reckless to pretend this might not happen again in the future. At the moment, I worry that any day President Trump might decide he wants to do more about drug pricing. If I have five long positions open in several biotech stocks with upcoming catalysts and no short positions open, those positions are going to take a hit. Such a hit will occur even if their underlying prospects of positive results from a clinical trial (or whatever other catalyst I am playing) remain unchanged. The small names follow the big names, so when pharma takes a hit on drug pricing concerns, so will small and medium biotech. I don't see smooth sailing ahead as a guarantee, so it makes sense to open up a short biased position or two to balance things out (I prefer to use options to get short exposure).
Regarding my underlying investment principles, those change less. For example, I still have a focus on assuring profit, even when I think a stock has more room to run, because getting too greedy isn't good.
RMO: In terms of asset allocation, how are you positioned heading into the New Year?
BB: I have very few positions open at the moment. It is hard to enjoy the holiday period holding multiple positions in the ultra-volatile small biotech stocks which I favor. I should say that while I am mostly in cash, that is not because I am bearish, as I noted I have a bullish outlook. For me, this means I will search predominantly for long positions in companies with upcoming catalysts. I do look to open up several new positions in the New Year and might make entries during the last few trading sessions of 2017, when many beaten down stocks are going cheap due to tax loss selling.
RMO: What trends in biotech do you see taking center stage in 2018? Which companies do you expect to lead or lag these trends?
BB: I expect action surrounding some of the most promising therapeutics to be a focus. CAR-T certainly comes to mind because it has been a focus in the past, and there have been recent developments. August 30, 2017, saw the first ever FDA approval of a CAR-T therapy: Novartis' (NYSE:NVS) tisagenlecleucel (Kymriah) for relapsed/refractory B-cell precursor acute lymphoblastic leukemia in children and young adults. NVS is also running Kymriah in trials of other types of cancer and submitted for approval in adult patients with relapsed/refractory diffuse large B-cell lymphoma (r/r DLBCL) in late October. Approval might come in H1'18 for NVS's Kymriah in this indication.
Following Gilead's (NASDAQ:GILD) acquisition of Kite Pharma (NASDAQ:KITE), the company notified investors of the approval of axicabtagene ciloleucel (Yescarta) in relapsed/refractory large B-cell lymphoma in mid-October. Relapsed/refractory Large B-cell lymphoma includes r/r DLBCL, and other subtypes, meaning that competition with NVS's Kymriah seems likely in the future. Like Kymriah, GILD's Yescarta is not a one trick pony, and we can look forward to data in other indications in the future also.
We might see plenty of discussion regarding a buyout of other players in the CAR-T space. One obvious candidate is Juno Therapeutics (NASDAQ:JUNO). JUNO recently presented data at ASH, which seems to have disappointed the market based on a slightly reduced response rate in DLBCL at 6 months compared to 3 months. Buyout speculation throughout 2018 should continue, however. SA's Biotech Phoenix has noted that JUNO's JCAR017 has a superior safety profile to Kymriah and Yescarta, which might make it a best-in-class therapeutic.
It is not just the approvals of CAR-T and clinical progress which will take center stage in 2018, sales and patient access are likely to be a key discussion. Two months following the approval of Yescarta, only five patients had actually received treatment. Insurance is the big issue with hospitals unsure how well the new therapies will be covered. If GILD wants to hit early sales targets, the company needs to work to rectify the issue promptly.
Progress in gene therapy is another trend in the sector with benefits for those with long exposure (CAR-T is considered gene therapy, but tends to be explicitly referred to as CAR-T, separately from gene therapy for other illnesses). Tuesday saw the approval of Spark Therapeutics' (NASDAQ:ONCE) Luxturna, for the treatment of Biallelic RPE65 mutation-associated retinal dystrophy, a rare disease which causes complete blindness in some patients. It has taken decades to get gene therapy right, but it seems like it is finally happening.
It is hard not to mention bluebird bio (NASDAQ:BLUE) then, which produced promising data at ASH with CAR-T, in collaboration with Celgene (NASDAQ:CELG), but also with its LentiGlobin gene therapy in both sickle cell disease and beta thalassemia. With a market cap of $8.4 billion at the time of writing, compared to JUNO's market cap of $5 billion (and accounting for the fact that any buyout would come at a premium), the number of potential buyers is probably limited. A buyout is not necessary for the company to continue to produce positive data with both gene therapy and CAR-T.
RMO: What's your take on the current and forward-looking M&A climate in healthcare?
BB: The current climate has hardly been encouraging, as mentioned, the lack of M&A is part of the slow rate of recovery seen throughout the healthcare sector. I think that the acquisition of KITE by GILD, however, is a taste of things to come. While I mentioned JUNO above as an obvious candidate, there are a number of other names in the CAR-T space alone which are buyout candidates such as Cellectis S.A. (NASDAQ:CLLS) and ZIOPHARM Oncology (NASDAQ:ZIOP). I can think of other companies outside of the CAR-T space which need to make acquisitions. I would like to see Alexion Pharmaceuticals (NASDAQ:ALXN) make an acquisition. The recent activist investor position by Elliott Management might be the push the company needs to go shopping for another therapeutic to add to its pipeline.
I'm not the only one who can see an uptick in M&A on the horizon. A recent buyside survey conducted by JPMorgan found that 84 percent are predicting increased M&A in 2018. Clovis Oncology (NASDAQ:CLVS) was the most named buyout target with Puma Biotechnology (NYSE:PBYI) a close second.
Many Big Pharma players such as Johnson & Johnson (NYSE:JNJ) and Pfizer (NYSE:PFE) are holding tens of billions in cash overseas.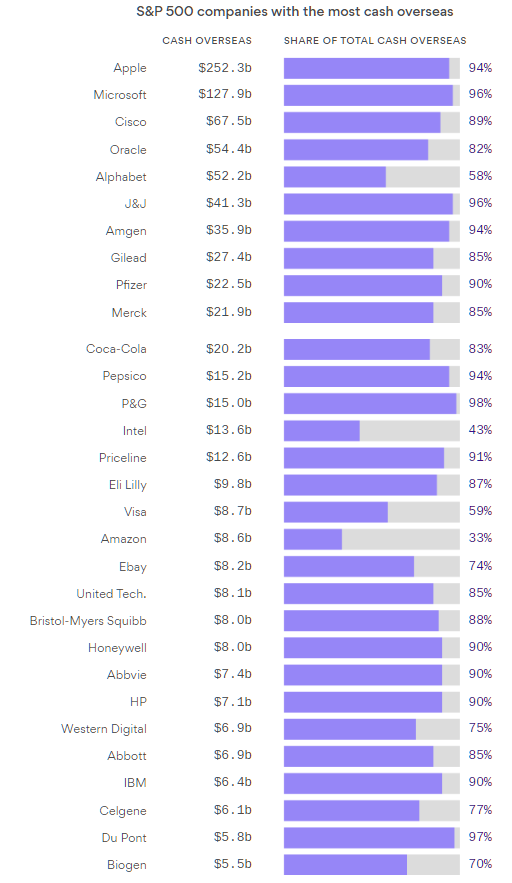 Figure 2: Cash reserves of major US companies. Note that some Pharma/Biopharma names are holding greater than 90% of cash overseas, making very large acquisitions challenging without bringing this cash back to the US. Source: Figure produced by Axios with data from company filings and Credit Suisse estimates.
The Republican tax overhaul would allow these companies to bring cash back into the US (repatriation) at lower tax rates (15.5 percent on cash and 8 percent on non-cash, as opposed to the current 35 percent), and might be considered a necessary step for stimulating M&A. SunTrust analyst, Yatin Suneja, has noted that the last repatriation tax holiday resulted in Pharma bringing back in over $90 billion in cash, but was not followed by a surge in M&A. As such, it seems that lower tax rates on repatriated cash are necessary but not sufficient to drive M&A. Another component is likely company-specific and based on the need of that company to look outside its own pipeline and portfolio for revenue generating assets. I see such a need right now, because as mentioned, the recent earnings quarter had some disappointing sales numbers and guidance. An acquisition can obviously be a quick way to allay investor concerns about revenue growth.
RMO: What surprise or hidden risk or opportunity do you see in the market that isn't getting sufficient investor attention?
BB: The potential for a record-breaking number of approvals in 2018. This year, we saw the appointment of new FDA commissioner Scott Gottlieb. Since that time, the FDA has been more flexible to accept NDA submissions for drugs deemed previously not ready for submission (more trials were needed). There have been three such examples since the appointment of Gottlieb with the most recent being Amicus Therapeutics' (NASDAQ:FOLD) migalastat, which might have otherwise spent additional years in trials. A higher number of drugs being submitted to the FDA might logically convert to a higher number of approvals than ever in 2018.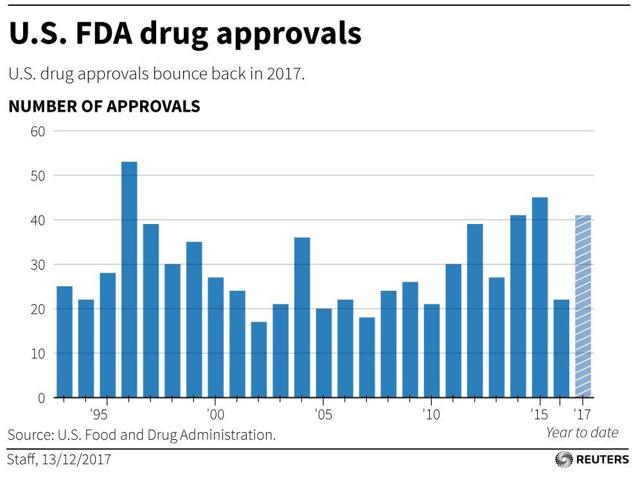 Figure 3: Drug approvals since 1993. The figure, produced December 13, is already out of date. Rhopressa and Luxturna were recently approved. Source: Article by Ben Hirschler at Reuters.
RMO: What issue(s) do you see as already priced in?
BB: Of the major issues discussed, I feel that the lack of M&A is the only thing priced in at the moment. So, the only way is up on that one. Drug pricing can weigh on the healthcare sector more than it already is at the moment if the republicans announce new plans to address drug pricing. As I alluded to previously, the rapid approval of generic drugs is great news, but price gouging with drugs still on patent is likely to continue.
RMO: What's one final piece of guidance or insight you would offer for biotech investors or those interested in the industry?
BB: A rising tide tends to lift all boats, but some more so than others. Some of the names you hear mentioned repeatedly, the most popular, the most hyped stocks, have already run up. It makes better sense to look for underfollowed companies, which might produce data leading to them becoming popular soon. The risk reward in these companies tends to be more favorable.