This article continues the discussion started in "Offshore Drilling: 2017 Recap And 2018 Expectations".
Transocean (RIG) has had an interesting year. The company sold its entire jack-up fleet to Borr Drilling; raised some debt taking advantage of its newbuild rigs on long-term contracts; and arranged a purchase of Songa Offshore, which is yet to be approved by shareholders. In my opinion, the upcoming year will be equally interesting. Here are my expectations for 2018:
I expect that Transocean will begin scrapping older drillships:

It is obvious that with the amount of newbuilds and the tough competition in the floater segment there's no place for older drillship technology in the market. The first ones from this bunch have been stacked since March 2015, or almost three years. There is zero chance that they will get work in the next 3-4 years and the cost of bringing them back to life will be massive. Thus, the company will slowly get rid of them. I don't expect a one-time write-down of all the older drillship fleet due to accounting consequences, but a pace of one drillship per quarter or one drillship per half a year seems appropriate.
2. I expect that Transocean-Songa deal will go through. While rather expensive, the deal does not put Transocean's future at risk as it is a de-facto purchase of Songa's backlog and a purchase of Songa's relations with Statoil. For Songa's shareholders, the deal provides the necessary financial stability.
3. Transocean may try to purchase more harsh-environment rigs. The harsh-environment segment is almost booming. There's tightness in the market and few rigs are available. Fellow readers and contributors even speculated that the recent sale of Seadrill's (SDRL) West Rigel was to Transocean. This is possible but I'd wait for confirmation. Anyway, such a move makes great sense as Transocean's harsh-environment segment is almost fully booked:

Where will the money come from? In my opinion, Transocean can use its remaining newbuild on long-term contract with Shell (RDS.A) (NYSE:RDS.B) to secure financing.
4. I expect that Transocean will be able to put drillships Deepwater Asgard, Dhirubhai Deepwater KG1, Dhirubhai Deepwater KG2 and possibly Discoverer India to work. My bet is that this work will likely start close to 2019 or beyond 2019. The recent upside trend in oil prices should have influenced oil producers' decisions. We'll see if this speculation is true in the first quarter of 2018.
5.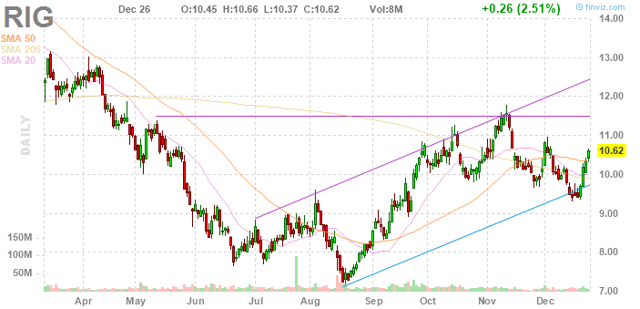 Should the upside in oil price continue, I'd expect to see Transocean's shares at the $13 level reasonably soon. In case oil stays around $65 for a significant period of time, retest of 2017 highs ($15 - $16) is possible. In case of downside, anything below $8 will be a big reason to buy.
6. Don't forget that actual financials of Transocean will continue to deteriorate. New contracts in the ultra-deepwater space still come at cash breakeven levels or slightly above them and cannot replace older-era contracts.
7. Another thing to keep an eye on is a lawsuit filed against Transocean by certain creditors. I'd expect that the company will try to settle it without turning into a major legal battle.
That said, I wish you all a great New Year in investing and elsewhere! See you in 2018!
If you like my work, don't forget to click on the big orange "Follow" button at the top of the screen.
Disclosure: I/we have no positions in any stocks mentioned, and no plans to initiate any positions within the next 72 hours. I wrote this article myself, and it expresses my own opinions. I am not receiving compensation for it (other than from Seeking Alpha). I have no business relationship with any company whose stock is mentioned in this article.
Additional disclosure: I may trade any of the above-mentioned stocks.