In investing, there is no losing: There are only winners and learning opportunities. While 2017 went okay overall, it was a year in which I learned an important lesson regarding short selling. I will share it below and hopefully, you can learn from my mistake without having to pay the same financial cost.
The learning process
In reviewing investment decisions, it is important to understand the precise nature of the error such that it can be corrected in one's process going forward. Further, it is important not to define an error as a trade in which money was lost. I have made money on errors and also lost money on procedurally correct investments. Thus, in reviewing this error, I will be looking specifically at the flaws in the investment process which led to the poor decision.
The Error
A while back, I shorted Terreno Realty (TRNO). My thesis was one of fundamental valuation in which TRNO was trading at a massive premium to peers, and I thought the premium was unwarranted due to a tendency to overpay for acquisitions and insufficient FFO/share growth.
Fundamentally, I still think I am right. TRNO's growth is about 8-10% a year during what is one of the best industrial REIT environments. That is not even close to enough growth to warrant a multiple in the high 20s. Eventually, I was forced to cover the position at a loss, but the lost money was not the error. Instead, it was a procedural error that will more often than not lead to losses.
Essentially, the problem was that my process had a hole in it. As a fundamental investor, I believe that stocks will eventually price toward their intrinsic value. Therefore, I bought stocks trading significantly below intrinsic and sold/shorted stocks above intrinsic. However, I failed to account for the time it takes for a stock to get there.
In a nutshell, the error was that my short process was simply the inverse of my buying long process.
Understanding the process
If a stock can be bought for its undervaluation, shouldn't a stock be able to be shorted for overvaluation?
Well, there are some key differences that make shorting not the inverse of buying long.
Infinite loss potential
Inversion of value at risk
Negative carry
The first 2 differences are related. When a long trade goes against you, the VAR (value at risk) decreases. With a reduced VAR, it becomes less risky to hang on to the position and wait out the storm. With shorts, however, the VAR goes up when the trade goes against you. Each percentage move in the stock price hurts more in absolute terms after the price has risen. This puts an investor into a tough spot.
Ceteris paribus, a stock shorted at $25 would be better shorted at $27 as it would be more overvalued. Fundamental instincts would suggest shorting deeper, but here is the problem, VAR has already increased so the deeper short has already happened. It becomes increasingly difficult in terms of both risk tolerance and capital availability to add to the short position.
With longs, it is quite easy to add to a losing position. A while back, I bought Simon Properties (SPG), and given the momentum behind negative retail sentiment, it quickly dropped.
Since my VAR dropped along with the price, I was able to add to the position at a reduced price without breaking risk tolerance constraints. The reduced VAR of struggling longs, along with the finite loss potential, affords a long investment horizon. This holds true even for the perfectly equanimous investor who would never exit a position from stress. A short position moving up can force a cover through a margin call whereas the same is only true of a long if the account is heavily levered.
Investment time horizon of a short position is further constrained by negative carry. TRNO has a small dividend compared to other REITs, but it is still a positive dividend which the short holder must pay out. This constrained my investment horizon and forced me to cover the short when the stock was still well above intrinsic value.
Quite simply, I was forced to cover TRNO at a loss before favorable price realization occurred, (if that happens) whereas the long position in SPG afforded an arbitrarily long time horizon so I was able to buy more near the bottom and can wait for however long it takes for price realization.
Correcting the process
Given the negative carry, and VAR inversion of shorts, I no longer believe a short thesis can be based on overvaluation alone. Instead, there must be a clear near-term catalyst that could bring the market price down to intrinsic value.
Additionally, shorts should be significantly higher conviction than longs. Markets go up generally, so a short on average needs substantial alpha to be profitable.
Best practices when shorting
There are ways of minimizing the downsides to shorting:
A pair trade with a higher dividend and more opportunistically valued long will turn the negative carry into a positive carry.
A smaller entry position size mitigates the difficulties of the inverse VAR behavior.
The infinite downside cannot be avoided entirely, but shorting well-established companies can reduce the chance of big price movements.
Opportunities through shorts
Presently, there are massive short positions among REITs.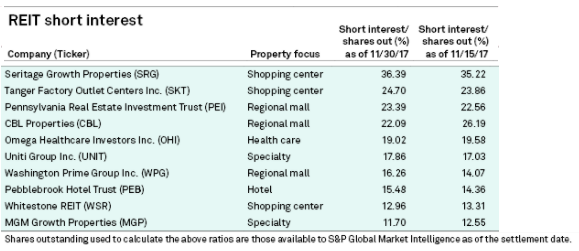 Depending on their entry timing, many of the shorts could be in trouble. Given the prominence of retail REITs on the most shorted list, I would venture a guess that there is no specific catalyst to the thesis other than a general belief in the death of brick and mortar retail. Those who shorted long ago are likely doing just fine as prices have come down, but the more recent shorts are likely underwater.
I view these as particularly dangerous positions to short as the dividend yield on many retail REITs is extremely high. What could one reasonably pair a Washington Prime (WPG) short with to make it a positive carry?
Uniti Group (UNIT) shorts are particularly in trouble because the stock had only slight short interest until after the price crashed. A substantial portion likely has a cost basis in the $15-18 range and UNIT just closed at $18.13. With a dividend yield over 13%, the clock is ticking, and I anticipate some forced covering in the coming months. One thing Uniti shorts have going for them is the presence of a near-term catalyst; Aurelius trying to force default of WIN's bonds which would potentially disrupt UNIT's cash flows. In previous articles, I have gone into length as to why I believe the situation will resolve in UNIT's favor, but at least I can understand what the shorts are betting on.
When it comes to Whitestone (WSR), the large short interest seems quite misguided to me. In addition to the high yield, which makes it expensive to hold, WSR's fundamentals have been consistently growing. Management's paycheck is far too large, but that is just a drag on growth rather than a short thesis. If the death of brick and mortar narrative among pundits turns around as it seems to be given the strong holiday sales, I anticipate WSR shorts will be among the first to cover.
Seritage (SRG) shorts are less reliant on the general narrative as it appears Sears is in trouble even if brick and mortar recovers broadly. I can see this one going either way, so for me, it is a no touch.
Conclusion
I learned the hard way that there are far more intricacies to shorting than just being bearish on a name. It has a time and a place, but shorting can also get investors into trouble. The more I invest, the more I realize how much I have to learn.
Disclosure: 2nd Market Capital and its affiliated accounts are long SPG, WSR, WPG, and UNIT. I am personally long SPG, WPG and UNIT. This article is provided for informational purposes only. It is not a recommendation to buy or sell any security and is strictly the opinion of the writer. Information contained in this article is impersonal and not tailored to the investment needs of any particular person. It does not constitute a recommendation that any particular security or strategy is suitable for a specific person. Investing in publicly held securities is speculative and involves risk, including the possible loss of principal. The reader must determine whether any investment is suitable and accepts responsibility for their investment decisions. Dane Bowler is an investment advisor representative of 2MCAC, a Wisconsin registered investment advisor. Commentary may contain forward looking statements which are by definition uncertain. Actual results may differ materially from our forecasts or estimations, and 2MCAC and its affiliates cannot be held liable for the use of and reliance upon the opinions, estimates, forecasts and findings in this article.