Welcome to the monster storage draw edition of Natural Gas Daily!
Natural gas storage draws for the next two weeks are expected to break some new records.
In our morning NGF report to HFI Research subscribers, we noted that the implied balance for the week of 12/29 was much stronger than we expected.
As of today, we have preliminary storage draw forecasts of -220 Bcf for 12/29 week. Here's how the implied balance stacks up to last year: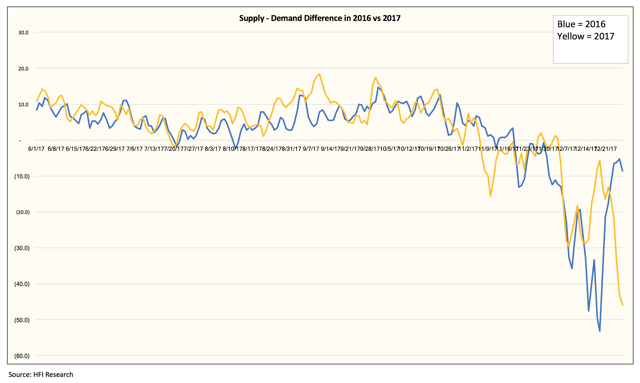 As you can see in the chart above, last year's peak implied balance came in the third week of December vs. this year is coming toward year-end.
In addition, weather forecasts for the end of December and the start of January intensified overnight resulting in a sizable storage draw forecast for 1/5 week.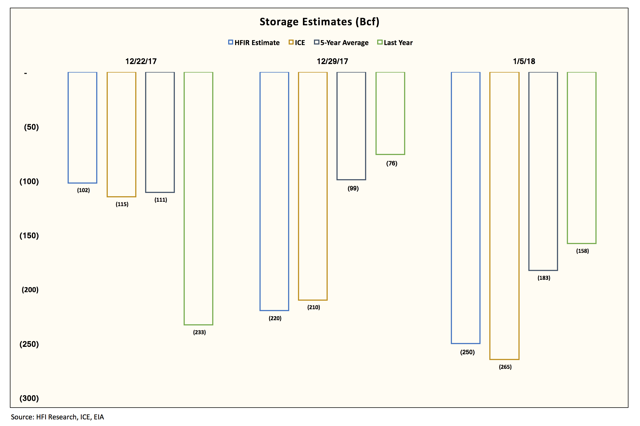 We revised EOS lower as a result of the latest changes from 1.47 Tcf to 1.43 Tcf.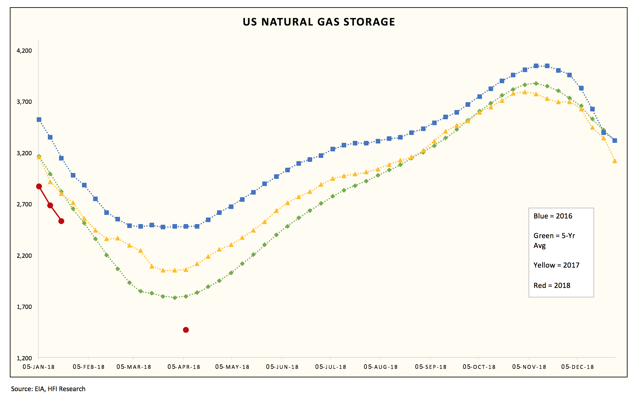 Consensus has EOS currently pegged at 1.41 Tcf.
As we explained in our NGD yesterday, if storage draws maintain at (100) Bcf per week (versus -93 Bcf per week from the five-year average), EOS should end solidly around ~1.45 Tcf or a deficit of ~340 Bcf to the five-year average.
As we enter the heart of winter heating demand season, following the weather changes will be even more important than before. We've recently updated the format to how we give weather forecasts. If you have found our public natural gas articles to be insightful, we know you will find our exclusive NGF reports to be even more helpful. If you would like to start receiving must-read daily updates on natural gas fundamentals and trader commentary, sign up for HFI Research Natural Gas.
P.S. - We are posting all weather updates live to our subscriber-only live chat platform twice a day.
Disclosure: I/we have no positions in any stocks mentioned, and no plans to initiate any positions within the next 72 hours.
I wrote this article myself, and it expresses my own opinions. I am not receiving compensation for it (other than from Seeking Alpha). I have no business relationship with any company whose stock is mentioned in this article.