As a conservative income investor, I'm predisposed to embrace utility companies. These stocks are designed to be dull, high-yield and reliable. They do not generate exponential returns unless held for decades. However, they provide slow-growth, dependable dividends with COLAs inline or above inflation, and are as integral to an income investor as FANG to the tech sector.
Traditionally, retirees can sleep well at night holding a diverse set of utility stocks, never worrying about the quarterly checks or looming volatility associated with the market at large.
Low beta, low maintenance, low stress. What's not to like?
But is that actually the case? Take a look at the volatility here:
The Volatile Utility Sector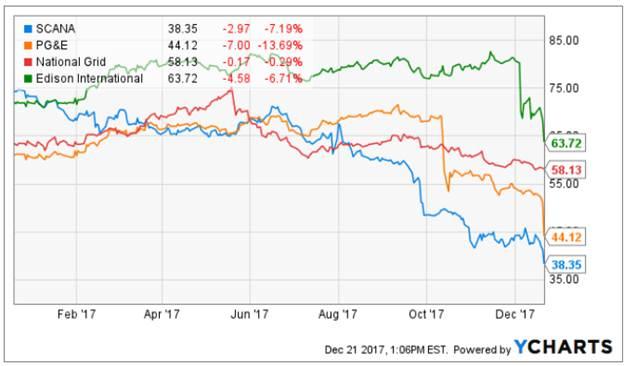 My tolerance for share price fluctuation is high, but 30%-plus drops in some instances can fluster even the most resolute shareholders. To put it nicely (sans invective) let me ask what a lot of us are wondering:
What the heck is going on!?
There seems to be a bit of a perfect storm ensnaring utility companies where even the mightiest are dragged into the slog. Let me highlight some of the various reasons starting with our newly single chaps across the Atlantic:
U.K.
Regulators are clamping down. In the U.K., Ofgem recently published a supplier standard variable tariff league table highlighting the rotten deals many customers are receiving. That follows a mass exodus of customers from most of the Big Six. In addition, politicians from both sides of the aisle have derided energy prices and are proposing nationalizing the industry. All of this has led to tremendous share price declines and that is before taking into account the second point on this list impacting ADR holders. Take a look at the top two suppliers Centrica and SSE over the past five years:

Currency woes. They say a picture is worth a thousand words and the five-year one below tracking the pound vs. the dollar is pretty revealing:
Sterling was under pressure long before Brexit and continues to languish in its aftermath with ongoing exit negotiations with the EU. There have been small positive signs like inflation hitting its highest point in six years but the pound remains historically weak. All of this has caused lumpy dividend amounts for US shareholders who are not receiving the declared dividend increases like their British counterparts. For example, United Utilities (OTCPK:UUGRY) shareholders are technically getting a biannual boost, but ADR holders have not been as fortunate due to the exchange rate. Life after Brexit will continue, but a depressed pound is expected until more clarity is provided from negotiations.
Domestic
Governmental Troubles: Scana (SCG). For those following along, that word alone typifies the current ugliness in the sector. Scana is under investigation for potentially misleading investors about the V.C. Summer reactor project. Scana walked away from the project while continuing to collect higher rates from consumers via the Base Load Review Act. But while that legislation was highly favorable to the utility and its shareholders, legislators and other governmental heads are now seeking to punish the company for its egregious mismanagement which could imperil the company's future. The share price has plummeted nearly 50% from $75 to below $40. And the worst may be yet to come.

Natural Disasters: Edison International (EIX) and PG&E (PCG). The California wildfires are now the costliest in U.S. history. While power companies may not be at fault for the blaze, PG&E suspended its dividend as lawsuits rack up. And a utility without a dividend is like a pencil without lead. Inverse condemnation in California's constitution may obviate the need for proof – meaning PG&E could be on the hook for massive liabilities regardless of the investigator's findings. Sharing these potential liabilities with ratepayers will be much more difficult after the Utility Commission denied a similar request from San Diego Gas & Electric weeks ago.

Rising Treasuries: The Federal Reserve recently raised the Fed Funds rate 25 basis points to a target range of 1.25-1.5%. This led to a jump in the 10-year treasury note (

via CNBC

):
This ascent is unwelcome news to capital-intensive utilities which borrow heavily to fund capex. PPL Corporation (PPL) for example plans to spend nearly $16B over the next five years. While revenues are largely dependable, the rise in interest payments may put pressure on power companies to request rate increases which may or may not materialize. Additionally, the Fed is expected to raise rates 3-4 times in 2018 placing additional pressure on dividend payouts. There also is a possibility that share price will decline in tandem with higher rates as investors flee riskier utilities in exchange for safer U.S. Treasuries or other debt instruments.
4. Environmental concerns: As a resident of the mid-Atlantic I'm acutely aware of the threat of

coal-ash removal

for companies like Duke (DUK) and Dominion (D). While these utilities will eventually pivot away from unclean energy sources, they have many legacy plants that provide cheap, reliable energy to thousands of customers. Those plants will take years to be decommissioned or repurposed and until that day they remain exposed. While President Trump is keen on rolling back environmental protections and the

FERC approved the Atlantic Coast Pipeline

, the overall trend is green and I'm confident that utilities less exposed to natural gas and coal like NextEra Energy (NEE) will face less scrutiny in the future. After all, politics is cyclical and administrations are temporary.
Only As Good As Your Friends in the Legislature
Despite the tumult listed above, there are some diamonds in the rough like NextEra, Duke and Dominion. Dominion has pledged to raise its dividend 10% annually over the next three years and its share price remains elevated.
However, even welcome news like that can be met with investor skepticism. Dominion raising its annual dividend as much as Apple (NASDAQ:AAPL) is a bit showy for a regulated monopoly and may raise the ire of legislators. In fact, 60 House of Delegate candidates refused donations from the utility loosening its stranglehold on the state of Virginia. I remain a loyal long-term holder of Dominion but I believe it is in their long-term interest to more gradually increase so as not to entice a sleeping giant to adverse regulatory action.
Ultimately, the success of Dominion and other regulated utilities is tied to government action (or lack thereof). Scana has demonstrated how quickly the rug can be pulled beneath you. PPL has demonstrated that even uncertainty can wipe away billions of market cap in just a couple weeks. Combined with rising treasuries, floundering currencies and natural disasters, utilities appear about as safe as a hurricane.
If I haven't scared you enough already, I haven't even taken into account the changing landscape of increasingly cheaper rooftop solar, battery storage, niche players and grid defection.
Suffice to say, the utility industry must react swiftly to navigate these many challenges.
Despite these obstacles, I still believe utility companies offer compelling long-term investment opportunities. However, it is important to pick your spots, diversify by ETF or otherwise and remember they are not "ultra-safe" as commonly advertised.
Disclosure: I am/we are long D, DUK, UUGRY, PCG, PPL.
I wrote this article myself, and it expresses my own opinions. I am not receiving compensation for it (other than from Seeking Alpha). I have no business relationship with any company whose stock is mentioned in this article.
Editor's Note: This article discusses one or more securities that do not trade on a major U.S. exchange. Please be aware of the risks associated with these stocks.