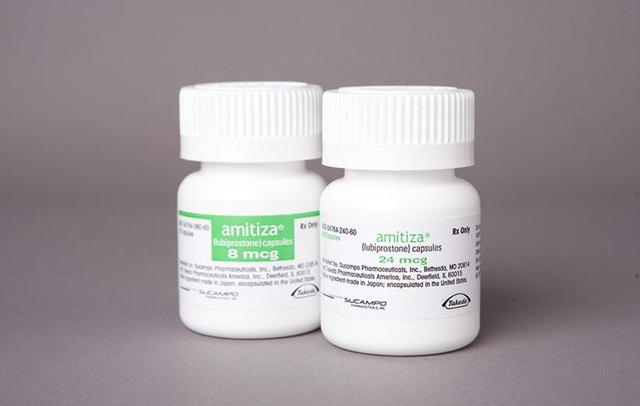 Sucampo's Amitiza. Source: Fortune.com
After Mallinckrodt (NYSE:MNK) experienced cracks in Acthar sales, I all but left the company for dead. Last week it announced it expected up to $500 million in deferred tax benefits after President Trump's tax cuts take hold. It subsequently announced the $1.2 billion acquisition of Sucampo Pharmaceuticals (SCMP):
Mallinckrodt Plc agreed to buy Sucampo Pharmaceuticals Inc. for about $1.2 billion in cash to add a treatment for constipation and experimental medicines targeting rare diseases, helping diversify its business away from the controversial drug that makes up the largest part of its revenue.
MNK was up as much as 6% when the deal was announced on Tuesday. Since, the stock has given back those gains. Mallinckrodt needs to change the narrative from its stalling top-line growth. This transaction may not be the catalyst management expected.
About Sucampo
Sucampo's primary focus lies in the treatment of gastrointestinal, ophthalmic, autoimmune, inflammatory, neurological and oncology disorders. Its primary product, Amitiza (lubiprostone), is marketed in the U.S. under collaboration with Takeda Pharmaceutical (OTCPK:TKPHF), (OTCPK:TKPYY). Amitiza treats chronic idiopathic constipation (CIC) in adults, irritable bowel syndrome with constipation (IBS-C) in adult women and opioid-induced constipation (OIC) in adults suffering from chronic non-cancer related pain. Gastrointestinal disorders ("GI") include irritable bowel syndrome (IBS) - a disorder of the intestine that affects 20 to 60 million people in the U.S. IBS is the most common disorder diagnosed by gastroenterologists and accounts for over 10% of visits to primary care physicians.
Sucampo's Q3 revenue of $61 million was up 6% Y/Y. EBITDA of $29 million was flat Y/Y. Its EBITDA margin was 47%, down from 49% in the year earlier period due to higher marketing expenses. Sucampo granted Par Pharmaceuticals a non-exclusive license to market generic Amitiza in the U.S. beginning in 2021; Par will split gross profits with Sucampo. It granted Dr. Reddy's (RDY) a license to market generic Amitiza beginning in Q4 2022; Sucampo will also share in a portion of Dr. Reddy's net profits.
Of note is that Sucampo is in phase 3 clinical trials for lubiprostone for pediatric functional constipation. Cancer Prevention Pharmaceuticals ("CPP") granted Sucampo the option to acquire a license to commercialize CPP-1X/sulindac combination product in North America. The product is in phase 3 clinical trial for the treatment of familial adenomatous polyposis ("FAP"). There are currently no approved treatments for FAP.
A Step In The Right Direction?
The acquisition could put Mallinckrodt in a similar light as Celgene (CELG) and Gilead (GILD) - an acquirer of late stage drugs. Louise Chen of Cantor Fitzgerald believes it could position Mallinckrodt as a specialty pharmaceutical growth company:
"Cantor Fitzgerald's Louise Chen and team 'like this deal' because it adds on drug, Amitiza, that is already on the market, and two more that are in Phase 3 trails. "We think this deal helps advance MNK towards its vision of becoming an innovation-driven specialty pharmaceutical growth company focused on improving outcomes for patients with severe and critical conditions."
Sucampo would represent about 7% of the combined company's pro forma revenue and about 8% of combined EBITDA. Mallinckrodt's Q3 revenue was off 11% Y/Y. Had Sucampo been acquired prior to Q3, Mallinckrodt still would have experienced a revenue decline. Its revenue will likely fall further as doctors and distributors are expected to reduce prescriptions for Acthar (39% of revenue) going forward. Pain related drugs and other controlled substances (18% of revenue) fell 27% Y/Y. The government has made a concerted effort to tamp down prescriptions of opioids which could stymie sales going forward.
Mallinckrodt trades at 5.7x run-rate EBITDA and is acquiring Sucampo at 9.2x run-rate EBITDA. The transaction could create negative arbitrage if investors sour on the deal. The company will fund the deal with cash on hand and via excess debt capacity under its revolving credit facility. Mallinckrodt will likely have to take on new debt of over $800 million to consummate the transaction. The company's $5.8 billion debt load already exceeds 4x EBITDA. This deal would increase debt, hamper liquidity and limit Mallinckrodt's flexibility to raise more debt or grow via acquisition in the future.
Conclusion
Mallinckrodt's revenue and EBITDA will likely fall in 2018 in spite of the Sucampo deal. MNK is down over 50% Y/Y. Any hiccups going forward - a decrease in cash flow or decline in revenue could cause the stock to fall further. Sucampo could help sentiment but investors should avoid MNK until its diminution in revenue and earnings subsides.