Last week has been a sluggish one for investors. The markets started the week with weak momentum on Monday. The prevailing market sentiment on Tuesday pushed the DOW above 13K, and precious commodities rallied to all-time highs. However, both stocks and gold tumbled after Bernanke's negative statement regarding QE3. Stocks showed slight recovery on the last two days of the week. Financials, services, technology, and consumer stocks ended the week with minor gains. Industrial stocks were the top losers with an average loss of -1.2% in the past week. Utilities, conglomerates, healthcare and basic materials ended the week with minor losses.
Amidst this investment atmosphere, several stocks made it to new highs during the last week. Sirius XM (NASDAQ:SIRI), Microsoft (NASDAQ:MSFT), EMC Corporation (EMC), Enterprise Products (NYSE:EPD), and American Capital Agency (NASDAQ:AGNC) made it to new highs in a pretty short period. The bullish investor sentiment has pushed these stocks to significantly overbought levels.
A stock is usually considered overbought when the relative strength index reaches above 70. That does not mean that these stocks are expensive stocks. I would rather consider them as momentum stocks, supported by short-term catalysts. Nevertheless, overbought stocks signal a red flag for contrarian investors. The following is a brief analysis of these stocks in the overbought territory. Let's see, what is driving these stocks, and whether they are still worth to consider after making significant gains recently.
Sirius XM
Sirius XM is probably the most followed company in the market. Its stock is also among the most speculative stocks. Since reaching its 2011 dip of $1.4, it returned almost 60% in the last 5 months. The year-to-date return is 27%.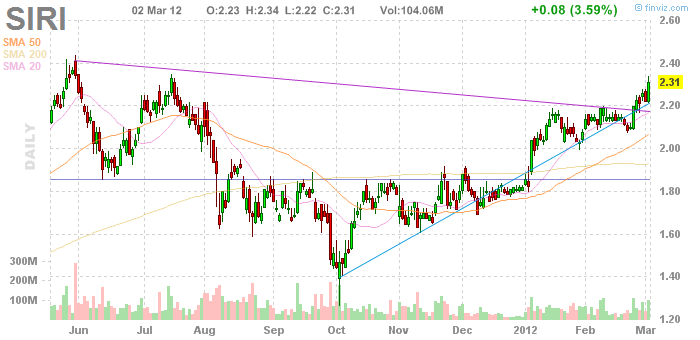 Investors have extremely volatile feelings about the Sirius XM stock. I am also among one of them. At the middle of the last year, I was on the bearish side of the market, when it comes to Sirius XM. With no profits at the income statement, the stock looked like a purely speculative bet. However, after the company reported a great quarterly report, I changed my stand, and suggested Sirius XM as a rare opportunity buy below the fair value. At that time, the stock was trading near $1.7 level.
Next, after performing a purely statistical analysis, I concluded that the first four months of the year is the best period to buy Sirius XM. The recent performance of the stock has proven my point, as Sirius XM returned 27% in the first two months of the year. While, the stock is in the overbought territory, I recommend at least holding on to your stock until May. Maybe, you can sell in May, and go away. But with the boost of GM's record automobile sales report, it is not the right time to sell your Sirius XM shares.
Microsoft
It is a rare event to see Microsoft in the overbought territory. With billions of shares in float, the stock rarely makes big moves. This year has been a pretty exceptional one, as it returned almost 25% since January.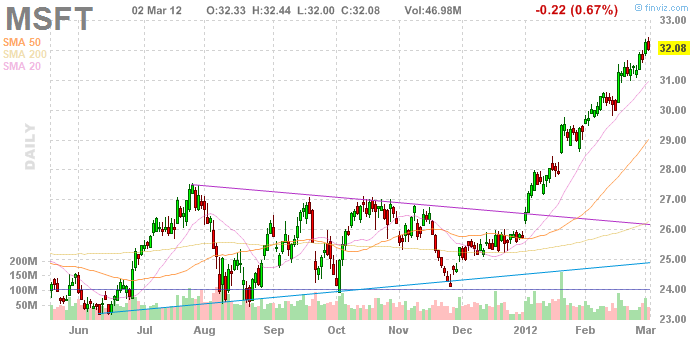 Microsoft is a great cash cow. The company operates in several segments that provide stable income streams.
The online search business concentrates on the revenues from online marketing services. Microsoft is in cooperation with Yahoo in this segment, but even the combined MSN/Yahoo (NASDAQ:YHOO) service is not comparable to that of Google (NASDAQ:GOOG). Google is the king of this jungle, and one jungle can have only one king. Therefore, Microsoft is struggling hard to compete with Google in this field. Out of desperation, it sometimes even offers money to users of its online search business.
Unlike the online search business, Microsoft almost has an almost monopoly position in the operating systems and office suit business. There is not any serious competitor in this field, which makes Microsoft as the king of this area. There is a great competition in the multimedia entertainment segment, but with X-box brand, Microsoft is about to crush its competitors in this field.
Microsoft also joined its forces with Nokia (NYSE:NOK) to offer Microsoft-based software to Nokia-branded phones. Recently, Nokia has introduced the Lumia 710, which comes with Windows 7 operating system. The phone was greatly welcome by the tech enthusiasts. There is also an expectation that Microsoft-based smart phones can replace RIMM (RIMM) for the third spot in the mobile phone market share. I think the stock made its move based on this expectation. I also expect the Nokia/Microsoft alliance to be a big player in this industry. However, I am not sure whether that justifies a $60 billion increase in Microsoft's market cap in the last two months.
EMC Corporation
After a disappointing performance in the last year, EMC Corporation has been one of the top risers in 2012. The stock returned almost 33%, since January.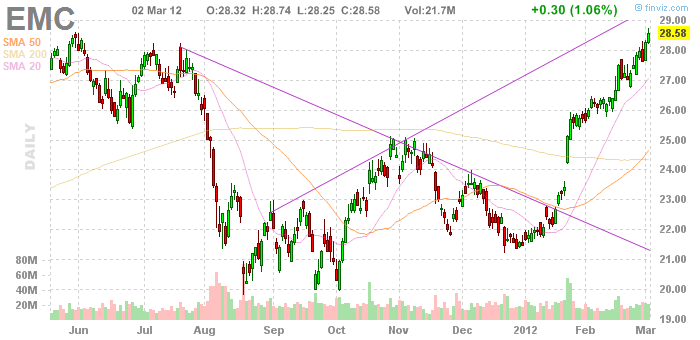 At a price of $29, EMC is trading near its 52-week high. With an RSI indicator of 79, the stock is in the significantly overbought level. Looking at the past two months, I really cannot see any significant catalyst for the stock.
EMC is one of the largest players in the cloud-computing area. I think the market-hype for the stocks in this area has artificially pushed EMC to its current prices. The stock is trading with a trailing P/E ratio of 26, and forward P/E ratio of 14.5. Analysts estimate an EPS growth of 16% for the next 5 years. Based on this estimate, my FED+ valuation for the stock is $28 - $37 range. At the current valuation, EMC is fairly-valued. Therefore, I rate it as a hold.
El Paso Corporation
El Paso is one of the largest pipeline operators in the U.S. The company is primarily involved in the natural gas transmission. It also explores for energy-related commodities. The Houston, Texas-headquartered El Paso has interests in over 40,000 miles of interstate pipeline systems. In the last quarterr, Kinder Morgan (NYSE:KMI) explained its interest in El Paso merger. Soon after the deal news hit the market, the stock jumped from $19 to $25.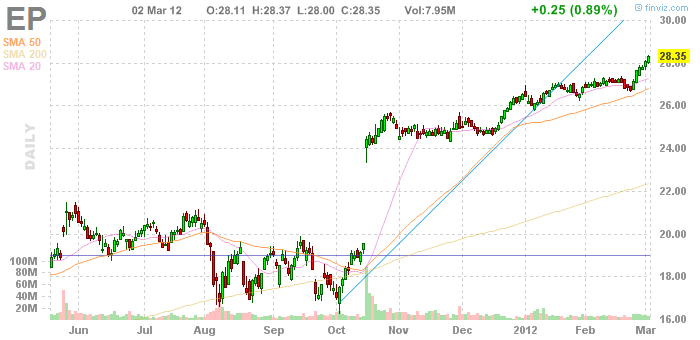 Pipelines are like toll operators, which charge fees for their services. As a master limited partnership, they share their profits in terms of regular distributions paid to the unit holders. El Paso is the parent company of the El Paso Pipeline Partners (NYSE:EPB) which operates as a master limited partnership.
I have been pretty bullish on the MLPs and related stocks for a long time. They provide a stable source of income, particularly for the retirees. However, the paltry yields of bonds have shifted a great deal of investor interests to MLPs, driving them to overvalued levels. Adding the merger affect to the investor sentiment, El Paso looks significantly overvalued. Given the size of the merger, there is a very high possibility that there might be more legal fights ahead.
American Capital Agency
American Capital Agency Corporation is an mREIT, which invests primarily in government-issued securities. Similar to MLPs, mREITs are among the top choices for income-oriented investors. mREITs are not subject to corporate profit taxes as long as they distribute at least 90% of their profits. That quite explains the double-digit yield provided by AGNC. Even after returning 11% in this year alone, AGNC offers a yield of 16%.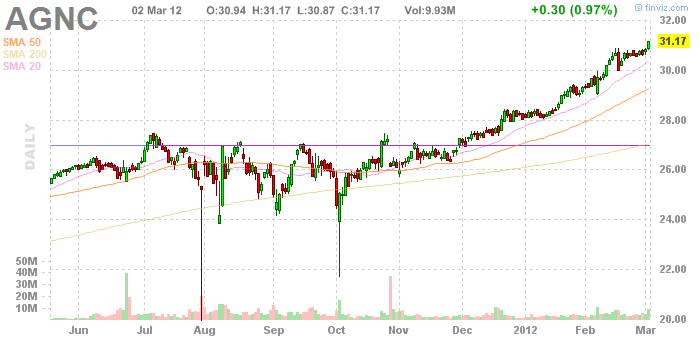 There is a huge deal of interest in the future of mREITs. While one fellow Seeking Alpha contributor claim that mREITS' golden era is about to begin, another fellow Seeking Alpha contributor claims that mREITs' golden era is over. I am somewhere in the middle. I think mREITs are enjoying their golden era right now, which will last until at least 2014. If Federal Reserve Bank decides to keep the interest rates low as such, the golden age might last longer. Nevertheless a safety criterion should be in mind. My safety criterion is a maximum trailing P/E ratio of 10, and a minimum supported yield of 10%. At a trailing P/E ratio of 6, and yield of 16%, AGNC fits well in to this criterion.
Disclosure: I am long AAPL.