The third quarter and fourth quarter have been an important time for the growing list of marijuana stocks and heading into the close of the year. More than a handful of companies performed better than average to close out the final weeks of December.
Two Key Catalysts That Shook Up The Industry This Year
The cannabis industry has been very event driven ever since legalization began at the start of 2014 in Colorado. The article, "The State Of Marijuana Stocks And What To Look For In 2018," highlights how industry events have helped shape the market for cannabis stocks. Typically, where we've seen political events trigger moves for marijuana stocks, it was industry events that took on the spotlight this year. Beer, wine, and spirits giant Constellation Brands (STZ) made a minority investment into Canadian-based Canopy Growth (OTCPK:TWMJF), which not only triggered a move for the market in general but also more so for Canadian issuers specifically.
Second, and most recently, the first NYSE listed marijuana ETF went live during Christmas week on December 26th. The ETFMG Alternative Harvest ETF (MJX), which was previously an ETF targeting Latin American real estate, currently invests in 30 different national and international companies involved in the space.
This includes companies that have a hand more closely tied to the plant and others that are more "pick and shovel" style companies. The majority of its holdings are in 12 companies right now with over 60% of these stocks being Canadian listed (and dually listed in the US with the five letter symbol ending in "F")


What Marijuana Stocks Performed Best In December?
It wasn't just holdings of the new marijuana ETF performing in December, however. Many companies outside of the new fund have seen plenty of activity. For the purposes of this analysis, I chose to focus on companies with higher average daily liquidity in addition to price performance. Though there may be other companies that have some type of involvement in the marijuana space and which may have seen large percentage increases, these stocks tended to be much smaller in market cap and much lighter in trading liquidity.
Of the companies listed above, three of December's top performers were held by the fund at the time of this article:

Starting with Emerald Health Therapeutics (OTCQX:EMHTF), shares of the company saw an increase of 90% during the month of December to make new 52-week highs on December 27th. Emerald invested $2.5 million into Northern Vine Canada, Inc. to acquire 53% of the company from Abattis Bioceuticals Corp (OTCQB:ATTBF) and bring in a licensed dealer under its umbrella. The significance of this is that the move allows Emerald access to certain business activities that it cannot undertake on its own as a Licensed Producer, according to the Access to Cannabis for Medical Purpose Regulations.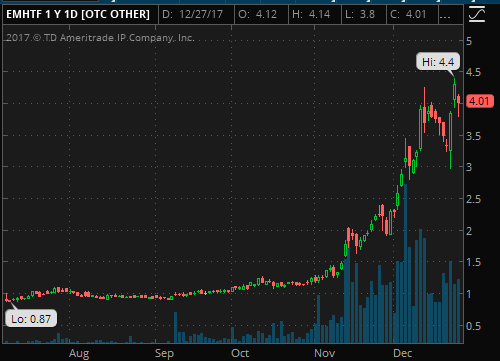 Emerald will now have access to export and import capabilities pertaining to cannabis as well as cannabis oils. Licensed Dealer status also gives Emerald access to authorizations for preparation of cannabis. Things like dosage, formulation, strength, package size, and even options for Emerald to get into testing as well.
One thing to point out after the company's recent announcement is that though it's seen a vast majority of its $2 and $2.60 warrants executed over the year, the company has stated two items of interest: 1. In total, Emerald has received over $26 million from warrant exercises that can directly contribute to the company's business goals and 2. Emerald has announced that it will be accelerating the expiration date of at least its remaining $2 warrants. These $2 warrants will now expire on January 19 of next year instead of the original "period of 24 months following the Closing Date" in the February 2017 Prospectus Offering.
In addition to this, the countdown has also begun for the company's shares to continue trading on the TSX at a price above $3.50 until January 4. If this is the case, the company can accelerate the expiration date of its $2.60 warrants as well.
Similarly, Cronos Group (OTCPK:PRMCF) has also done its fair share of raising capital this year. A few weeks back, the company did deal financing for a total of $17.2 million in gross proceeds at a price of $3.15. This wasn't that steep of a discount to the market price of the stock at the time the deal was announced (C$3.32). Though the stock moved 29% during the remainder of the month of November following the announcement, the bigger move happened in December. Significant increases in revenue (962% year-over-year) and production capacity in its new "Building 1" helped boost sentiment for the stock.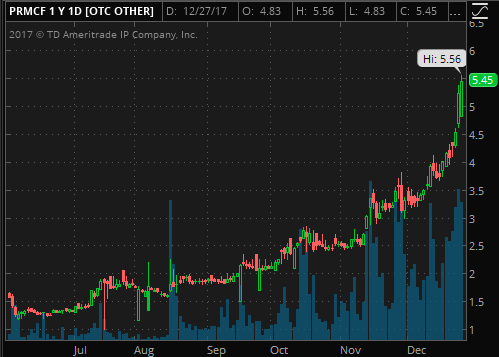 The company has also made mention of the fact that it is expanding its international reach. With over 82 million people, Germany has become a target for many leading cannabis companies. Cronos has begun making its products available for sale across retail locations in the country. This move should prove beneficial to the company, most likely during Q1 of next year, as this is a newer initiative by the company in the German market.
This is in addition to the company's opportunity within the Israeli marketplace through Cronos Israel and the potential to produce capacity of more than 100,000 KG annually. Since rules are different as far as cross boarder distribution is concerned, this should also help the company meet the demand from its German market.
Other companies outside of the new marijuana ETF holdings included:

The best performer thus far has been Namaste Technologies (OTCQB:NXTTF), which has managed to surpass the 300% mark so far this month. Like Cronos, Namaste is also entering the market in Israel. This week the company announced a letter of intent with BRLEV AGRICULTURAL CROPS via CannMart, Inc., its wholly owned subsidiary for supply of medical cannabis. The medical cannabis will be imported by CannMart from Israel and offered via its Canadian online retail marketplace. This comes as no surprise because Namaste has continually expanded its footprint for online retail of cannabis products across sites in 26 countries via five distribution hubs, globally.
The company previously divested its US assets to focus more closely on other markets based on "political uncertainty surrounding the legalization of cannabis in the US."
Since doing so, the company has deployed a directed approach to other markets. Namaste has expanded into Brazil ($1.4 billion market potential), Canada (set for full legalization later in 2018), Australia, the UK (est. $4 billion market potential), and even Germany (boasted as possibly the largest medical cannabis market in the world). This could present larger opportunities for the company as the world's markets develop and can establish the company as a global leader.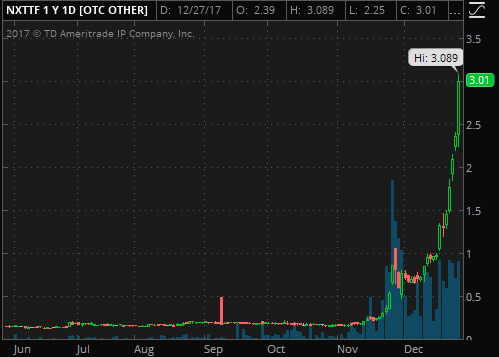 Namaste is already beginning to record milestone revenue growth this year. November saw roughly $1.74 million is sales or a 146% year-over-year increase and highest month of revenue in the history of the company. This progress has also afforded Namaste the ability to team up with companies like Aurora Cannabis (OTCQX:ACBFF) and Supreme Pharmaceuticals (OTCPK:SPRWF) via supply agreements for CannMart's e-commerce offerings
CV Sciences (OTCQB:CVSI) and United Cannabis Corp. (OTCQB:CNAB) also top the list of best performing marijuana stocks in December after booking 126% and 125%, respectively, in price increases. CV Sciences, for example, has been focusing on making its financials much more appealing by clearing out its debt obligations through repaying note holders in cash. Earlier in December, the company made a payment to the holder of $770,000 worth of convertible debt and intends to continue doing so in order to prevent any additional dilution to the company's market.
The company's third quarter results could be a clear indication for future growth as well. Based on its most recent filing, CV Sciences was able to increase sales by 90% on a year-over-year basis with a sizeable 112% increase on a quarterly basis compared with the third quarter of 2016. In light of this fact, it doesn't come as a surprise that due to its drug development segment, the company incurred significant expenses from SG&A for the quarter. This largely contributed to its reported net loss. But hopefully this investment pays off in 2018
Similarly, United Cannabis has also made a concerted effort to remain prudent on debt. The most recent filing shows zero convertible debt in the liabilities section of the balance sheet. This is rare for an OTC company to have. Further, the company is utilizing a $10 million credit facility to fund operations. These tend to be much less dilutive than traditional convertible notes (some notes can hold very steep discounts to market upon conversion).
United Cannabis in this case has outlined terms that say at the time of delivering a put notice, the purchase price will be 85% of the average two lowest trading prices of United Cannabis stock during the pricing period.
Unlike other companies that are expanding outside of North America, United Cannabis is focusing on Jamaica and Australia. The company's sublingual and transdermal "Prana" brand products for use by registered medical patients was recently approved by Jamaica's Ministry of Health. Moreover, earlier in the year United Cannabis partnered with a company to enter the Australian market.
These two markets could offer an advantage to United Cannabis due to more of an "early growth phase" mentality and less competition because there will most likely be more competition in other countries like Germany and Canada. Australia, for example, is forecasting medicinal cannabis demand possibly exceeding nearly $80 million according to the University of Sydney Business School. Furthermore, this could increase to roughly $233 million during the decade. Right now there are only a few companies venturing into foreign markets, so the benefit to United Cannabis is more of an early mover advantage ahead of any potential shifts in the global markets.
Rounding out the bunch are Cannabis Science (OTCPK:CBIS), Cannabis Sativa (OTCQB:CBDS), GrowGeneration (OTCQX:GRWG) and Innovative Industrial Properties (IIPR), the last of which is a company that focuses more on providing real estate solutions rather than cultivation or processing of cannabis plants. Innovative is particularly interesting, as it is one of the few cannabis-related companies trading on a higher exchange. Shares of the company booked nearly 60% so far during the month of December. The latest announcement highlights the strength of the company's business via a $15 million property, which the company acquired in Arizona.
With tenant improvements, Innovative Industrial Properties is expecting a total acquisition cost of $18 million. The current tenant, which is a subsidiary of The Pharm, also signed a lease for an initial 15-year term on a triple-net agreement and aggregate base rent of roughly $2.5 million. It should be helpful to have a company like The Pharm on board for other opportunities in the future. It is one of the largest wholesalers of medical grade cannabis in Arizona, serving 45 of the 104 retail dispensaries in the state.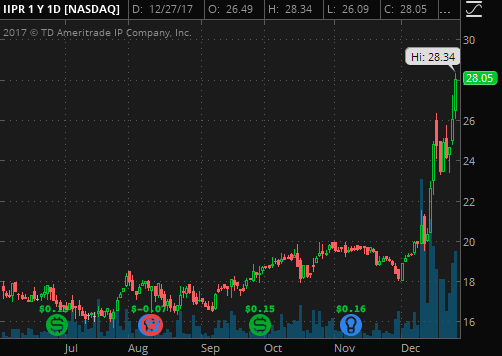 This latest acquisition is in addition to the company's previous purchase of a location in Maryland. Though the $8 million purchase was for a smaller development, the overall cost per square foot is much higher. After improvements, the Maryland location being leased to Holistic Industries LLC will end up costing roughly $15 million.
Though the company's stock hasn't been added to the US marijuana ETF, it has been picked up by the Canadian ETF, "Horizons Marijuana Life Sciences Index ETF". It also should be pointed out that the company is in a league of its own as it has offered shareholders a quarterly dividend for the past three quarters. The most recent quarterly dividend of $0.25 per share has been the largest to date (both the second and third quarter dividends were $0.15 per share).
New Attention From Wall Street Firms - Risks Are Still Evident
In 2015, Merrill Lynch released the first mainstream report on the cannabis industry. Last year, Deloitte came out with a study that suggested how marijuana would overshadow another industry of scale: beer, wine, and spirits. This December another firm, Edward Jones, published a report "The Canadian Marijuana Market Heats Up, but Investments Carry Risk." Instead of the overly bullish approach that the previous articles cited, the Edward Jones essay highlights the immense risk that marijuana stocks can have, stating, "We would consider any investment in the marijuana industry to be speculative."
The fact of the matter is that it is true: there are very few barriers to entry for this marketplace, there is growing competition, and there are still many uncertainties remaining.
Limited operating histories of many of these companies inherently show "record revenues" simply based on a comparison with a different or even failed business model from a year prior. The small size of these companies also holds its own set of risks including much higher volatility in the market. In addition to this, I stated earlier that it was rare to find a company with little or no debt, let alone a debt instrument with favorable terms. The simple fact remains that many of these smaller companies are startups and money still comes at a premium.
Furthermore, in comparison with traditional markets like pharmaceuticals and other medical industries, medical cannabis has no approval from regulatory agencies yet. This continues to be an ongoing debate as to the efficacy of medical marijuana.
Conclusion
If you are able to understand the risks, you can understand the opportunity. During the month of December, we saw the culmination of two industry catalysts collide with numerous companies benefiting from these events. As the year winds down, it's time for investors to take inventory of everything that has happened this year and everything that will be happening next year.
This includes California recreational legalization and Canada's recreational approval. Not only that but also this year will also see states like Vermont, New Jersey, Michigan, Oklahoma, Utah, Missouri, Virginia, and possibly Ohio take aim at enacting new marijuana laws. If you are new to marijuana stocks, this could be a time to make sure you have your notepad ready because 2018 could have much more in store for this industry.
Disclosure: I/we have no positions in any stocks mentioned, and no plans to initiate any positions within the next 72 hours. I wrote this article myself, and it expresses my own opinions. I am not receiving compensation for it (other than from Seeking Alpha). I have no business relationship with any company whose stock is mentioned in this article.
Editor's Note: This article covers one or more microcap stocks. Please be aware of the risks associated with these stocks.