One year ago, in the midst of a post-election sell-off in gold, I wrote the Seeking Alpha article Gold: The Possibility of A Trump Induced Bull. While gold certainly did not end the year as I expected, as measured by the Spider Gold Trust EFT (GLD), it is currently up 11.3% for the year.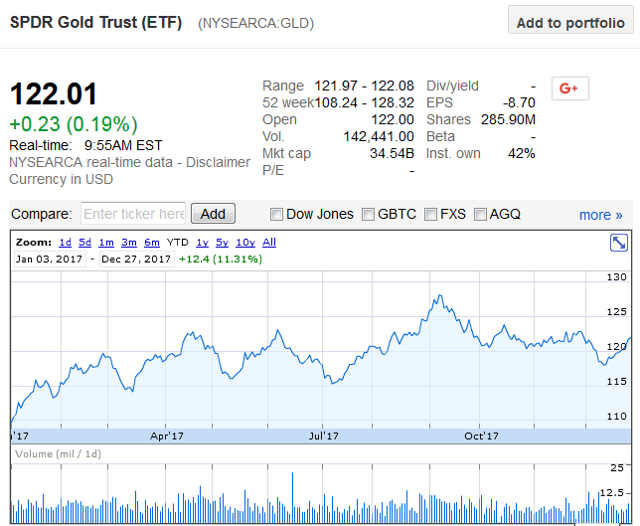 Source: Google Finance
In early September the price of gold hit a year-high of $1346/oz, but alas, it quickly sold off. And while the 11.3% yearly gain in gold is respectable, it certainly lags the S&P500 YTD return of 19.8%: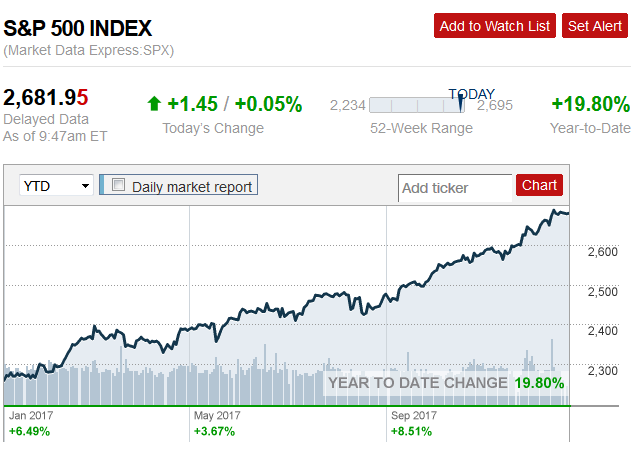 Source: CNN Money
So what will gold do in 2018?
Interest Rates
In one sense, the YTD 11.3% increase in the price of gold was quite impressive considering it did so straight into the teeth of three Fed Funds interest rate hikes (from 0.75% to 1.5%). The chart below shows that since Janet Yellen took over the Fed Chair in February of 2014, she has raised rates 5 times - taking it from 0.25% to 1.5%: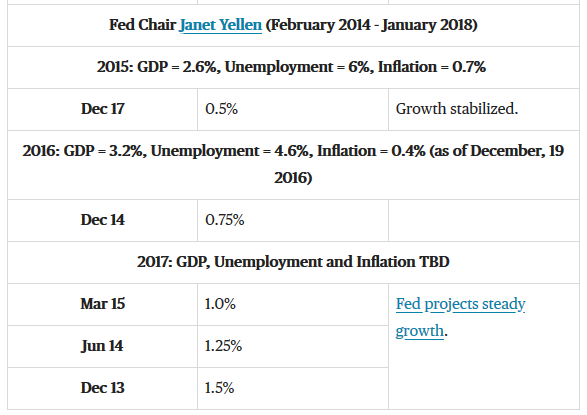 Source: The Balance
However, investors must concede that the Fed Funds rate is still very low in consideration of the history of the rate. The chart below shows the effective Fed Funds rate as tabulated by the Federal Reserve Bank of St. Louis: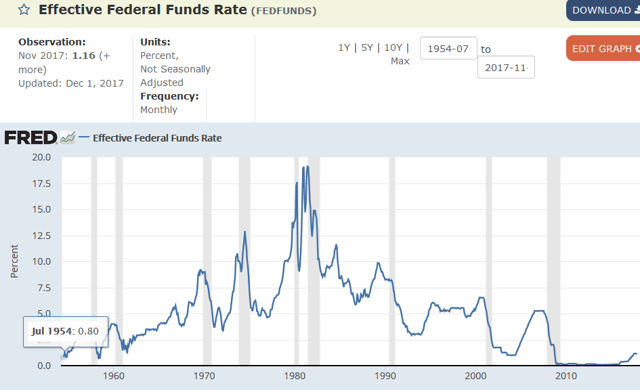 Source: St. Louis Fed
Expectations for Fed hikes next year are all over the map. If we take a look at the 30-day CME Federal Funds Futures Quotes, you can see that traders expect December 2018 Fed Funds to be in the neighborhood of 1.88%. In this example, the CME spec for Fed Funds futures is (100-98.12=1.88%):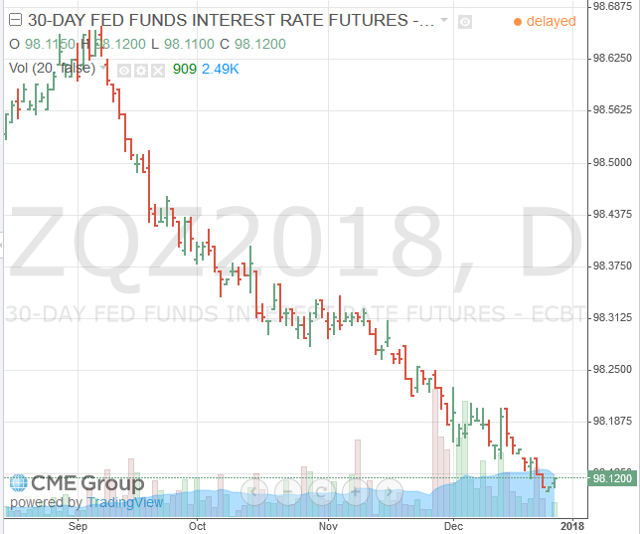 Source: CME Group
A 1.88% Fed Funds rate expectation for December of next year is only a 0.38% above the Feds current 1.5% level, which implies less tightening in 2018 then we saw this years (0.50%). The point is, even if the FOMC were to hike rates 3-4 times in 2018, interest rates are likely to remain relatively accommodating considering the outlook for economic growth. So, similar to this year, higher interest rates will not likely impact the price of gold in a meaningful way in 2018.
Which brings us to expectations for the economy next year.
2018 Outlook: Economic Growth
The chief economist of the Mortgage Bankers Association - Mike Fratantoni - said:
The Fed raised rates at their December meeting, surprising no one. However, they did markedly increase their forecasts for economic growth in 2018, and now expect the unemployment rate to average 3.9% in the next two years, well below the long-run sustainable level of about 4.6%.
Economic growth is accelerating, there is no doubt about that. And with the recent Republican "tax reform" bill, growth expectations going forward are high heading into the New Year.
When it comes to gold, economic growth is somewhat of a double-edged sword: in theory, more growth can lead to more tax receipts and push down the deficits - bearish for gold; at the same time, higher growth can lead to wage and price inflation - bullish for gold.
As shown earlier, we still have a very accommodating Fed. Odds are increasing that 2018 could, finally, be the year of accelerating growth leading to upward pressure on wages: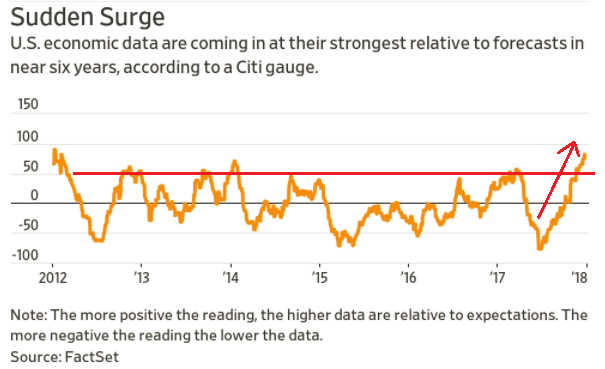 From the graphic above, it does appear that economic data have broken out above the top of a long-term (6-year) trend line. Adding support to that forecast is a market that is signaling higher inflation: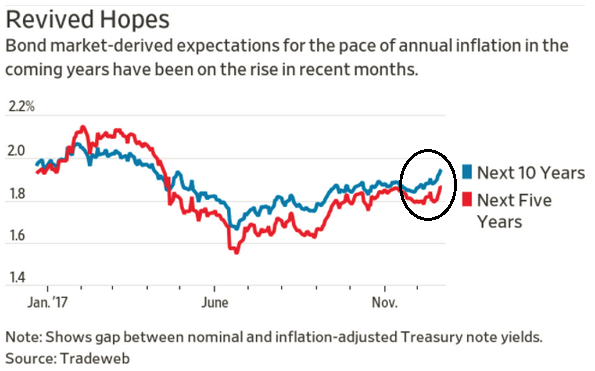 And note the 10-year Treasury yield has had a quite dramatic run from 2.1% back in September to the current 2.44%.
Higher economic activity, combined with an historical and extraordinary low Fed Funds rate, should propel gold to a strong showing in 2018. Certainly better than the 11.3% return so far this year.
Tax Cuts and Spending
As I pointed out in my previous "Trump-bump" article on gold, there certainly seems to be trouble on the horizon given the recent Republican "tax reform" bill. As we all know, it's very easy to cut taxes, much harder to cut spending. During the last Republican administration (under George W. Bush), taxes were cut and spending shot up drastically. This was chronicled in a great article titled The Cliff We All Saw Coming by Brendan Greeley of Bloomberg that was published back in August of 2012.
According to Mr. Greeley, the fiscal crises the country faced at that time was predictable 10 years ago because they were built into the Bush tax cuts. Experts arguing against the tax cuts at the time predicted $1 trillion deficits in 10 years, and that is exactly what happened. Greeley's proof was year-by-year deficit data, which showed the deficit growing from +$128 billion (the so-called "Clinton surplus") in 2001 to a $1.2 trillion deficit by the "Tax Act" of 2010. As a result, gold shot-up 6-fold.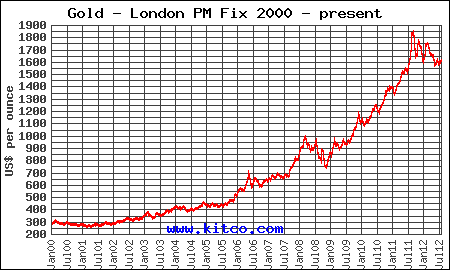 Source: Kitco
We seem to be heading straight into another yawning addition to the deficit with the latest Republican "tax reform" bill. The tax package will cut government revenues by an estimated $135 billion in 2018 - according to the Joint Committee on Taxation - a figure that rises to $280 billion in 2019. Meantime, spending cuts will not be agreed upon until January ... and as all Americans know, Congress always finds it much easier to cut taxes than to cut spending. An article in USA Today (one example of many) says the deficit could be heading to $1 trillion in 2018. We had trillion dollar deficits before under Obama, but back then it was in an economic downturn. Maya MacGuineas, president of the Committee for a Responsible Federal Budget, said:
When we had trillion-dollar deficits the last time, it was the result of one of the worst economic downturns we've seen in history. This will be completely self-inflicted. When the economy recovered, the deficits came down, not by enough, but this is the result purely of policies, not of a recession. Nobody is talking about paying for anything anymore.
That gives ammunition to those who say Republicans only care about deficits when Democrats are in office. Case in point: Senator Bob Corker of Tennessee originally was a "NO" on the Republican tax reform plan due to his concerns on the deficit. However, once commercial real estate loopholes were inserted (the so-call "Corker Kickback"), he flip-flopped to a "YES" vote. So much for the one Republican concerned about the debt and deficits.
Then, we have another growing concern ....
The Global Warming Kicker
As I predicted back in 2012 (see Global Warming Will Push Gold Higher), the effect of emergency disaster aid for more frequent and more intense climatic events can no longer be ignored. Congress approved emergency disaster aid bills totaling $15 billion in September and in October, Trump signed a $36.5 billion disaster aid bill. Currently Congress is debating another $81 billion to address California wildfires and Hurricanes Harvey, Irma and Maria. Barring any last minute decision to fund it, that spending will be added to the 2018 deficit.
This comes on top of a FEMA report which shows that shows Super-storm Sandy obligations topped $20 billion as of September: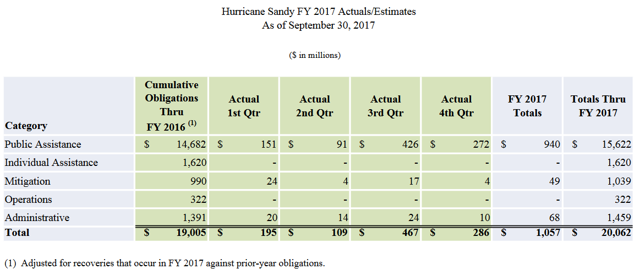 Source: FEMA Disaster Relief Fund - Monthly Report
Politico reports that Congress has already spent $133 billion on natural disasters this year. Meantime, CNN reports that before all is said and done, Hurricane Harvey alone will likely account for an estimated $86 billion (an average of the ranges shown below):

Source: CNN
Bottom line is that global warming is becoming increasingly expensive considering America's very long coast line and its inland propensity for droughts. The Trump administration's decisions to withdraw from the Paris Accord, to "make coal great again", and to drastically cut virtually all of the EPA's recent emissions regulations will only make a bad situation even worse. And likely much more expensive.
Political Uncertainty
From a political standpoint, political uncertainty - whether it be at home with a very unpredictable and unorthodox president (to say the least), or with respect to North Korea's nuclear ambitions, or continuing unrest in the Middle East - to be fair, none of these developments appeared to have affected the price of gold much in 2017. I was wrong about that - geopolitical concerns - in which president Trump was very often front and center - did not affect gold. At least it was not much of a factor in 2017....
Entitlement Spending
I predict that the Republicans - facing the 2018 mid-terms - will not be able to push through significant cuts in Medicaid, Medicare, and Social Security even though it is clear Paul Ryan wants to cut entitlement spending. On top of a "tax reform" plan that is seen as giving more handouts to the rich (because it does), the political reality of cutting Medicare and Social Security would seem to be a non-starter heading into the mid-terms.
Infrastructure Spending
Yet odds are fairly good that an infrastructure bill will be passed. Although Trump's campaign pledge was for $1 trillion in infrastructure (#1 because he is a developer and can related, and #2 because the country needs it), odds are it will be closer to $200-$500 billion. Still, that's a big chunk of unfunded spending.
Summary and Conclusion
For whatever reason, the geopolitical and political uncertainty thesis that I suggested would power gold in 2017 didn't work out. Nor did the outlook for increasing debt and deficits impact gold. Perhaps it is the current obsession with Bitcoin that took away the gold bid. However, at the end of the day maybe it will be pure old economic wage and price inflation that will power gold higher.
Or, it could be that 2018 will see all three reasons: geopolitical uncertainty, debt and deficits, and economic growth all coming together at once to push up the price of gold.
My prediction: the debt and deficit will be front-and-center in 2018 as the reality of the tax cuts and addition spending sets in. I predict the deficit will grow by $1.5-$2 trillion in 2018 due to:
tax cuts (less revenue).
no significant cut in entitlement spending.
higher and un-budgeted spending on disaster relief due to global warming.
a big infrastructure bill.
an unknown (most likely increased military spending).
higher economic growth, inflation, and wage pressure.
That last one is important. That last bullet is a big one for the simple reason that the best way to fight inflation is raising rates. But that points out the big problem with America's huge debt-load: higher interest rates mean paying higher interest rate payments on Treasuries and Treasury Inflation Protected Securities ("TIPS"). This is the main reason Congress should be paying down the debt while the economic activity is picking up, not adding to the deficit with the current "tax reform" bill.
As a result, I think we'll see gold ramp up similar to the way it did in the first term of the George W. Bush administration. That should put gold in the area of $1600 by year-end 2018 - about 25% higher than today's close at $1287. Perhaps a bold call - but note that price target is only 2x the YTD return in gold demonstrated this year.
For those of you owning GLD, my gold price target of $1600 equates to GLD in the area of $150 (it closed today at $122.23).
I am glad I own some in the world we live in today. I will leave you with a 10-year chart of gold, and repeat that all investors should have ~5% of their net worth in gold. The higher your net worth, especially if you are a 1%'er (i.e. in 2016 defined by the Fed as a net worth over $10 million), you might consider a higher allotment to gold. After all, higher net worth investors have much more to lose.
To all my Seeking Alpha readers: !!! HAPPY NEW YEAR !!!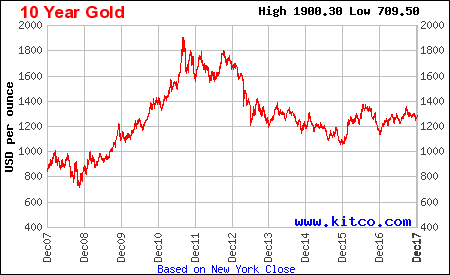 Source: Kitco