So I was looking for interesting ETFs and stumbled upon the ProShares Equities for Rising Rates ETF (EQRR). Pretty much everyone agrees that the Fed will raise rates, so is there a way that investors can take advantage of that? I previously wrote an article about an ETF to hedge bond portfolios from rising rates (RISE), but what can be done to refocus the equity side of the portfolio?
The idea behind this EQRR's strategy that it focuses on sectors that have had the highest correlation to 10-year Treasury yields, so as yields rise so should these sectors. The largest sector weighting is Financial Services at 31% (compared with the S&P500's 17%), and among the ETF's top holdings you will find mostly banks or brokerages. It also is very overweight energy stocks, which have a weighting of 24% compared with only 6% in the S&P500.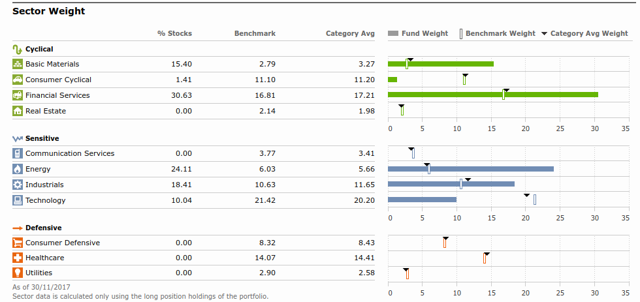 Source: Morningstar
How exactly does the EQRR choose which stocks to invest in? It follows an index-based strategy that starts off with the 500 largest US-listed stocks, and it then selects the top 5 sectors that are correlated with 10-year Treasury yields (correlation to weekly changes over the past 3 years). In each sector, 10 stocks are selected based on which stocks have the highest correlation based on relative performance to 10-year Treasury yields.
The 50 stocks (the top 10 of the top 5 sectors) are then weighted with the most correlated sector being weighted at 30%, and all stocks are equally weighted within each sector (3%/stock). The second highest correlated sector is weighted at 25% (2.5%/stock), followed by 20%, 15% and 10% (1%/stock) - again with stocks being equally weighted within each sector. The final portfolio excludes the least correlated sectors like utilities and overweights the most correlated sectors so it should outperform the general market in a rising rate environment so long as the correlations hold into the future. A side effect is that the ETF has aggressive weighting compared with the S&P500 so it would make investors more exposed to sector specific risk. An investor focusing on growth might consider this fund as it may outperform but it's likely too aggressive as a core holding for conservative investors.
The ETF is rebalanced quarterly.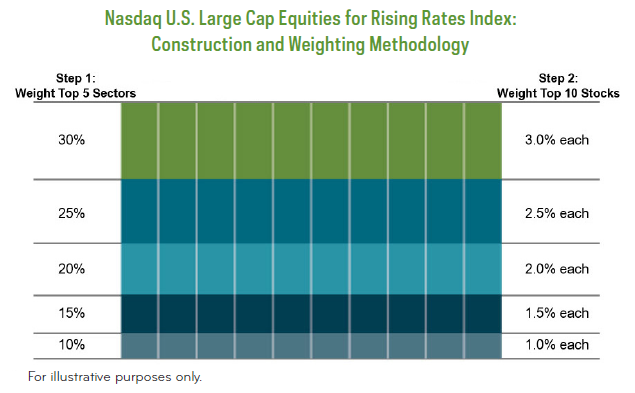 Source: ProShares
| | |
| --- | --- |
| Sector | Target Weighting |
| Financial Services | 30% |
| Energy | 25% |
| Industrials | 20% |
| Basic Materials | 15% |
| Technology | 10% |
Sector Correlations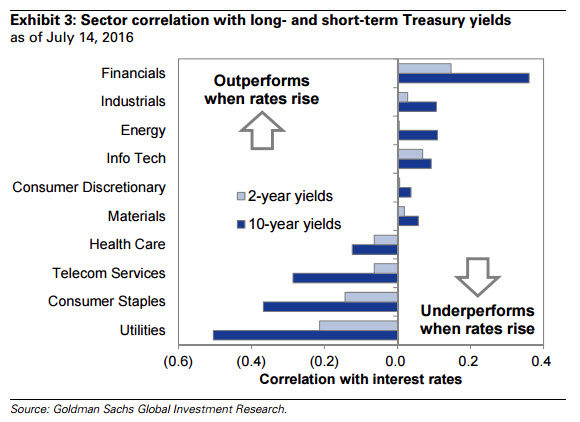 As you can see from the charts above, Financials, Energy, Industrials, Tech, and Materials have the highest correlation to 10-year Treasury yields. Utilities, Consumer Staples and Telecoms have a moderately negative correlation to 10-year Treasury yields, making those sectors unattractive in rising rate environments (of course there will be some exceptions). Financials has by far the highest correlation out of all the sectors to 10-year Treasury yields. Other cyclical/sensitive sectors have among the highest correlation to 10-year Treasury yields as interest rates are often raised during times of very strong economic growth to combat inflationary pressure.
Why Do Financials Have Such a High Correlation?
When interest rates increase that allows banks and brokerages to charge higher rates and in theory (not always though) increase their net interest margin which would mean higher profits. The net interest margin is the difference between the returns that the bank earns and the interest that it pays to lenders/depositors ([investment returns - interest expense] / earning assets). This would increase if their lending interest rate increased more than the interest rate that they pay depositors.
The financial sector (XLF) is very complex and I'm not an expert on banks; this is not intended to be an analysis of the banking industry. If you know any authors (or if you are an author) who provides a well-detailed analysis on the financial sector and the effects of rising rates please share that with me in the comments. I have found conflicting information on whether rising rates increase the net interest margin due to the difference in maturities between bank deposits (short-term) and loans (mid/long term). Financial stocks do have a moderate positive correlation to 10Y Treasury Yields but I'm not sure how rising rates would affect the actual profits of the bank. You should figure out what your own view is on financials before you invest in this ETF. If you have a positive view on financials in a rising rate environment then this ETF may make sense for you but if you have a negative view on financials you'd probably want to skip this ETF as it is very overweight financials.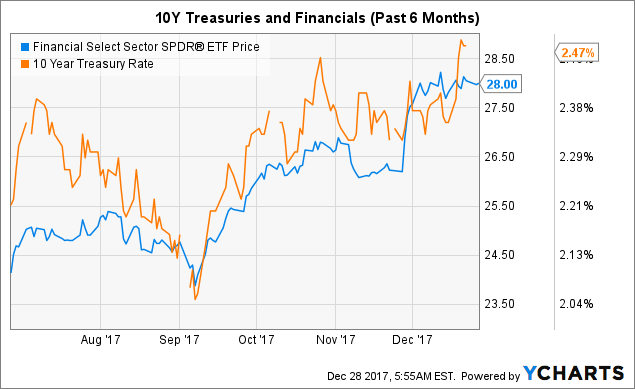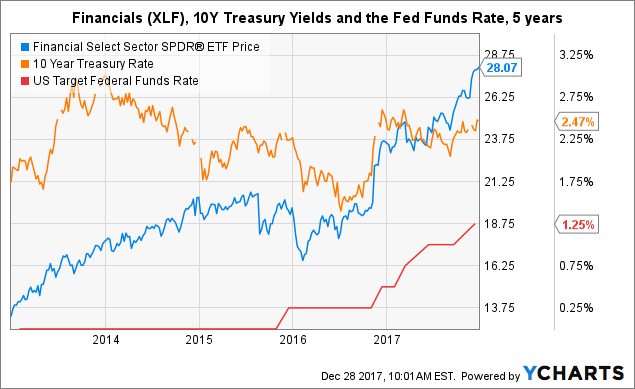 Why Do Utilities Have Such a Low Correlation?
Utilities (XLU) rely on debt to finance capital expenditures and maintenance. Utilities are typically low-growth businesses so rising rates would lead to an increase in debt service costs and end up cutting into profits.
Utilities also compete with bonds as they're typically a conservative income investment offering a higher yield than bonds. If bond yields go up that would make utility stocks less attractive.
As you can see from the chart below comparing utilities with 10 year Treasury yields there is a clear inverse relationship: when yields go up, utilities go down typically.
Holdings
As you can see from the top 25 holdings below, the top 10 are financials (banks and brokerages). This is because they are the most correlated with 10y Treasury yields. Financials are then followed by energy stocks. There are 50 total holdings.
Top 25 Holdings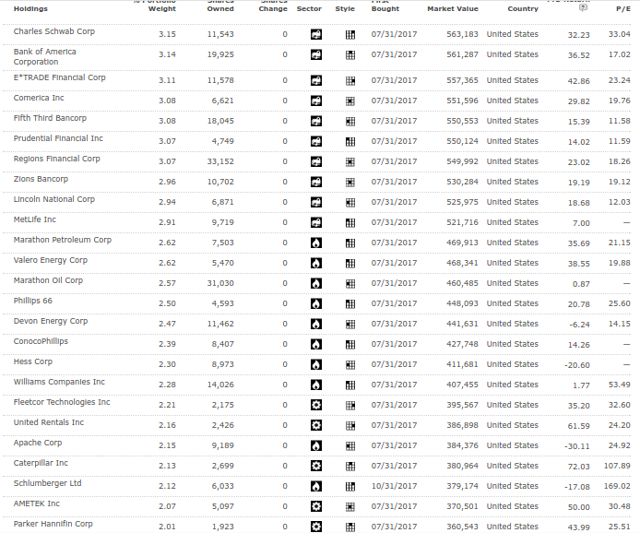 Source: Morningstar
Portfolio Style Details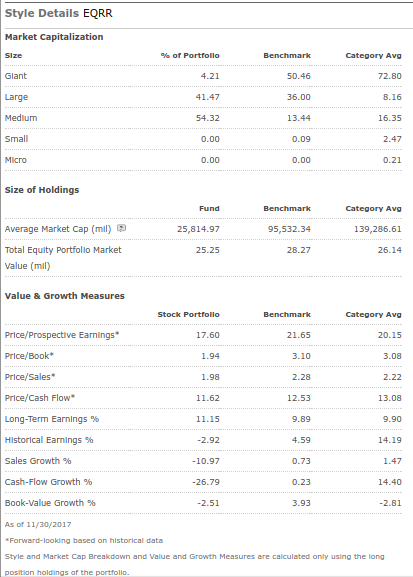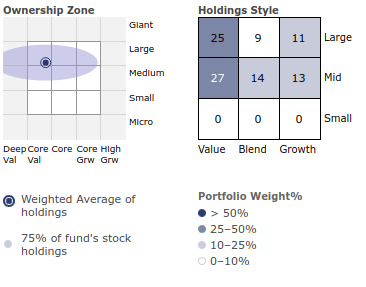 Source: Morningstar
The ETF's expense ratio is 0.35% which is competitive with "smart-beta" strategies. It does have major sector risk which would not be ideal for conservative income-seeking investors but this ETF might be useful for someone who is targeting growth. If past correlations are indicative of future correlations then EQRR would likely outperform the overall market during periods of rising rates. Financial Services make up 30% of the ETF so you should form an opinion of that sector (and ideally the underlying stocks held) before investing in this ETF: do you think rising rates would be positive or negative for banks? I'd highly recommend talking to a fiduciary financial adviser as they must legally put clients' interests in front of their own before making any major investment decisions.
Author's Note: Thank you for reading my article. I hope that you liked it and if you did please consider following me. This can be done by scrolling to the top of the page and clicking the orange follow button beside my name (see the screenshot below). I'm open to feedback/questions or if any followers have any suggestions for ETFs to profile please leave a comment or message me. I like to focus on ETFs that haven't been covered much as I feel like I can present more original/engaging content rather than the mega-covered ETFs like SPY. Also to my followers who are reading this, I'd like to ask if you can remember which one of my articles got you to follow me? My goal is to produce the best content that followers would enjoy by engaging with them.

Disclosure: I am/we are long JNK CALLS.
I wrote this article myself, and it expresses my own opinions. I am not receiving compensation for it (other than from Seeking Alpha). I have no business relationship with any company whose stock is mentioned in this article.