We have already gone on record as predicting higher gold and silver prices for the year ahead (see here), but have only picked one silver stock among our likely best performers for the year ahead). Hecla Mining (NYSE: HL) is indeed one of our top stock picks and the only primary silver producer among them - unless, of course one rates Wheaton Precious Metals (NYSE: WPM) - formerly Silver Wheaton as still being a silver stock. HL has been chosen as a recovery vehicle- earnings have been mired by a nine-month long strike at its Lucky Friday mine in Idaho. We assume that this strike will peter out in the next couple of months at which point HL has some particularly strong upside given that its other mines are performing well and it has a promising project pipeline too.
But overall we silver performing stronger than gold (which we see rising another 10% in the year ahead with the Gold:Silver ratio falling from over 77, as it stands at the time of writing, to around 70, or perhaps below, as the year progresses. This would put the silver price at around $20 plus by the end of 2018.
It is thus worth looking at the world's top silver producers as being the most likely beneficiaries here. However most produce silver as a byproduct, or co-product with base metals or gold mining operations providing the greater part of their business thus limiting the impact of a rising silver price on their earnings - see table below. Further many of these top producers are not U.S. quoted although access to their stocks may be available on the OTC markets - or perhaps via the Global X Silver Miners ETF (NYSEARCA:SIL), which minimizes some of the risks involved in silver mining investment through diversity of holdings.
Table: World's top silver producers in 2015 and 2016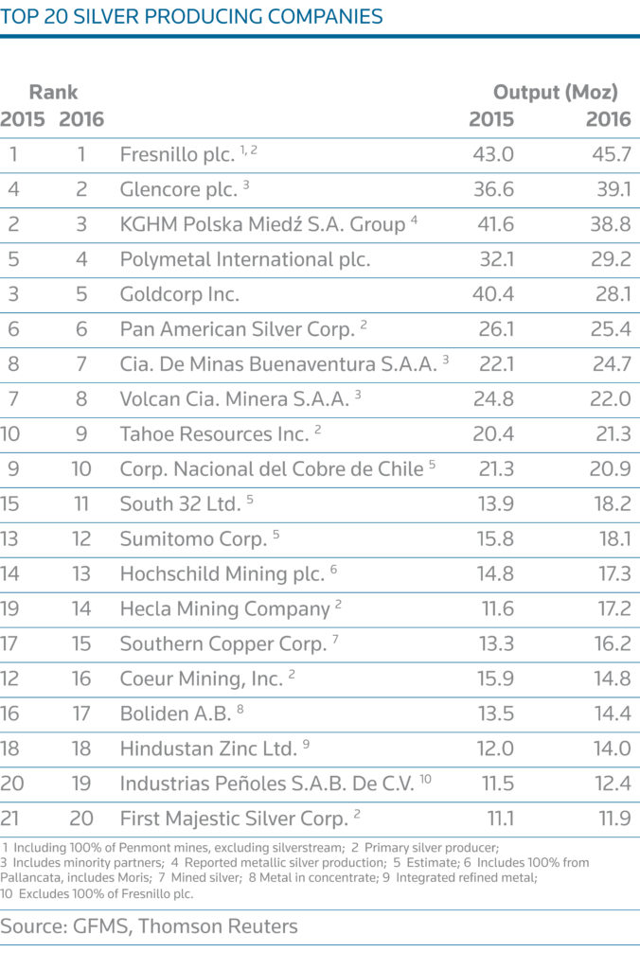 Of the tabulated companies only three are U.S. headquartered - Tahoe Resources (NYSE: TAHO), Hecla Mining (NYSE: HL) and Coeur Mining (NYSE: CDE) while three are Canadian, but do have U.S quotes, [Goldcorp (NYSE: GG), Pan American Silver (NASDAQ: PAAS) and First Majestic (NYSE: AG)]. Of these Goldcorp is primarily a gold mining company, although does operate the world's sixth largest silver mine by production - possibly the largest by resource tonnage - in Penasquito in Mexico, but the actual impact of silver on earnings is dwarfed by that of gold.
Of the other companies in the top 20 table only three can be classified as primary silver producers - Mexico's Fresnillo, which has its primary quote in London (LSE: FRES), Russia's Polymetal - also London quoted (LSE: POLY) and perhaps UK headquartered Hochschild Mining (LSE: HOC).
The only other Canadian headquartered primary silver miner with a major mining operation and with a U.S. quote which may be of interest to U.S. investors is SSR Mining - Formerly Silver Standard Resources - (NASDAQ: SSRM) which owns and operates the Pirquitas mine, but this is winding down although there is promising brownfields exploration potential in the surrounding area. It also operates the Marigold Mine in the U.S. and Seabee mine in Canada but these are both gold operations so perhaps the company should no longer be considered as a silver stock (hence the change in name). SSRM also retains a significant stake in Canada's Pretivm (NYSE: PVG) - a new high grade gold operation in British Columbia headed by former Silver Standard CEO, Robert Quartermain as Exec Chairman. PVG is also a substantial silver producer in its own right. We have liked PVG ever since being shown a section of some of the initial core with a massive amount of visible gold (a rarity these days) several years ago and do have considerable faith in the company's Executive Chairman!
There are also a number of Canadian headquartered juniors, some of which are producers, in the silver space - including Fortuna Silver, Excellon Resources, Endeavour Silver, MAG Silver, Great Panther Mines, Silvercorp Metals, Alexco Resource among others, all of which bear examination in a rising silver market, but can be particularly risky investments if things go sour.
But actual recommendations are another thing altogether. From our listing of precious metals picks published before Christmas, HL and WPM would of course make our silver list. CDE perhaps also. It had a disastrous year in 2017 but, like HL, could see a sharp stock price recovery in 2018.
PAAS may benefit from the change of leadership in Argentina's Chubut Province due to the untimely death of the state's virulently anti-mining Governor Mario Das Neves. Initial portents are not favourable as new Governor Mariano Arcioni has previously gone on record as taking a similar line to his predecessor. At stake here is the prospective development by PAAS of the world class Navidad silver-lead-zinc deposit - but don't hold your breath. But PAAS's other operations do seem to be going fairly well.
Another silver stock waiting on a Government decision on a major project is TAHO which has seen its mining licence withdrawn on its massive Escobal silver mine in Guatemala - perhaps the world's single largest primary silver mining operation. This like PAAS is probably another case of wait and see. If TAHO gets its licence back it will see a mega boost in its stock price, but it could prove to be a big IF.
So in terms of actual silver stock recommendations, apart from WPM and the SIL ETF, our advice would be an investment in two recovery stocks - HL and CDE and keep an eye on the Guatemalan and Chubut Governments re TAHO and PAAS but probably defer an investment decision in these unless or until there is political movement in the miners' favor. We never really recommend juniors as the downside risks can be big but if silver does well there could be some big movers here.
Disclosure: I/we have no positions in any stocks mentioned, and no plans to initiate any positions within the next 72 hours. I wrote this article myself, and it expresses my own opinions. I am not receiving compensation for it (other than from Seeking Alpha). I have no business relationship with any company whose stock is mentioned in this article.