By Bob Ciura
Healthcare stocks are a potential gold mine for dividend investors. The best dividend stocks typically have several qualities in common. Namely, they have leadership positions in their industries, are highly profitable, and have the ability to grow. The best healthcare stocks have all these qualities. The industry is stable, with high demand each year. Most people cannot go without necessary medicine and healthcare, even during economic downturns.
This gives certain healthcare stocks the ability to pay dividends, and raise their dividends each year. With that in mind, we have compiled a list of 203 dividend-paying stocks in the healthcare sector. You can see all 203 dividend-paying healthcare stocks here.
From that list, we have selected the top 5 healthcare stocks, which have a unique mix of dividend yield, dividend growth, compelling valuations, and growth potential. As a result, here are the top 5 healthcare dividend stocks for 2018, in no particular order.
Healthcare Dividend Stock #1: Medtronic (MDT)
Dividend Yield: 2.3%
Leading off the list is Medtronic, a medical device giant and Dividend Aristocrat. Medtronic is not a high-yield stock, but it is an excellent dividend growth company. Medtronic is one of 51 companies in the S&P 500 Index, with 25+ consecutive years of dividend increases. You can see all 51 Dividend Aristocrats here.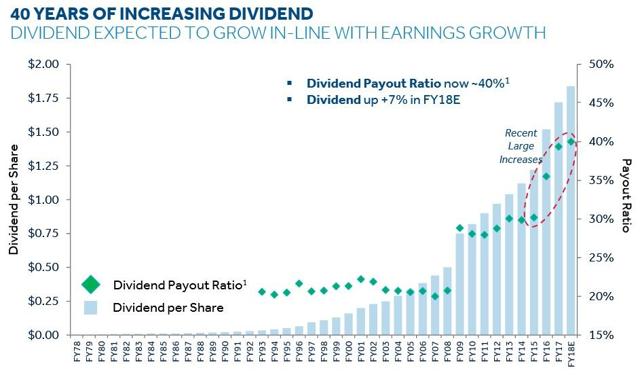 Source: August 2017 CFA Society Conference, page 15
Medtronic has increased its dividend for 40 years in a row, and it is also a high-growth dividend stock. According to the company, it has raised its dividend by 18% each year, over its 40-year dividend growth streak. Such a high dividend growth rate is the result of the company's strong business model and earnings growth.
Medtronic manufactures and sells medical devices. It operates in four segments, which are cardiac and vascular, restorative therapies, minimally invasive therapies, and diabetes. These businesses are all growing, and contributed to Medtronic's strong performance in fiscal 2017. Organic revenue increased 5% for the fiscal year, while adjusted earnings-per-share increased 11%, to $4.60.
Medtronic is off to a good start to fiscal 2018. Last quarter organic revenue increased 4%, along with adjusted earnings-per-share growth of 5%, excluding the impact of foreign exchange and divestitures. Revenue increased 7% in the core cardiac and vascular segment.
Future growth should be easy to come by. Medtronic has a robust pipeline, with new products in development across all of its business segments.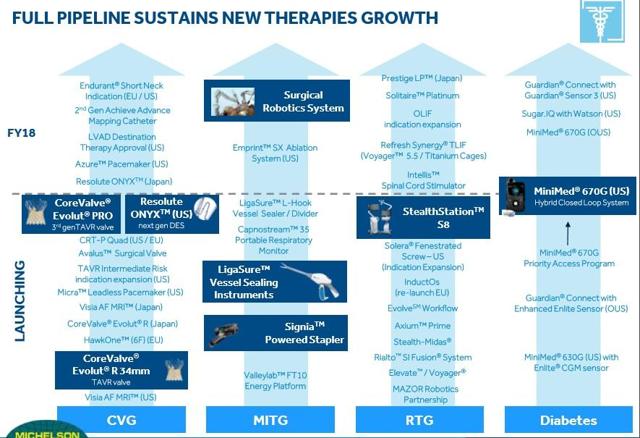 Source: August 2017 CFA Society Conference, page 6
In addition to growing the pipeline organically, Medtronic will generate growth from acquisitions. In fiscal 2017, Medtronic made five acquisitions, to help drive revenue growth. Cost controls and share repurchases could fuel double-digit earnings growth this year. For fiscal 2018, Medtronic expects organic revenue growth of 4%-5%, along with 9%-10% adjusted earnings growth for the year. This will help the company continue its impressive dividend growth streak.
Medtronic is also reasonably valued. In fiscal 2017, adjusted earnings-per-share were $4.60. As a result, the stock has a price-to-earnings ratio of 17.7. Medtronic's valuation is well below the S&P 500 Index, which has an average price-to-earnings ratio of 25.8. Medtronic stock could generate returns from an expanding price-to-earnings ratio, in addition to earnings growth and dividends.
Healthcare Dividend Stock #2: Cardinal Health (CAH)
Dividend Yield: 3.0%
Cardinal Health is also a Dividend Aristocrat, and is in the process of a turnaround. The company has increased its dividend for 32 years in a row, including a 3% increase on May 3rd. Cardinal Health is a giant in healthcare distribution. It operates in 60 countries, and generates annual revenue of approximately $129 billion.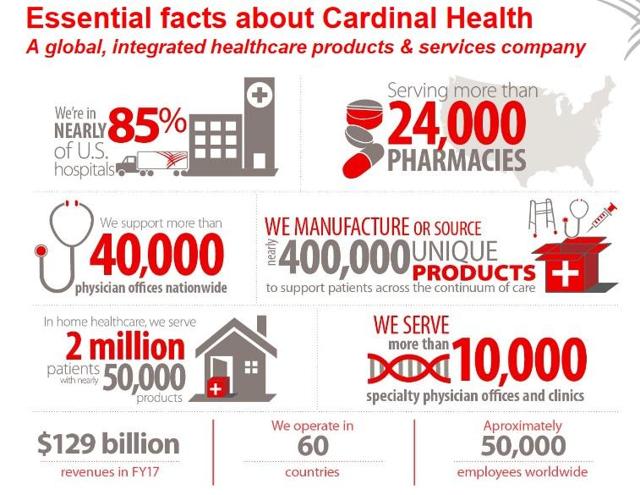 Source: 2017 Annual Stockholder Meeting, page 5
The company has two operating segments:
Pharmaceutical (89% of revenue)
Medical (11% of revenue)
The pharmaceutical business accounts for the vast majority of Cardinal Health's revenue, which is problematic because pharmaceutical distribution is under a lot of pressure. First, drug price deflation has negatively impacted margins in the pharmaceutical segment. This caused operating profit in the pharmaceutical segment to decline by 12% in fiscal 2017. Things have not improved so far in fiscal 2018; first-quarter, revenue increased 2%, but adjusted earnings-per-share declined 12%. Not surprisingly, the pharmaceutical business was the biggest area of weakness.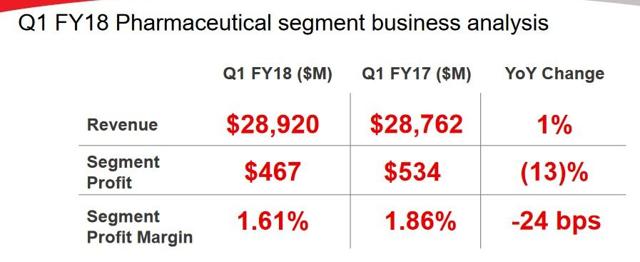 Source: First-Quarter Earnings Presentation, page 5
Investor sentiment remains pessimistic, because Cardinal Health could continue to be challenged going forward. Cardinal Health is facing the impact of the opioid crisis in the U.S. In Cardinal Health's most recent 10-Q filed with the SEC, the company stated it was included in lawsuits against pharmaceutical distributors, filed by 98 counties and municipalities, one state attorney general, and one tribal entity.
While it is not certain how this will play out, it seems likely that a potential punishment will take the form of a one-time fine, or perhaps a small change to how Cardinal Health distributes opioids. We do not feel the long-term health of the company will be permanently damaged by the current challenges. As a result, Cardinal Health appears to be a significantly undervalued stock. Cardinal Health generated adjusted earnings-per-share of $5.40 in 2017, which means shares trade for a price-to-earnings ratio of just 11.5.
The current climate is difficult for Cardinal Health. The company expects fiscal 2018 adjusted earnings-per-share to decline 5%-10%. However, its long-term growth prospects are still intact. Price deflation in pharmaceuticals has eased as of late. Cardinal Health's joint venture with CVS Health (CVS), called Red Oak Sourcing, will help the two companies negotiate better generic pharmaceutical prices.
In addition, Cardinal Health also recently acquired Medtronic's Patient Recovery business for $6.1 billion, which will broaden the company's product offerings. Cardinal Health management expects the Patient Recovery acquisition to add $0.21 to fiscal 2018 earnings-per-share.
An eventual return to growth appears likely, and in the meantime Cardinal Health has an attractive valuation and 3% dividend yield.
Healthcare Dividend Stock #3: Walgreens Boots Alliance (WBA)
Dividend Yield: 2.2%
Walgreens Boots is yet another Dividend Aristocrat—it has increased its dividend for 42 years in a row. The stock has had a difficult year, with shares down approximately 12% year-to-date. Meanwhile, the S&P 500 Index has increased approximately 20% so far this year. Walgreens' under-performance is due to rising competitive threats in retail, namely from e-commerce giant Amazon (AMZN), which could be about to enter the pharmacy space.
But Walgreens simply appears to be a case of investors throwing the baby out with the bathwater. The company is still performing very well. In fiscal 2017, Walgreens grew adjusted earnings-per-share by 13%, thanks to a 3.3% rise in comparable-store sales. Last quarter, pharmacy sales and prescriptions increased 5.6% and 8.7%, respectively.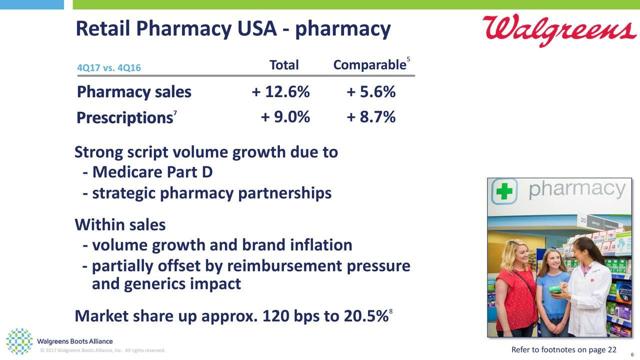 Source: 2017 Earnings Presentation, page 6
Fears of Amazon displacing Walgreens seem unfounded. After Walgreens' merger with Alliance Boots in 2014, it became the largest retail pharmacy in the U.S. and Europe. Today, Walgreens operates more than 13,200 stores in 11 countries. Walgreens has nearly 400 distribution centers that supply approximately 230,000 pharmacies, doctors, health centers, and hospitals, which serves as a competitive advantage.
Walgreens has plenty of growth opportunities going forward. For example, Walgreens recently acquired over 1,900 Rite Aid (RAD) stores, as well as three of its distribution centers, and related inventory, for $4.375 billion. The Rite Aid transaction will help Walgreens grow revenue and earnings.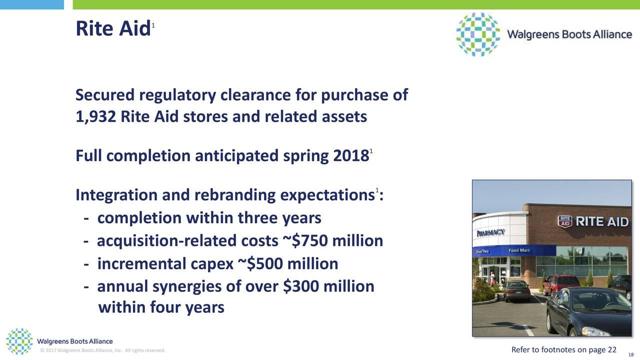 Source: 2017 Earnings Presentation, page 18
Acquiring these stores will help further Walgreens' sales growth. And, since Walgreens and Rite Aid have nearly identical businesses, Walgreens will be able to generate significant cost synergies from the deal. Walgreens expects to realize more than $300 million in annual cost savings by 2021.
Walgreens also has growth potential in the emerging markets, specifically China. On December 6th, Walgreens acquired a 40% stake in China-based pharmacy chain Guoda Drugstores, for $416 million. Guoda operates more than 3,500 retail pharmacies across around 70 cities in China. This emerging market could be a huge long-term catalyst for Walgreens.
For fiscal 2018, Walgreens expects adjusted earnings-per-share of $5.40 to $5.70. At the midpoint, earnings would increase 9% in 2018, which would represent another very good year for the company. This would easily allow for another dividend increase next year.
Walgreens had adjusted earnings-per-share of $5.10 in fiscal 2017. As a result, the stock trades for a price-to-earnings ratio of 14.3. Walgreens appears to be significantly undervalued, given its growth potential and high-quality business.
Healthcare Dividend Stock #4: Amgen (AMGN)
Dividend Yield: 3.0%
Amgen is particularly interesting, because it is a rare stock with a 3%+ dividend yield, and a 10%+ dividend growth rate. On December 12th, Amgen increased its quarterly dividend by 15%, to $1.32 per share. In the past five years, Amgen has a compound annual dividend growth rate of 23%.
Amgen's impressive dividend growth is the result of its strong business model and corresponding earnings growth. Amgen is a biotech, with a focus on therapies for patients suffering from serious illnesses, in areas of high unmet need. Amgen has six core therapeutic areas:
Cardiovascular disease
Oncology
Bone health
Neuroscience
Nephrology
Inflammation
Amgen had 12% growth in adjusted earnings-per-share last year, thanks to a combination of 6% revenue growth and a 400-basis point improvement in adjusted operating margin. Revenue growth has slowed this year. Last quarter, Amgen's revenue declined 1%. Amgen is being negatively impacted by patent expirations. Two of the company's largest products, Enbrel and Neulasta, had revenue declines of 6% each last quarter.
Fortunately, Amgen is making up for this with growth from new products. Some of the company's core growth products, such as Sensipar and Prolia, increased revenue by 10% and 22% last quarter, respectively. Prolia has grown at a high rate since launching, and will soon be a $2 billion product by annual sales.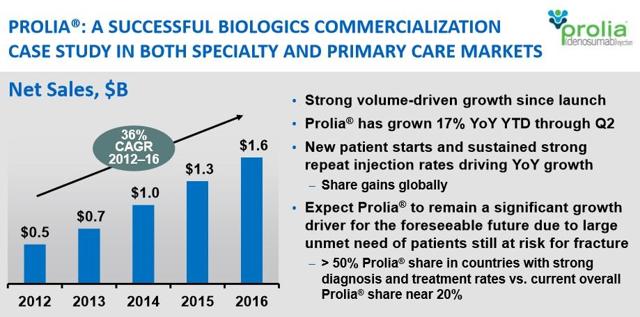 Source: 2017 Bank of America Healthcare Conference, page 4
Cost cuts and share repurchases are driving earnings growth, even though revenue growth has slowed. Adjusted earnings-per-share increased 11% in the first three quarters. Growth from new products should return Amgen to revenue growth. In the meantime, Amgen still generates strong cash flow, which fuels its high dividend growth. Free cash flow increased 13% over the first three quarters of 2017, to $7.65 billion.
For the full year, Amgen expects adjusted earnings-per-share of $12.50 to $12.70. Based on this guidance, the company has a dividend payout ratio below 50%. This leaves plenty of room for continued dividend increases each year, especially since earnings and free cash flow are growing. With a 3% dividend yield, Amgen looks attractive for its strong yield, as well as its dividend growth.
Plus, Amgen is attractively valued. Using 2017 earnings estimates, the stock has a price-to-earnings ratio of 13.9.
Healthcare Dividend Stock #5: Pfizer (PFE)
Dividend Yield: 3.7%
Pfizer earns a place on our list of "blue-chip" stocks, which we define as companies with 100+ years in business, with a 3%+ dividend yield. You can see our entire list of blue chip stocks here.
Pfizer has two main operating segments:
Innovative Health (60% of revenue)
Essential Health (40% of revenue)
Pfizer's global portfolio focuses on biopharmaceuticals, but it also includes vaccines, and consumer healthcare products. Within the pharmaceutical portfolio, Pfizer has invested heavily in its six core "anchor" products over the past several years.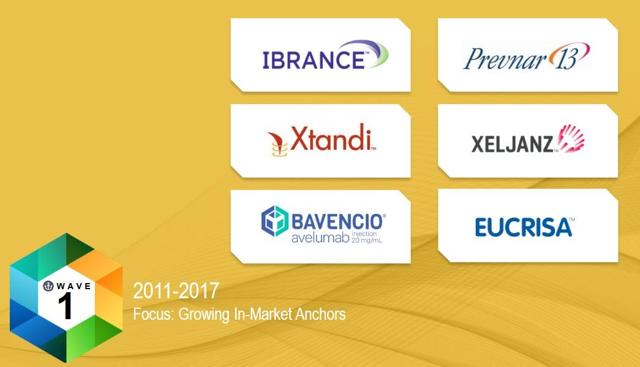 Source: 2017 Goldman Sachs Healthcare Conference, page 5
Pfizer has had 22 key approvals since 2011. This has allowed it to replenish its pipeline after losing patent protection for Lipitor, and as a result the company has continued to grow. For example, both of the core operating segments grew revenue by 11% in 2016. Pfizer's revenue declined 1% over the first three quarters of 2017, but adjusted earnings-per-share increased 8% in that time.
Continued growth is likely going forward, thanks to Pfizer's strong product pipeline. Pfizer expects as many as 30 product approvals over the next five years, 15 of which have the potential to be blockbusters. It expects seven of these 15 to receive approval by 2020. It also has 14 biosimilar assets in development, 8 of which are mid-to-late stage.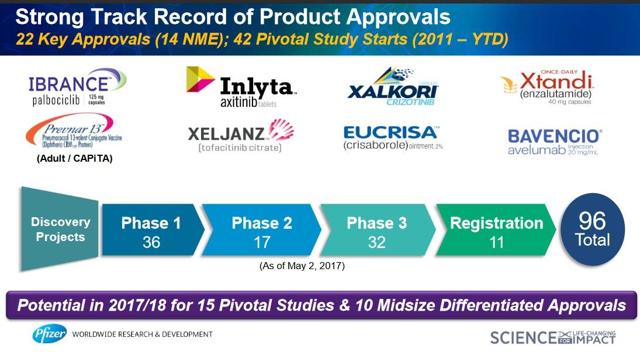 Source: 2017 Goldman Sachs Healthcare Conference, page 3
Pfizer's acquisitions will add to its growth. In recent years, Pfizer acquired Hospira for $17 billion, and Medivation for $14 billion. For 2017, Pfizer expects revenue growth up to 1% from 2016, along with 7%-9% earnings growth. Earnings growth will be boosted by cost cuts and share repurchases. For the full year, Pfizer expects adjusted earnings-per-share of $2.60, at the midpoint of guidance.
As a result, the stock trades for a price-to-earnings ratio of 14, based on the 2017 forecast. This is a fairly low valuation, and could indicate the stock is undervalued. Plus, the company is very shareholder-friendly.
Pfizer's earnings growth allows the company to return huge amounts of cash to shareholders. It recently increased its quarterly dividend by 6.3%, to $0.34 per share, and also added $10 billion to its share repurchase program, in addition to the $6.4 billion remaining on the current buyback. The dividend is highly secure, with the new annual payout of $1.36 representing a healthy payout ratio of 52%, based on projected 2017 earnings-per-share.
Final Thoughts
The five stocks listed above might not have the highest dividend yields, but investors are usually better off buying high-quality companies, with reasonable valuations and future growth potential, rather than focusing just on the highest yields. Sky-high dividend yields are often a red flag, that the underlying dividend payout is not sustainable.
These stocks have dividend yields above the S&P 500 Index average, and are modestly valued. They also have strong cash flow, which secures their dividends, and leaves room for annual dividend increases moving forward. There are surely higher-yielding healthcare stocks out there, but to paraphrase Warren Buffett, it is far better to buy a wonderful company at a fair price, than a fair company at a wonderful price.
Three of the stocks on this list are Dividend Aristocrats, and all three appear undervalued. Find out if they receive a confirmed buy rating with our service Undervalued Aristocrats, which provides actionable buy and sell recommendations on some of the most undervalued dividend growth stocks around. Click here to learn more.
Disclosure: I am/we are long CAH.
I wrote this article myself, and it expresses my own opinions. I am not receiving compensation for it (other than from Seeking Alpha). I have no business relationship with any company whose stock is mentioned in this article.