New York (December 28): I remember driving my old high school chocolate colored Chevy Nova (a gift from my Uncle's Jack's estate) back and forth from my home in Western New York to Greenwich Village and NYU in the late 1970s. Every so often, the little oil light on the dashboard would come on as I trod back and forth along Route 17 across the underbelly of New York State.
If the oil light came on around Hornell, NY, eastbound, going to New York City, I knew I was good until about Binghamton. But if the light came on or before Corning, westbound, on my way home, I knew I had to stop there, immediately, and add a quart of motor oil. That's because once you got past Corning, there was a dearth of gas stations and "home" was still over a 100 miles away. (Once burned; twice learned: I started carrying a quart of oil and an oil opener spout [if you're under 40, ask your Dad what that is] on my trips home.)
I mention my beloved old college clunker because it's illustrative of what can happen with the yield curve: you can go along for quite some time, even as the narrowing yield curve signals increased risk; then - suddenly - you find your equity portfolio in crisis and, as you look for relief, there is nowhere to go; yields on the bond market have already cratered as cash has moved there and there is literally nowhere else to go to earn a return on your money.
Your portfolio, like my old college clunker, can be stalled out, sitting on the shoulder, unable to get you anywhere.
TROUBLE WITH THE CURVE

St. Louis Fed research from the 1990's has correlated the 3Mo/10Yr yield curve with the likelihood of recession; the lower the curve, the higher the risk of recession in the future.
We've been watching the yield curve closely since April. It started 2017 at 1.92. On Wednesday, December 27, it sank to below 100bps for the first time in 2017, to just 98bps.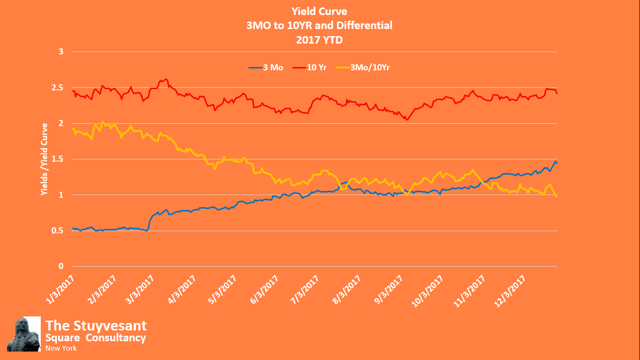 What's so troubling about this is that the decline was so precipitous.
Just last week on our Twitter feed, we were lauding what seemed to be an increasing yield curve with the new tax bill:


But since then, the curve had narrowed from 115 to 98 - by 17 bps -- or fifteen percent -- in just five days!
The decline correlates with the large $9.6 billion draw-down in equity investments yesterday, Wednesday, most of which was reportedly sent overseas to Japan, Europe, and emerging market ETFs.
Additionally, investors likely sold off losing stocks as the capital losses have more value against recognized capital gains in 2017 because of the tax bill.
Other investors may be moving into commodities, which are enjoying a resurgence, or maybe even betting on Bitcoin.
We anticipated additional narrowing, below 100bps when the Fed raised rate earlier this month. But as we wrote in April, investors need to be extra careful and keep close watch of the yield curve, especially going into January, when year end concerns no longer affect investment decisions and the "date" (sic) dependent Fed's interest rate decisions, which always seem to come at year end. If the curve remains in the 100bps range, or sinks lower, investors will need to reassess their risk profile and start making moves.
While bull markets don't die of old age, they do die of a change in investor preferences. While the Trump tax cuts no doubt added to the robust gains we have seen in today's equity markets since his election, investors need to recognize that the gains from those cuts are priced in to the market already and investors are looking to maintain good returns.
If they see opportunities to gain those returns overseas, in commodities, or in bonds, it could play hell with US equities markets.
Like my old college clunker, if you're caught with few options, there may not be time -- or a place -- to reallocate your portfolio.
SUMMARY:
HOLD: Stocks, but hedge your holdings with standing sell orders or put options.
HOLD: Bonds, until after year end to see the direction of interest rates beyond year end and without the influence of the "date" (sic) dependent fed.
LONG: Commodities, foreign stocks, developing markets.
________________________________________
Disclaimer: The views expressed, including the outcome of future events, are the opinions of the firm and its management and do not represent, and should not be considered to be, investment advice. You should not use this article for that purpose. This article includes forward looking statements as to future events that may or may not develop as the writer opines. Before making any investment decision you should consult your own investment, business, legal, tax, and financial advisers.
This article discusses securities that do not trade on a major U.S. exchange. Please be aware of the risks associated with these stocks.
Disclosure: I/we have no positions in any stocks mentioned, and no plans to initiate any positions within the next 72 hours.
I wrote this article myself, and it expresses my own opinions. I am not receiving compensation for it (other than from Seeking Alpha). I have no business relationship with any company whose stock is mentioned in this article.