Piotroski Value Portfolio YTD Returns

Introduction
This article continues the series of testing the best value investment research over a one-year time horizon for well documented and substantial value investing returns. The January Enhanced Piotroski portfolio represents the sixth portfolio and last test portfolio of the Piotroski F-score model until the annual portfolio replenishment occurs again in August. This study is testing the Piotroski F-score model to see how many of the different value portfolios formed each month can outperform the market over a year long period.

So far the September, October and December Portfolios are each beating the S&P 500 in their respective time periods. Additionally, four of five Enhanced Piotroksi portfolios are significantly outperforming the AAII 2017 Piotroski High F-score portfolio that has a 3.0% return through 12 months.

These Piotroski value selections were designed as a more stable, annual investment approach that differs greatly from the Weekly Breakout Forecast based on highly volatile, short-term momentum stocks. The value selection formulas have been well documented over the past 17 years to consistently outperform. As the chart below illustrates, the average portfolio is returning 1.95% per month YTD with a strong emphasis on fundamental growth characteristics.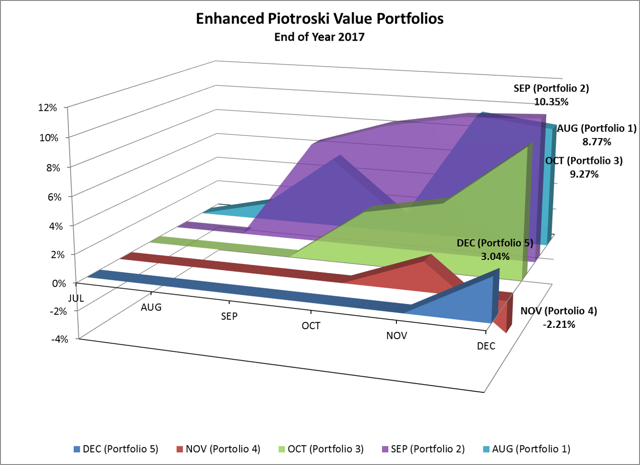 The January stock selections build on the findings from the Amor-Tapia & Tascon (2016) research that evaluates top selection models in more detail in the initial August report that found the Piotroski model to be one of the best models tested for value investment selections.
The American Association of Individual Investors also documents their own multi-year test results of the Piotroski F-score as one of the best performing models with annualized total returns of 22.8% from among dozens of selection models that they monitor.
The Enhanced Piotroski portfolios offered here are outperforming the AAII Piotroski portfolio for all monthly test portfolios except November. The selections are well on track to outperform the S&P 500 and other comparable value portfolios.
Selection portfolio details since September when this research became subscription based are available to subscribers only.
5 Selected Stocks to Outperform
The enhanced Piotroski model was run again for January for the highest scoring value stocks on US exchanges, excluding OTC, and excluding stocks below $3/share. The following five stocks were selected from among the 15 stocks for the subscribers Piotroski Enhanced Value portfolio for January and are listed below:
NXP Semiconductors (NXPI) - Technology / Semiconductor - Broad Line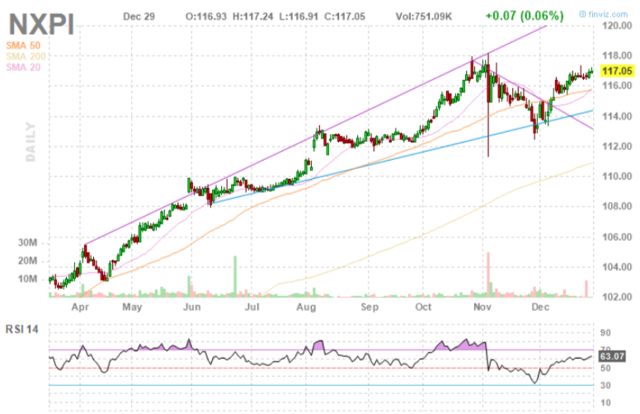 2. Tyler Technologies (TYL) - Technology / Technical and System Software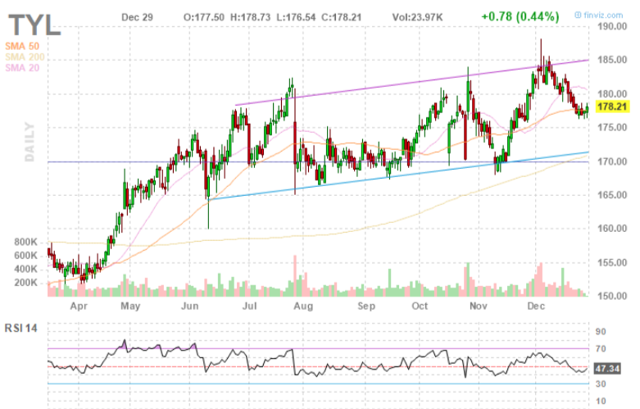 3. PAR Technology Group (PAR) - Technology / Application Software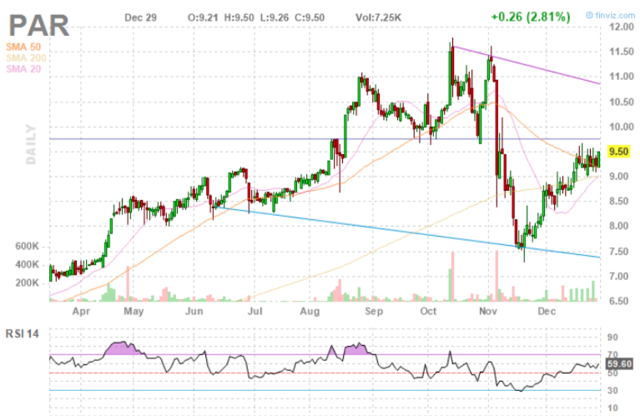 4. Texas Instruments Inc. (TXN) Technology / Semiconductor - Broad Line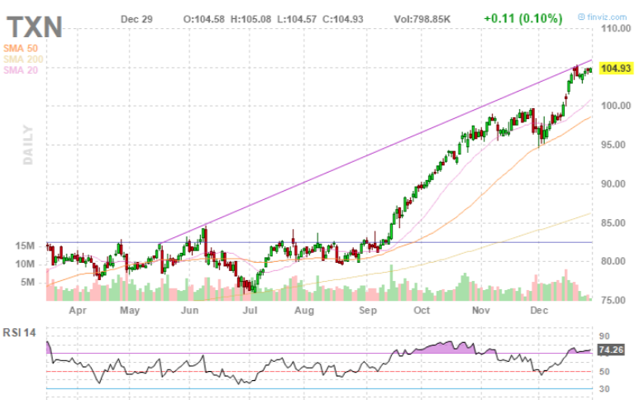 5. Valmont Industries (VMI) - Industrial Goods / Metal Fabrication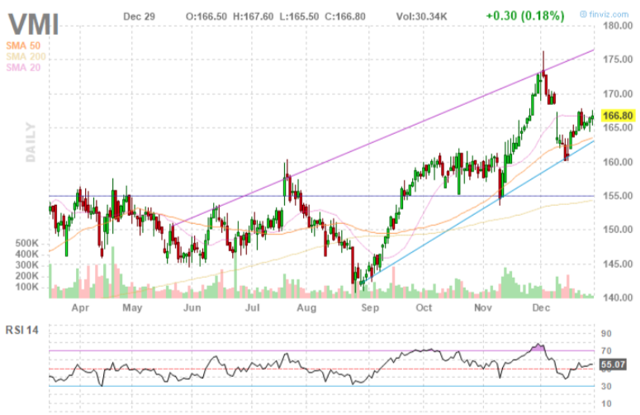 These stocks represent five of the 15 strongest positive value F-score characteristics in January that serve as an excellent starting point for conducting further due diligence on these top value selection ideas. They are enhanced by my own additional screening parameters to reduce outliers, penny stocks and remove other adverse characteristics for the best results.
Background on Value Scoring Systems
Calculating scores and assigning values to stocks based on fundamental data remains one of the most popular methods for value stock investing. Most of us are familiar with such scoring systems as the Value Line Rank (started in 1965), the CANSLIM composite ranking system (started in 1988), the Zacks Rank (started in 1982, first made public in 1992) and many other popular systems that have given us good results over the years. To this day it is not uncommon to find substantial overlap among the best stocks identified by different value ranking methodologies. Most medium to long-term investors are well served by taking these models into consideration.
Less well known are the academic composite value models based on fundamentals that continue to be rigorously tested in peer-reviewed financial literature. Some of these published models have their measurement scoring integrated into publicly available stock screens from various stock analysis websites. One of the best academic models retested recently by Amor-Tapia and Tascon (2016) is the Piotroski score model created by Joseph Piotroski in 2000:
The Piotroski (2000) FSCORE: The Score consists of aggregating nine individual binary signals derived from accounting variables related to profitability. The most favorable value score is 9 and the least favorable is zero.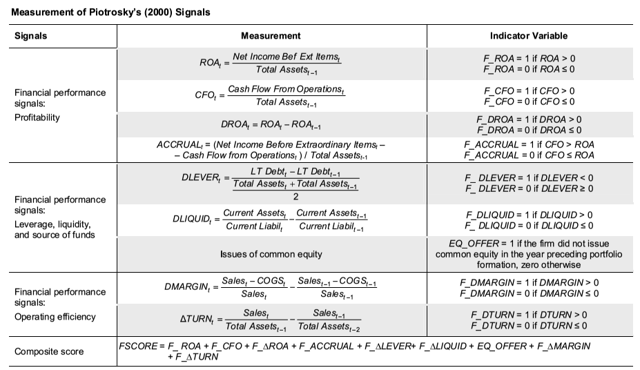 (Amor-Tapia &Tascon, 2016)
Conclusion
The Piotroski F-Score model has been well documented in the financial literature and by practitioners to generate significant abnormal returns on an annual basis. Over the past 15 years it remains one of the top selection models among dozens tracked by the American Association of Individual Investors. The enhanced model produced here each month further eliminates financial outliers and low-priced stocks that may jeopardize the best performance results possible. As always, I trust this will be a profitable contribution to your investment objectives!

Additional Value and Momentum Portfolios include:
The new actively-traded V&M Premium Portfolio for 2018 will officially begin trading on Tuesday, January 2nd. Stock selections for this 2018 portfolio are exclusive to subscribers and have been published with entry targets for Tuesday.
Three of the five different portfolio categories were first offered in July of 2017. The Weekly Breakout Forecast was started in week 2 of 2017 with 40 weeks of breakout stock trading that achieved 154 stocks with greater than 5% returns in a trading week and 79 stocks with greater than 10% returns in less than five days. Returns for each of the portfolios through yesterday are shown below, most have six months of performance results: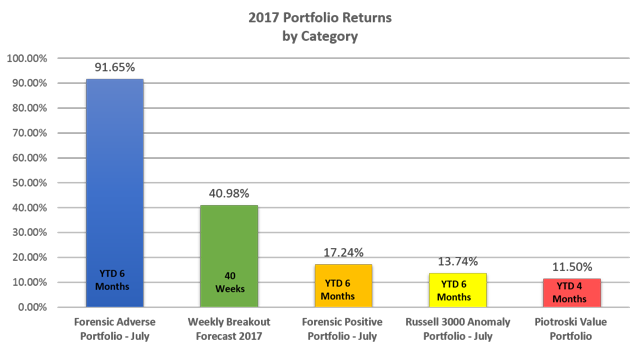 Additional articles on the different categories of portfolios and samples of research provided to subscribers are listed in my public research profile.

Additional individual stock recommendations are published monthly. My Denbury Resources (DNR) analytical article has gained 67.4% since the November selection date. DNR also was a Week 45 Breakout Forecast stock that contributed to the high cumulative returns of that portfolio.
If you are interested in subscribing to any of the Value & Momentum Breakout portfolios offered you can visit my subscription page here. Otherwise please click the "Follow" button at the top of the page and enjoy free updates on the progress of each of the different portfolios I offer that are outperforming the S&P 500 in each of their respective time periods.

As always, I wish you the very best in all your investments! Happy New Year!

JD Henning, PhD, CFE

References
Amor-Tapia, B., & Tascón, M.,T. (2016). Separating winners from losers: Composite indicators based on fundamentals in the European context *. Finance a Uver, 66(1), 70-94.
Piotroski, J. D. (2000). Value investing: The use of historical financial statement information to separate winners from losers. Journal of Accounting Research, 38, 1-41.
Disclosure: I am/we are long DNR.
I wrote this article myself, and it expresses my own opinions. I am not receiving compensation for it (other than from Seeking Alpha). I have no business relationship with any company whose stock is mentioned in this article.
Additional disclosure: I may initiate additional positions in the stocks covered here for 2018.