The GOP tax plan, which is now law, is one that stands to be quite friendly to international corporations. Reducing the statutory corporate rate from over 30% to around 20%, the tax bill is meant to reduce the tax "burden" faced by companies, especially those with large overseas profits. This is due to the repatriation provision, which in short states that foreign cash can be repatriated at a one-time cost of 8% for profits invested in real estate and 15.5% for profits in cash and stock. When Apple (NASDAQ:AAPL) CEO Tim Cook famously donated lavishly to Republican Speaker of the House Paul Ryan, people wondered what the two could ever have in common politically. Now, we know: taxes.
When we last wrote about the prospect of Apple issuing a special dividend resulting from the repatriation provision of the GOP tax plan, many details were still unknown. Now we can begin to flesh out the details of how the company stands to benefit and what it can do with all the cash. Here is a clip of myself discussing the tax bill on SA partner Cheddar TV.
A recent Bank of America Merrill Lynch survey might be a good starting point. The survey polled 300 S&P companies on what they would do with repatriated foreign cash: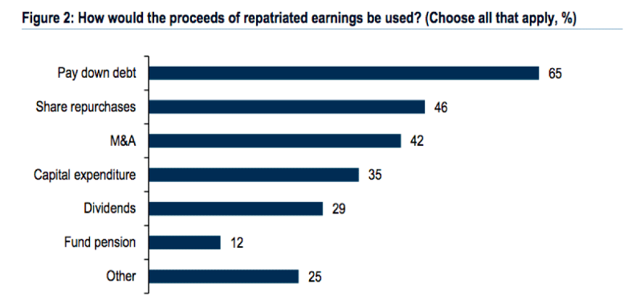 The top response should be no surprise: US corporations intend to pay down debt. This debt was issued largely because of two reasons. The first, since the Great Recession, interest rates have been rock bottom. It made good financial sense to issue debt at 1-2%. Second, should US corporations seek to repatriate their foreign cash prior to this new GOP tax plan, they would have had to pay a 35% rate. So a bit of a no-brainer, whatever your opinion on tax avoidance.
Apple's own balance sheet exploded with debt because of these very reasons, going from nearly $0 in 2011-2012 to almost $100 billion today. Quite a jump in five years, especially for a company with a record cash treasure chest.
Gene Munster came out with his own predictions too, saying that Apple will bring back around $215 billion. According to Munster, the company will only marginally increase its quarterly dividend by 15% from its typical 10% yearly increase.
However, we believe Apple is primed for a strong acquisition and a one-time special dividend. Remember, executives at Apple making these decisions, like CEO Tim Cook, hold millions of shares of the company, and they are almost certain to line their own pockets, even as other shareholders stand to gain as well. Next, as Apple continues its push into original content, we believe a media acquisition is also waiting in the wings.
Finally, given the aforementioned debt load, it is very likely the company will strengthen its balance sheet by paying down some debt.
Conclusion
Shareholders stand to gain from an Apple special dividend, and we fully expect analysts on the January earnings call to pursue this line of questioning with management.