I started Project $1M with the goal of growing an initial stake of about $225k (which ultimately became $275k) into roughly $1M in 10 years. The structure of the portfolio was to hold a max of 20-25 positions, which would have very minimal turnover. Given that to hit this mark would imply close to a 13% annualized return, achieving $1M in that time frame is clearly a stretch goal. The returns that the portfolio managed in 2017 were a step in the right direction down this road. At the end of 2017, Project $1M has returned 33% to the S&P's ~21%, achieving my goal of outperformance over the S&P 500.
The big unknown that I still have about the Project $1M portfolio is that while it may outperform in bull markets, will it stand the test of time over the inevitable bear market cycle that we will undoubtedly face sometime in the next few years?
Project $1M was an endeavor that began with a certain amount of hubris. That was that the market has a small set of very good, high-quality businesses which should outperform that vast majority of good and mediocre businesses over the long haul. I figured that the combination of superior business, plus acquiring these really outstanding businesses at the right price, should lead to eking out 2-3% of annual outperformance over the index.
I set out to pick best-of-breed businesses that were cash-flow monsters that would literally drown themselves in the weight of the cash flow that these businesses would throw off. I then added onto this an ability to extract exceptional returns on capital, and finally optimized around those businesses that had strong secular stories and tailwinds.
The interesting thing about the portfolio performance this year was there were no shortage of outperformers, and relatively few underperformers. I suspect that this is largely a reflection of lack of market discrimination when chasing growth opportunities. As Warren Buffett says, it's only when the tide comes in that you see who is swimming naked. The next 12-24 months are likely to be much better indicators of latent quality in the portfolio and the ability of the portfolio to outperform.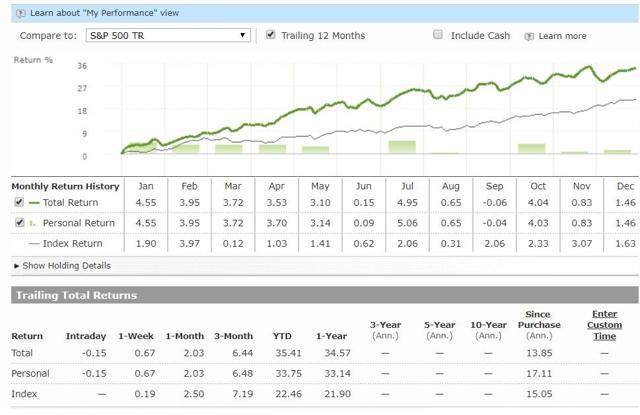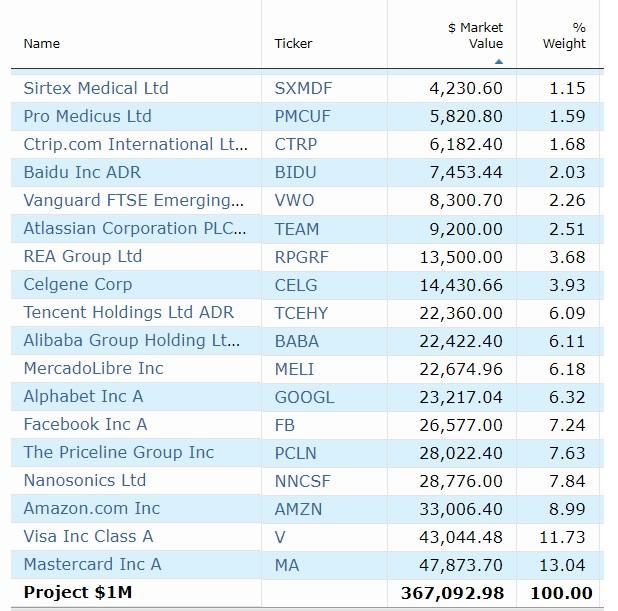 Key Learnings and Observations in 2017
Project $1M is well diversified from the S&P 500 Index
One of the fears that I had about Project $1M when I started is that I was just substantially replicating large cap tech, and that the returns would largely replicate what I could just as effectively get from any well diversified S&P 500 index. That would be largely self defeating, as it would probably be more efficient to just buy and hold an index if that was the case. Project $1M's performance in 2017 proved to me that there is sufficient diversity in my holdings that I will see significant deviation from the S&P 500 index over the period of my holding, for better or worse.
A new class of super stocks is being created
In my opinion, we are witnessing something very unique in history that is playing out before our eyes. The large tech leaders just become more dominant and entrenching their tentacles further over consumers with each passing year. A winner-takes-all tendency in each of their core markets, combined with a continuous appetite to innovate and deliver a superior customer experience, has seen consumers willingly fork over search history, purchasing habits, likes and interests and other intimate information to Facebook (NASDAQ:FB), Alphabet (NASDAQ:GOOG) (NASDAQ:GOOGL) and Amazon (NASDAQ:AMZN).
These businesses have such significant cash resources and high-quality internal talent that they are able to maintain an active purview over new innovation that may disrupt their core franchises, either investing in this early through their venture programs, acquiring businesses midstream or if necessary, selectively copycatting their competitors (as Facebook has done so successfully to Snapchat (NYSE:SNAP)).
This virtuous cycle sees their stock prices continuously rise while also successfully snuffing out new innovation which can get large enough to threaten their respective businesses.
Tech leaders' valuations still reasonable
Facebook, Google and Amazon have no doubt run hard in this bull market cycle. However, market trends and their respective influence suggest to me that each of these businesses still have significantly longer to go. None of these have excessive valuations in my opinion. Of course, people will claim that Amazon's valuation bears little correlation to its earnings record; however, a valuation multiple on operating cash flow is the correct way to approach Amazon's valuation in my view.
In any event, Facebook, Google, Alibaba (NYSE:BABA) and Tencent (OTCPK:TCEHY) are all very reasonably valued compared to their expected growth over the next few years, with nearly all having a PEG ratio close to 1. Thus very reasonable valuations, coupled with increasing market dominance, suggest to me that all of these businesses should have very strong growth profiles over the next 24 months.
Threat of regulation remains present
The large tech players are becoming drawn into a wider regulatory net as their dominance increases, and regulators are finally becoming awake to the fact that there is no effective way to keep them in check. Market forces aren't able to give birth to effective competition, due to some of the structural forces that I outlined above, yet regulators have concerns that tech giants can influence elections and decimate industries, and potentially jobs.
An impetus for regulation may be consumers get trapped in the clash of the titans, as is increasingly want to happen. The Google/Amazon spat that has resulted in Chromecast not being available on Amazon, and YouTube being blacklisted on the Firestick is a symptom of this. Where consumer experience suffers and consumers get caught in the wars between the tech giants, the calls for regulation are likely to increase.
Monitoring needed for more vulnerable positions
Not everything went smoothly for Project $1M. Concerns over the medium-term growth of positions such as Celgene (NASDAQ:CELG), Priceline (PCLN) and Ctrip (NASDAQ:CTRP) saw all of these businesses heavily marked down by the market. While each face very unique issues in their respective businesses, the speed of their markdowns by the market reinforced the need for me to keep an ongoing watch on all of these businesses.
Disclosure: I am/we are long ALL STOCKS LISTED.
I wrote this article myself, and it expresses my own opinions. I am not receiving compensation for it (other than from Seeking Alpha). I have no business relationship with any company whose stock is mentioned in this article.
Editor's Note: This article discusses one or more securities that do not trade on a major U.S. exchange. Please be aware of the risks associated with these stocks.