It is that time of year again where we try to forecast what the oil price will do over the coming 12 months. Last year I forecast $60/bbl for Brent year ending 2017 and with Brent trading on $66.50 as I write I can conclude that I got lucky this year. My friend wagered on $78 and our bet this year was too close to call. My forecasting effort is based on trying to understand the supply, demand, storage, price dynamic, and since this seemed to work pretty well this year, I will repeat the exercise with some slight modifications.
I have some reservations about the methodology stemming from 1) US LTO production has unpredictable impact on supply elasticity and 2) OPEC + Russia et al are withholding ~1.8 M bpd from the market. In effect this group will determine the oil price in 2018. If the price goes too high, they may open the taps a little to maintain the price they want, whatever that may be.
[The inset image shows "shale" fracking pads in the USA].
Disclaimer
No one has ever been able to confidently forecast the oil price that is subject to a vast array of socioeconomic, geopolitical and technology variables. The best we can do is to assemble some of the key data and to try and use our experience to draw some inferences about what may happen. Readers act upon the information presented here at their own risk.
Oil Price Narrative for 2018
The oil market is now subject to production constraint amounting to ~1.7 Mbpd. This has led to rebalancing of supply and demand by the end of 2017. The Brent oil price has recovered strongly since the summer to close the year at around $66.50. Last year I forecast $60/bbl for December 2017 and therefore came close.

"The Cartel" of OPEC + Russia + others has seen a high level of compliance with cuts during 2017: 87% for OPEC and 81% for non-OPEC members. There is agreement to maintain the cuts through 2018, and I suspect a high level of compliance to continue until at least the summer. The Cartel will effectively decide what the oil price will be one year from now and that means striking a balance between balancing their own books, keeping the global economy buoyant and trying not to provide the frackers with too much incentive.

In 2017, Libya and Nigeria saw production rise by ~430,000 bpd, diluting the OPEC cuts significantly. This is likely a one-off production bonus that acted to suppress price in 2017. In 2018, this is unlikely to be repeated and this will underpin the current price rally.

Including the cuts, global oil production has been flat since the beginning of 2015. There has been deep retrenchment throughout much of the global oil industry and reduced investment must at some stage begin to show in production declines. Higher price today may well feed through to higher LTO and tar sands production next year, but there is little sign of that now. My supply forecast assumes average production in 2018 that is the same as the last two years. This assumption is seriously at odds with the IEA which sees non-OPEC production expanding by 1.44 Mbpd in 2018.

A static supply forecast sees substantial stock draw-down as the year progresses with the strong recovery in the oil price continuing into the summer. At this point, we may well see the OECD calling on The Cartel to release more supply.

This new higher price environment will see the frackers flocking back as the year unfolds, but there is little to no sign of that happening now.

There is so much geopolitical uncertainty in the world today it is impossible to factor in. For example, Russia and Saudi Arabia are leading partners in The Cartel while at the same time political enemies in Syria. War is on the cards in Korea, perhaps with a nuclear exchange. The OECD seems determined to phase out petrol and diesel cars as soon as possible. Meanwhile, Bitcoin mining threatens to consume all of the world's electricity.

Putting it all together, I see a Brent oil price of at least $80/bbl one year from now.
Supply, Demand and Stocks
This year I am using the demand forecast provided by the IEA (November 2017 OMR) which is effectively a linear extrapolation of historic trend into the future (Figure 1). Demand in 2018 is forecast to rise by 1.3% over 2017.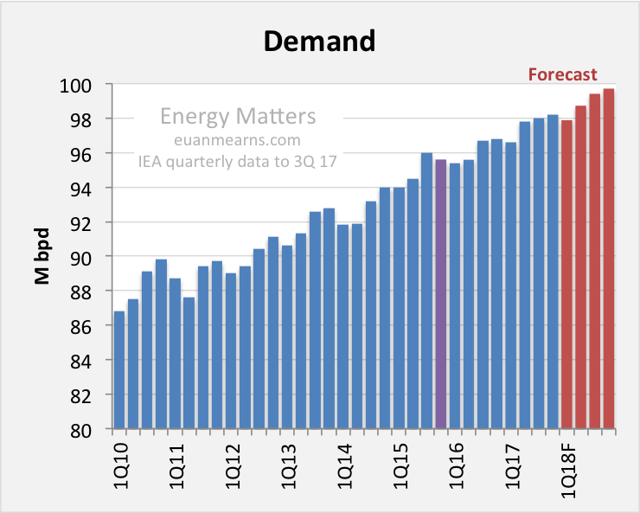 Figure 1 Historic and future quarterly oil demand from the IEA.
Supply is more tricky to forecast. The majority (~ two thirds) of oil producing nations are either on plateau production or in decline. This includes several OPEC countries like Algeria, Angola and Venezuela. The revival of the North Sea, brought about by several years of $100 oil, has now reversed. The weak OPEC countries + rest of world represent ~21 Mbpd production that is on plateau/in slow decline. I would anticipate that low investment in recent years will exacerbate this picture.
The core Middle East OPEC countries plus Russia + FSU will I believe stick to their quota guns for at least the first half of 2018. This major slice of global production, ~38 Mbpd, will therefore remain static.
That leaves North America where production has been static since 2014, small increases in the USA and Canada being offset by declines in Mexico. The IEA expects US LTO production to rise in 2018. North America represents ~20 Mbpd.
If we look at global production (Figure 2) we see that it has been on a plateau since the beginning of 2015, which incorporates the production constraint. My best guess for 2018 is that slow production growth in the USA and Canada offset declines throughout the rest of the world and that average production in 2018 will be exactly the same as for the last two years (Figure 2).
This prognosis is seriously at odds with the IEA which says this:
In all, non-OPEC oil production is forecast to expand by 680 kb/d on average in 2017 and accelerate to 1.44 mb/d next year, of which US crude oil production accounts for roughly 55%. Canada, Brazil and the UK are other notable sources of growth.
New capacity additions need to first offset natural declines that may be running at ~8% per annum. 8% of 97 Mbpd = 7.8 Mbpd. This is the new supply needed to stand still. Only time will tell who is correct on the supply front. Rystad Energy also sees US oil production sharply higher in 2018. I just can't see it in my production and rig-count charts.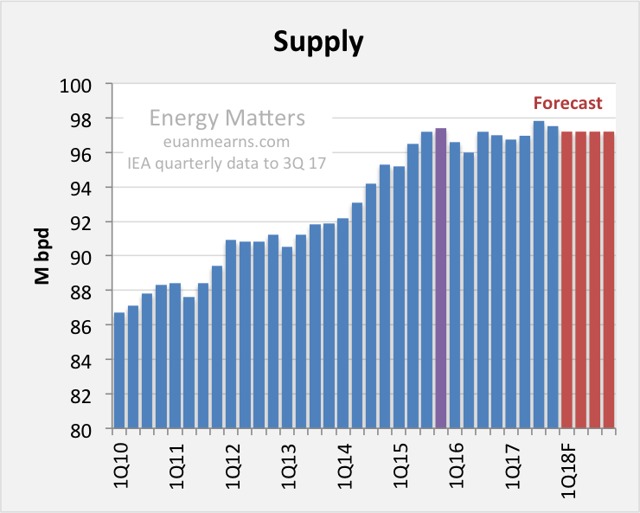 Figure 2 Quarterly oil supply as reported by the IEA. The forecast (not IEA) shows the plateau of the last two years continuing.
The imbalance between supply and demand is met by storage additions or drawdown as shown in Figure 3. The glut of recent years has disappeared and the stage appears to be set for a significant stock draw that will be bullish for the oil price which I expect to end next year sharply higher. In fact I think it is possible that by the third quarter, the OECD may be begging OPEC to release more production to rein in a rampant oil price. This makes forecasting incredibly difficult.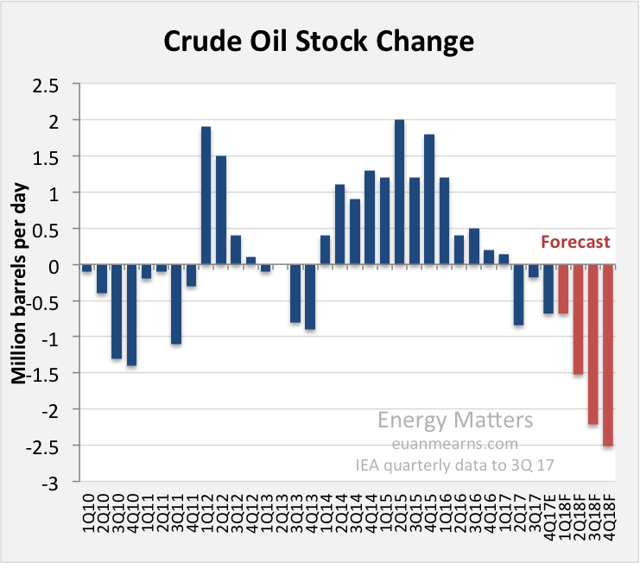 Figure 3 My flat oil supply assumption creates a large stock draw-down that will most certainly support price. An average draw of 1.5 Mbpd translates to 548 Mbls over a year (this compares with total OECD stocks of ~4,600 Mbls). Even with some non-OPEC supply growth, a significant stock draw may occur. If non-OPEC supply grows by 1 Mbpd, then The Cartel may have to maintain its restraint. If non-OPEC supply does not grow, then there will be scope for The Cartel to unwind its restraint. Either way, I see the oil price rally continuing through 2018.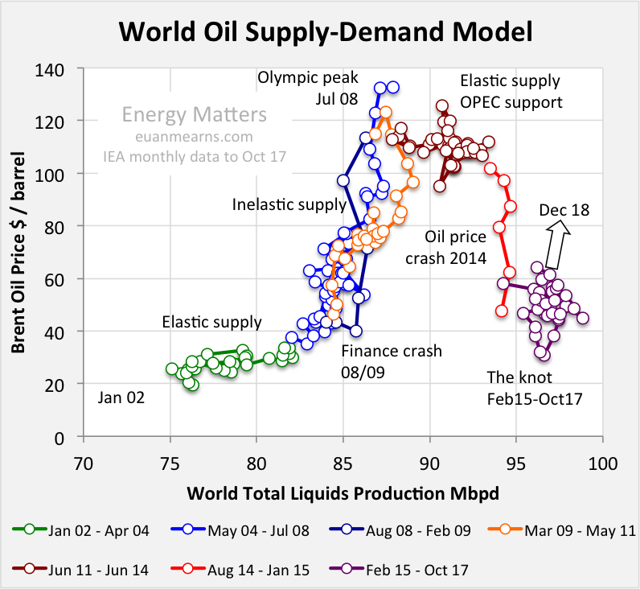 Figure 4 The evolution of supply and price since January 02. See text below for narrative.
The picture of how oil supply and price has evolved has been built over many years. The data are a time series that begin in January 2002 (bottom left). From 2002 to 2004, demand pushed supply higher with little response on price. The world had capacity to easily grow, especially from OPEC which at the time had substantial reserve capacity. It was simply a matter of opening the taps. But then, in 2004, the oil price began to rise steeply as the world struggled to find and bring new reserves on stream to meet rampant demand, especially from China that was building for the Olympic Games. The peak came in July 2008.
The finance crash of 2008/09 saw the oil price return to $40 in the space of months. But then OPEC elected to rein in production and the price retraced its steps towards the Olympic Peak by May 2011. There then followed the high price era, >$100/bbl, where OPEC constraint supported price that led to supply growth, mainly of LTO in the USA and Canada.
But then, in August 2014, Saudi Arabia, growing weary of making so much money whilst seeing market share transferred to the USA, opened the spigots and dumped the price back towards $40 in the space of a few months. Since the oil price crash, this chart has totally lacked direction and I'm surprised that using it helped me get close on my forecast for 2017. If my view on supply is correct, and The Cartel holds true, then I would expect the price to move above $80 as shown (arrow Figure 4) along an artificial inelastic trajectory.