While the cap-weighted S&P 500 gained 19.42% on the year, the average stock in the index was up less than that at just over 18%.
There were exactly 50 stocks in the S&P that gained more than 50% on the year, and there were only three that gained more than 100%. We were a bit surprised that only three stocks posted triple-digit returns given the year that markets had. We were even more surprised to see a Utilities stock at the top of the best performers list! That's right - NRG Energy (NYSE:NRG) was the top performing stock in the S&P 500 in 2017 with a gain of 132.3%. The other two triple-digit gainers were Align Tech (NASDAQ:ALGN), and Vertex Pharma (NASDAQ:VRTX). Wynn Resorts (NASDAQ:WYNN) and Boeing (NYSE:BA) rounded out the top five with gains of 94.88% and 89.43%, respectively.
Other notables on the list of S&P 500 winners include NVIDIA (NASDAQ:NVDA), Activision Blizzard (NASDAQ:ATVI), Adobe (NASDAQ:ADBE), Caterpillar (NYSE:CAT), Best Buy (NYSE:BBY), Amazon (NASDAQ:AMZN), Netflix (NASDAQ:NFLX), and Facebook (NASDAQ:FB). All of these names gained more than 50% in 2017.
Start a two week free trial to unlock our 2018 Outlook report!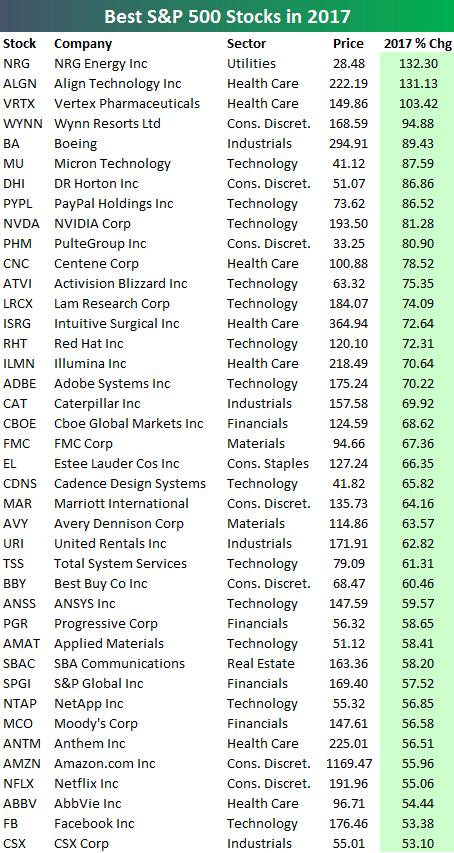 It's tough in any year to be on the loser's list, but it's even tougher in a year when the S&P gains as much as it did this year. Below is a list of the S&P 500 stocks that fell more than 20% in 2017. Range Resources (NYSE:RRC) and Under Armour (NYSE:UAA) top the list with declines of 50%+. General Electric (NYSE:GE) is by far the most high-profile name on the list of losers with a huge drop of 44.78%. Other notable losers include Mattel (NASDAQ:MAT), Macy's (NYSE:M), Baker Hughes (NYSE:BHGE), Foot Locker (NYSE:FL), TripAdvisor (NASDAQ:TRIP), Chipotle (NYSE:CMG), and Campbell Soup (NYSE:CPB).