For an investment that has a very conservative and stodgy image, utilities have certainly done well during this bull market. The Utilities Select Sector SPDR ETF (NYSEARCA:XLU) has increased from $17.5 to $56.7, for an increase of 224% - not bad for a sector that is known to supply income to our grandparents. But the sector recently sold off sharply, thanks to the Fed raising interest rates. And with an additional three hikes in the Fed's forecast for next year, we could continue to see additional selling in this sector.
Let's start with the daily chart: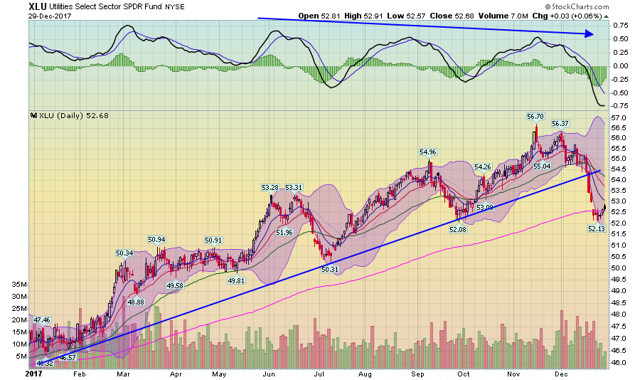 Prices broke the trend line connecting the lows of early February, early July, and late September. More importantly, prices dropped about 4.5%, which is a fairly significant price move for a conservative investment sector. Prices are now using the 200-day EMA for technical support. This line is routinely used to separate bull and bear markets, making the current price position very important. Finally, the MACD has been printing lower peaks since the beginning of the summer.
Let's turn to the weekly chart: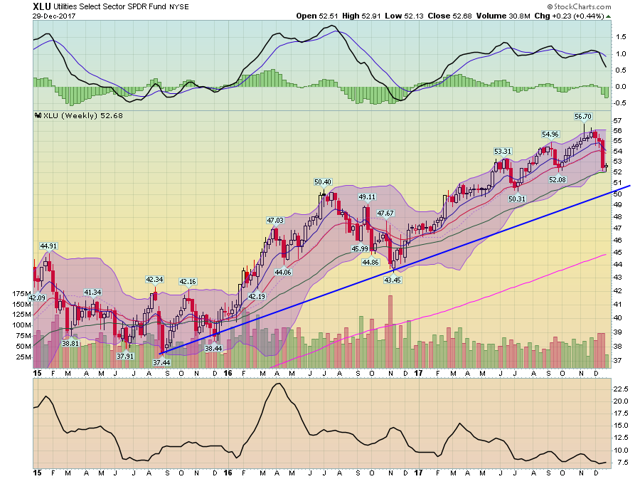 Prices are currently using the 50-week EMA for technical support and have a few points to go before hitting the 200-week EMA. Should they go through this level, we can formally say that the XLU would be in bear market territory.
Why the sell-off? A combination of the Federal Reserve and, more generally, interest rates. At their last meeting, the Fed voted to raise rates an additional 25 basis points:
In view of realized and expected labor market conditions and inflation, the Committee decided to raise the target range for the federal funds rate to 1-1/4 to 1‑1/2 percent. The stance of monetary policy remains accommodative, thereby supporting strong labor market conditions and a sustained return to 2 percent inflation.
Just as importantly, the Fed's "Dot Plot" shows the consensus view among Fed policymakers is to raise rates an additional three times next year: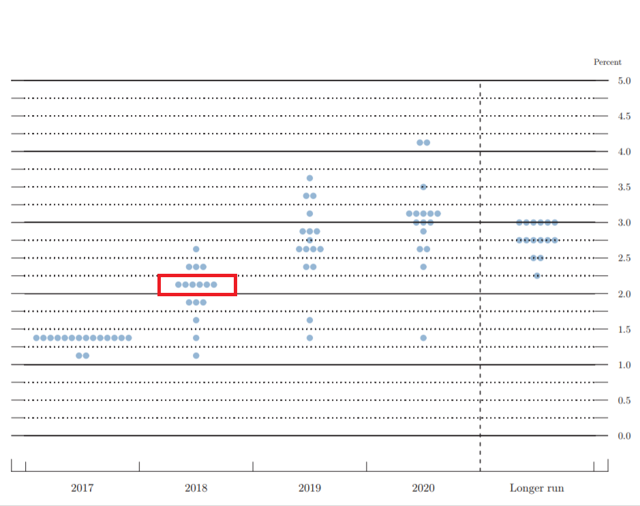 There are two reasons why this is important for the utility sector. First, utilities, perhaps more than any other economic sector, are heavily dependent on debt financing for capital expansion. When rates increase, so does the cost of capital investment. Second, utilities compete with government debt for the same investor group: income investors. Rising interest rates means bond yields could increase, providing additional investment opportunities for income-oriented investors. When you combined this with the already high valuations in the utility sector, you can see why the XLU sold off. This repeats a pattern that has occurred fairly consistently over the last few years: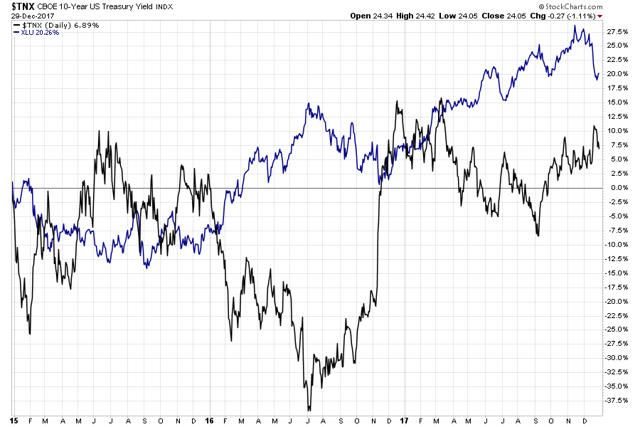 When yields (in black) have decreased, the XLU (in blue) has rallied. The reverse is generally true as well.
Does this mean the XLU will be a weaker performer going into and during 2018? Probably. But also remember that, despite interest rates going up, the overall level of rates is still very low. For example, the 10-year Treasury recently hit 2.5% - which is hardly a restrictive interest level. And corporate rates are also well-contained right now. It's not as though utilities will be priced out of the market. This might help to keep the trading damage a bit lower.
This post is not an offer to buy or sell this security. It is also not specific investment advice for a recommendation for any specific person. Please see our disclaimer for additional information.
Disclosure: I/we have no positions in any stocks mentioned, and no plans to initiate any positions within the next 72 hours.
I wrote this article myself, and it expresses my own opinions. I am not receiving compensation for it (other than from Seeking Alpha). I have no business relationship with any company whose stock is mentioned in this article.