2017 was an incredibly strong year for the overall market, with the S&P 500 Total Return Index rounding out the year up 21.83%. As the chart below displays, the technology sector's strong outperformance spearheaded the rally, with other characteristically bullish sectors (industrial, materials, financial, and cyclicals) doing their part. Of the nine Sector SPDR ETF funds, only the Energy Select Sector SPDR ETF (NYSEARCA:XLE) finished the year in the red.

The first eight months of the year proved especially challenging for the energy sector, with the XLE down nearly 20% through the end of August, even though WTI prices had bottomed around $42 a barrel in mid-June. Since the beginning of September, however, the XLE rallied to recover almost all of its 2017 losses. Just a few weeks ago, the XLE made a huge breakout above prior key resistance, indicating the sector's performance will continue to strengthen moving into 2017.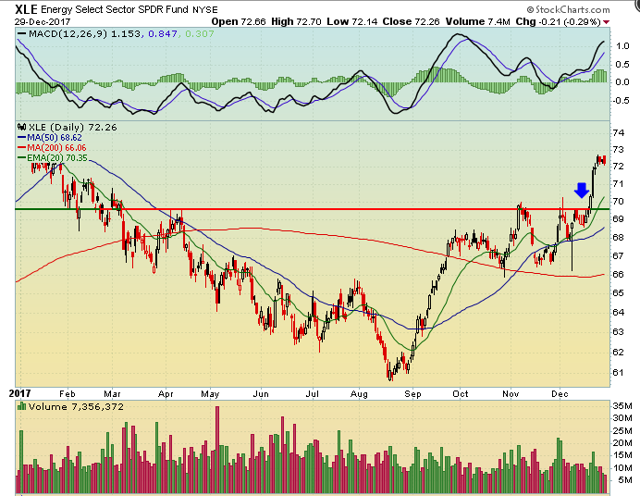 Left behind by 2017's otherwise across-the-board rally, the energy sector sits in an ideal position to lead the next wave higher in equity markets (assuming 2018 to be a continuation of the maturing bull market). Not only technically attractive as a sector, the energy sector remains as the only sector trading below its 10-year average price-to-book value, a key point made in Merrill Lynch's 2018 equity market outlook.
Drilling down from a sector to industry level, energy was not made up entirely of 2017 losers. The energy sector surprisingly housed one of the best-performing individual industries of the year in renewable energy, with that corresponding index finishing the year nearly 90% higher. If money is to rotate into the sector, it will most likely trickle its way into the more depressed industries. Of the bunch, the oil equipment and services industry posted the worst 2017 performance, down nearly 20%. This industry, routed from 2017's action, houses the individual names most capable of posting elevated returns in 2018.

For the Large Cap Investor: Schlumberger Ltd. (NYSE: SLB)
One of the largest, and most well-known names in the oil equipment and services space is Schlumberger. With a market cap of $93.4 billion and an enterprise value just north at $106.0 billion, Schlumberger sits on relatively solid financial footing holding just under $13 billion in net debt. The company's top line has been close to halved since 2014, falling from $48.9 billion to $28.0 billion in 2017, as has been common throughout much of the industry. Trailing-twelve-month EBITDA also nose dived from above $13 billion in 2014 to almost turning negative, but is expected to come in around $8 billion in 2018. Even with recent industry wide difficulties, the company maintained positive operating cash flow generation and paid a dividend throughout. In 2017, Schlumberger was down nearly 18%, far more than competitors Halliburton (NYSE:HAL) and National Oilwell Varco (NYSE:NOV), suggesting Schlumberger also may benefit from a relative catching up. A breakout above the $69 level is likely SLB's next major test.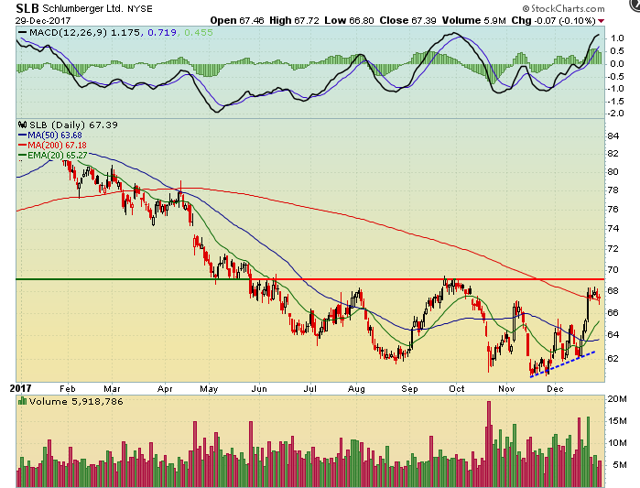 For the Mid-Cap Investor: Rowan Companies (NYSE: RDC)
Also down nearly 20% on the year, Rowan Companies' 2017 journey was significantly more volatile than Schlumberger's. RDC started the year around $20 and reached as low as $9 a share before rebounding in August. Operating in the offshore drilling space, Rowan is heavily reliant on a steady price of oil, as many oil majors are maintaining a cautious approach to signing long-term contracts for offshore drilling rigs where the breakeven prices are relatively high. Nevertheless, Rowan's recent joint-venture with Saudi Aramco (ARMCO), ARO Drilling, provides a high visibility growth trajectory for the company moving all the way out to 2060 as the joint venture plans to build and operate more than 20 new rigs. With Rowan's existing fleet only totaling 24 units, the magnitude of this joint venture for Rowan is enormous. Rowan also sits on strong financial footing, with its $1.3 billion cash position covering debt payments all the way through 2024. Since November RDC has been sideways consolidating, with a breakout above $16 appearing imminent.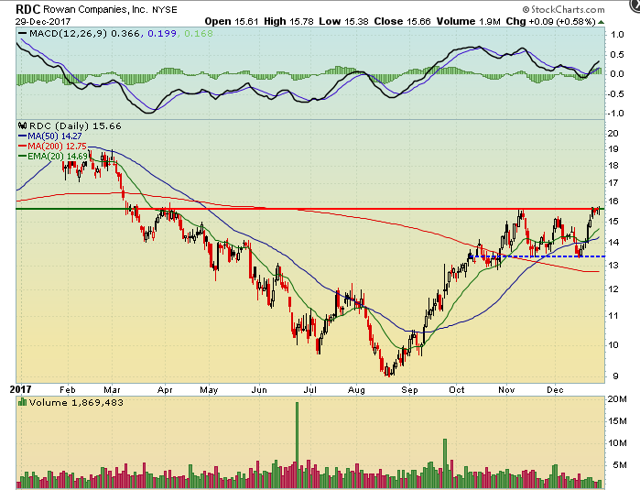 For the Small-Cap Investor: DistributionNOW Inc. (NYSE: DNOW)
A 2014 spin-off of National Oilwell Varco, DistributionNOW is a distributor of oil and gas products (supplies, pipes, valves, fittings) to all types of energy companies. DNOW was almost halved in 2017, and has participated in little of the overall energy sector's fourth quarter rally. Revenue at the company almost halved from $4.1 billion to $2.1 billion from 2015 to 2017 alone, although this vicious decline is starting to reverse course with TTM revenue hovering just above $2.5 billion. The company's enterprise value of $1.25 billion comprises of virtually zero net debt, with only a few years ago EBITDA totaling ~$250 million. While investors must be warned of the volatile nature of DNOW, I believe it is worth a gamble if the stock is able to break above the down trend line that has dictated action for most of 2017. A recent positive MACD divergence may have signaled a looming breakout.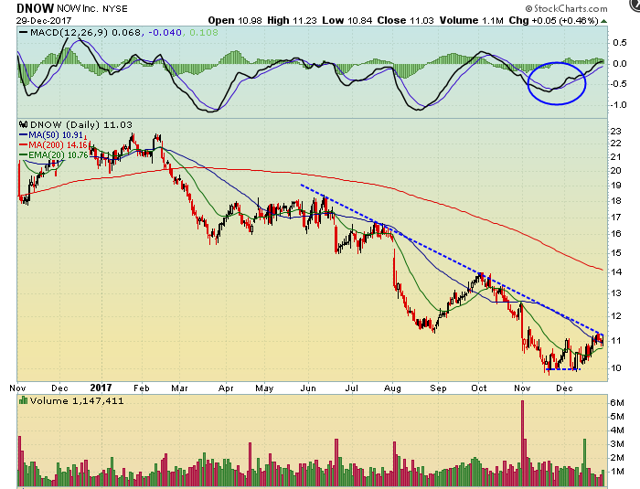 The Upshot
Left behind by the strong 2017 rally, I believe the energy sector sits poised to lead moving into 2018. Inside the energy sector, the oil equipment and services industry sits as the likely industry to hold the potential biggest winners. Within the industry, SLB, RDC, and DNOW all appear worthy of further consideration based on your investment preferences.
Disclosure: I am/we are long RDC.
I wrote this article myself, and it expresses my own opinions. I am not receiving compensation for it (other than from Seeking Alpha). I have no business relationship with any company whose stock is mentioned in this article.
Additional disclosure: An investment portfolio I work for, the Bentley Investment Group, owns RDC.