"Ch-ch-changes
Just gonna have to be a different man
Time may change me
But I can't trace time"
-David Bowie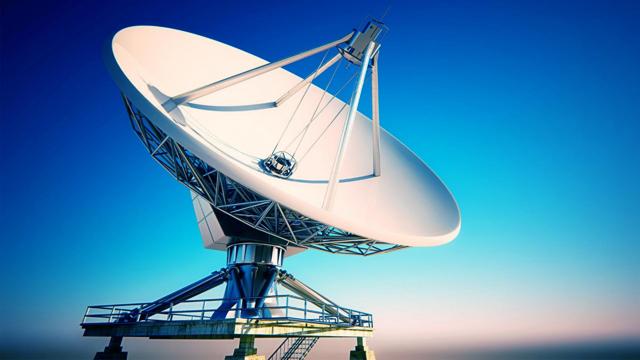 GCIS Changes planned for September 2018
Well it looks like time has finally caught up to the Telecommunications sector of the S&P 500. In an article from Yahoo Finance we can see discussion of upcoming changes to the GICS structure.
.....as a result of their annual review of the Global Industry Classification Standard (GICS®) structure, the Telecommunication Services Sector is being broadened and renamed as Communication Services to include companies that facilitate communication and offer related content and information through various media. The renamed Sector will include the existing telecommunication companies, as well as companies selected from the Consumer Discretionary Sector currently classified under the Media Industry Group and the Internet & Direct Marketing Retail Sub-Industry, along with select companies currently classified in the Information Technology Sector.
WAIT.......WHAT?!?
This is a huge development for the three remaining companies classified as telecommunications companies in the S&P 500. Those companies are Centurylink, (NYSE:CTL) AT&T, (NYSE:T) and Verizon, (NYSE:VZ). If we read between the lines in the above paragraph, we can forecast the future a little.
In September of 2018 when these changes take place the aforementioned companies will see buying pressure on their stock. This will be due to forced rebalancing in ETF's, mutual funds and advisors whom use sector allocation portfolios.
For historical context, when the GCIS added an 11th category in 2016, in the REIT space, it drove investment and reallocation.
The chart below shows current allocation percentages, as a part of the S&P 500 by sector, as well as future allocation percentages.
| | | | | |
| --- | --- | --- | --- | --- |
| Sector | Current Market Cap | Current % | Future Market Cap | Future % |
| Telecom/communications | $460,000 | 2% | $2,499,000 | 11% |
| Technology | $5,550,000 | 24% | $3,795,000 | 17% |
| Consumer Discretionary | $2,760,000 | 12% | $2,446,000 | 11% |
(Dollars are in billions)
As you can see, there is a massive shift coming. No longer will telecom be relegated to the back of the class. With this new combined sector having an 11% allocation of the S&P 500 moving forward, there is much more of a chance that the sector becomes strategically important. In addition, the technology sector will shrink from 24% to 17%, making it much less important day to day. What does that mean? It means big changes are coming.
Composition of the New Communication Services Sector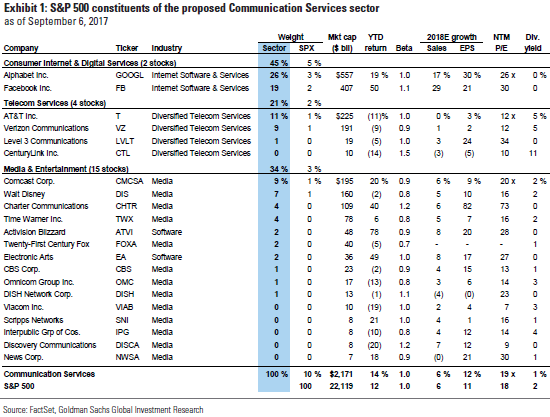 Research done a few months back by Goldman Sachs shows the proposed weightings in the new sector.
That research is a little older and it still shows Level 3 communications and Centurylink as two seperate companies. However, the information is still very powerful.
The new sector will include companies with much higher multiples like Disney, (NYSE:DIS) Netflix, (NASDAQ:NFLX) Facebook, (NASDAQ: FB) and Alphabet, (NASDAQ:GOOG).
Image is everything and this change will be more powerful than an extreme makeover on Oprah.
My numbers show an 11% weighting of the new sector and Goldmans show 10%. Only time will tell who is more accurate.
Telecom vs Communication Services Multiples
Over the years telecom companies have been valued much differently than their entertainment counterparts at the cable company. If you look at the set of data on this link, you will see that, on average, cable companies are assigned a multiple of 11.3 for EV to EBITDA as compared to an average of 7.25 for telecoms.
This chart breaks down the comparison:
| | |
| --- | --- |
| Company Name/Industry Average | EV/EBITDA Multiple |
| Centurylink | 6.5% (proposed due to merger) |
| AT&T | 7.07 |
| Verizon | 7.81 |
| Disney | 10.97 |
| Cable Companies Average | 11.3 |
| Facebook | 32.5 |
Source: Author/NYU.edu
Centurylink
This is a welcome addition to the many catalysts the company already has that are pushing the stock price higher. In my recent articles on Centurylink, I discussed those catalysts as well as a possible valuation change based on having a multiple that looked more like one of the credit card payment processors. Now, let's not get ahead of ourselves but, if CTL can realize a multiple of 7.5% or 8% then that would be awesome. Currently, I have projected a 6.5% EV to EBITDA multiple for Centurylink. I will revise my target for CTL upward from $30 a share to $33 a share by Dec of 2019. I believe the new visibility given to the stock, portfolio reallocations and increased multiple treatments will serve to push share price higher.
There is a wildcard here as well. Centurylink is actually a takeover target given the consolidation happening in the industry. It is a long shot but someone might like to get their hands on the moat CTL has been creating. Maybe someone who likes to stream tons of content might be looking to add a company like CTL. Or a company that wants to become more that just social. Then again maybe a company that is all about fruit that is sitting on TONS of cash might take a bite.
AT&T
Obviously AT&T will benefit from any possible multiple expansion just as much as the other companies would. However, a bigger catalyst to their future, in my opinion, would be AT&T Firstnet. Just a few days ago Firstnet was fully approved by all 50 states.
What is Firstnet? It is a system to ensure adequate coverage for 911 systems during times of crisis. It was originally proposed after the terrorist attacks 9-11-01. This article from Yahoo News describes it in detail:
This is a major win for AT&T, which officially won the FirstNet contract this past March. The contract stipulated that AT&T would manage the network for 25 years, and the company committed to spending $40 billion to manage and operate the network. In exchange, the company would receive 20 MHz of critical wireless spectrum from the FCC, as well as payments from the government totaling $6.5 billion for the initial network rollout.

The true win for AT&T though is in the actual spectrum itself, which is in the 700 Mhz band commonly used for LTE signals. While the FirstNet spectrum is prioritized for first responders, it can also be used for consumer wireless applications when an emergency is not taking place, which should improve cellular reception and bandwidth for AT&T customers, particularly in urban areas.
This is more than just a "big win" for AT&T it is a coup. They pretty much stole 20MHz of spectrum for the price of using part of it 5-6 times a year? AT&T basically used free taxpayer money to buy more bandwidth. This will also serve to improve AT&T's last mile ability as well.
In addition, the AT&T Time Warner merger is set to be approved mid year 2018. I believe this will ultimately happen as long as the necessary components of the combined company are divested. It is almost providence that these changes to the GICS are being made. The consolidation that has happened in these industries just in 2017, is but a precursor of what is to come.
Verizon
A newly completed deal for $1.5 Billion gives Verizon the rights to stream NFL games again in 2018. I do not like this deal at all. The previous 4 year deal, that just ended, cost Verizon $1 Billion. That means VZ is paying 50% more to stream games over the next 5 years. Sure, they get an extra year out of the deal but it smells oddly like the bad deals Disney, (NYSE: DIS), was making over the past 5 years through ESPN. Here are the reasons I believe this deal is bad:
The deal is only for some NFL games. Specifically Sunday, Monday and Thursday night games as well as local New York games.
The deal is no longer exclusive for mobile...someone else could take market share from them.
The deal does not cover games streamed to computers or TV's.
This positions them more as a media company and there is TONS of competition in that space.
Verizon share price dropped 3.1% in 2017 and that is only due to a recent rally from a low of $44.11 a share. The company currently has a dividend yield of 4.46% which is attractive but not enough to buy, in my opinion.
Conclusion
We will hear shortly in January of 2018 about a select few large cap companies that will make the move to this new sector. I expect those to be some or all of Disney (NYSE:DIS), Alphabet (NASDAQ:GOOG), Facebook (NASDAQ:FB), Netflix (NASDAQ:NFLX), and possibly Tencent (OTCPK:TCEHY).
The three telecoms of CTL, T and VZ will benefit from this realignment more than those entertainment and internet companies will. I rate Centurylink and AT&T as buys right now and Verizon as a hold.
Disclosure: I am/we are long CTL.
I wrote this article myself, and it expresses my own opinions. I am not receiving compensation for it (other than from Seeking Alpha). I have no business relationship with any company whose stock is mentioned in this article.