This will be an abbreviated version in terms of government reports and news, so we can focus our attention on the recently passed Tax Reform Bill and its potential impact on investors and their respective holdings.
Notable Earnings
I use the NASDAQ.com earnings calendar as the source for which companies reported during the week.
There were no notable earnings reports by widely held companies, which should come as no surprise during the holidays.
Government Reports
Our source for government reports is the economic calendar from econoday.com. It was a relatively slow week as can be expected during the holidays.
The State Street Investor Confidence Index fell for the month of December to 94.8 from a previously reported 96.3 (revised lower from 97.1). This is a measure of global institutional investors' appetite for risk. Digging into the regional aspects of the index, North America dropped by 6.2 (to 94.9) points and China fell by 2.8 points (to 94.8) while Europe partially offset those losses by rising 16 points). A reading below 100 generally indicates a reduction in global equity holdings and less appetite for risk.
The Conference Board Consumer Confidence finally fell in December (to 122.1) after posting two consecutive 17-year highs of 126.2 (October, revised) and 128.6 (November, revised). But an important factor is that the assessment of the jobs market (where respondents said jobs were hard to get) improved by falling to 15.2% from 16.8% previously.
The U. S. International Trade deficit rose for November to -$67.9 billion an increase from October ($68.3 billion). Net exports could drag down GDP in the fourth quarter if this trend continues through December. The good news from the report was that exports rose by 3% to $133.7 billion, offset by a 2.7% increase in exports to $203.4 billion.
The Chicago PMI (Purchasing Managers' Index) from the Institute for Supply Management hit a 6 ½ year high for December at 67.6. A reading above 50 indicates expansion. The American heartland seems to be in good shape. Production is at a 34-year high. The prior reading is 63.9 for November.
The EIA (Energy Information Agency) Petroleum Status Report was bullish for crude prices which rose to the mid-$60/barrel range for WTI (West Texas Intermediate) crude. Below is a recap:

This marks the sixth relatively large drop in the weekly crude inventory. We think this will eventually reverse as production begins to rise in the shale fields by spring 2018, if not sooner. But decreased production by OPEC (Organization of Petroleum Exporting Countries) is helping to bring supply and demand more into balance. We suspect that Saudi Arabia may continue to reduce production to support the global price of crude until it has been able to get a favorable pricing of it long-anticipated IPO for Saudi Aramco, the largest oil producing company in the world.
The Fed Balance Sheet actually expanded slightly during the week by $1.2 billion. This isn't major news as the fluctuations vary from week to week. We expect that the Fed will maintain a trend of slowly reducing its assets by replacing fewer that mature but it will not be a smooth, linear line. The Fed still may use this flow as a means of managing long-term interest rates.

News of the Week
This was a slow week for breaking news but there was one item that caught our attention.
Bitcoin had a setback due to a move by the South Korean government as it announced new rules that will ban anonymous trading which removes perhaps the most compelling benefits of cryptocurrencies. The government also plans to give itself the right to shut down exchanges. The price for Bitcoin got as high as $20,000 but dropped to $10,700 very quickly before rebounding to around $13,800. If other governments decide to follow the Korean model, we could see this tulip bubble burst.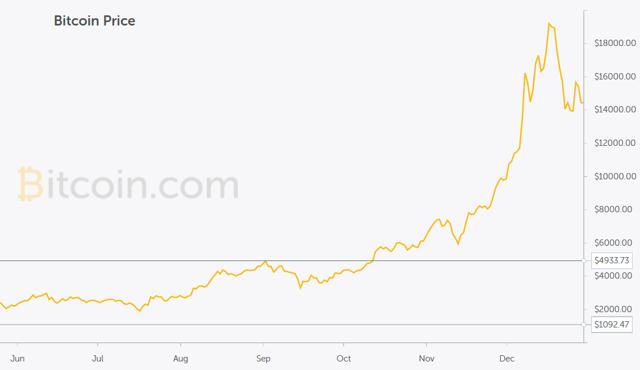 What it all means
It is hard to determine much from such a slow week other than that the economy is still exhibiting strength. Even though some of the metrics reported this week show declines from previous levels the indication is still for an expanding economy. The risk appetite in European equities is encouraging as the citizens seem to have shaken off the fear that preceded the elections in 2017. We expect that U.S. multinational corporations will become significantly more competitive overseas as well as domestically when going up against foreign competition as a result of the recently passed tax reform bill.
The drop in risk appetite by institutional investors is not yet a reason for great concern. It is not uncommon for institutional investors to reduce activity during the holiday season. The markets have had an incredible run and need a breather to consolidate the gains. We believe this will be a temporary plateau and that it represents the building of a new foundation from which to launch another leg higher.
If you have any questions, please feel free to ask them in the comment section below and don't forget to hit the "Follow" button next to my name at the top of this article. For those who would like to learn more about my investment philosophy, please consider reading "How I Created My Own Portfolio Over a Lifetime".
Disclosure: I/we have no positions in any stocks mentioned, and no plans to initiate any positions within the next 72 hours. I wrote this article myself, and it expresses my own opinions. I am not receiving compensation for it (other than from Seeking Alpha). I have no business relationship with any company whose stock is mentioned in this article.
Additional disclosure: Disclaimer: This analysis is not advice to buy or sell this or any stock; it is just pointing out an objective observation of unique patterns that developed from our research. Factual material is obtained from sources believed to be reliable, but the poster is not responsible for any errors or omissions, or for the results of actions taken based on information contained herein. Nothing herein should be construed as an offer to buy or sell securities or to give individual investment advice.