In the first week of 2018, I'd like to lay out the pieces that I will be watching in the upcoming year for future reference. First up:
Global Oil Demand Growth
The primary driver of oil demand is the global GDP growth, which has accelerated in 2017. According to the International Monetary Fund:
The global upswing in economic activity is strengthening, with global growth projected to rise to 3.6 percent in 2017 and 3.7 percent in 2018. Broad-based upward revisions in the euro area, Japan, emerging Asia, emerging Europe, and Russia more than offset downward revisions for the United States and the United Kingdom.
Even though the IMF has revised its growth expectations for the United States lower, most recent data shows that a close to 3% GDP growth rate is possible for 4Q17, which would represent an acceleration from previous years: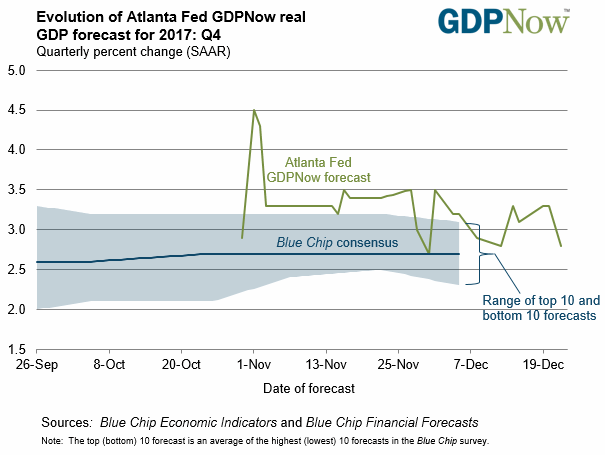 The strong ongoing global growth will bode well for oil demand growth in the upcoming year, but higher prices will not. In the last six months, oil prices have risen by 30 to 35 percent: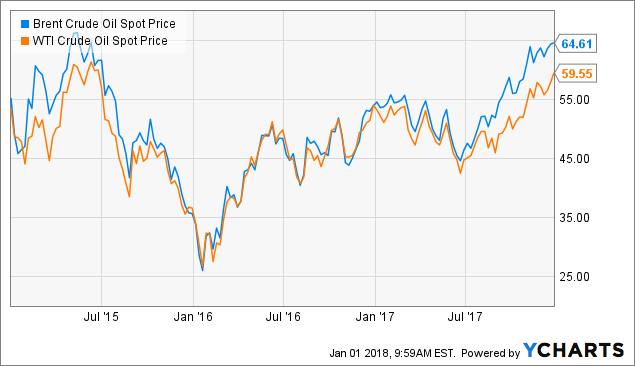 The graph above illustrates that oil prices are now at three-year highs. Because oil has an inelastic demand curve, it is unlikely that the global oil demand growth will significantly slowdown until higher prices run through the economy.
Before we combine the two factors, let's first see how global oil demand growth has trended in the last four years: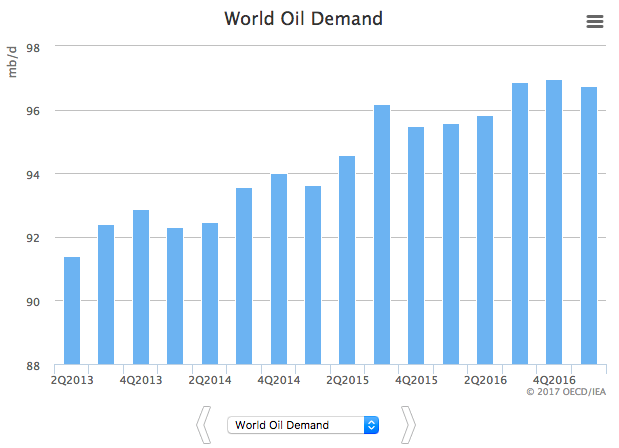 In the last four years, global oil demand has grown by 1.325 mb/d per year on average, and the IEA has recently projected that oil demand would grow by 1.5 mb/d in 2017, which represents an acceleration from previous years. Readers should keep in mind, however, that in none of the years represented above, the global growth rate was as high as expected for 2018.
On the flip side of the demand coin, I expect oil prices to continue to rise in the early part of 2018, and accelerate towards the middle of the year due to the summer driving season. If this scenario plays out, higher oil prices will likely hurt oil demand growth more than higher global growth rate will help.
Bottom Line
I expect oil demand growth to clock in at 1.3 to 1.4 mb/d in 2018, primarily due to higher oil prices, partly offset by the positive impact of quicker global growth projected for the upcoming year.
I expect oil demand growth to remain strong in the early part of 2018, but for the growth rate to decelerate towards the end of the year. I expect a more severe impact on oil demand in 2019.
Follow For Free Articles
If you enjoyed this article, please scroll up to the top of the page and click the "Follow" button next to my name. Your support will allow me to invest further time and resources into creating proprietary research for you.
Premium Research
If you're interested in learning about my investment methodology as well as high-quality fundamental research on Tesla, supported by detailed financial projections by product and service line, including years 2019 and beyond, as well as timely price target alerts and weekly Live Chat community discussions, join Tesla Forum. I'm confident that you will find my research to be very insightful, and I look forward to discussing ideas with you.
Disclosure: I am/we are long TSLA, NE, ESV.
I wrote this article myself, and it expresses my own opinions. I am not receiving compensation for it (other than from Seeking Alpha). I have no business relationship with any company whose stock is mentioned in this article.