My Ian's Million Fund, IMF, is a quasi-index fund where I have two main goals. One, beat the S&P 500 over time with my own diversified basket of stocks, while avoiding any ongoing management fees. Two, build a model that my non-investment professional friends can copy. If I didn't have other investments and had $1,000/month to invest, what retirement portfolio would I build to ensure I ended up with a strong solid nest egg? The IMF answers that question.
The IMF finished the year up 18.1%, trailing both benchmark indices for the year. The S&P 500 (SPY), as measured by total return in the SPY ETF, gained 21%, while the all-world stock ETF (VT) gained 23.3%. For the month of December, the IMF rallied 1.6%, easily outpacing both ETFs. However, the down performance in October was too much to overcome for the year: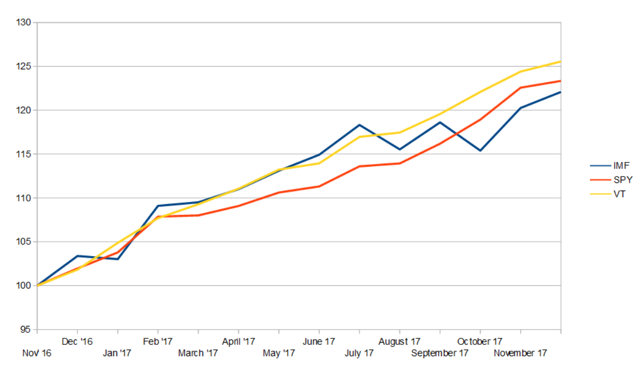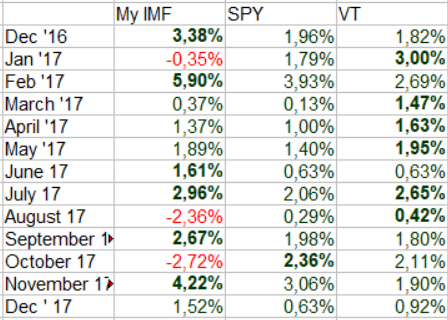 As you can see, remarkably enough, both SPY and VT have (on a total return basis) not had a down month since I started tracking performance. This has been a stock market rally for the history books.
I'm pleased to have just about kept up with it, as my portfolio is not positioned for runaway upside markets. The IMF is underpositioned in tech stocks and in general has a preference toward value and dividends, as opposed to straight-up growth. This sort of portfolio should, in theory, badly trail the S&P 500 during strong bull markets. Instead, the IMF also kept up, lifted by some hefty positions in Latin America, US banks, and alcohol stocks - all of which had outstanding 2017s.
With this portfolio's low beta and emphasis on quality, value, and dividends, I expect it to fall much less than the markets as a whole when we get a bear market. While I'd prefer to outperform the market in all conditions, I understand that this is virtually impossible - and as such, when my portfolio only modestly trails the market in a bad year for my system, I'll take it.
2017: What Worked
The first place to start are the alcohol stocks. Just three companies, Brown-Forman (BF.B), Diageo (DEO), and Compania Cervecerias Unidas aka United Breweries (CCU) have accounted for almost 20% of the portfolio's capital gains to date. Brown-Forman flew into orbit following an aborted takeover offer. Diageo surged as its performance perked up in once-troubled emerging markets. And Chile's dominant brewer, CCU, rode the rising emerging markets tide, along with a favorable presidential election outcome in that country this past month.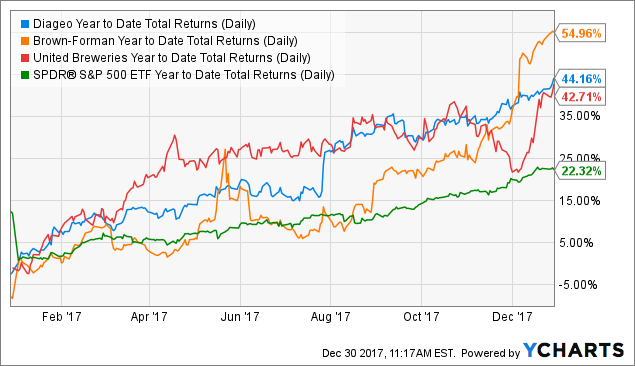 If you're thinking you're too late to ride the wave of beer and liquor stocks, check out my December Idea of the Month - Molson Coors (TAP). Molson, unlike the charts shown above, had a lousy 2017, dropping 20% on the year. It should be set for a strong comeback heading into next year.
Next up, the Mexico Trump trade was a big winner for the IMF and my subscribers. My top pick of 2017 call Grupo Aeroportuario del Pacifico (PAC) rallied from $73 back into the triple digits - and as the IMF's largest position, that contributed mightily to the year's returns: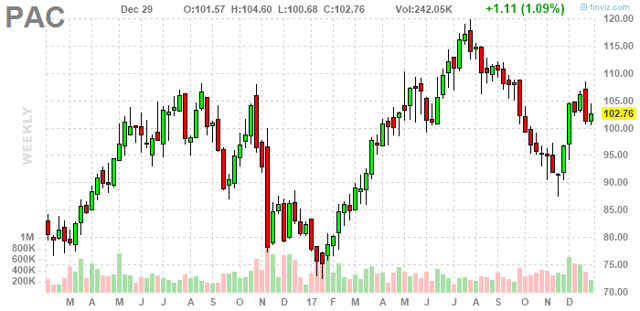 The stock - and Mexico more generally - hit some late-year turbulence on NAFTA-related fears and concerns about early polling for the 2018 Mexican presidential election. Regardless, we're way off the Trump inauguration lows, as the Mexican economy shook off a momentary geopolitical dip and is on decent footing heading forward.
The portfolio also enjoyed further gains from the community and regional banking sector. I bought into these heavily in mid-2016. Admittedly much of the gains came in calendar-year 2016 following election night. However, many of these shares continued moving higher this year as well. And they've become a core portfolio holding in terms of delivering yield.
The IMF also enjoyed big gains in the tech sector - though - as noted above, the portfolio is seriously underweight tech stocks. Even given that, three tech names - Intel (INTC), Texas Instruments (TXN), and semiconductor supplier Cabot Microelectronics (CCMP) are among the portfolio's biggest winners, and JD.com (JD) looks set to move into that top-tier as well.
What Didn't Work
Obviously, it's been an amazing bull market since I launched the IMF portfolio (January 2016). As such, most stocks I've put in the portfolio (and most stocks in general have risen since then. Overall, the IMF is showing 85 stocks in the green and just 21 in the red at the moment.
Even more remarkably, 21 portfolio holdings are up 50% or more on cost basis, while just 9 holdings are down 10% or more. That sort of win/loss ratio leads to fantastic overall returns. While most of the credit goes to the bull market, there is great value in avoiding losers. If you don't have many big losses, the wins pile up quickly, even if you aren't involved in many shoot for the moon tech/growth stocks.
While I had a good year stock-picking, there was a pattern to my biggest blunders of the year: chasing yield. Almost all of the year's most problematic stocks within the IMF were stocks with high initial yields but which were experiencing significant fundamental headwinds.
Several examples: Teva (TEVA) with generic pricing pressure and Copaxone going off-patent, CBL & Associates (CBL) fighting a falling tide for malls, or BT Group's (BT) scandal and ongoing mediocre earnings results. Now, this category of stock isn't all bad - some high-yielding troubled stocks recover quickly. The IMF is showing nice gains on Applebees and IHOP owner DineEquity (DIN) and Qualcomm (QCOM), for examples of troubled high-yield stocks that turned the corner.
However, don't make this type of yield-play stock the centerpiece of your income portfolio. Volatility will be high, and overall returns may not justify the heightened risk. In 2018, I will be focusing more on steady growth at a reasonable price dividend plays and taking fewer fliers on higher-yield higher-risk stocks.
There were few other outright losers of notable size. However, significant portions of the portfolio trailed the S&P 500 pretty dramatically. REIT positions such as Public Storage (PSA) pretty much just treaded water all year into the rising interest rate environment. Food stocks such as Hormel Foods (HRL) rallied toward year-end but were far from up 20% on the year like the market. The cheapest of the cheap US banks out there stayed cheap, as firms such as New York Community (NYCB) and TFS Financial (TFSL) lagged their sector badly.
These sorts of underperformance don't bother me much, though. These are ballast stocks - the holdings that will hold tight when the market as a whole tumbles. If the price of portfolio security is underperforming a hot market by a couple percent points on the year, I can accept it. In none of those companies named in the above paragraph did any permanent value impairment occur.
Portfolio Yield
The IMF received $75 in dividends for December, about in line with the past few months: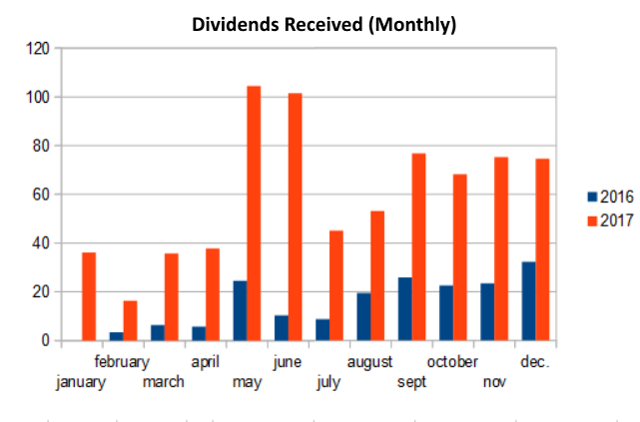 Overall, the portfolio is now running at a $1,030/annual dividend rate. Remember, this just launched in January 2016 and now has $24,500 of my total capital invested. Thus, off my initial investment, we're already receiving a 4.2% yield on cost - a figure that has been nicely rising throughout the year as dividend hikes and reinvestments occur. Even in the late stages of a bull market, consistent investments of smaller sums of money start leading to meaningful recurring income fairly quickly.
As new investment funds are put into the market in 2018, I expect the portfolio to regularly clear $100/month by mid-year, allowing dividend reinvestments on a monthly basis (I wait for $100 to accumulate before putting it to work). On the upside, May is a big dividend month, as three of the portfolio's top 20 positions pay annual or semi-annual dividends that month. The IMF could conceivably top $200 for May 2018. Ultimately, I'm greatly looking forward to the day that dividends off the portfolio's holdings exceed the $1,000/month of fresh capital I put in - but that's still a few years off.
So far, all dividends received have been put into Hormel Foods, creating a position that it is already 5th largest in the IMF, and throws off another $17/year of dividends on its own. Compounding at work.
2018 Outlook
As mentioned above, I will be focusing more on quality this year, and taking more aim to avoid yield traps. Given the late stage of the bull market, this is not the time to go hunting for growth predominately. I'll take the shot at the occasional JD.com style pure capital gains play when I see one. But in general, this is the time to be doubling up on stuff like Hormel or the cheapest of the regional banks - where the yield and low valuation ratios will protect your downside when the market breaks.
In a bear market, you can buy the growth stocks down 30-50%, while the stodgy stuff will be down far less. As such, if you expect a market breakdown, you want to be buying low-beta stocks now, not shooting for outsized gains.
Perhaps Trump's tax plan will set off another big round of GDP growth and corporate profit expansion. If so, stocks will probably rise sharply, and the IMF will perform well though trail the market a bit. However, by the time Congressional elections roll around in November, I wouldn't be surprised at all for the Republican agenda to start losing steam and for investors to start asking pointed questions about the sustainability of the economic expansion and seemingly unending rise in PE and other valuation ratios.
In other words, I don't expect the IMF to return 18% again next year, nor the S&P to put up 21%. I'm looking for a single-digit return on the S&P 500 next year, if not an outright decline. The IMF, with its strong positioning in value stocks and cheaper international names, should be poised for significant outperformance. The world's total stock market, as measured by the VT ETF, outperformed the S&P 500 by more than 2% year, and that trend, in my opinion, is still in its early stages - another place where the IMF will deliver results compared to the US market as a whole.
Disclosure: I am/we are long ALL THE MENTIONED STOCKS.
I wrote this article myself, and it expresses my own opinions. I am not receiving compensation for it (other than from Seeking Alpha). I have no business relationship with any company whose stock is mentioned in this article.
Additional disclosure: No positions in SPY or VT ETFs.