U.S. Shale Oil: Growth Back On Track And Accelerating
The crude oil production report by the U.S. Energy Information Administration for the month of October puts to rest speculations that the U.S. shale oil industry has run out of steam and is struggling to grow supply. In fact, the EIA's monthly survey exceeded the agency's own weekly estimates by a staggering ~360 thousand barrels per day.
The survey shows October production of crude oil and field condensate at 9.637 million barrels per day ("MMb/d"), as compared to 9.278 MMb/d implied by EIA's weekly reports for the same period. (As a reminder, the weekly estimates rely heavily on the agency's Short Term Energy Outlook forecast).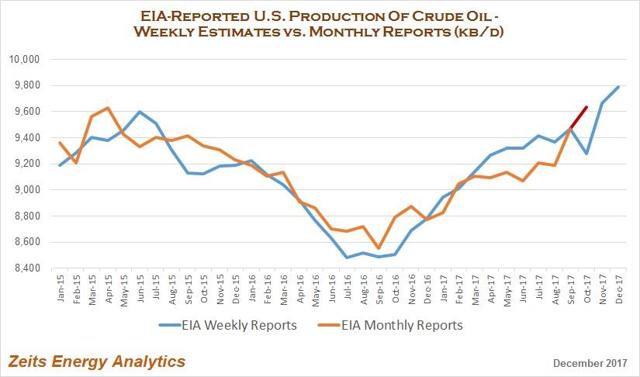 The month of October marks a new recent record for U.S. monthly production, slightly exceeding the high watermark achieved in April 2015.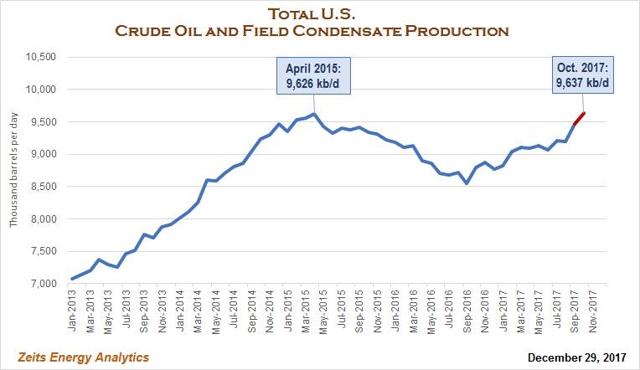 It is important to note that U.S. crude oil volumes in August, September and October of this year were materially impacted by hurricanes. OIL ANALYTICS estimates that U.S. October production was reduced by as much as 0.25 MMb/d on average due to Hurricane Nate. Adding these deferred volumes back to the reported amount, the industry's effective production capacity in October was ~9.9 million barrels per day.
Taking the robust report for October into account, OIL ANALYTICS estimates that the EIA's monthly report for November is likely to come very close to the 10 MMb/d mark. This represents a 0.1 MMb/d increase from our previous estimate.
The report proves meritless certain recent claims that the EIA had vastly "overstated" U.S. production volumes in its forecasts for the second half of this year. As a reminder, some critics suggested, as recently as in September, that year-end U.S. production would be 9.35-9.4 MMb/d. The EIA's forecast of 9.7 MMb/d was characterized as "flat wrong."
Broad-Based Growth
October data show that the strong growth momentum that U.S. shale oil re-gained in September carried on in October and was broad-based, with virtually every major shale play contributing. As a reminder, many observers - us including - were surprised by an unusually slow growth during the summer months when the industry struggled to mobilize its supply chain and suffered from a combination of rapidly rising costs, reduced efficiency and declining price realizations. We argued, however, that rushing to extrapolate the pause in growth onto future months would be a mistake. We debated on many occasions that growth was not lost, but deferred and was about to demonstrate its full might in the second half of the year.
Of course, it would be an equally big mistake to attempt to annualize any individual month-on-month increase. Growth can be lumpy and has limitations. That said, during 2017, U.S. crude oil production is likely to end up growing by 1.0-1.1 MMb/d on an exit-to-exit basis. (In this estimate, we have already adjusted the growth rate for the impact of severe snowstorms last winter that depressed Dec. 2016 and Jan. 2017 volumes.)
If our estimate proves on target, the impressive growth will be achieved in spite of low oil prices and completion activity being heavily weighted towards the second half of 2017. For reference, spot WTI price during the 12 months ending September averaged just $49 per barrel (using a three-month lag between the price signal and production response for illustration).
The U.S. Is On Track To Become The World's #1 Crude Oil Producer Already In 2018
With WTI currently trading at significantly higher price levels, the strong operating momentum in U.S. shales will carry on - and will very likely accelerate - in the first half of 2018.
Based on growth dynamics in 2017 and assuming that the futures curve holds, it is difficult to imagine U.S. production growing at a slower rate in the coming months. In fact, the pace of growth is almost certain to pick up if oil prices live up to the current futures strip.
As a result, by the end of 2018, the U.S. is likely to bypass Russia, the world's largest producer with ~11 MMb/d in volumes, and become the world's largest producer of crude oil.
The U.S. will also become an increasingly important exporter of light sweet crude, with volumes likely averaging significantly above 2 MMb/d in 2019.
Crude Oil Infrastructure Needs To Be Expanded
At the current production level, the industry is not facing any significant infrastructure constraints. In fact, capacity surplus exists in many areas.
The U.S. already produced at ~9.6 MMb/d level back in 2015. Since then, the industry has had ample time to complete a wide range of infrastructure projects that were initiated at the previous cyclical peak in oil.
However, significant incremental infrastructure will be required if the industry continues on a trajectory to add another 1.5-2.0 MMb/d of production by mid-2019, on top of the record-high exit rate for 2017. Some help is already on its way. Multiple new projects are currently under construction or development. However, it appears that the acceleration in activity will again catch the industry by surprise.
If operating activity accelerates further, as compared to the busy fourth quarter of 2017, bottlenecks are likely to emerge in 2018 as the year progresses and can become a source of rising costs and a significant obstacle to faster growth. The Permian is obviously the most vulnerable area in this regard. However, based on the most recent acceleration in production volumes, other oil producing provinces may also begin to experience constraints.
OIL ANALYTICS - We Are Different
OIL ANALYTICS offers extensive discussion of Oil and Gas sector fundamentals. Our approach is often different from what you can see elsewhere.
Our service is one of the most active offerings on Seeking Alpha's Marketplace, with 550+ exclusive materials posted for its members in 2017.
Our macro and company-specific views are continuously illustrated in our Model Portfolio and Best Stock Ideas modules.
Disclosure: I/we have no positions in any stocks mentioned, and no plans to initiate any positions within the next 72 hours. I wrote this article myself, and it expresses my own opinions. I am not receiving compensation for it (other than from Seeking Alpha). I have no business relationship with any company whose stock is mentioned in this article.