The model portfolio continues to generate profits above projection. Since the last update in November, gains for the long/short design have moderated a bit, but are still zigzagging higher. Absent large losses in the Twenty-First Century Fox (FOXA), AT&T (T), Verizon (VZ), Costco (COST) and Nike (NKE) short sale positions the last two months, this portfolio would be up another 3%. Nevertheless, gains in the longs and steady underperformance of the market by the other shorts have generated another 1% in total profits since my last report.
21st Century Fox is the only short I am considering covering in coming weeks, as its media asset exchange with Disney (DIS) for newly issued shares effectively turns this idea into a short Disney stake. I am long Disney personally, and bullish on this entertainment behemoths digital streaming plans for owned content in 2018-19.
The Wall Street Survivor model portfolio has produced a total return of +7.7% after expenses, over less than eight months. The equivalent +12.6% total return outlined by the S&P 500 since its May inception, using yearend December 29, 2017 closing prices, has been slightly better, but at a cost of considerably more market direction risk. Versus a fully-invested 100% long ratio of net assets for an index or 97% standard mutual fund setting today, this portfolio example has averaged a 25% net-long position (8% after subtracting the average 17% uncorrelated gold/silver hedge posture). We would have predicted the portfolio to rise in the 2% to 3% range, before expenses, had all the stock selections mirrored the S&P 500 index gain. On a compounded basis, my goal for this near net-neutral design is to generate 5-10% per annum in profits, after expenses. The eight-month gain extrapolated to 12 months works out to a solid +12% compounded rate, without taking on the extraordinary loss risk a bear market or crash scenario would unleash on a regular, long only portfolio.
Current Portfolio List
Below is a table of the portfolio as it stood at the close of trading on December 29th. I have highlighted the short positions in yellow, and the uncorrelated gold/silver exposure in purple.
Strong Buy Ideas
Here is a quick summary of how the individual stocks have fared since the mid-November update. The eclectic group of longs, focused mostly on health care and technology equities is doing its job beating the S&P 500 typical blue-chip return. Abbott Labs (ABT), Celgene (CELG), and Gilead (GILD) represent the medical product and biotechnology sectors. Each pick holds the promise of better than average growth prospects at a reasonable price, with strong momentum buying trends, even during price sell-offs. Intel (INTC) and Cisco (CSCO) will be real beneficiaries of recently passed tax reform in Washington, owning significant cash and income generation overseas. Growth rates in coming years are underappreciated by Wall Street and dividend payouts will rise significantly in 2018-19, in my opinion.
Caterpillar (CAT) is witnessing a jump in demand globally from housing, construction and soon the mining sectors during 2017-18. Upside buying momentum and volumes remain super strong. FedEx (FDX) is my top transportation stock, and management has stated earnings and cash flows will spike in 2018-19 from tax reform. The Gap (GPS) was a top retailing buy idea in my March article posted here. Cost averaging into the five retail stocks highlighted, as suggested in the story, would have netted large gains as a group into year's end. MetLife (MET), Allstate (ALL) and Citibank (C) round out some financial sector selections, with decent valuations, growth forecasts and buying momentum. I have a price chart of the regular longs below, measured from my last portfolio update written November 15th. The S&P 500 is up about 4% over this span.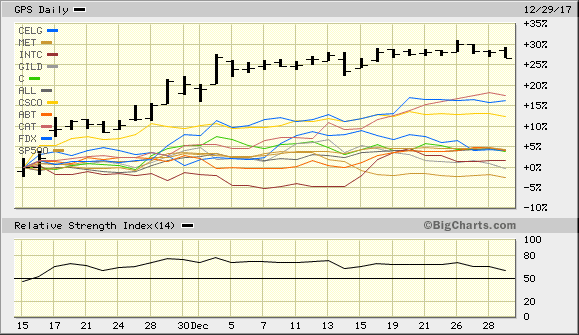 Hard Asset Plays
I am more bullish on inflation and the future of hard asset ideas than most Wall Street pundits. I want to own real estate, oil production, grain producers and refiners, plus metals miners. They have underperformed the market for 3-5 years, and a large up move in 2018 would prove quite unexpected by conventional wisdom. BHP Billiton (BHP) has been a leader in this group of late as pictured below. One of the biggest and best run mining operations in the world, based in Australia, BHP could still double in price the next 2-3 years, using past cycle analysis of the basic industrial metals sector.
Archer Daniels Midland (ADM) is the standout blue-chip to own in the agriculture sector with refining margins set to rise with overall grain prices. Grains are trading below the cost of production in 2017, and will surely rise in price over time for patient investors. ADM is a great dividend income and total return idea as payouts should climb markedly into 2020 with rising grain prices. The stock already holds a well above normal yield of 3.2%, relatively high based on its own trading history and the S&P 500 yield of 1.9% in place. I like ADM as a top "margin of safety" pick for conservative investors also, from its steady business operations and stellar balance sheet.
Las Vegas Sands (LVS) is the leading casino owner in the world, and could profit as a backdoor play on U.S. tax reform benefiting the upper class. New wealth and economic confidence from the top 10% of income earners should bring heightened funding on gambling vacations and convention business during 2018. The company's overseas casino business is already expanding nicely with revenues up +13% and operating income climbing +10% during 2017.
EOG Resources (EOG), Suncor Energy (SU) and Chevron (CVX) are my top oil & gas production picks with a North American focus. EOG has oversized growth forecasts for 2017-20, while Suncor and Chevron have refining and fully integrated energy assets that generate nice returns for shareholders. If oil prices spike in 2018, the three taken together could be a terrific group to own. Low valuations on net assets, conservative balance sheets and increasing dividend payout odds, on top of the potential for energy sector gains generally in 2018 should prove a profitable proposition for investors. Buying momentum has remained strong in all three names during 2017. My favorite hard asset selections are pictured below since the middle of November.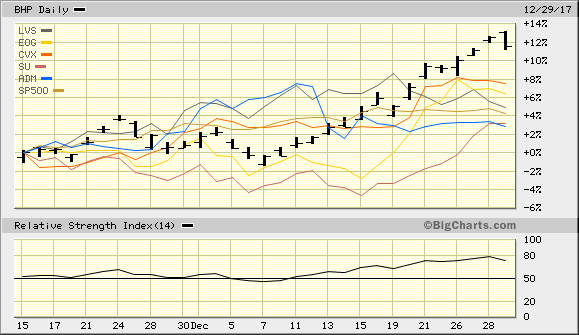 Gold and Silver
Precious metals, especially gold and silver, should be a part of every financial asset portfolio to hedge long-term inflation and money printing at a minimum. You can argue whether 5% or 10% or 20% is appropriate, but for this portfolio a larger roughly 20% of net equity (10% of total investments) in uncorrelated gold/silver exposure is my suggestion. This basic gold/silver holding level should help investors sleep at night when investing 180% to 200% of your capital in a number of long and short stock choices. The ProShares Ultra Gold ETF (UGL) is a favored way to double my gold bullion holdings. It is a low-cost vehicle to create leverage on higher gold prices directly, bypassing a variety of gold miner risks. Another benefit of purchasing gold bullion with some leverage is it frees up other capital to commit elsewhere. The iShares Silver Trust (SLV) is a secondary bullion pick, using no leverage. Silver is historically cheap vs. gold prices right now, with 77 ounces of silver equal to one ounce of gold. If the global economy surprises to the upside in 2018, the U.S. Dollar declines and inflation picks up steam, silver should rise even faster than gold. The 100-year average gold to silver ratio is closer to 40, with a modern era low around 30 during 2011.
The VanEck Vectors Gold Miners ETF (GDX) and Newmont Mining (NEM) fill out the remaining gold mining exposure. The main U.S.-traded gold mining ETF is a no-brainer for plain vanilla, diversified exposure to gold and silver with some implied leverage. Gold miners historically return 150% to 200% the equivalent gold bullion gains and losses over time periods under a year. Newmont is the best risk-adjusted large capitalization gold miner currently in the world, hands down in my opinion trading gold assets for 30 years. Owning a super-strong balance sheet, with below industry average production costs, and well diversified reserves globally, smart investors have been pouring money into Newmont shares in 2017. If strength and quality are important characteristics, consider Newmont as the gold miner of choice right now if you are bullish on gold/silver/copper prices. Drawn below, precious metals had a weak early December, followed by a strong recovery the last few days of the year.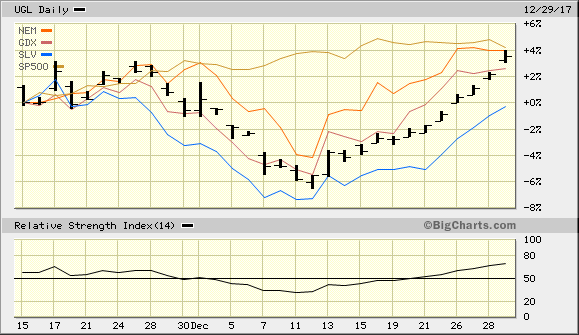 Short Sold Positions
Overleveraged Blue Chips
One theme of my short holdings in 2017-18 is to pair trade old school, overleveraged large caps against less leveraged, higher growth long picks. Stocks like General Electric (GE) have been covered already in this portfolio with nice profits during 2017. I still believe the equities pictured below are good medium-term short choices. Anheuser Busch InBev (BUD), Verizon, AT&T, Medtronic (MDT), International Business Machines (IBM), Mondelez (MDLZ), Kraft Heinz (KHC) and Ford (F) are each recognizable brand name organizations holding way too much debt vs. their past histories and competitors/peers in today's market.
Many of them pay decent dividend yields and trade at low current P/E multiples. Nevertheless, slow or no growth businesses with too much leverage are the ones that become successively smaller over time. They face asset sales, dividend cuts and even bankruptcy during severe recessions. The worst economic news for this group during 2018 would be sharply rising interest rates, with a related jump in interest expense on mountains of debt. If rates rise, smaller more nimble competitors will eat away their business volumes and income using lower selling prices (and costs) as a weapon. All of them have underperformed the S&P 500 for years (including dividends) and have rotten buying momentum trends. Individually, one or more could be big upside surprises in 2018, but I have confidence the whole group will not perform well going forward.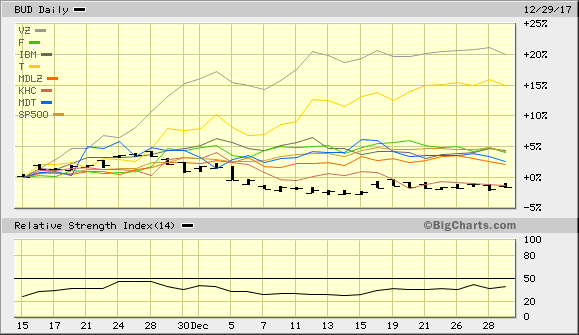 Other Short Ideas
Starbucks (SBUX) is overvalued and overhyped by Wall Street. The company is engaged in a risky China growth strategy, and exposure in America is completely saturated. Competition from new coffee start-ups and McDonald's (MCD) is fierce. Any missteps in business execution means a large stock price drop will hit quickly. I don't understand the bullish argument, and this equity continued to underperform the S&P 500 in 2017. McDonald's is also quite overvalued given super-high multiples on current operations and almost no growth forecasted by Wall Street analyst consensus. Successful investing in McDonald's in coming years is completely a function of not overpaying for your shares. I can argue any price over $120 in 2018 is clearly overpaying, using historical trading data and multiples on operations.
Nike is in a similar boat to Starbucks. Overvalued by Wall Street, its footwear product has oversaturated world markets, competition is real, plus any political or economic changes to international trade with Asia could torpedo its low-cost manufacturing business model.
Costco has a cult following of consumers and investors. The problem with this investment is competition from Wal-Mart (WMT) and Amazon (AMZN) is heating up. Costco's high stock valuation, with a trailing P/E of 30 is not compatible with low growth prospects.
Simon Properties (SPG) is overly exposed to declining brick and mortar retailing trends. Amazon and online product sales generally are moving overall demand for retail property owned by Simon into reverse. It has been a successful pair trade short against the Las Vegas Sands, real estate long the past year.
Twenty-First Century Fox has plenty of debt and risks losing advertising dollars on its Fox television network with its politically divisive programming. On a positive note, selling the majority of its assets to Disney in 2018 should eliminate much downside risk beyond market returns. However, any downdraft in global stock markets soon will likely push the price back to $30 or lower short-term.
Lastly, I am short Eli Lilly (LLY) and Amgen (AMGN) to offset the Celgene and Gilead long holdings. Lilly and Amgen have low or no growth operating profiles, but above average valuations vs. other similar pharmaceutical companies. Celgene and Gilead both have explosive growth potential with some of their new drugs under development. My opinion is Lilly and Amgen's new drug pipeline will only replace expiring prescription pharmaceuticals in coming years, treading water absent large price increases on existing product.
All of the short positions have technical harbingers of trouble ahead, with weak buying momentum and/or evidence of aggressive selling during 2017. The last group of short sales is pictured below, again with price performance measured from six weeks ago.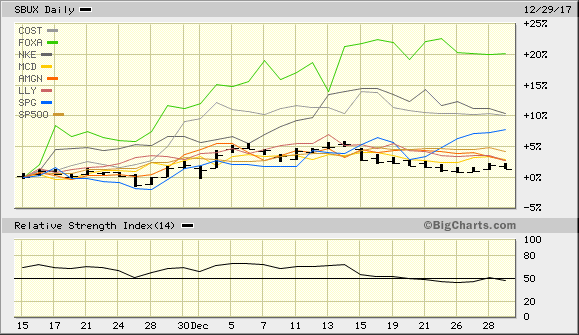 Final Thoughts
The Victory Formation long/short portfolio example is well positioned for a bear market or flat stock market span. It should also continue to outline a nice gain if stocks rise in value. Other portfolio designs are not prepared to earn a profit under both scenarios. My expectation is an eventual market meltdown will prove the effectiveness and utility of owning a diversified, thoughtfully constructed, long/short portfolio.
All the stocks mentioned as part of this model portfolio have been discussed in greater depth in previous Seeking Alpha articles. Don't be shy about reading my individual company articles from 2017, as most of the analysis is still pertinent today.
Investors should consult an experienced financial advisor before entering short positions, as risks to invested capital are different than regular long only investments. The long/short design has a main goal of limiting losses during wild market swings and declining price trends. The flip side of a net-neutral strategy is outsized gains are unlikely, especially during bullish stock market runs.
Disclosure: I am/we are long DIS, BHP, CVX, SU, ABT, NEM, CSCO, UGL, INTC, SLV, GILD, ADM, CELG. I wrote this article myself, and it expresses my own opinions. I am not receiving compensation for it (other than from Seeking Alpha). I have no business relationship with any company whose stock is mentioned in this article.
Additional disclosure: I am/we are short COST, VZ, NKE, MCD, IBM, AMGN, LLY, T, SPG, MDLZ, KHC, SBUX, BUD, MDT