On November 26, 2017, Morgan Stanley analyst Shawn Kim cut memory leader Samsung Electronics (OTC:SSNLF) to Equal Weight from Overweight and trimmed its price target by 3.4%. According to the report:
"We see downside risk as NAND prices have started to reverse in 4Q17. Meanwhile, visibility on DRAM supply-demand dynamics has reduced beyond 1Q18."
Coincidently, Morgan Stanley analyst Katy Huberty cut her rating on Western Digital (WDC) to equal weight from overweight, based on an expectation that prices of NAND flash-memory chips are peaking and could fall as much as 15%, starting in the first quarter.
Memory, Non-Memory, and Equipment Stock Prices
The downgrade for Samsung Electronics has had such a negative impact on memory competitors Micron Technology (MU) and Western Digital that their stock prices are essentially at the same levels as they were 3 months ago (end of September). This is shown in Figure 1 below for MU and WDC.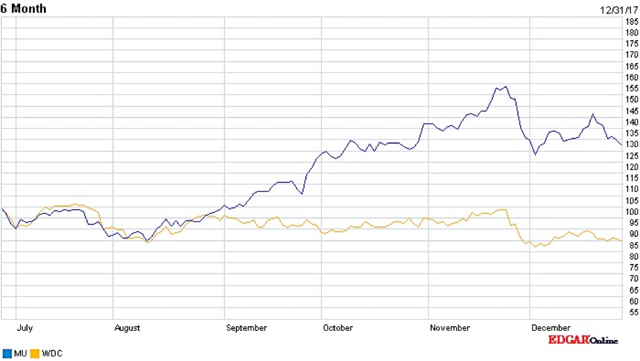 Figure 1
Table 1 shows actual stock prices for both companies plus Samsung Electronics for this 3-month spread.
Table 1 – 3-Month Stock Prices for Memory Companies

Company

Stock Price 9/31/2017

Stock Price 12/31/2017

% Change

Micron Technology

$40.01

$41.12

2.8%

Western Digital

$83.39

$79.53

-4.6%

Samsung Electronics

2,564 KWon

2,548 KWon

-0.6%
At the same time, Morgan Stanley analyst Charlie Chan also downgraded Taiwan Semiconductor Manufacturing Co. (TSM) from Overweight to Equal Weight. I suspect the downgrade was at least partially do to the company reporting that in its Q3 2017 call, revenue from its 16-nanometer and 20-nanometer technologies combined made up 24% of its revenue. Revenue was down from 31% in the same period a year ago.
It is important to note that stocks of other non-memory semiconductor manufacturers, other than TSM, have increased over the past three months. These stock prices are shown in Figure 2 for Intel (INTC), Nvidia (NVDA), and Texas Instruments (TXN) in addition to TSM.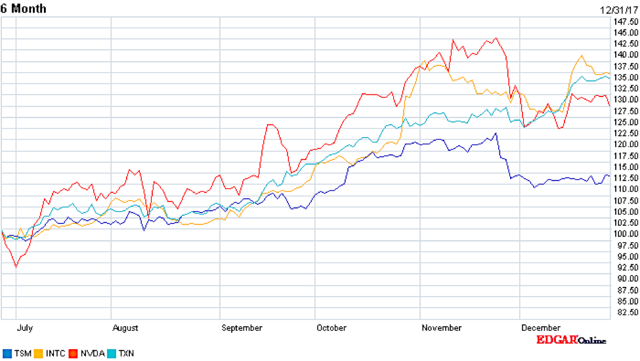 Figure 2
Table 2 shows actual stock prices for all four non-memory companies for this 3-month spread. I include Intel in this category even though some of its revenue is from memory devices through IM Flash, a joint venture formed in 2006 to manufacture non-volatile memory for Intel and Micron.
Table 2 – 3-Month Stock Prices for Non-Memory Companies

Company

Stock Price 9/31/2017

Stock Price 12/31/2017

% Change

TSMC

$38.13

$39.65

4.0%

Intel

$39.04

$46.16

18.2%

Nvidia

$179.00

$193.50

8.1%

Texas Instruments

$89.65

$104.44

16.5%
Memory stocks weren't the only ones impacted by the downgrade. Figure 3 shows stock prices for KLA-Tencor (KLAC), Applied Materials (AMAT), Lam Research (LRCX), and ASM Lithography (ASML).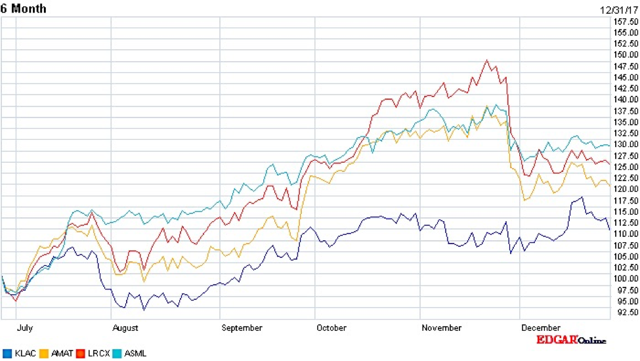 Figure 3
Table 3 shows actual stock prices for the four companies for this 3-month spread.
Table 3 – 3-Month Stock Prices for Equipment Companies

Company

Stock Price 9/31/2017

Stock Price 12/31/2017

% Change

KLA-Tencor

$104.95

$105.07

0.1%

Applied Materials

$52.08

$51.12

-1.8%

Lam Research

$185.95

$184.07

-1.0%

ASML

$170.70

$173.82

1.8%
Interpretations
Data above show stock prices for companies in three categories of the semiconductor space. We see several trends in Figures 1, 2, and 3.
Nearly all companies exhibited a large sell-off in stock prices following the downgrade of Samsung Electronics, Western Digital, and TSMC at the end of November 2017.
1. Memory supplier MU was strongly impacted by the downgrade of SSNLF (Figure 1 and Table 1). I discussed in a December 13, 2017 Seeking Alpha article entitled "The Memory Sector Is Distorting Overall Semiconductor Industry Growth In 2017," that ASPs have been progressively decreasing since a high in Q1 2017 and will drop into negative growth through 2018 for both DRAM and NAND.
Stock prices were equally impacted memory supplier WDC by the downgrade. MU's stock dropped 19.7% in the week following the downgrade and WDC dropped 18.9%. Also, the issue of what would happen to WDC as a result of the selling of Toshiba's semiconductor business had already depressed the stock. You can read more about it in my January 23, 2017 Seeking Alpha article entitled "Western Digital's Future Business Depends On Toshiba's NAND Spin-Off Decision."
2. Non-Memory (Figure 2 and Table 2) companies were not impacted by the downgrade, even though it focused on TSMC, which is not a memory company. In fact, except for a temporary stall in stock price growth for TSMC, the downgrade had minimal impact as TSMC is the supplier of the successful A11 processor for Apple (AAPL) iPhones. Thus, the overall semiconductor industry remains healthy, and according to The Information Network, is expected to grow 3.2% in 2018 following 19.6% growth in 2017.
3. Semiconductor equipment stocks (whose customers are memory manufacturers) were strongly impacted by the downgrade of SSNLF (Figure 3 and Table 3). As expected, LRCX and AMAT, with a large percentage of sales to memory suppliers, particularly for 3D NAND production, saw their stocks drop significantly immediately following the downgrade. KLAC, which sells process control equipment, does not have as significant exposure to memory, and hence exhibited a mild drop.
ASML, which manufacturers lithography equipment, was only moderately impacted by the downturn even though two of its major customers for EUV lithography equipment, SSNLF and TSM, were downgraded. You can read more about why in my March 30, 2017 Seeking Alpha article entitled "The Switch To ASML's EUV Lithography Will Impact The Entire Semiconductor Supply Chain."
Investor Takeaway
Jim Cramer raised the question about these stocks in his December 26, 2017 article entitled "Why This Group of Tech Stocks Should Be Avoided Right Now."
His takeaways were (and I quote):
I think that the answer may be a budding consensus on Wall Street that thinks that the commodities of DRAM and flash are peaking for the cycle.
Is supply out of balance with demand sooner than we thought? My judgment is that may very well be the case because I believe the end markets themselves remain robust.
You get further confirmation from the disappointing stock prices for Applied Materials and Lam Research which, too, haven't come near their highs for the year.
Let's take a closer look. Items 1 and 2 are really intertwined – peaking of DRAM and flash because supply/demand dynamics are driving the rapid growth in memory ASPs and company revenues and stock prices.
I presented this scenario in two graphs in the above-mentioned December 13, 2017 Seeking Alpha article, which can be summed up in two charts below for Samsung Electronics (Figure 4)and SK Hynix (Figure 5):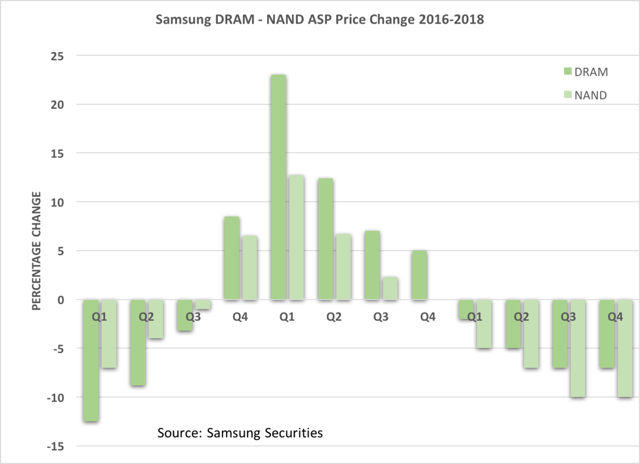 Figure 4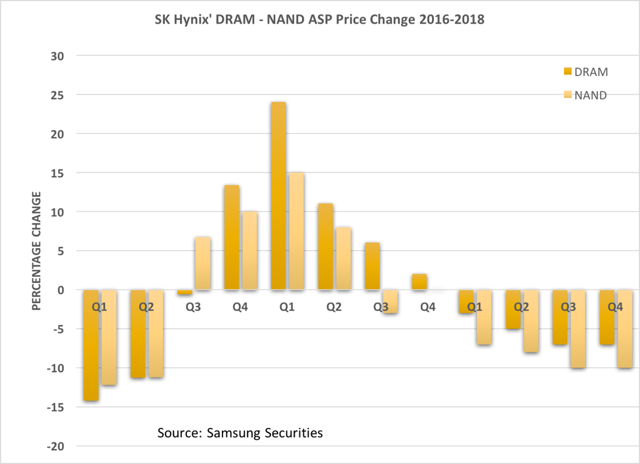 Figure 5
These charts also reinforce the Morgan Stanley report that I highlighted above and repeat here.
"We see downside risk as NAND prices have started to reverse in 4Q17. Meanwhile, visibility on DRAM supply-demand dynamics has reduced beyond 1Q18."
As for Cramer's item 3, the connection between the AMAT and LRCX equipment stocks and memory stocks (Figures 1 and 3) is apparent.
Thus, I offer two investor takeaways that can be discerned about AMAT and LRCX:
The dramatic rise in the stock of these two equipment companies and the subsequent "disappointing stock prices" (Cramer quote) suggests that stock growth is strongly correlated to stock growth of memory companies. Thus, outlook reported by memory companies would have an immediate impact on the stock of AMAT and LRCX.
On a broader level, we are starting to see a degradation in revenues by U.S. and Japanese semiconductor equipment suppliers in the past several months. I discussed this in a November 29, 2017 Seeking Alpha article entitled "Applied Materials Is Weak Short Term For Semiconductors, But Strong For Displays," which can be summed up in two charts below: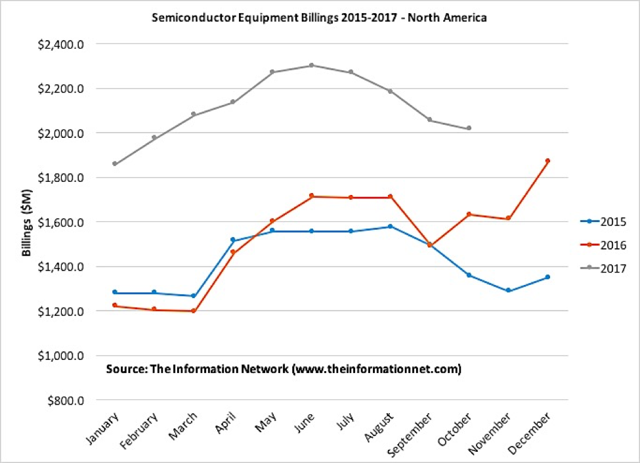 Figure 6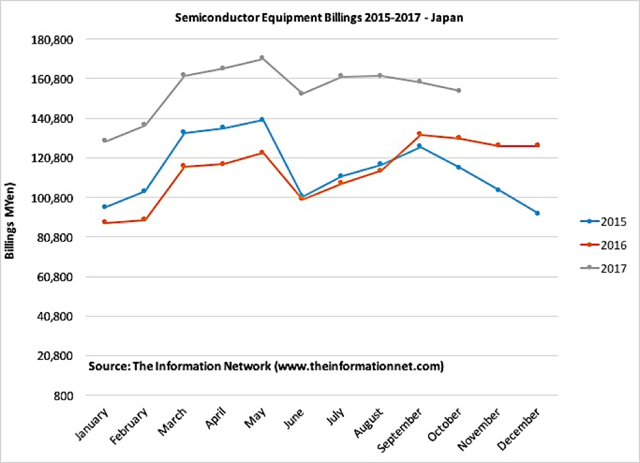 Figure 7
I'm suggesting that the pullback in stock pricing for MU will continue, despite strong demand at the data center and increased implementation in applications such as automotive and AI. My charts above forecast degradation in ASPs for NAND currently and DRAM near turn, which are corroborated by the Morgan Stanley report. As memory suppliers report CY Q4 revenues, we will see that indeed ASPs in NAND have dropped and ASP growth in DRAMs are slowing and ultimately will drop.
The dramatic stock drop in by Morgan Stanley, although addressing Samsung Electronics and WDC, had widespread fallout among other companies. Within a week of this report, MU dropped 19.7%, WDC dropped 18.9%, Samsung Electronics dropped 9.8%, AMAT dropped 14.1%, LRCX dropped 16.7%, and ASML dropped 9.1%.
With the apparent correlation in stock pricing between memory and equipment companies, an investor in these equipment companies needs to closely monitor any disclosure and outlook coming from memory manufacturers.
Another interesting investor takeaway is that sell-side analysts, such as the ones from Morgan Stanley, weld tremendous influence in the stock market. This MS report wiped billions of dollars off the value of investments in these stocks. I raise this issue because of all the topics I write about, MU raises the most vicious comments from the MU longs if I infer anything negative about the stock. Yet there are other writers (and I won't reference them here) that are long on MU, thereby eliciting comments that sound as if the reader is paying homage and genuflecting in reference to the writer while at their keyboard writing a comment. Guess what? All their plaudits about MU in these bullish SA articles did not stop the downgrade and the bloodbath that followed by these Morgan Stanley analysts.
Yet I've been writing months ahead of what the Morgan Stanley analysts reported and got bashed by the MU longs. In fact, I alerted the readers of my Seeking Alpha articles back on April 12, 2017 in my article entitled "Micron Technology Will Be Impacted By Lower DRAM And NAND Prices As Competitors Increase Capacity." That was more than seven months ahead of the Morgan Stanley report, and I got 123 negative comments. Yes, the stock rose significantly until that time, but my point of writing the article was to alert readers to the probability of a drop in ASPs, and as I said above, "closely monitor" any disclosures and outlook. Nevertheless, despite the wishful thinking that MU stock would never drop, it did indeed drop - 19.7% in a week – erasing three months of growth.
Alternatively, one can read my May 16, 2016 Seeking Alpha article entitled "A Shortage Of NAND Flash Memory Is Coming Soon - What Caused It And What Will Be Its Impact." Yes, I pointed out to readers six months ahead that a shortage was coming and to position themselves in advance of the upturn. Even with positive news, there were numerous skeptics.
Bottom line, I bring 35 years of analyzing the semiconductor space to readers as a service. I don't own stock in any companies I write about, but want the reader to get an unbiased third-party insight into a stock. Yes, I do reference marketing studies I write, but that's in tandem with a lot of writers selling products.
Disclosure: I/we have no positions in any stocks mentioned, and no plans to initiate any positions within the next 72 hours.
I wrote this article myself, and it expresses my own opinions. I am not receiving compensation for it (other than from Seeking Alpha). I have no business relationship with any company whose stock is mentioned in this article.
Editor's Note: This article discusses one or more securities that do not trade on a major U.S. exchange. Please be aware of the risks associated with these stocks.