The S&P 500 (NYSE: SPY) looks likely to continue to rally despite its already strong run in 2017, which saw it grow over 19.42% in contrast to its sluggish volatility during 2015 and 2016.
The expected growth looks likely to be supported by:
Strong macroeconomic tailwinds, namely low unemployment, high consumer optimism, and positive expected economic growth, continuing to support corporate earnings growth across all sectors.
Pro-growth fiscal and regulatory policies coming from Washington, D.C.
A seemingly-dovish Federal Reserve that seems hesitant to continue to hike rates despite low inflation.
A general lack of macroeconomic, monetary, or policy headwinds at the moment restraining growth.
While there remain some risks on the horizon, I believe the overall outlook seems quite positive. The generally optimistic expected future for overall earnings growth justifies the S&P 500's current slightly above-average P/E ratio of 21.81 and forward P/E of 20.02, as of 12/29/2017.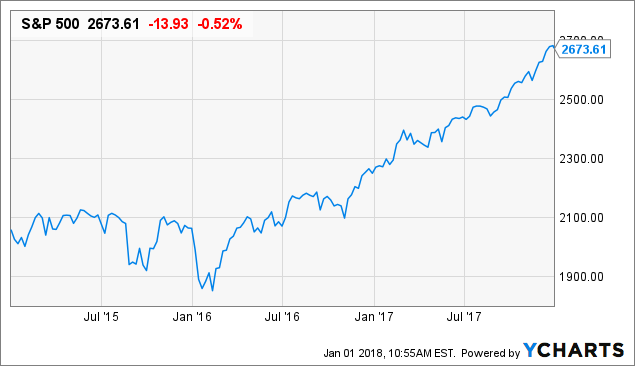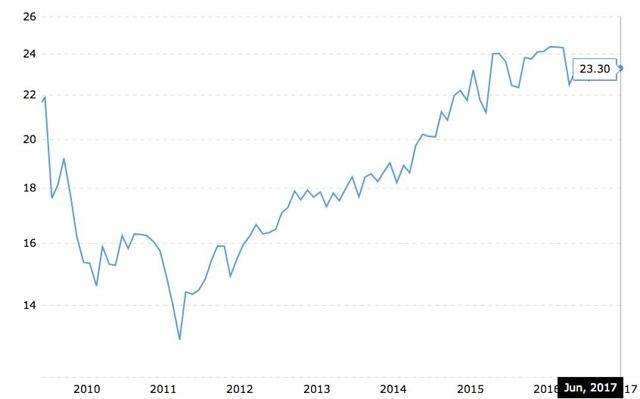 (Figure: S&P 500 P/E Ratio, 2010-June 2017. Does not include recent lower P/E levels. Source: MacroTrends)
Macroeconomic Tailwinds Fueling Market Growth
The overall U.S. economy is currently expected to grow between 2.5% and 3% in 2018, significantly higher than its growth rates the past few years with an estimated 2.2% for 2017 and having grown 1.6% in 2016.
Along with this economic growth, job growth also looks strong and a 4.1% unemployment rate that is at an incredible almost two-decade low.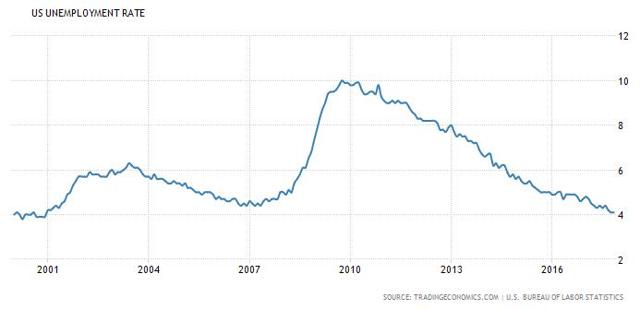 (Figure: Monthly Non-Farm Employee Job Growth, Source: U.S. Bureau of Labor Statistics)

(Figure: Monthly Non-Farm Employee Job Growth, Source: U.S. Bureau of Labor Statistics)
Furthermore, consumer confidence as represented by the Consumer Conference Index has also hit an almost two-decade high, continuing to stay at a relatively upbeat level albeit with a slight downturn in December.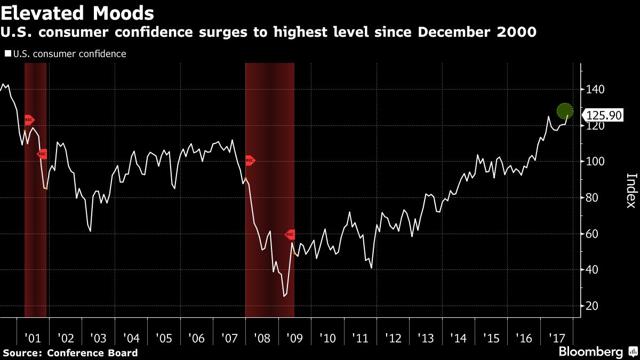 What this means for the overall economy is that there's likely to be continued increasing consumer spending and economic activity, which translates to a generally increasing level of corporate revenues and earnings.
It is worth noting that all this is taking place amid slightly increasing but still generally quite low inflation.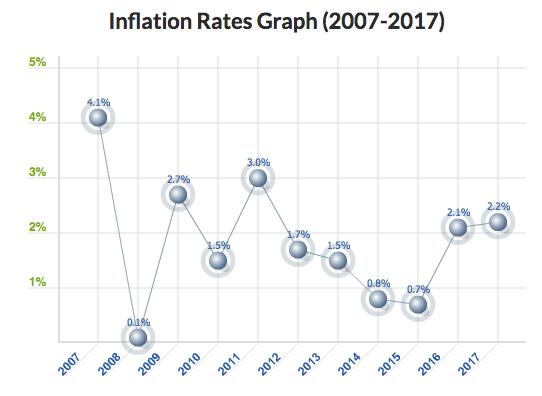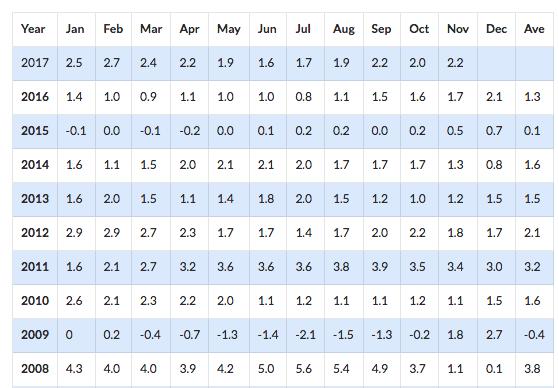 (Figure: U.S. Inflation Rate by Month, Source: US Inflation Calculator)
Regulatory Risk Remains At A Historic Low
The current administration and Congress in Washington, D.C., has given businesses little reason to fret, as on both the regulatory and legislative fronts, the administration has been incredible pro growth.
In terms of regulation, the Trump Administration has been fiercely cutting regulations during its first year in office, with the regulatory policies that are being enacted quite pro-growth or favoring U.S.-based corporations.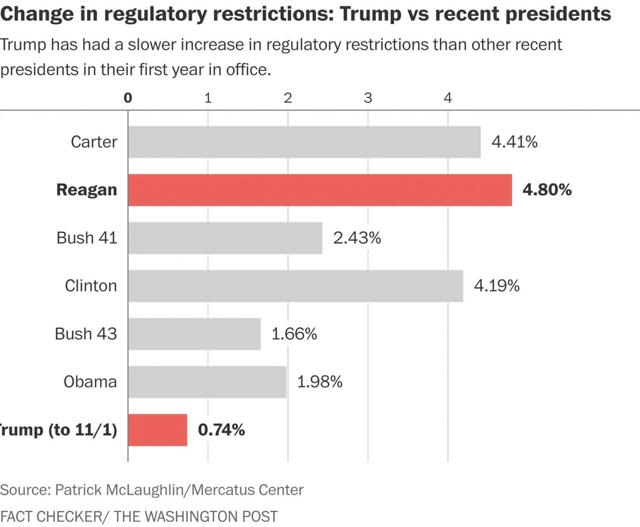 On the legislative side, there haven't been many economically impactful bills passed beside tax reform, but tax reform is itself quite a whopper for economic growth.
Tax reform had been discussed through much of the year with the market pricing much of its potential benefit, if passed, into expected future earnings.
However, given the immense chaos of this past year on other legislative efforts such as reforming the Affordable Care Act, the actual prospects of tax reform passing were still extremely uncertain until it was actually signed into law and fully enacted.
The tax reform bill right now looks overall to be a strong net positive for economic growth, with the Federal Reserve adding +.4% GDP growth expectations for 2018 in response to it.
Undoubtedly, the most important aspect of tax reform is the massive lowering of the corporate tax rate from 35% to 21%. With this corporate tax cut bringing the U.S. corporate tax rate in line with many other developed nations, the earnings-boosting effects for U.S.-based companies is immense.
However, the bill also has a variety of other pro-growth tax law changes in it, such as getting rid of the corporate alternative minimum tax, thereby fueling productive corporate activities such as research and development, and increasing certain business deductions.

The overall impact on businesses is therefore likely to be very positive, as evident by the $1,000 employee bonuses many corporations gave out in response to the bill being enacted.
The tax bill's changes to the personal federal income tax, with the net effect of lowering overall taxation, likely will fuel spending as well.
On the negative side, it appears the tax bill will potentially add to the federal deficit and thus the national debt, increasing treasury bond issuances.
However, nonetheless for the moment, the increasing debt level does not seem to have a negative immediate effect on markets vis-a-vis Japan, and the continuing roaring economic growth seems to be keeping the debt-to-GDP level still relatively in check.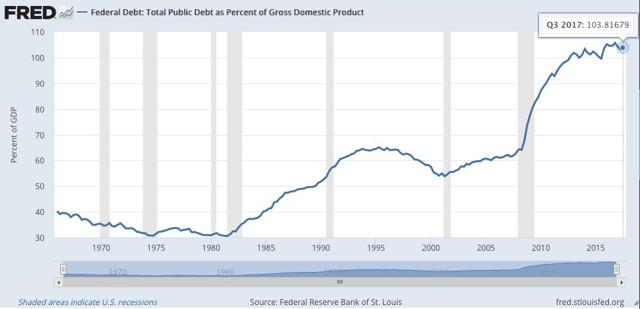 While the United States' steadily increasing debt-to-GDP level is worth noting, for the moment, it is a far way away from Japan's market-constricting level.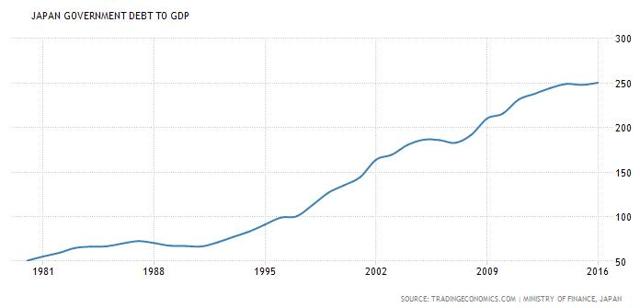 Federal Reserve Interest Rate and Balance Sheet Policy Likely Still Accommodating
In the last few months of Janet Yellen's term, she has indicated she believes the current level of Federal Reserve interest rate hikes remains sufficient for the current levels of economic growth.
At the December 2017 Federal Open Market Committee, the Federal Reserve raised rates to 1.5% with an expected two to three interest rate hikes for 2018 given the current economic growth trajectory. The FOMC vote was overwhelming with eight in favor and two against. Incoming Federal Reserve Chair Jerome Powell voted for the hike.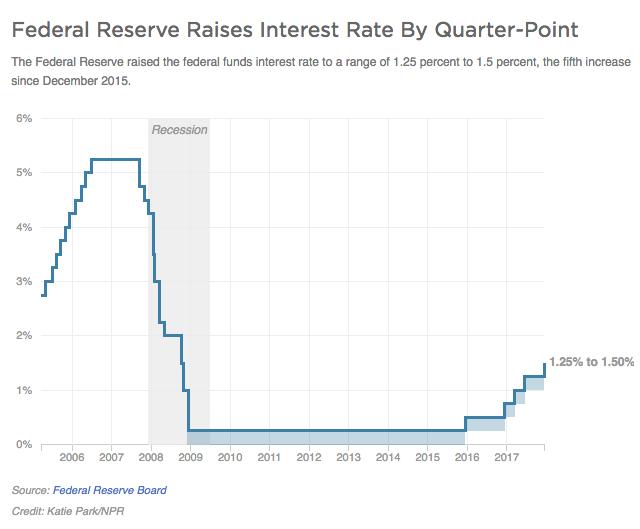 However, there are caveats for the Federal Reserve's policy approach. Incoming Federal Reserve Jerome Powell is similar to Janet Yellen as a relative dove, but it appears that the overall FOMC may have more hawkish-leaning this upcoming year.
As inflation continues to struggle along, it is quite possible these hawks may succeed in pushing the Federal Reserve to be slightly more aggressive in raising rates in order to try to bolster inflation.
While some analysts say three hikes are possible, four hikes may begin to shake some of the market's current major tailwinds as the relative return of equity assets decrease.
Conclusion
For those who simply invested in the market as a whole this past year, it has been an incredibly good and low-volatility year.
However, based on immensely strong tailwinds on the regulatory, macroeconomic, and monetary fronts, it looks like 2018 is gearing up to be a strong year as well for the markets.
While there remains some potential uncertainty, particularly with the Federal Reserve and its ability to provide some headwinds depending on the speed it raises interest rates and unloads its balance sheet, nonetheless for the moment, it appears all the factors are right for continued domestic market growth amid a bolstered overall U.S. economy.
Disclosure: I/we have no positions in any stocks mentioned, and no plans to initiate any positions within the next 72 hours. I wrote this article myself, and it expresses my own opinions. I am not receiving compensation for it (other than from Seeking Alpha). I have no business relationship with any company whose stock is mentioned in this article.