Star Wars The Last Jedi's final box office performance numbers for 2017 are a generally positive indicator for many different lines of Star Wars-related business on the near horizon for Disney (NYSE: DIS), as well as being an immediate profit boost for the upcoming quarter within itself.
I. The Last Jedi's Strong Sales Despite Fan Outrage
Perhaps one of the most persistent news stories in the wake of The Last Jedi's release was the divergence in opinion on the film between professional critics and the general fan community.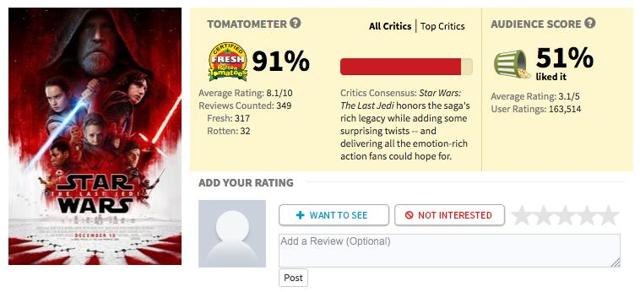 (Source: Rotten Tomatoes)
Concluding the year with a 91% professional critic rating as compared to a 51% audience rating, it stands in stark contrast to the relatively consistent rating The Force Awakens received, at a 93% film critic rating versus 88% audience rating.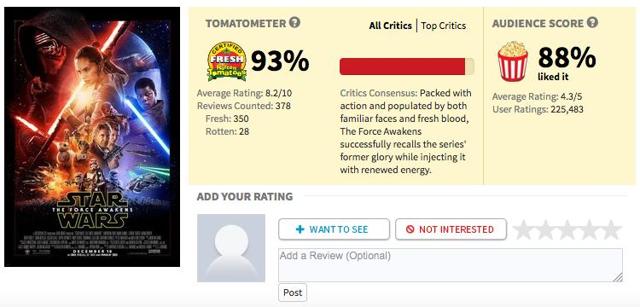 (Source: Rotten Tomatoes)
That is not to even mention the consistent ratings for the first Star Wars film distributed by Disney, Rogue One, which also received a relatively professional critic versus audience consistent rating.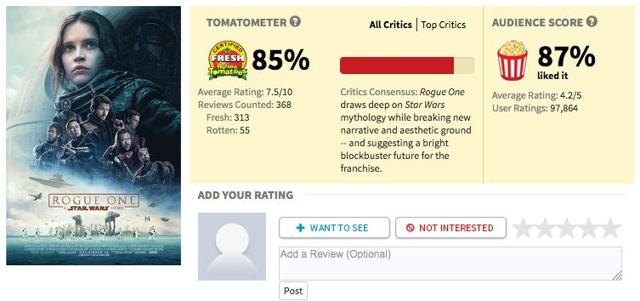 (Source: Rotten Tomatoes)
Nonetheless despite this disparity, The Last Jedi performed exceptionally well at the box office in its roughly three-weeks of release in December, pulling in over $1.056 billion the box office, with $533.1 million of that in the United States and making it the seventh-highest gross domestic revenue film.
The film was weaker than The Force Awakens, which pulled in a total of $2.068 billion at the box office on a $258.6 million net budget, yet looks like it will surpass Rogue One's performance at $1.06 billion box office performance at a $200 million net budget.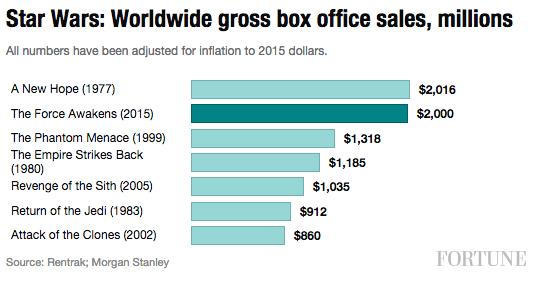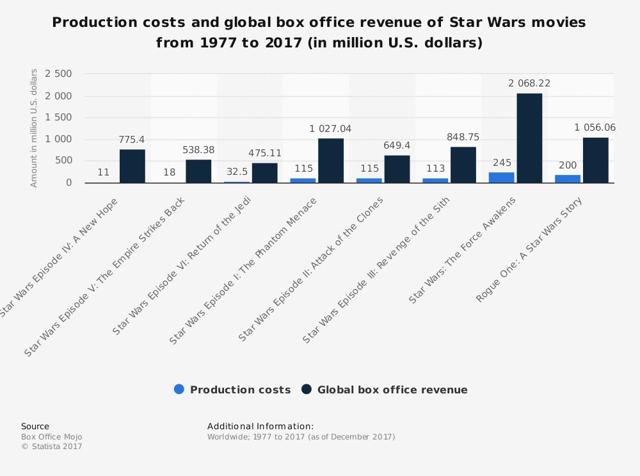 Nonetheless, with still more time left at the box office it seems like The Last Jedi will be the highest grossing film that was released in 2017, already beating Thor: Ragnarok and on track to beat The Beauty and The Beast as well.
This is all amid a year that saw a decreased overall U.S. box office performance for all movies, declining 2.3% to $11.12 billion in 2017 compared to $11.38 billion in 2016.
Overall, this remains a relatively strong performance for The Last Jedi that shows the brand continuing forward with strength,
II. Indicators for Upcoming Star Wars-based Disney Products
i. Solo in 2018
The most immediate major Star Wars-based Disney product that is coming up for release is "Solo: A Star Wars Story," which will be a standalone film to be released on May 25, 2018 in the United States.
The film, focusing on the early life of Han Solo and Chewbacca before the original trilogy, shows that Disney intends to continue to utilize characters in a variety of spin-off films and series for a time to come.
Given The Last Jedi's performance, it seems that Solo is also likely to perform well and may perhaps be a way to gain fan interest once again from an older generation of Star Wars fans who are more connected with the original trilogy.
It remains to be seen whether the current controversy from The Last Jedi, which seems to be coming from largely the older generation of fans, will have an impact on the performance of Solo.
Nonetheless, a strong performance by Solo would help bring back in many fans hurt by The Last Jedi and, as Disney's first summertime Star Wars release, may be testing a new market for future use.
ii. Disney's Streaming Service and Live-Action Star Wars Series
Furthermore, The Last Jedi's strong performance shows the Star Wars brand remains vibrant and very much alive among both older fans and a new generation of fans, which poses even better for Disney's upcoming content streaming service that seeks to use a Star Wars live-action series to launch itself to subscribers.
This streaming service remains fearsome, especially with Disney's recent deal to acquire much of 21st Century Fox and thus seriously augment its movie production and studio capabilities.
When the streaming service finally launches in 2019, it looks like it may have a very significant initial base and selection of content offerings to start out with.
iii. Star Wars IX in 2019
The next official film in the Star Wars series is not set to come out until December 2019, which is still quite a long way away. It remains long enough for hype to continue to build in the meantime, as it seems despite The Last Jedi's significant reorientation of the series there is still significant fan interest and speculation.
iv. The Next Star Wars Trilogy
With a deal for another trilogy already signed with Rian Johnson, it looks like the Star Wars film series is continuing on full-steam. While these films, being released in the 2020's, remain extremely difficult to predict, it looks like the continuing current brand strength of Star Wars means they stand a fighting chance.
This future trilogy undoubtedly will face much greater uncertainty than current Star Wars products, as by then the market of movie consumers will have shifted even more to a new generation that may even be disconnected from the prequel movies of the 2000's.
Furthermore, with the retail movie theater industry's continued weakening and the box office industry's decline this year, the box office industry itself may face greater difficulty as other means of content distribution, including for movies, may be tested and instituted come the the 2020's.
The movie industry's secular trends in the 2020's remain for the moment very unpredictable, but the best indicator at the moment is that the Star Wars brand remains very versatile and retains strong current and future fan interest.
III. The Impact on Disney's Earnings Potential
Star Wars has been a major profit source for Disney's multifaceted slew of businesses and brands, with Disney having increased its ticket revenue share to 65% for The Last Jedi compared to 64% for The Force Awakens.
For example, The Force Awakens was able to significantly drive up Disney's 2016 earnings by being the main force behind the studio's 86% jump in profits in Q1 2016, contributing significantly to the 32% jump in net income to $2.88 B and 14% jump in Revenue to $15.24 B. At 64% of The Force Awakens' $2.068 billion box office revenue, that is $1.32 B in revenue and earnings for Disney.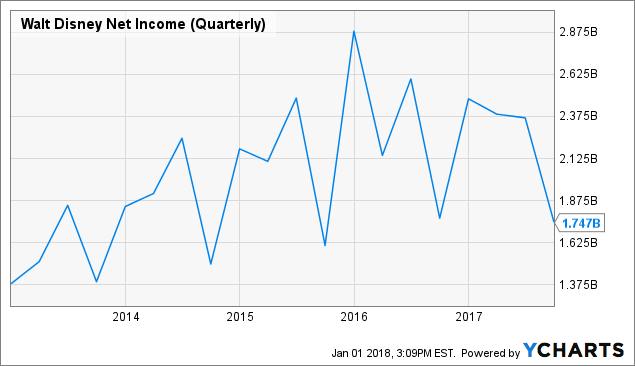 If we look at the potential impact of The Last Jedi, at 65% of sales of perhaps eventually grossing $1.3 B total during this quarter, for Q1 2018 that means Disney will likely see an immediate $845 million boost in revenue and earnings. That is a substantial boost to its $12.78 billion in revenue in Q4 2017.
Beyond the immediate quarter, the strong performance of The Last Jedi bolds well overall for the studio division's future income-generating ability, especially given Disney's increased investment in its studio with the acquisition of 21st Century Fox.
Furthermore, the strong performance of The Last Jedi and the Star Wars series is a positive indicator for the variety of other brand-related revenue sources for Disney, such as in merchandise and licensing.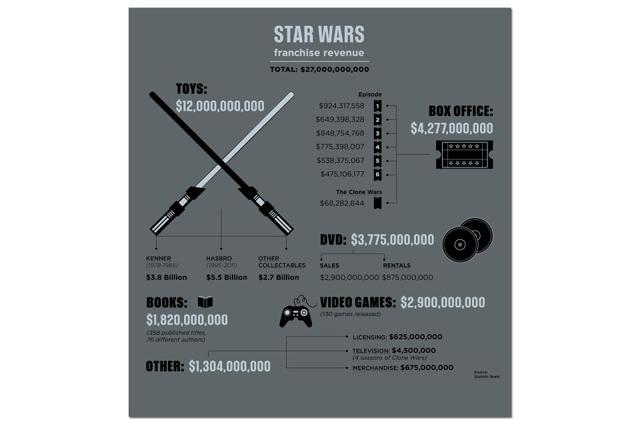 This increased optimism raises the expected growth trajectory of Disney, and thus its forward-looking valuation premium, at least in its Star Wars-related products.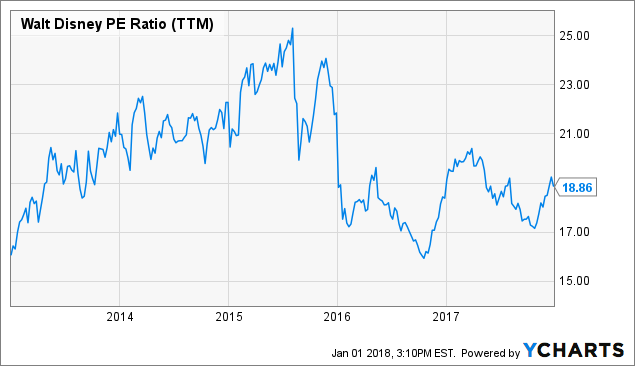 Conclusion
The Last Jedi performed below The Force Awakens, but still was a strong performance in an overall weak year for films at the box office.
It is clear from the film's performance that the Star Wars brand remains strong, despite the fan controversy. With the heavy Star Wars-based product lineup coming up for Disney, as well as Disney's increased investment in film through its acquisition of 21st Century Fox and its focus on Star Wars as a lead-in for its streaming service, The Last Jedi's performance is a very positive indicator for a variety of revenue streams for Disney.
The fan controversy from Star Wars means there still might be some uncertainty on the horizon for the performance of Star Wars IX, but perhaps Solo will be able to reinvigorate jarred fans' interest and its performance will be worth watching closely.
Furthermore, the performance of the next Star Wars trilogy in the 2020's remains very unpredictable due to the significant secular trends that may change how the movie distribution and theater industry itself operates by then.
Nonetheless, it looks like Star Wars will continue to support much of Disney's business, with The Last Jedi raising that outlook for the near-future.