Overview
2017 was generally a strong year for my portfolio, returning 26.38% relative to the S&P 500s 20.37% return (numbers from Etrade performance calculator). This brings my since inception (June 2016) return to 34.28% relative to the S&Ps return of 26.75%. Overall, my portfolio continues to be driven by an allocation effect on a sub-sector/macro sector basis; however, to my knowledge there is still a positive selection effect within my portfolio as well (Unfortunately, Etrade does not calculate this for my portfolio and I do not have the resources to calculate it on my own).
Entering 2018, these are my current positions alongside a monthly and quarterly performance analysis: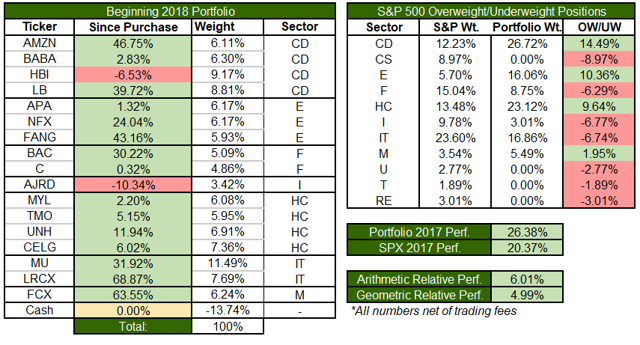 (Source: Personal tracking document, performance numbers from Etrade)
Please note that these are simply my ending positions for the year following loss harvesting, and that my margin (typically around 1.15-1.35x) is not indicative of my portfolio's typical beta. Typically I reserve margin for short positions to reduce my portfolio's overall market risk; however, I used it recently in order to strategically add to Micron following their 20% drop after the November rotation out of tech. I plan on selling Lam Research Corp. (NASDAQ:LRCX) in mid-January, as I currently have approximately 80% return on the stock and am simply waiting for it to be classified as a long-term capital gain. My typically portfolio beta is 1.10-1.20.
From a performance standpoint, the major drivers of my performance are typically my allocations as I mentioned previously. When I take an outlook on a sector, I tend to hit it hard and then diversify across a few positions (as can be seen in my semi/retail/energy exposures in my current portfolio). With this being said, I typically start with a smaller position to feel out the waters, and then add as momentum starts to take hold and look to close if a trend is broken or if I see a rotation out of it in favor of another sector on a relative basis. My energy/retail/semi exposure for instance was half the size it is now when I started; I additionally hedged my retail exposure at its current size by shorting Skechers USA Inc. (NYSE:SKX) (cost basis of around $34.50 - I closed this short in order to reap Sensata Technologies Holding N.V. (NYSE:ST) losses, and am fine with the naked exposure to retail in the near-term given its current momentum).
2017 summary - a tale of two halves
1Q2017 represented a strong point for my portfolio. Moving out of 2016 I was strongly positioned following the Trump election and reflation trade. I held such holdings as Caterpillar Inc. (NYSE:CAT), United Rentals (NYSE:URI), Freeport-McMoRan Inc. (NYSE:FCX), Jacobs Engineering Group Inc. (NYSE:JEC), Goldman Sachs (NYSE:GS), Apache Corp. (NYSE:APA), Kinder Morgan, Inc. (NYSE:KMI), Barclays (NYSE:BCS), NVIDIA Corp. (NASDAQ:NVDA), Vulcan Materials Company (NYSE:VMC), National Oilwell Varco, Inc. (NYSE:NOV), The Sherwin-Williams Company (NYSE:SHW), Masco Corp. (NYSE:MAS), among others (around 18-25 holdings at any given time). 4Q2016 represented where the majority of my alpha came from for 2016 as I invested heavily in the reflation momentum following the election, alongside being exposed to NVDA which was also a strong driver of my 2016 performance.
Moving into 2017, I cut reflation exposure slightly but remained levered (though not as levered as I was), in addition to overweighting technology (Salesforce.com (NYSE:CRM), LRCX, Micron Technology (NASDAQ:MU), Splunk Inc. (NASDAQ:SPLK), Amazon (NASDAQ:AMZN) - selling NVDA). A major mistake I made in hindsight was also overweighting energy fairly substantially, as I held Superior Energy Services, Inc. (NYSE:SPN), Enterprise Products Partners L.P (NYSE:EPD), Apache Corp. and also held my metals exposure in Vale S.A. (NYSE:VALE) (having sold FCX). My financials exposure was additionally Bank of America (NYSE:BAC), GS, TFC Financial (NYSE:TFC) and I took value exposure in Delta Air Lines (NYSE:DAL) and General Motors (NYSE:GM). I additionally held exposure to CF Industries Holdings, Inc. (NYSE:CF), URI, Acadia Healthcare Co. (NASDAQ:ACHC) and overweighted biotech/pharma positions at the time in Celgene Corp. (NASDAQ:CELG), Gilead Sciences, Inc. (NASDAQ:GILD), and Allergan plc (NYSE:AGN).
2Q2017 represented a low for my portfolio following a strong start in January, with markets quickly moving against me. I primarily attribute this to a rotation to international stocks as the dollar weakened over the course of 1H2017 drawing money out of the "Trump Trade," alongside my poor energy positioning. My energy thesis entering 2018 was that capital expenditures would be substantial enough to allow price increases for O&G services companies. This turned out to be the opposite of the case, as prices continued to remain tepid, and capital expenditures continued to be pressured. Additionally, there was a general global growth trade pullback in the 1st half following the Trump euphoria, which caused many of my reflation trades to pullback slightly.
While there were negatives in my portfolio, not everything was doing substantially badly. My tech exposure was crushing it and my portfolio was benefiting from my strong overweight positioning, especially in semis as my initial thesis played out in that the cycle had bottomed and we were reaching a key stage in implementation of advanced technology especially in the DRAM and NAND space. LRCX was a general play on macro semiconductor company capital expenditures, so it benefited as the industry grew across the board. Additionally, my biotech exposure in CELG was up whereas GILD was slowly bleeding.
Overall however, while 2Q2017 did represent a lull relatively, my portfolio remained up nominally, flatlining during the quarter at about 5% nominal performance compared to the S&P which continued trending higher.
3Q2017 represented an inflection point in my portfolio as I made a series of portfolio moves in June that resulted in a significant catch-up for my performance.
First, we saw a major pullback in Brazil following major corruption charges against Brazil's president Temer. I took this opportunity to strategically rotate to exposure in the Country, as I had previously had a strong outlook on the Country's exit from its recession alongside the likelihood of pension fund reform. Furthermore, I saw little likelihood of Temer's impeachment given how relatively benign the charges seemed against historical impeachment allegations, alongside seeing he did have relatively substantial support still. As such, I took a large position in Brazil (~15% AUM) following its 20% market trade down, taking positions in Itau Unibanco Holding S.A. (NYSE:ITUB), Petrobras (NYSE:PBR), and adding to my exposure in VALE.
I additionally shifted my reflation exposure around again, doubling down on energy as it made no fundamental sense as to why crude had re-breached $45/bbl given that demand growth was strong, shale capex was failing to materialize as substantially as people suspected, and OPEC was likely to continue cuts given strong compliance. I additionally purchased FCX again as a macro play (and micro on a positive outlook for the Indonesian government dispute), as global growth appeared likely to continue with China growth chugging along/stabilizing.
Furthermore, I sold a large part of my financials exposure in GS and TCB, though keeping BAC to retain exposure, as I saw no short-term catalyst for the sector relative to others.
I then undertook a second, large rebalancing in September to take advantage of what I saw as huge valuation discrepancies in the E&P space given low/mid $50s crude. I sold out of positions in GM and DAL in order to free-up cash (them having been fairly flat/down since purchase), alongside cutting tech exposure in SPLK, and moving out of AGN, CELG, and GILD. I also took profits on my URI position and cut small losses on my CF position.
I then used these profits to purchase E&P companies Newfield Exploration Co. (NYSE:NFX) (SCOOP/STACK basin) and Diamondback Energy (NASDAQ:FANG) (Permian pure-play), aerospace missiles company Orbital ATK, Inc. (NYSE:OA), Chinese e-commerce conglomerate Alibaba Group Holding Limited (NYSE:BABA), and shifted my healthcare exposure to more stability in Thermo Fisher Scientific Inc. (NYSE:TMO), UnitedHealth Group Inc. (NYSE:UNH), and the iShares Nasdaq Biotechnology ETF (NASDAQ:IBB). These moves represented a homerun, with OA being acquired for a massive premium, E&P companies valuations bouncing hard off their lows after hitting what was essentially a five year resistance line (NFX specifically), and a continued acceleration of the Chinese middle class.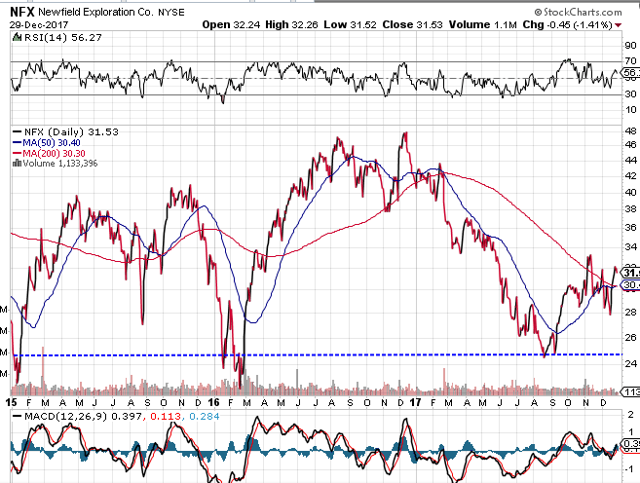 (Source: stockcharts.com)
Soon after in September, I was left with OA profits to reinvest following selling on acquisition news, and I additionally sold VALE in order to take profits (around 30% since June) as it broke its lower resistance line following iron re-entering a bear market. I also additionally sold CRM in order to reduce my tech exposure (which had ballooned due to MU and LRCX being up nearly 70%), as the stock appeared to be flatlining slightly on a concerning valuation and it was my lowest-conviction holding.
I then used funds (and slight margin) to take positions in L Brands (NYSE:LB) and Hanesbrands Inc. (NYSE:HBI) on a valuation basis on expectations of a rotation to value stocks (especially in the E&P and retail space) following what appeared to be stalling in momentum stocks. I also purchased Aerojet Rocketdyne Holdings, Inc (NYSE:AJRD) at a small exposure on M&A speculation following the OA acquisition news, and Raytheon Company (NYSE:RTN) on aerospace momentum and company valuation. I finally also initiated a short position on GE (NYSE:GE), which worked out incredibly well as the Company lowered guidance and cut its dividend, trading down substantially.
4Q2017 as a whole represented another strong quarter after what was a marquee third quarter. Moves during this period were fairly minimal outside of a few shifts and rebalances.
The first major move was I sold Superior Energy Services, Inc. and added another E&P to portfolio as a replacement in APA. Up to this point FANG and NFX were up about 20-30% each, whereas APA traded down substantially after announcing large capex plans in excess of 2017/2018 cash flow to develop its Alpine High property. This comes following APC trading up significantly after announcing a large share buyback program. To me this made absolutely zero sense, as the Alpine High represented premier land, and while in the short-term debt might increase, APA had reduced costs to the point where they could afford some short-term deficits to fund longer-term growth. I did initiate at a smaller position however.
I additionally purchased C at a small exposure to add to my financials position as it seemed that 2018 was shaping up to be a stronger year for financials on global growth, and the yield curve had become so flat that it looked like risk was to the upside on steepening. The Company's EM exposure was also something I liked as I additionally sold PBR and ITUB during the quarter, taking profits (each with ~25% return).
I then finally sold IBB and initiated a position in CELG again following its trade down after cutting long-term guidance to a point where the Company's pipeline was valued at virtually zero. I additionally added to LB after the Company broke its long-term resistance line to the upside, in addition to doubling down on HBI following a weak Q3 earnings and a large 15% trade down. Given the cash flow strength of the Company and it hitting its lower 3-year resistance line after the trade down, I felt that this was a strong buying opportunity and felt comfortable purchasing more. With that being said, I did short SKX as a hedge to my retail exposure given the risk that did exist holding both LB and HBI at the time (though their business models are inherently different).
Finally, ending the year in December, trading has been fairly flat. I covered my short position in GE for a 25% profit, and sold RTN in favor of Mylan (NASDAQ:MYL) on expectations of a shift to biotech/pharma in 2018 (See Generic Alpha - A Mylan Story for my MYL thesis), alongside it looking like aerospace momentum had stalled. I also doubled my MU position following its 20% trade down during the November rotation out of tech, but foresee a rotation back following the onset of 2018 as investors sell their Credit Suisse Group AG (NYSE:CS) positions on the news of tax reform (which benefits CS the most) - this rotation to CS was the major catalyst for the recent tech selloff. I then finally closed my SKX short in order to harvest losses ahead of year-end 2017.
Where I went wrong - lessons learned
While overall I chalk up 2017 as a strong win given my performance, I did learn a few things over the course of the year.
The first major thing I learned is to not go "all-in" on positions right away. During January I essentially committed too much capital to financial reform and reflation plays, but left little capital in cash/uncorrelated stocks in order to add on short-term pullbacks etc. Moving into the second half of the year however, I was sure to take smaller positions to test out my thesis and feel it out. If the trend developed momentum I would add on dips, or if the position moved against me it would normally be for a very small loss rather than a large one as if I had initiated the position at 8% of my portfolio off the bat.
The second major point I learned is to be patient if I have conviction in a stock. One of my biggest blunders of portfolio management this year was selling a few holdings that were trading flat, but that I knew were undervalued and had significant upside. In 3Q2017, I sold high-conviction positions in URI, CF, and GM - a triplet of extremely undervalued companies with great longer-term stories which underperformed in the short term. Over the 4-months after I sold in August, the stocks are up 60%, 47%, and 16% respectively.
The final lesson I learned is that active monitoring of holdings is key. In late 2016 and through 2H2017 I was very on-top of monitoring my positions, looking for opportunities, and rotating when necessary. In 1H2017 however, I didn't take losses and actively manage my portfolio; that is, I managed it in a more passive style. Given my performance in the two halves, I've learned that I am stronger at picking mid-term stories and identifying opportunities for rotations and flows rather than passive investing in buy-and-hold stocks. This makes sense given the risk-profile of the companies I typically like (turn-around stories in beaten down sectors that have asymmetric risk profiles and stronger than your average company cash-flow generation); however, this was a major realization for me this year, and I attribute it to my success in the second half of the year.
The good - takeaways from what worked for me
The first thing I learned is that when others are panic selling, there exists opportunity. Now, while I am not saying to buy anything that tanks 20%+ in a day or on a single piece of news, many of my best investments this year have been off of sell-offs or overly scared investors. Purchasing Brazil on the dip was one of my most profitable trades of the year. Similarly, my E&P investment following an unjustified sell-off in crude among strong technicals also represented a strong investment that many were scared of. Likewise with my retail investment, my double-down on HBI and LB both came off of what I argued were unjustified sell-offs and strong technicals. Most recently, my MU add following its arbitrary late-quarter tradeown is currently my highest conviction position.
Another point I learned is to cut losses. Over the past two years I have been brutalized by major losses on small/mid-cap holdings. In 2016 I held ACHC at a decent exposure, trading down 60%, and similarly I held SPN this year for a 65% loss. I was successful at this however in the second half, as I cut losses on such companies as RTN, GILD, and SKX prior to what were further losses. I will additionally likely be selling AJRD in the near-term and replacing it with higher-conviction NRG in order to cut losses as well.
Looking towards 2018
Overall, I am fairly happy with my positioning entering 2018. Areas I am currently looking into for further positions/rotations into during 2018 are pharmaceuticals, low-multiple tech, low-multiple industrials, distressed telecom/utilities, and media. These are just ideas at this point, and I currently feel that a rotation to tech/energy/retail will resume/continue into 1H2018. Be on the lookout for a more formal 2018-focused post from me towards the end of January.
Conclusion
2017 represented a great year for me in terms of returns, and I learned innumerable lessons as both an investor and analyst. Moving forward, I hope the bull-run continues (don't we all?), and that I continue to be able to position myself to take advantage of trends. I hope that you all found my journey through 2017 to be an interesting read, and that you walk away with some things to think about with your own investing, especially regarding my major take-aways and lessons from this year.
Disclosure: I am/we are long AMZN, BABA, LB, HBI, NFX, FANG, APA, C, BAC, AJRD, TMO, UNH, CELG, MYL, MU, LRCX, FXC, NRG. I wrote this article myself, and it expresses my own opinions. I am not receiving compensation for it (other than from Seeking Alpha). I have no business relationship with any company whose stock is mentioned in this article.