Canada's Big 5 Banks: Buy The Growth And Enjoy The Dividends
Summary
The Big 5 banks in Canada - Royal Bank of Canada, CIBC, BMO, TD Bank, and Bank of Nova Scotia - have been steadily growing their business.
On a macro level, the past 20 years have shown these banks are great holds because of their dividend growth and capital gains.
The dividend payout ratios are low and just below 50%.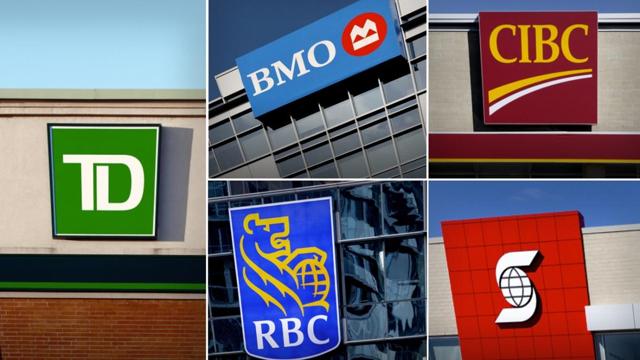 Canada's banking industry is dominated by the following five banks: Royal Bank of Canada (OTC: RY), CIBC (OTC: CM), BMO (OTC: BMO), TD Bank (OTC: TD), Bank of Nova Scotia (OTC: BNS). Each of these banks have been around for about a century and have grown their business across Canada and beyond.
These banks have shown an amazing track record for growth, and in looking at the banks on a macro level, they make perfect growth and dividend investments.
Canadian Banks Show an Upward Trends
Each of the 5 Canadian banks has shown an upward trend in the last 20 years. Had investors invested in any of these banks 5 years ago (or more), their returns would have averaged at least 7.7%.
The dividend yields are also impressive; if investors had purchased shares in any one of these banks 5 - 20 years ago, the dividend yield (based on a purchase price 5 - 20 years ago) would have ranged from a low of 4.3% to 55.2%.

(Source: Google Finance, www.dividend.com, Bank's Financial Statements)
Big 5 Acquisitions and Growth
These trends are likely to continue because these banks have shown a lot of resilience to market fluctuations. In the last 20 years, from the dot-com bubble in early 2000s to the US bailout of financial systems in late 2008, these Big 5 Banks continued to grow and expand:
Bank of Montreal
In Canada, BMO has the second largest market share in business loans. Its expansion plans is mainly focused on the US with a few initiatives to expand its ETF offerings to clients in Europe and Asia.
ScotiaBank
While other banks have focused on the US expansion, Bank of Nova Scotia has taken another route by focusing on Latin America. At this point, it is the most international bank (it has more international operations outside of Canada) compared to the other 4.
If Canada does join the Pacific Alliance (a trade bloc between Mexico, Peru, Chile, and Columbia) it will be a big boon in business for Bank of Nova Scotia.
CIBC
CIBC has a large Canadian mortgage portfolio and its stock price in recent years have taken a hit because of its real estate exposure to Canadian real estate. Since loan growth has slowed in Canada, CIBC has focused its sights in the US by expanding its loan and private wealth business.
Royal Bank of Canada
RBC has been growing its business in various areas: It went big with Fintech by buying Wiser Investments; it established a presence in the Carribean, Latin America, and Africa by acquiring a division from Coutts; it is looking to expand its asset management business in Asia and Europe; and it is continuing its expansion into the US.
TD Bank
Compared to the other 4 banks, TD Bank has the largest presence in the US. It has already cracked the top 10 banks in US listing and it plans for further business growth in the country.
Profit and Dividend Metrics
Below shows the profit metrics and the dividend payout ratio:

(Source: Financial Statements)
What is interesting to note is that the dividend payout ratios for all 5 banks are below 50% (it hovers around the mid-40% range). This figure also factors in annual dividend increases.
Also, the return on equities ranges from 13.3% to 18.3%. These are impressive profit numbers, and the low dividend payout ratios mean dividend growth among the 5 banks will likely continue.
Risk Factors
It is a given these banks are expanding but not every acquisition/ business has been a safe bet.
ScotiaBank's foray into higher growth markets in Latin America also comes with less stability. Scotiabank was downgraded back in 2014 to reflect the higher risk.
In 2016, some analysts had ranked CIBC's exposure to Canada's mortgage market as extraordinarily high. This also explains why its stock price was trailing its peers for a while.
RBC and BMO have larger capital markets divisions than the other banks, and in 2014 Moody's Investor Services released a report that highlights high earnings volatility risk in their capital markets business.
TD Bank has a substantial presence in the US compared to the other banks and this leaves it more vulnerable to changes in the US economy. The renegotiation of NAFTA and cross border trading could have indirect consequences for TD Bank.
Overall, the likelihood of these banks going under is low. Each of these banks run a very diversified company where one line of business could cushion the losses in another division.
Investing in Canada's Big 5 Banks is a Long Game
Investors looking to invest in any one of these banks should understand that this is a long term investment that should be held for least a year or more. The reason is because the pay back to the investor improves over time. The longer investors hold these banks, the more your investment dollar works for you since the banks declare higher dividends every year.
If investors can't decide specifically which bank to invest in, consider investing equally into all 5. Each of these banks are pursuing a slightly different expansion strategy and investing in all 5 hedges the risk on investing in them individually.
Each of these 5 banks have strong growth potentials and its steady annual dividend increases makes it an ideal long term investment. I am bullish on these 5 Canadian banks
Disclosure: I/we have no positions in any stocks mentioned, and no plans to initiate any positions within the next 72 hours. I wrote this article myself, and it expresses my own opinions. I am not receiving compensation for it (other than from Seeking Alpha). I have no business relationship with any company whose stock is mentioned in this article.