Q3 2017 Review
To start, let's review IBM's earnings from Q3 2017. They earned $3.30/share on $19.15 B in revenue compared to $3.29/share and $19.23 B in revenue in Q3 2016. Both the revenue and earnings were better than the consensus going in and possibly the biggest thing was that IBM came very close to breaking its 22 straight quarters of Y/Y revenue declines. The stock price immediately jumped after the Q3 numbers came out as you can see here:
IBM's Negative Revenue Streak
It is fairly well known that IBM has had 22 straight quarters Y/Y revenue declines. I've compiled the last 10 quarters of Y/Y growth rate, which does show just how poorly IBM has performed for quite some time, but also that they have been trending toward getting back to positive growth rates.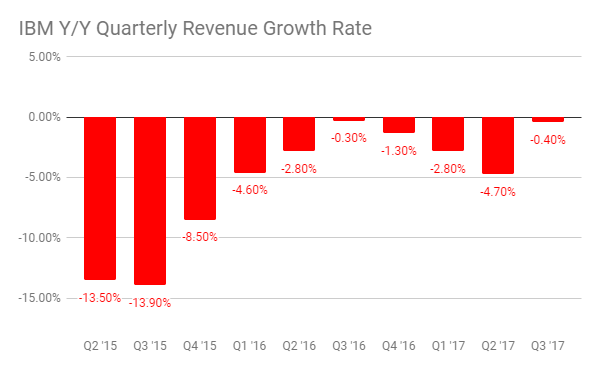 While they are losing revenue in legacy businesses at a fast rate, their strategic initiatives are still growing at a fast pace and are nearing 50% of their revenues. If strategic imperatives can continue to grow around the same pace, they will out pace the rate the legacy businesses are shrinking within the next year or two.
Because IBM has continued to struggle for so long, they trade at a low P/E multiple (~11.5 trailing P/E currently), especially for how much free cash flow they have and how much money they are able to return to shareholders. Being able to determine when IBM really starts to turn the corner and start seeing some Y/Y revenue gains should help time when IBM's P/E multiple starts to expand. I don't expect them to command even close to a multiple near the FANG stocks, but I do expect it to go up when they start increasing revenues again.
Mainframe Life Cycle Catalyst
IBM launched its new z14 mainframe in the 3rd quarter, but only for the last 2 weeks of the quarter. Getting the first full quarter of the new mainframe should help the fourth quarter numbers considerably. Management gave an idea of how much they expect the mainframe life cycle to add to the fourth quarter- "Last year, we increased revenue by $2.5 billion from third to fourth quarter. This year, we'd expect stronger sequential performance, due in part to the mainframe cycle, so perhaps $300 to $400 million more" (Q3 Earnings Transcript).
So not only does management see the new mainframes adding $300-$400 M from last year, but with this statement they also were predicting to finally have Y/Y revenue growth for the first time in 23 quarters. IBM was only $80 M in revenue in Q3 2017 from matching its Q3 2016 numbers. They're saying this year we should expect $2.8 to $2.9 billion more in revenue in Q4 2017 than Q3 2017. That would mean a Q4 revenue beat over last year.
Foreign Exchange Rate Catalyst
First a quick review of how foreign exchange rates (forex) typically affect international US companies like IBM. When the US dollar is stronger compared to previous quarters, it has a negative effect on revenue from overseas. This is because the pricing of IBM's products/services does not change for countries around the world when the dollar changes value, but it does mean IBM receives fewer US dollars for every dollar (or equivalent) earned in another currency.
Now when the opposite happens and the US dollar becomes weaker, it has a positive effect on revenue for US companies that sell products/sevices internationally. When the US dollar is weaker relative to other currencies, all revenue brought in from other currencies overseas is converted to US dollars and IBM receives more than it would have when the US dollar was stronger.
Now that's the simple version. Obviously the US dollar can be stronger compared to some currencies and weaker compared to others which makes it tougher to predict how it will affect revenue from previous years exactly. However comparing the US dollar to a basket of other currencies can give us an idea of how IBM's revenues and earnings will be affected. Forex typically only has a 0-5% effect on revenue, but for a company that has had 22 straight quarters of declining revenue, it can make the difference between that streak being broken or not.
I realize that buying a stock due to forex is fickle. While it can help one quarter, it can hurt just as much or more the next. The way I see it though is IBM is a coiled spring waiting for a breakout and several factors are lining up in the short term to help it do so, while the long-term looks good as strategic imperatives start to out pace legacy businesses.
I would also like to clarify right now that the dollar does not have to get weaker from here for forex to have a positive effect for IBM in Q4 2017, nor am I predicting any moves in the dollar. We can already see that the dollar was weaker in Q4 2017 compared to Q4 2016, so that will help us predict Q4 2017 revenues that IBM will report in a couple weeks.
Now let's finally look at a chart to show how the US Dollar has been doing against a basket of other currencies over the last year and a half:
So for a little explanation, basically the higher the Index on the Y-axis, the stronger the dollar is during that time period. I added the average Index values during Q4 2016 and Q4 2017 to show that the dollar was definitely weaker in 2017 (Avg Index = 88.92) than 2016 (Avg Index = 93.64). Now IBM will only benefit from this forex change for revenues gathered outside of the US. Since they still get considerable revenue from in the US, I expect the ~4% change in the exchange rate we see between 2016 and 2017 to benefit IBM revenues closer to 1-2% from last year. This doesn't sound like much, but I think you'll see that in conjunction with the mainframe cycle, Q4 should look very nice compared to the recent past.
Q4 2017 Revenue Estimate
I'll take the midpoint of management's estimate of $2.8 - $2.9 B more than Q3 in revenue, so $2.85 B. Now taking the $19.15 B they brought in Q3 2017 and adding that to it, we get a nice round $22 B. I'll also take the midpoint of how much I expect the foreign exchange rate to help, so I'll use 1.5%. That puts my estimate for Q4 2017 revenue at $22.33 B, which would be a modest 2.6% increase from the Q4 2016 revenue of $21.77 B.
While 2.6% is certainly not a big increase, I see it as big enough to send IBM's stock price to be more in line with a 14x P/E or around $190 per share, perhaps even higher if they can have multiple quarters like this. I've also updated the chart from earlier, so you can compare my estimate with the previous quarters: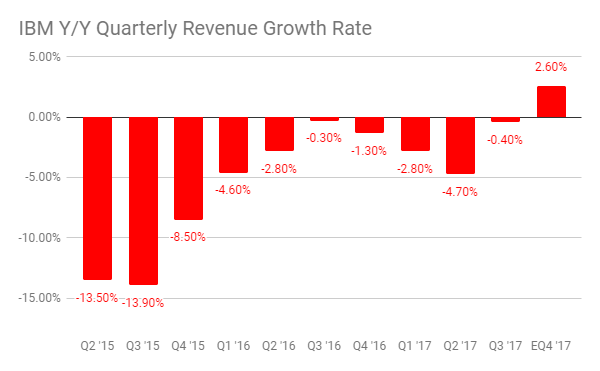 Conclusion
The mainframe cycle and forex will have a fairly small effect on the actual amount of money IBM is able to bring in. The real effect these will have is to stop the very long streak of quarters with negative revenue growth. While these catalysts are good in the short term, I would not be giving IBM a Buy rating if they were not already at such a low valuation and if I did not think the long-term picture is bright.
IBM still has ~4% dividend and has very good cash flows to return to shareholders and continue to try to attempt to return to growth. I'm sure many have gotten frustrated with how long it is taking IBM to turn the ship around, but the way I see it is strategic imperatives will likely eventually grow fast enough to outpace the declines of legacy businesses; I just don't know how far off that is. For that reason, I think IBM is a long-term buy and the mainframe cycle and forex are just timing catalysts that I'm putting IBM at a Buy rating now and setting a $190 price target.
Disclosure: I am/we are long IBM.
I wrote this article myself, and it expresses my own opinions. I am not receiving compensation for it (other than from Seeking Alpha). I have no business relationship with any company whose stock is mentioned in this article.