The Half Million Dollar Income Portfolio was created almost three years ago on Seeking Alpha in mid-2015. The portfolio was created with the goal of providing my son with an impressive half million dollars in income when he retires. The portfolio has been focused on long-term success by picking top companies in growing markets, something that should help the portfolio going forward. And my son has opened a Roth-IRA, maximizing his long-term cash free dividends, that should help the overall portfolio going forward.
Introduction
The last article on the Half Million Dollar Income Portfolio was written in August 2017. The article discussed the changes in the portfolio along with the recent opening of a Roth IRA for the portfolio to gain long-term cash flow without the tax bill. My son has begun using some money from the account for expenses, which means that for the immediate term at least, dividends will no longer be invested into the portfolio
One of the important things that has happened since the last article has to do with the Roth IRA account that my son opened. Unfortunately, his declared taxable income for last year was lower than the $5500 he tried to put into the Roth IRA for 2016. As a result, he was forced to withdraw most of the money and his 2016 Roth IRA contributions were limited at $2000.
However, my son has since put in the $5500 for 2017 to growing his total Roth IRA portfolio to $7500 invested cash. My son currently has $5500 in additional income and savings that he has set aside that he plans to invest into the portfolio in 2018, something that we will discuss in this article.
Portfolio Overview
For those who have read a Half Million Dollar Income Portfolio article before, this portion is repeated among all articles. However, for those who are new, this provides an overview of what this portfolio hopes to accomplish.
The portfolio has two goals. The first is to provide my son with an introduction to the stock market. The stock market is an incredibly difficult thing to analyze, and tends to widely fluctuate. More so, new investors by themselves have a tendency to chase "shiny objects," resulting in expensive lessons. By introducing him to the stock market early, I hope to provide him with an overview of the stock market. At the same time, I hope to introduce him to a buying and holding strategy of investing, where he finds companies he likes and invests in them for the long run.
The second goal of the portfolio is to provide my son with $200,000 in annual inflation adjusted income by the standard retirement age of 65. That retirement age is currently 47 years away, which means assuming a 2% annual inflation rate, the portfolio will need to provide $538,000 in annual income. Hence the title the "Half Million Dollar Income Portfolio." One important thing to keep in mind is that the portfolio is now more than a year old, and the $200,000 in income was $200,000 in income as defined by the portfolio's start. Due to inflation, that number is now slightly higher.
Current Portfolio - Publicly Traded
| | | | |
| --- | --- | --- | --- |
| Stock Name (Ticker) | Number of Shares | Dividends per Share | Yearly Overall Dividends |
| Pimco Strategic Income Fund (NYSE: RCS) | 100 | $0.84 | $8.40 |
| Noble Corporation (NYSE: NE) | 100 | $0.00 | $0.00 |
| Gilead Sciences (NASDAQ: GILD) | 20 | $2.08 | $76.54 |
| Berkshire Hathaway (NYSE: BRK.B) | 10 | $0.00 | $0.00 |
| Anheuser Busch Inbev (NYSE: BUD) | 10 | $4.07 | $40.70 |
| Altria (NYSE: MO) | 15 | $2.44 | $37.60 |
| Nevsun Resources (NYSE: NSU) | 100 | $0.04 | $4.00 |
| British American Tobacco (NYSE: BTI) | 20 | $2.36 | $47.20 |
| Johnson & Johnson (NYSE: JNJ) | 15 | $3.36 | $48.00 |
| Realty Income (NYSE: O) | 20 | $2.52 | $48.00 |
| Healthcare Property Investors (NYSE: HCP) | 20 | $1.48 | $29.60 |
| Apple (NASDAQ: AAPL) | 10 | $2.52 | $25.20 |
| General Electric (NYSE: GE) | 150 | $0.48 | $72.00 |
Total Dividend Income: $437.24
Current Portfolio - Roth IRA
| | | | |
| --- | --- | --- | --- |
| Stock Name (Ticker) | Number of Shares | Dividends per Share | Yearly Overall Dividends |
| ExxonMobil (NYSE: XOM) | 20 | $3.08 | $61.60 |
| Qualcomm (NASDAQ: QCOM) | 30 | $2.28 | $68.40 |
| FedEx Corporation (NYSE: FDX) | 10 | $2.00 | $20.00 |
| Enterprise Product Partners (NYSE: EPD) | 100 | $1.68 | $168.00 |
Total Dividend Income: $318.00
Portfolio Discussion
Looking at the portfolio, we can see that the main portion of the portfolio saw its dividend income increase by 10%. This came as a result of the sale of a large portion of the portfolio being sold to invest in General Electric (NYSE: GE). The cash and shares of this deal, along with some additional shares, enabled the opening of a 150 share position in General Electric that pumps out a very respectable $72 in annual dividend income.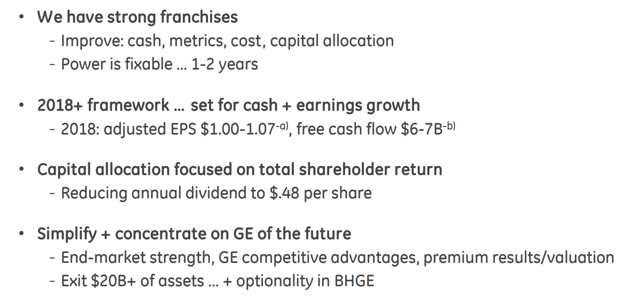 General Electric Financials - General Electric Investor Presentation
General Electric had an incredibly tough 2017 with a drop in its share price that made it one of the worst performing large cap companies in the United States. Despite that, the company has been around for decades and is a strong company with enormous potential. However, my son who is a fan of strong industrial companies, like General Electric, and the company's enormous size thinks that the company has been unduly punished this year.
General Electric was forced to cut its dividend due to a system of poor financial decisions. Despite that, General Electric continues to offer its investors an impressive dividend of almost 2.5%, a dividend that is well supported by its cash flow. The company, for the second time since the 2008, is reworking itself as a powerhouse, and my son is betting that this will help his long-term dividends.
General Electric anticipates 2018 adjusted EPS of roughly $1 annually. This would give the company a P/E ratio of just over 17 compared to a P/E ratio of more than 25 for the overall market. On top of this low P/E ratio, General Electric plans to exit more than $20 billion of assets improving its competitive advantages, and likely as a result of this, its margins. That should help EPS to grow in the coming years.
General Electric Free Cash Flow - General Electric Investor Presentation
Already, General Electric is focused on a conversion to an increase in free cash flow. The company anticipates that its FCF should double in the next year as a result of a significant increase in FCF conversion. However, the company's plan includes a significant 2018 pre-funding of the pension plan and BHGE buyback. For the short-term, this will impact the company's financials.
However, this will improve the company's financials going forward allowing General Electric to increase its cash flow going forward.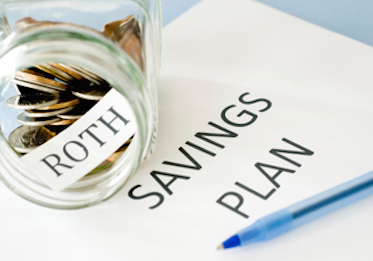 Another significant change in the portfolio, the investment details of which will be discussed in 2018, is another maxed out $5500 investment in my son's Roth IRA portfolio. My son anticipates sending this money into the portfolio in the next several days that will be invested in dividend growth stocks. That will respectfully increase the dividend income from the Roth IRA portion of the portfolio.
My son has continued to look for stocks that he wants to hold onto until he reaches the age of 59.5. Originally, the positions were ExxonMobil, Qualcomm, FedEx Corporation, and Enterprise Product Partners. In my last article, I discussed how I did not agree with my son putting so much of his portfolio into oil stocks for the long-term, despite how good of a company ExxonMobil is.
In discussing my son investing in stocks he wants to invest until he turns 59.5, I have encouraged him to also divest into different sectors.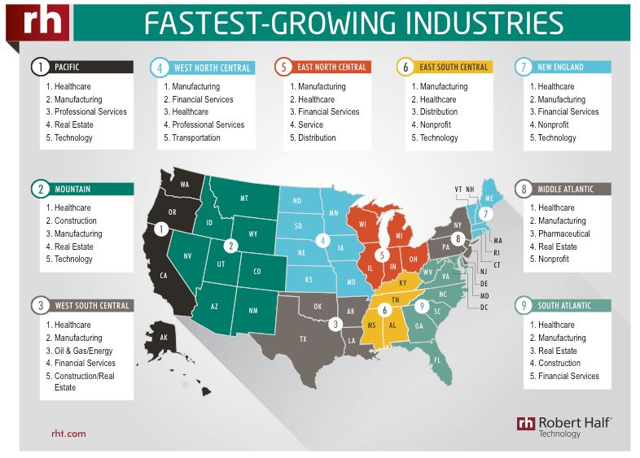 Fastest Growing Industries - Pinimg
Looking at some of the fastest growing sectors across the United States, healthcare, manufacturing, and financial services are some of the fastest growing sectors in the United States. More important than that the portfolio currently has minimal investments in healthcare and financials despite their growth priority. So stocks in this sector can provide significant long-term potential.
Currently, my son is looking at several stocks including Allergan (NYSE: AGN), Celgene (NASDAQ: CELG), Boeing (NYSE: BA), and Caterpillar (NYSE: CAT), JP Morgan (NYSE: JPM) and Wells Fargo (NYSE: WFC) I'm looking forward to seeing your replies on this post and updating you on what happens in the next post.
Conclusion
The Half Million Dollar Income Portfolio has done well recently. One of the things the portfolio has had to deal with is a significant growth in the value of the portfolio's Apple position. This, combined with the difficulties that General Electric has had recently, means that part of the portfolio's investment in Apple has been replaced with an investment in General Electric.
On top of this, now that it is 2018, the portfolio will have $5500 added to its Roth IRA. My son is focused on sectors that have long-term growth potential, and looking at the United States, healthcare, financial services, and manufacturing are supposed to be some of the fastest growing industries. My son is looking at several companies to invest in and I look forward to reading what you think about these companies.
Disclosure: I am/we are long AAPL, AGN, BA, BTI, BUD, CAT, CELG, EPD, FDX, GE, HCP, JNJ, MO, NE, NSU, O, QCOM, RCS, XOM. I wrote this article myself, and it expresses my own opinions. I am not receiving compensation for it (other than from Seeking Alpha). I have no business relationship with any company whose stock is mentioned in this article.