Review the Portfolios' Month-by-Month Performance
Our Core Portfolio grew from $533k to over $832k in 2017. Our newly launched Momentum Portfolio gave us a much better return, up 118.06% since its launch in April.
Click here and here for the detailed month by month data for both portfolios.
All the charts and tables, except indicated, below are produced by us, based on the data we published to the public.
Below is our Core Portfolio's 2017 Monthly Performance chart:
The Portfolio gained 55.98% in 2017, which is slightly below the 56.20% return we made in 2016 or down 0.39% for the year. In the meantime, S&P 500 was up 19.43% in 2017, 61.91% higher than its 2016's 11.49% return.
That is, our Portfolio performance, even not bad, cannot match S&P 500's return growth in 2017.
On the other hand, it beats our own expectation for a 36% return in 2017 and beats the market return for the second year in a row. Beat-the-market has been our target as it is believed by many that it is impossible to beat the market consistently.
The portfolio had one losing month during the year: down 1.56% in April while S&P 500 only had one very small losing month: down 0.04% in March. We do have two months with huge gains: 8.63% return in September and 9.84% return in November. See our article for the detailed discussions on our November's huge gain.
Current Holdings
Below are our current holdings and their December performance for our Core Portfolio: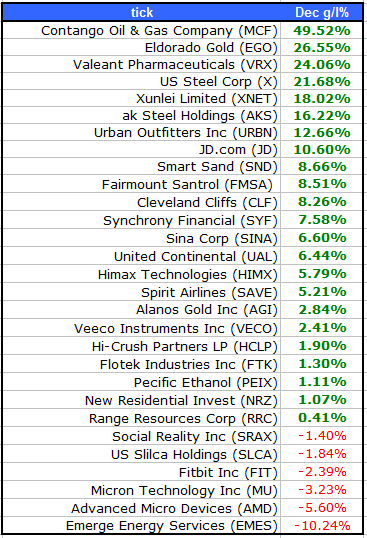 We currently hold 30 stocks. 24 were gainers and 6 were losers for the month with $269K or 32.3% in cash. We only invested 67.7% of our money in equities now. In fact, throughout the year, we always keep about 30% in cash and are never fully invested.
During the month of December, we added quite a few stocks to our portfolio and sold several underperforming stocks.
The newly added picks are Contango Oil & Gas Company (MCF), an undervalued energy company; Xunlei Limited (XNET), a software company from China; Himax Technologies (HIMX), in semiconductor sector located in Taiwan; Flotek Industries (FTK), a company selling chemical products and services to energy industry; Veeco Instruments Inc (VECO), a beaten down stock in semi equipment sector; Sina Corp (SINA), one of the leading China's Internet Portals, Range Resources Corporation (RRC), a pure natural gas play, and Fit bit (FIT), a wearable device developer.
Most of our December picks contributed to the portfolio's gain in December.
Among them, MCF was the biggest gainer in December, up 49.52% after our buy on 12/11. XNET, one of our blockchain technology play, was up 18.02% after we bought it on 12/21. RRC was bought on 12/27. We put this stock on our watching list in April when it was a $30 stock and finally pulled the buy trigger after it dropped 50%.
Steel stocks Cleveland-Cliffs (CLF), US Steel Corp (X) and AK Steel Holding Corp (AKS) all made good runs. Two gold miner stocks, Eldorado Gold Corp (EGO) and Alamos Gold Inc (AGI), also moved higher on the strength of gold price. Our retailer pick Urban Outfitters (URBN), financial pick Synchrony Financial (SYF) and airline picks United Continental Holdings (UAL) and Spirit Airlines (SAVE) are all up for the second month in a row. Our frac sand picks had a mixed performance in December. Fairmount Santrol (FMSA) and Smart Sand (SND) made sizable moves and FMSA became the fourth member in our 100%+ gainer club.
December's worst performer was Emerge Energy Services LP (EMES), down 10.24%. Two semiconductor picks, Advanced Micro Devices (AMD) and Micron Technology Inc (MU), were down 5.60% and 3.23% respectively. But MU and EMES were two of the picks with the best total returns. See the table below for the stocks with the best total returns since our buys: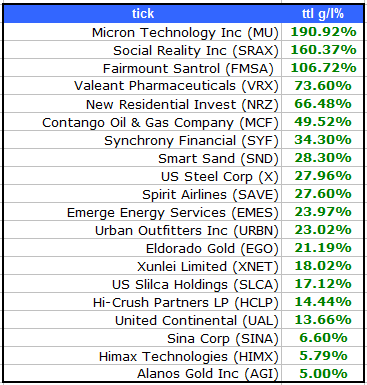 The table showed that three stocks gained more than 100% since our buys. Ekso (NASDAQ:EKSO) also gave us more than 100% return, but we sold it last month as it reached our target and we need the money for our future possible multi-baggers buys.
MU - $41.12. The stock has been down two months in a row; even good earnings and upgraded guidance cannot bring the stock price higher. Is its growth over? We will find it out later. But at current P/E of only 6.43, we see no reason to dump it at the moment.
It is our belief that more and more of our picks will be added to the 100%+ gainer club coming in 2018.
Let us examine our current holdings to see which stocks may become our next 100%+ gainers.
Valeant Pharmaceuticals Intl (VRX) – $20.78. We are up 73.60% from our recent buy. The stock made a breakout move after its Q3 earnings release and now is clearly in the uptrend. See its daily chart below: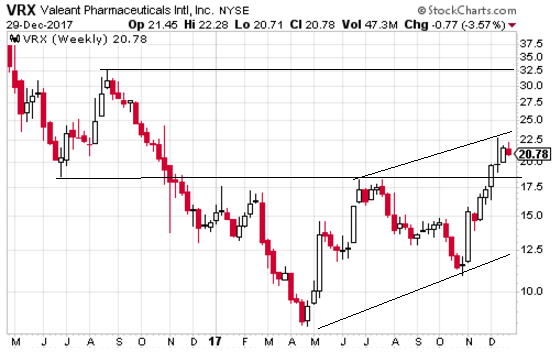 Source of chart from stockCharts.com
From the chart, it can be seen that the next resistance is at $32.50. The stock has been very volatile and I will not be surprised to see a pullback from its current level later.
I said that the stock was grossly undervalued when I wrote my only article on it back in February 2017 when its P/E was only 2.53. At that time, quite a few rated the stock worthless, including Ian Bezek's claim that the stock is likely a zero and Shock Exchange's $0.22 per share valuation when he added all parts of company business together. Shock Exchange is still shorting the stock now. But I do not know what valuation he gives the company now.
The company earned $6.15 per share in the last four quarters based on the data from nasdaq.com. This translates into TTM's P/E of 3.37, still grossly undervalued.
The investment I put into VRX is, in fact, a vote of confidence for the company's new leadership. Investing should be forward-looking and not backward-looking. The new management did a fantastic job to bring the company on a right track and I see no reason to sell it anytime soon and should see the current trend continue. It should join our 100%+ gainer club soon.
AMD – $10.28. This stock has been in $9.50 - $15.50 range the whole year in 2017 after gained over 400% in 2016. The stock closed in 2017 at the low end of its trading range. See its one-year weekly chart below: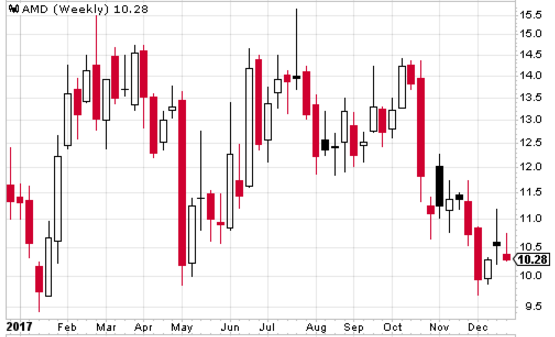 Source of chart from stockCharts.com
However, both of its revenue and earnings are expected to see huge growth in 2018:
| | | | |
| --- | --- | --- | --- |
| | 2016 | 2017 (est) | 2018 (est) |
| EPS ($) | -0.14 | 0.13 | 0.36 |
| Revenue | 4.27B | 5.25B | 5.90B |
With improved fundamentals, we expect to see a breakout move during the year. Our one-year target: $20.00, which will give this stock a forward P/E of 55, which is not cheap. But considering its projected 170% earnings growth in 2018, assigning a P/E multiple to 55 is still reasonable.
EMES - $7.17. This is one of our Top Picks for 2018. The stock is in the frac sand sector. Its products silica sand is the key input for hydraulic fracturing of oil and natural gas wells. The stock was down 42% in 2017 and dropped 70% from its year high while the crude oil price closed at two years high and the company's fundamentals have made a huge improvement.
The following table showed its quarterly revenues and earnings from Q1, 2016 to Q1, 2018 (the Q4, 2017 and Q1 2018 numbers are its current projections):

Source of data from yahoo finance
We can see that its revenue has been up steadily since Q1 2016 and jumped hugely in 2017. Its earnings also made a huge improvement in 2017 and turned positive in Q3, 2017.
Its yearly data - earnings and revenue in 2016-2018 (2017 and 2018 are current projections) - are shown below:

Source of data from yahoo finance.
The table above showed that the projected earnings growth is 95.50% for 2017 and 1,361.50% for 2018. If we assign its forward P/E of 10 to this stock, its price will be $16.20, an easy double by the end of 2018. Our one-year goal is $20.00.
Our Target and Investment Strategy for 2018
Our low target for 2018 is to grow our Core Portfolio to the $1 million mark, which represents a 20% return. Our high target is still to make a 36% return, which will bring the Core Portfolio to the $1.14 million mark.
Our investment thesis is still to constantly search for possible future multi-baggers before they fly. We hope to bring our 100%+ gainers from current 4 to 10-15 by the end of 2018.
Momentum Portfolio
We launched our Momentum Play service in April. So far the Portfolio was up 118.06% while the S&P 500 was up 13.43% during the same period.
Not bad, but it is far behind our expectations. The following table showed the monthly performance for the portfolio:

The portfolio had a good start but suffered huge losses in the following two months. It returned to the right track only recently.
Our target for the next three months is to try to make an average 11%-14% monthly return and finish its first-year run to the $90,000 - $100,000 level.
I hope to keep the momentum in the next two years and to try to bring the portfolio to the $1 million mark after two more years of runs no matter what the market condition will be. The complete review will be given in April when we finish its first round of runs.
Disclosure: I am/we are long AMD,AGI,EGO,MU,UAL.SAVE.SYF.SINA,XNET,SRAX,FMSA,MCF,FTK,VECO,HIMX,X,AKS,CLF,RRC,SND,HCLP,, SLCA, URBN. I wrote this article myself, and it expresses my own opinions. I am not receiving compensation for it (other than from Seeking Alpha). I have no business relationship with any company whose stock is mentioned in this article.