The State of Housing and Construction: Overview
Every month, we look at the current state of the housing markets and the construction industry from the perspective of commercial real estate investors. Through a series of charts, we compile and analyze the economic data released over the past month that impacts commercial real estate valuations.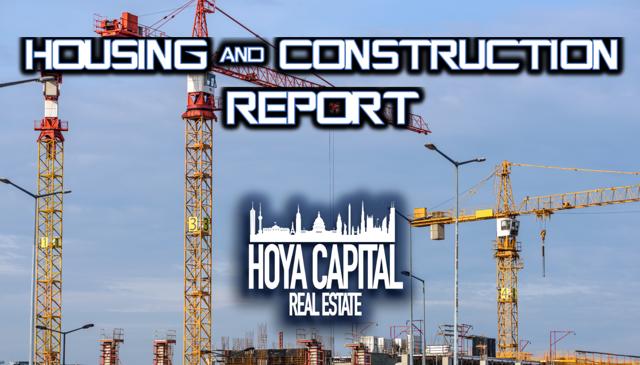 We encourage readers to follow our Seeking Alpha page (click "Follow" at the top) for continued updates on real estate economic data, REITs, homebuilders, and broader real estate sector.
Real Estate Economic Data
Below, we recap the significant real estate economic data releases over the past month and outline the six categories of this report.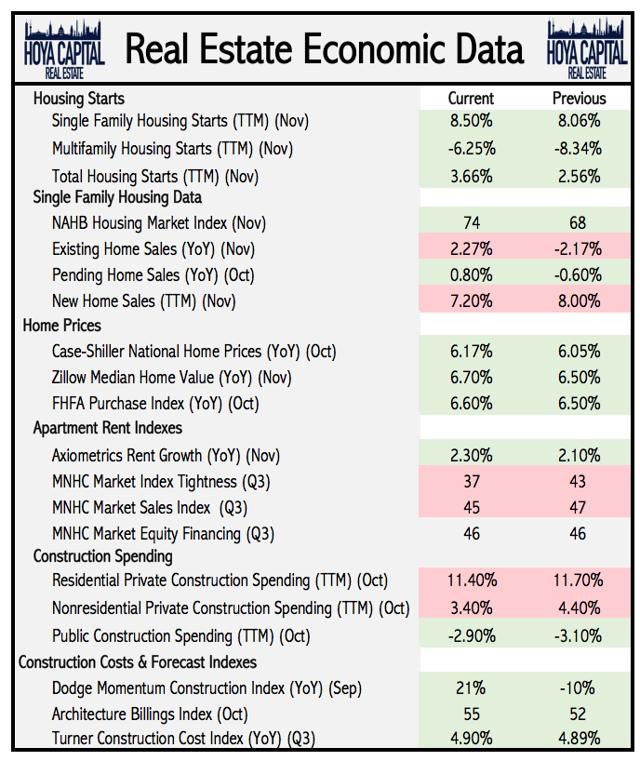 Housing Starts: Below Expectations in 2017
Following a strong start to 2017, housing starts have cooled considerably into year-end. At the end of 2016, economists projected that total housing starts would rise 6.5% in 2017, led by a 10% rise in single-family and a 3% rise in multifamily. Despite the strongest rate of economic growth in a decade, housing starts came up short of estimates yet again, the fifth straight year that economics overestimated progress in the housing recovery.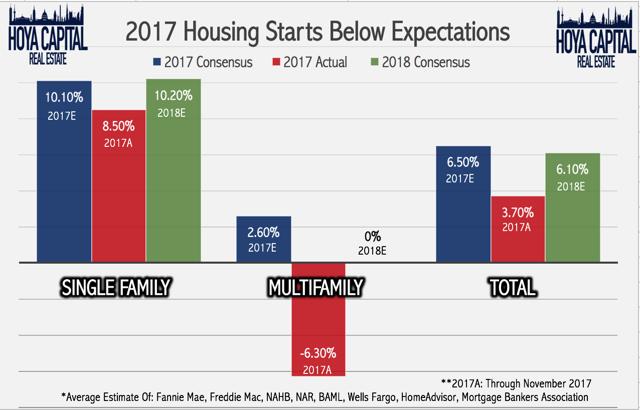 Over the past twelve months (Nov '16-Nov '17), total housing starts have risen less than 4%. While single-family starts rose a healthy 8.5% in 2017, multifamily pulled back considerably, dipping more than 6% from 2016 levels. Multifamily starts appear to have peaked in 2015 just shy of the 400k unit-level but have remained fairly elevated by historical standards through 2017. Fear of oversupply and weakening fundamentals have caused investors and lenders to pull back from the apartment markets.
As we'll discuss shortly, however, rent growth has remained surprisingly firm and the revisions to the tax code could provide an added tailwind to rental markets. Economists are again optimistic about housing markets in 2018, again calling for a 6% rise in starts. We'd "bet the under," but believe that starts should rise a healthy 3-5% in 2018. The biggest impediments to supply growth - skilled labor shortages, rising construction costs, and local government permitting and zoning delays - will persist or perhaps even get worse in 2018.

Elevated levels of supply growth in the multifamily sector have been a major topic of discussion over the past several years. 2017 was supposed to be the year that we saw a spike in new supply, but construction delays have pushed back many of the completions into the second half of 2017 and into 2018. Completions have finally 'caught-up' with starts, as seen below.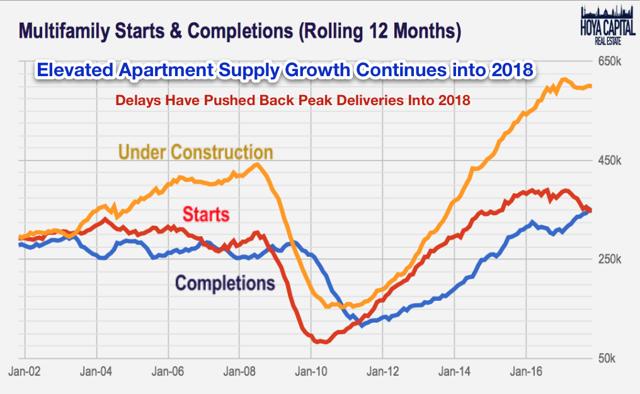 We expect completions to remain in the 350-400k/year range through 2018, which would continue to put downward pressure on rent growth, all else equal. Supply pressure will be a continuing theme throughout 2018. With supply growth a certainty, the wild card for apartment rent growth will be demand. We will discuss trends in the rental markets later in this report.

Single Family Housing Data
New & Existing Home Sales
After a strong start to 2017 and a lull during the summer, both new and existing home sales have again strengthened modestly into year-end. New home sales rose to a 733k SAAR in November, the highest rate since 2007. Existing homes were sold at a 5.81 million annualized rate in November, 3.6% above than the November 2016 rate. This rate, however, remains healthy by historical standards. Too many existing home sales (as we saw from 2003-2006) indicate that either mortgage standards have gotten overly loose or short-term housing flipping activity has increased. At around 7% per year, the turnover rate of existing homes is roughly inline with pre-2000 levels.

Existing home inventory remains near historically low levels, primarily a result of the tepid pace of new home construction in the aftermath of the recession. Other effects are at play, too, including the increased institutional presence in the single-family rental markets and the rising rate of homeownership among the older demographics. First-time homebuyers made up 29% total existing home sales in November, down from 32% in November 2016. The rate of first-time homebuyers remains stubbornly below the pre-bubble level of 40-45% and the bubble-peak of 52%. We have yet to see the younger demographics enter the homeownership markets in any significant numbers.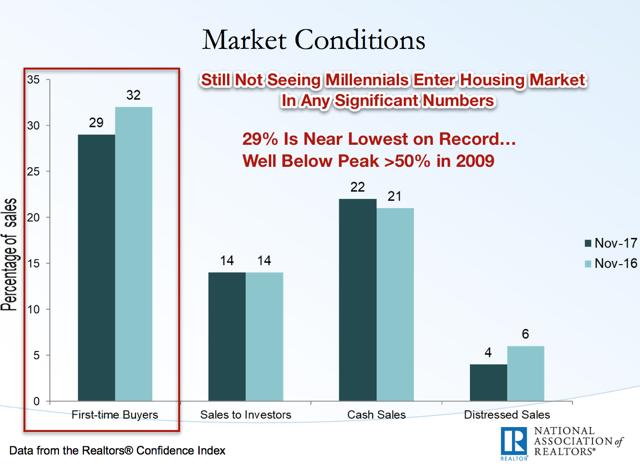 The homeownership rate among households less than 44 years old has fallen considerably more than the overall rate since the recession and has been moving sideways since bottoming in 2015. The largest climb in homeownership rate in the third quarter, interestingly, was among the 65+ demographic. This indicates that the "boomer" generation may be showing an increased desire to "age in place" which has ramifications for senior housing and healthcare REITs.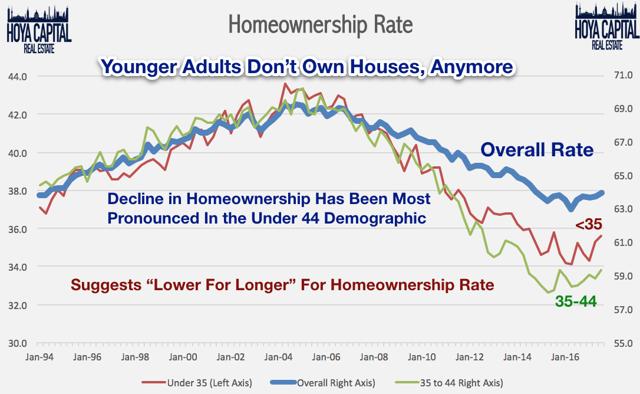 Home Keep Rising… But Tax Code May Disrupt The Trend
Heading into 2017, economists projected that home prices would rise 4.1% for the year, a slowdown from the 5%+ pace in 2015 and 2016. The major home price indexes have outpaced consensus expectations in 2017 and continue to show a steady 6-7% YoY rate of appreciation. Home prices have risen at least 5% YoY in every month since late 2012. Median household income, on the other hand, has risen roughly 3.5% per year during this time and average hourly earnings have risen at a 2.5% rate.
The Case-Shiller national index showed 6.4% YoY growth in October, up from 6.2% in the prior month while FHFA's purchase-only index showed 6.6% YoY growth in October, slightly faster than the 6.5% rate in September. Zillow's index saw home prices rising 6.5% YoY in November, slowing from the 6.8% in October.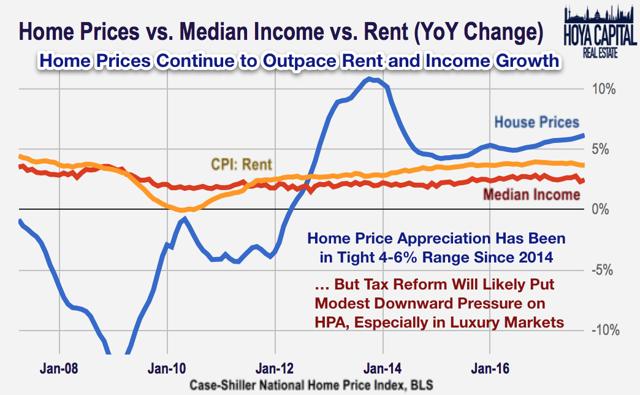 Home prices have regained most or all of the ground lost during the recession. On a nominal basis, home prices are now 5% above the pre-bubble peak from 2006. On a real basis, however, home prices are still 12% below peak levels after accounting for the effects of inflation. Home price appreciation has settled into a tight 4-6% range since late 2014, which has consistently outpaced both rent growth and median income. We have been a bit surprised by the reacceleration in home prices seen in 2017 given the backdrop of moderating rents and declining homeownership affordability.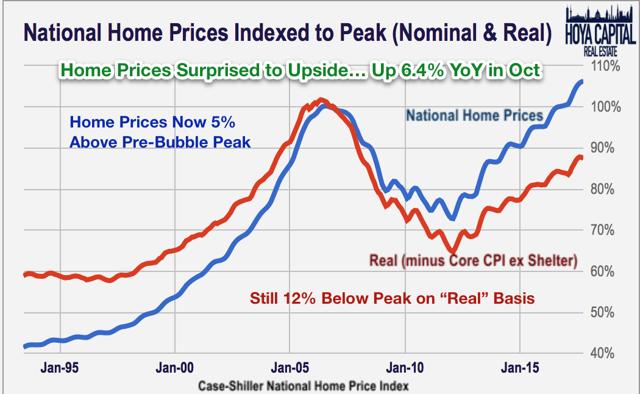 We think 2018 may finally be the year that home price appreciation moderates, sparked by declining high-end home values in high-tax coastal markets. The consensus economist projection calls for a 4.5% in home prices. We'd "bet the under" as we believe it's reasonable to expect home price appreciation to slow to 2-4% by the end of 2018, roughly in line with apartment rents. Considering the lag in home price data, we may not see these effects until late in the year or early 2019.
How have home prices been able to continually outpace income growth? Between 1993 and 2010, household formations lagged housing completions by 5 million units. This period of overbuilding was a central cause of the housing crash. Housing construction has seen a grindingly slow recovery since 2010, which has allowed the oversupply to be gradually absorbed. The pendulum appears to have swung as housing demand is now exceeding housing supply on a rolling 5-year basis.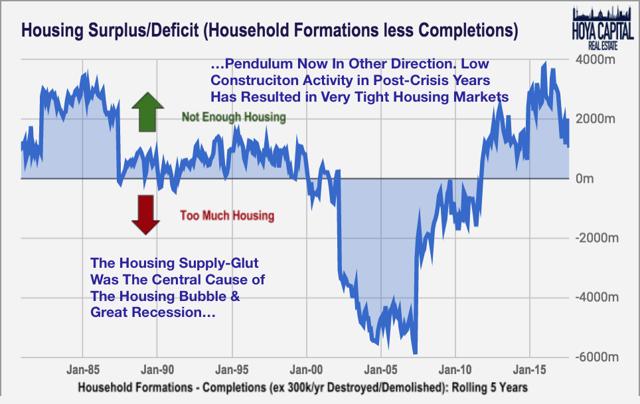 Apartment Rent Indexes
Heading into 2017, expectations were that rent growth would continue to cool to 0-2% in 2017 as supply growth peaked and landlords competed to retain occupancy. Expectations were pretty accurate, as rental growth did indeed slow across most metrics, but showed signs of stability and even reacceleration in late 2017, sparked in part by a flurry of natural disasters.
Axiometrics publishes a monthly rent growth tracker. They noted that rents rose 2.3% YoY in November, showing continued signs of stabilization after the decline from 2015 to 2016. It's clear that the unusual flurry of natural disasters has had a positive effect on rental rates. Houston, one of the weakest apartment markets, saw significant 2-4% jump in rent growth from the prior trend. We expect December to be above-trend and that full-year 2017 will see 2.5% growth from the previous year, roughly matching 2016 and exceeding consensus estimates for 2017.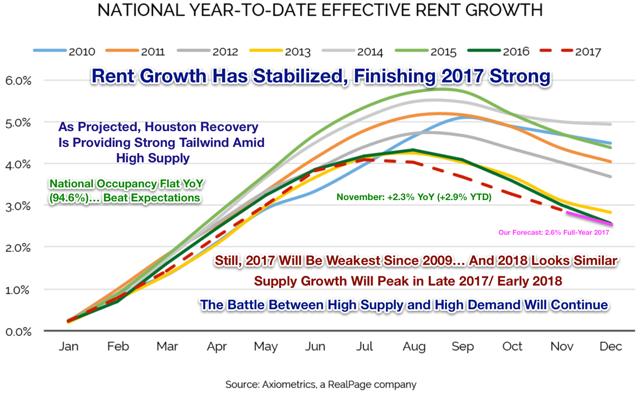 Zillow also publishes a monthly rent growth index, the Zillow Rent Index (ZRI) which tracks both single-family rental and multifamily. Zillow's index shows more pronounced trends, with multifamily peaking in 2015 above 6% and bottoming this summer at 0.2%. Rent growth has been strong since May and is now higher by 1.5% YoY. Single-family rent growth has outpaced multifamily this year for the first time since the index began in 2012.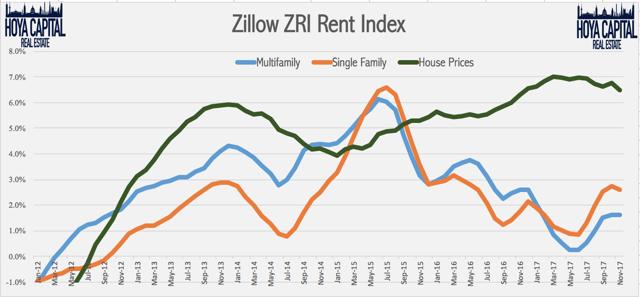 While supply growth will continue to be an issue for apartment markets in 2018, we continue to be more optimistic than consensus on rent growth. We continue to discuss home price affordability (or lack thereof) and how we believe that rental demand will continue to surprise to the upside as potential homebuyers remain in the rental markets for longer than expected. The effects of tax reform, we believe, will make homeownership even more unaffordable relative to renting, particularly at the high-end of the market where property taxes exceed the new $10k cap on state and local tax deductibility. Since 2012, rent growth has significantly lagged home price appreciation, a gap that we expect to close over the coming years.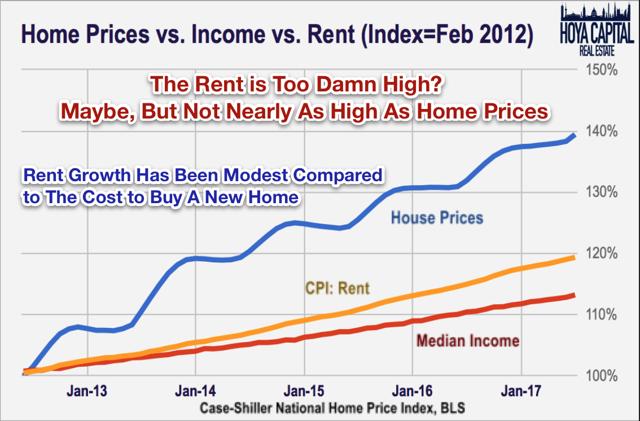 If labor markets continue to be strong, demand for multifamily units may be able to keep pace with this elevated supply growth, and rental growth could remain firm or even re-accelerate after this wave of new supply gets absorbed. In our 'Buy vs. Rent' index, we continue to view renting as the more affordable option for the average household.

Construction Spending Appears Strong in 2017, But Inflated By Costs
Coming off robust growth from 2012 through 2016, construction spending cooled in 2017, dragged down by a significant slowdown in the nonresidential segment and continued weakness in the public sector. On a TTM basis, residential spending is higher by 11%, non-residential is higher by 3%, and public spending is lower by 3%. We break down the categories of residential spending in the image below, noting that home improvements account for a significant sum of the strength in the residential category.

It's important to note that construction costs have significantly outpaced inflation over the past five years and are the primary source of "tightening" in the construction markets. Rising construction costs tend to discourage marginal new construction projects and increase the value of real estate assets by increasing replacement costs. Using the two most easily-tracked cost measures, wages and materials, we estimate that construction costs from these components alone are rising roughly 4% YoY. Financing, land, and regulatory costs are estimated to be rising at faster rates. Turner Construction releases a construction cost index every quarter. Turner sees an acceleration in total construction cost inflation to an annualized 5%+ rate in Q3. Cost inflation has increased every year since 2009 and has exceeded 4% per year since 2013.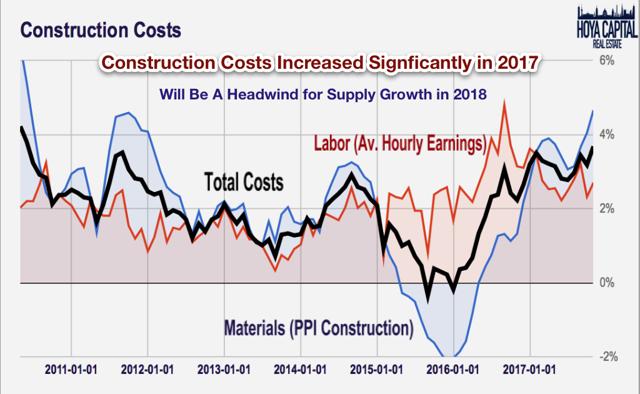 As real estate investors, we are more concerned with "real" construction spending after adjusting for the cost of construction, as this indicates how much new rentable space is actually being created. After adjusting for the 4-5% construction cost inflation, real spending has been far more moderate in 2017 and remains 35% below the pre-recession peak in the residential sector, 12% below in the non-residential sector, and 32% below in the public sector.

After several years of above-trend supply growth, all of the major non-residential commercial real estate have seen slowing construction activity. Tighter financing conditions, higher construction costs, and moderating asset valuations have sidelined incremental projects. If we are indeed at or near the end of this construction cycle, it's fair to say that supply growth was more moderate than past cycles. Overbuilding in the 2000s was a contributing factor to the "bust" in commercial real estate valuations during the financial crisis.

Consistent with our forecast for housing construction, we expect moderate growth in 2018, but continued cooling from the hot pace over past several years. For the residential category, 6-10% growth in spending would be consistent with our forecast for a 3-5% rise in total housing starts, including 4-5% construction cost inflation. For the non-residential category, we forecast 2-6% growth in non-residential spending, consistent with a near-zero rate of growth in "real" non-residential spending. There are two useful forward indicators of non-residential construction spending. The Architecture Billings Index and the Dodge Data and Analytics Momentum Index tend to lead spending by 12 to 18 months. Both of these metrics showed moderate growth in 2017 and bounced between positive and negative territory through the year.

Put It Into Action: How To Play These Trends
Despite the overall slowdown in real construction spending and new home construction, the new space creators including homebuilders (XHB) and commercial construction (PKB) have outperformed the space owning REITs (VNQ and IYR). We believe that this is unwarranted and may reverse in 2018.
Data from the housing and rental markets indicate that conditions tightened into the end of 2017, pointing to upward pressure on prices and rents. On top of that, tax reform appears poised to tip the scales towards renting. For those reasons, we are bullish on residential REITs and remain skeptical that homebuilders can continue to outperform given the headwinds to supply growth in the single-family market.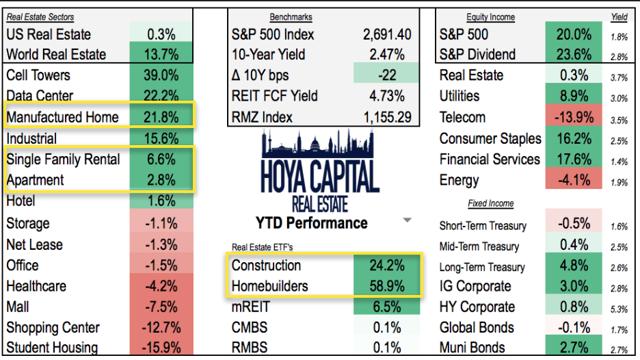 New home construction remained sluggish in 2017. Total housing starts rose less than 4%, short of expectations of 6%, and marking the fifth straight year that housing starts fell short of consensus estimates. Multifamily construction pulled back as investors and lenders began to worry about slowing fundamentals from oversupply. Apartment demand has been robust as supply growth is expected to peak in 2018.
We continue to "bet the under" when it comes to new housing construction as the impediments to supply growth - a persistent skilled labor shortage, rising construction costs, and stifling delays in local government zoning and permitting - will remain or perhaps even get worse in 2018.
Tax reform throws a new curveball into the housing markets. On net, we believe that the tax reform package will reduce the incentive for homeownership, particularly at the high-end of the housing market. The lower cap on mortgage interest deduction and the new cap on state and local property tax deduction will raise the cost of high-end homeownership. The doubling of the standard deduction will also reduce the number of low and medium-income homeowners that benefit from itemizing their mortgage interest deduction, in effect weakening the subsidy on homeownership.
Residential REITs outperformed the broader REIT index in 2017, and we believe that this trend will extend into 2018. In the apartment category, the Sunbelt-focused REITs including Camden (CPT), Mid-America (MAA), and Preferred Apartment (APTS) appear to be poised to benefit the most from tax reform over the next three to five years.

In the single-family rental category, Invitation Homes (INVH) and Ameican Homes 4 Rent (AMH) both have portfolios concentrated in low-tax markets that are well positioned to benefit from a rise in the cost of homeownership and limited supply growth of new single-family homes.

Finally, in the manufactured housing category, Equity Lifestyle (ELS) and Sun Communities (SUI) have continued to be the standouts in the residential REIT category. Equity Lifestyle, in particular, would benefit from an incremental migration out of the high-tax coastal areas into lower-cost markets in the Sunbelt region.

For further analysis on the supply/demand dynamics of each of the major real estate sectors, be sure to read our sector reports: Hotel, Cell Tower, Single Family Rental, Industrial, Healthcare, Apartment, Mall, Net Lease, Data Center, Shopping Center, Manufactured Housing, Student Housing, Office, and Storage.
Please add your comments if you have additional insight or opinions. We encourage readers to follow our Seeking Alpha page (click "Follow" at the top) to continue to stay up to date on our REIT rankings, weekly recaps, and analysis on the REIT and broader real estate sector.
Disclosure: I am/we are long VNQ, SPY, MAA, CPT, OHI, PLD, GGP, STOR, SHO, SUI, ELS, ACC, EDR, DLR, COR, REG, CUBE, PSA, EXR, BXP, EQR, INVH, SPG, HST, TCO, AMT, SBRA.
I wrote this article myself, and it expresses my own opinions. I am not receiving compensation for it (other than from Seeking Alpha). I have no business relationship with any company whose stock is mentioned in this article.
Additional disclosure: All of our research is for educational purposes only, always provided free of charge exclusively on Seeking Alpha. Recommendations and commentary are purely theoretical and not intended as investment advice. Information presented is believed to be factual and up-to-date, but we do not guarantee its accuracy and it should not be regarded as a complete analysis of the subjects discussed. For investment advice, consult your financial advisor.