Copper Canyon LLC is a Registered Investment Advisor in Central Florida. We have outlined our market commentary below. All information detailed in this report is not investment advice, it merely indicates the opinions and views of Copper Canyon LLC and its Investment Advisors.
2018 Market Outlook
Could the Federal reserve pop a bubble in the equity markets?
General economic theory states the dual mandate of "price stability" and "maximum sustainable employment" is the only objective of the FOMC. The US is seeing full employment, but inflation remains below the 2% target. We think rate normalization could be a cover to slow the record increase in asset prices. The market is at all time highs and stimulus didn't produce inflation the way the Federal Reserve anticipated. This increase in rates is a method to slow the soaring stock market and allow asset prices to normalize.
The federal reserve should take their foot off of the pedal and allow asset prices to deflate naturally before moving forward with contractionary monetary policy. The short-term interest rates are beginning to rise, while longer duration debt is yielding the same or slightly higher than before. This placid demand for short term debt is causing the yield curve to contract and flatten. The 50 basis point spread on 2 and 10 year Treasuries is signaling a flattening yield curve. Professional fixed income traders are adding longer duration debt (20-30 year) and shuffling out of near term (2-5 year).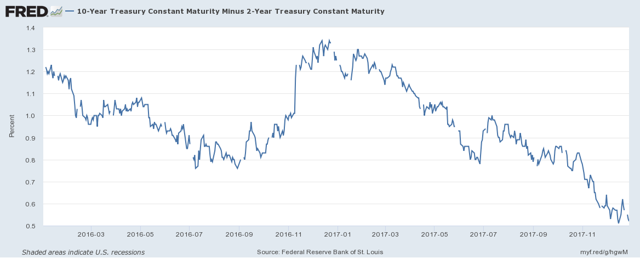 (2-10 year US Treasury Spread)
A flattening curve is the first step towards inversion. The FOMC is on a path of rate normalization and it seems contradictory messages are being sent to the markets. This is the first indication during the record long bull market that we may be approaching the end of the run up. We believe the US market is in the 6th inning. The market still has room to run in 2018 and 2019… but the rally cannot last forever
Interest Rate Policy
The Federal Reserve is normalizing rates, while the rest of the developed world continues QE and stimulus. The ECB is continuing down a path of stimulus, as the Euro Zone is experiencing elevated levels of unemployment across the younger demographics.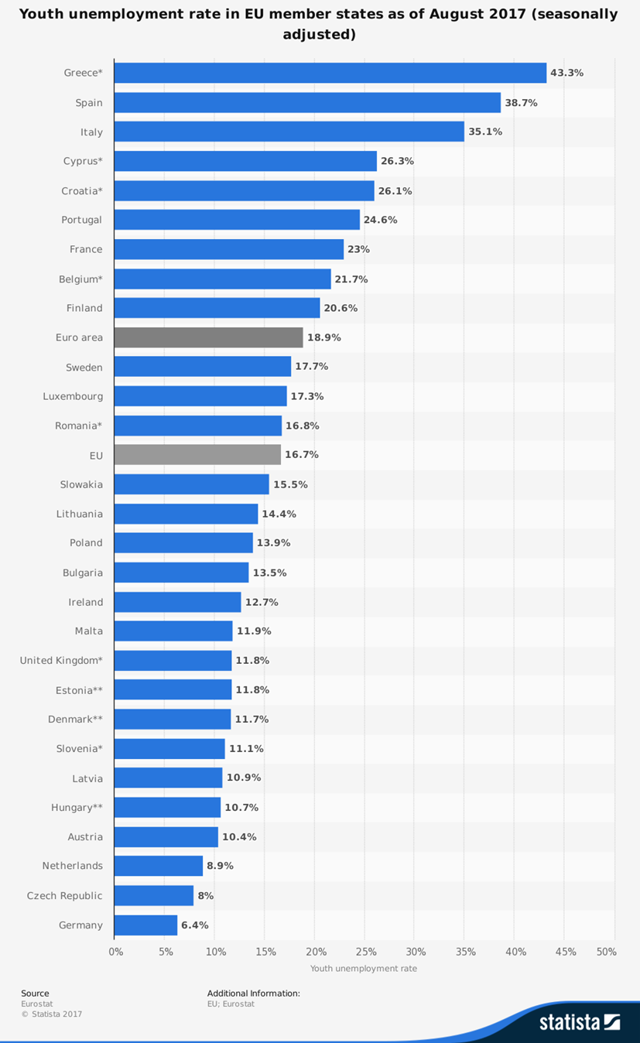 Draghi indicated stimulus would subside heading into December, however he has taken a more dovish tone with inflation remaining low and GDP stagnant. The incoming Fed chair Jerome Powell remains on the same path as Yellen. He intends to normalize rates with the caveat that the US economy needs to see inflation around 2.0% to maintain raising rates.
The US inflation rate is around 1.5% and the Fed governors will have to think carefully before continuing down the path of three rate hikes in 2018. The media likes to use the phrase "rate hike," yet we believe it is more appropriate to call it a rate normalization. The US economy is backing off historically low interest rate policy. Raising rates during this period is not the same as cooling economic activity with rate hikes. The Fed is having trouble inducing inflation with a near 0% inter-bank lending rate.
We believe inflation isn't high enough to merit a further path of rate normalization.
Risk Management
The VIX is at historically low levels and the volatility trade should come into favor during 2018. Complacency is at all-time highs and investors have record low cash levels. This is driven by the psychological principal known as "Fear of Missing Out". Retail investors did not participate in the stock market run to the degree that wealthy investors did. Wealth creation occurred in the top 1% and wealth regeneration happened for everyone else. Asset managers are all in on this market and any volatility should cause swift sell offs.

(Comparison between CBOE VIX and S&P 500)
Look for cyclical assets to come into favor as the first sell off occurs in 2018. Various commodities and basic materials (Crude oil, Copper, Aluminum) closed out 2017 at 52-week highs, begging the question as to whether or not portfolio managers should continue rotating into materials and energy in search of out-performance in 2018.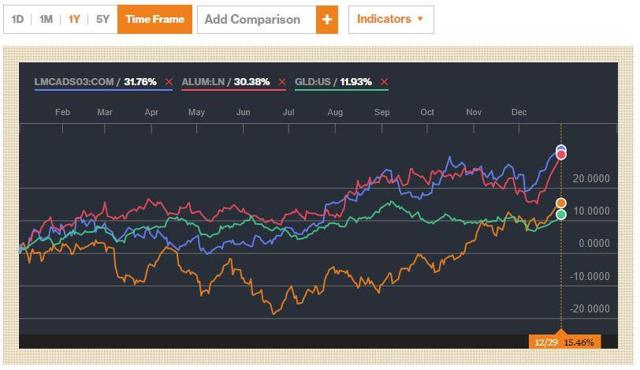 (1 year return of WTI Crude futures "Orange", Copper Futures "Blue", Aluminum "Red" and Gold "Green")
Watch for portfolio managers to lock in profits and wait idly for the tax reform and debt ceiling to be finalized. We should see a slight sell off in the outperforming asset classes and cyclical rotation into stocks that stand to benefit from offshore capital repatriation and lower corporate tax rates. Congress is the process of enacting Trump's tax reform, while the debt ceiling talks have been rearing their head recently. Congress is trying to do a stop gap to delay a government shutdown by pushing the budget conversation to 2018. Expect the government budget to be finalized by the end of January.
Asset valuations are beginning to reach lofty levels and earnings growth will struggle to keep up with optimistic expectations of the market into the end of 2019. The market is approaching the longest bull market in history, but there are no dramatic signs of a bubble brewing. The recent tax legislation will continue to validate the recent run in asset prices. Companies will continue to increase dividends and repatriate overseas cash back to the mainland.
The new 15.5% repatriation tax, which is much lower than the original 35% rate on overseas corporate earnings will allow significant capital repatriation from companies such as Cisco (NASDAQ: CSCO) $68 billion, Apple (NASDAQ: AAPL) $216 billion, and Amgen (NASDAQ: AMGN) $36 billion.
There has never been a better time for investment in US companies and with the new corporate rates around 21-22%, there is optimism about the short and medium term prospects of this bull market.
European Asset Prices look Appealing
Asset prices remain deflated in the Eurozone, as Brexit and political turmoil restrain investor sentiment. Inflation is 1.5%, which remains below the 2.0% ECB goal. The European central bank (ECB) is trying to maintain stimulus to create inflation and drive the Europe out of recovery mode and into growth mode. The European economy needs wage growth and look toward the ECB monetary policy meeting on January 25 for any indication on a policy change of slowing of quantitative easing (QE).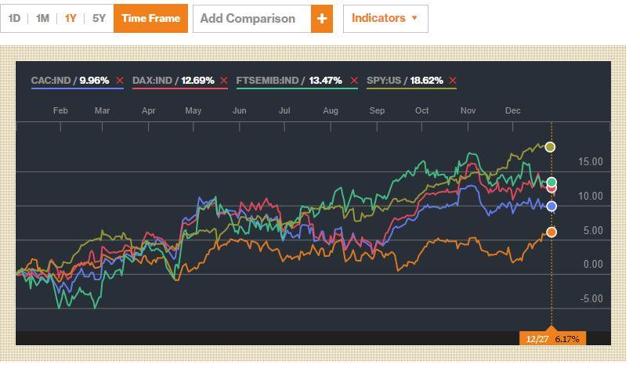 (1 year return of U.K. FTSE 100 "Orange", French CAC 40 "Blue", German DAX "Red", Italian FTSE MIB "Green" and US S&P 500 "Yellow")
The Eurozone multiples remains below 17x, while the S&P 500 is trading to around 22x current year earnings. This valuation gap should contract as assets flow into Europe seeking out-performance. As a result, we are bullish on Euro ETF's FEZ and VGK because we believe higher yields coupled with lower valuation multiples provide investors better value. Growth expectations should improve during 2018 and inflation should rise towards the ECB's 2% level.
Labor Participation
Labor participation remains low and it could be the culprit of low inflation. Less people in the labor market decrease productivity, thus lowering US GDP. There could be a number of reasons for the participation being low. One being increased drug usage in the younger demographics. Reports indicate a few million younger Americans are being held out of the labor market due to intense opioid addiction. The heroin epidemic is widespread and taking too many young lives.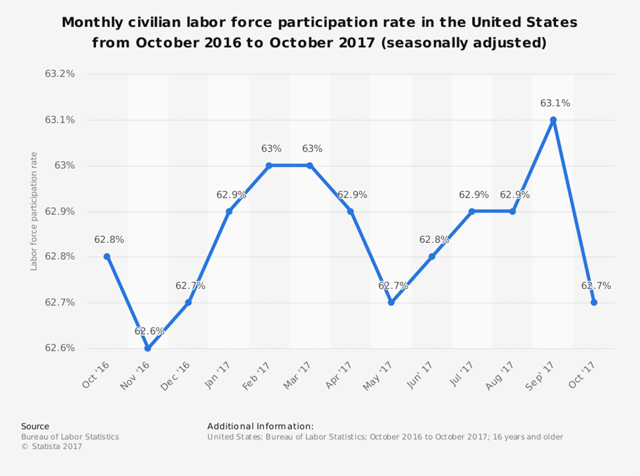 Millennials strapped with student debt not being able to find a job commensurate with their chosen college major may lead to underemployment or remaining out of the labor market all together. A four-year degree in 2018 is not the same as one earned in 1975. The four-year degree is a qualifier to an entry level job and it allows younger demographics to earn around $50,000 a year once they graduate. The cost of the degree is what could cripple the economy, as the student loan market is larger than US junk bond market. Americans owe $1.4 trillion in student debt and 1 out of 10 borrowers are delinquent on their loan obligations. The delinquency rate could creep higher with interest rate sensitive loans being "variable rate." We think this statistic merits further observation.
Defense Stocks Becoming Defensive
Another rotation underway is in the Defense sector. The government fiscal year started October 31st and contractors rely on a definitized budget to plan and purchase their materials to build finished product.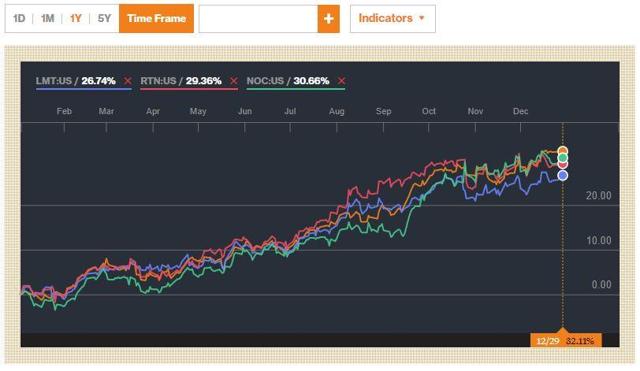 (1 year return of ITA Defense ETF "Orange", Lockheed Martin "Blue", Raytheon "Red" Northrup Grumman "Green")
Lockheed (NYSE: LMT) remains top in class as they move the F-35 from low rate initial production into full production capacity. The economies of scale are beginning to take effect and lower production costs will be passed off to the customers to alleviate budget concerns. Look for (NYSE: NOC), LMT and (NYSE: RTN) to falter the longer this debt ceiling talks carry out. These stocks have been market outperformers with the defense sector ETF (NYSE: ITA) up over 26% YTD. Trump is looking to further increase the DOD budget from $660 billion toward $700 billion plus, and arms manufactures are salivating with the GOP majority.
Disclosures
This market commentary was created by Dylan Quintilone Investment Advisor Representatives of Copper Canyon LLC. Copper Canyon LLC is a State of Florida Registered Investment Advisor. This should not be taken as investment advice and any forward looking commentary should not be construed as investment advice. If you have any questions about the stock market or investing, seek the guidance of an investment professional.
Dylan Quintilone CRD# 6732024
More information can be found about Copper Canyon LLC CRD#286061 at BrokerCheck - Find a broker, investment or financial advisor, by typing Copper Canyon LLC into the search box.
Disclosure: I am/we are long VGK, SPY, FEZ, BND, IEMG, AMGN, GLD, LMT.