Last week on Friday, Immersion Corporation (NASDAQ:IMMR) filed a lawsuit against HTC Corporation and some of its subsidiaries claiming that some HTC smartphones infringe on six of Immersion's patents on touchscreen technology. At the same time, the company amended its ITC complaint against Motorola Mobility (NYSE:MMI), to add HTC as defendant.
The existence of this new lawsuit was revealed in Immersion's most recent 10K, filed last night with the SEC:
On March 2, 2012, we added HTC Corporation, HTC America Holding, Inc., HTC America, Inc., HTC (B.V.I.) Corporation, and Exedea, Inc. (collectively, "HTC") to the complaint in the U.S. International Trade Commission and filed a separate patent infringement complaint against HTC in the U.S. District Court for the District of Delaware.
The Patent Infringement case with the Delaware federal court is 1:12-cv-00259.
Immersion's stock closed with a 8.2% gain on Monday, on higher volume than average, as the lawsuit probably got the attention of a few investors digging into legal actions.
During the last conference call, on March 1st, Vic Viegas, Immersion's CEO, hadn't ruled out the possibility to add more defendants to Immersion's ITC case:
Charlie Anderson - Dougherty and Company

And then just lastly for me, I think maybe in the next week or two you'll have the opportunity to add additional defendants to your ITC case. Are you expecting any activity between now and then either on the adding people or potentially people wanting to say they hit that milestone?

Vic Viegas

Yes, the ITC case or the ITC process does allow for the addition of additional defendants. I'm not at liberty to state whether we will or will not add new defendants. That is not the only vehicle for us to add defendants. Over time we have other vehicles, other ways to approach people if they continue to infringe on our IP. So we'll take advantage of whatever vehicle is available to us.
As we noticed in our previous article, Immersion's lawsuit is really about Android's (NASDAQ:GOOG) operating system use of haptic technology, which is believed, according to Immersion, to include some "basic" haptic effects covered by the company's extensive patent portfolio (more than 1,200 patent and patent applications).
HTC's Rezound, Rhyme, EVO 3D, Amaze 4G, ThunderBolt, MyTouch 4G Slide, Vivid and Jetstream smartphones are mentioned among the devices allegedly infringing Immersion's patents. In a similar fashion to the Motorola lawsuit, Immersion is asking the court to declare that HTC has infringed on the company's '846 patent, the '999 patent, the '288 patent, the '720 patent, the '181 patent, and '105 patent in violation of 35 U.S.C. § 271.
Immersion is asking for damages, including attorneys' fees, and an injunction preventing HTC from importing the allegedly infringing phones into the USA.
As a reminder, basic haptic is at the bottom of Immersion's product offering, as the company is, at the moment, mostly licensing its mid market programmable haptic solutions to leading OEMs like Samsung (OTC:SSNLF), Nokia (NYSE:NOK), LG and Toshiba (OTCPK:TOSBF):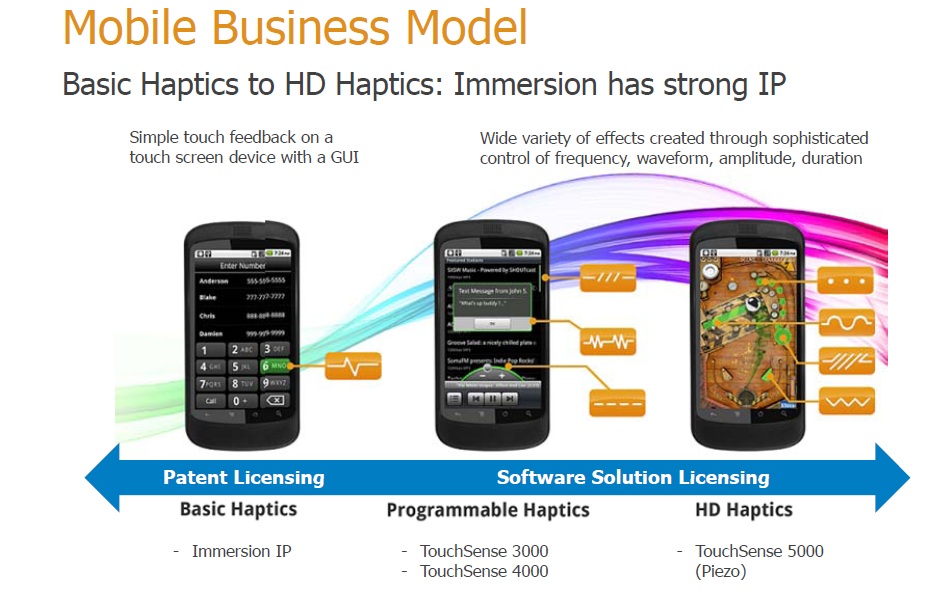 The ITC case will likely take as much as 12 to 18 months before coming to a conclusion. We expect Immersion to evaluate the possibility to include other Android producers to the case, but we also believe that it would be in both the company's and the OEM involved best interest to evaluate a settlement, hopefully turning defendants also into licensees of Immersion's higher quality programmable haptic solutions.
Disclosure: I am long IMMR.