Summary: The Canadian cannabis stocks had an excellent year in 2017 led by the Licensed Producers (LP). In late October, Constellation Brands (NYSE: STZ) stepped up to make the first major inter-industry investment when it purchased 9.9% of Canada's and the world's largest cannabis company Canopy Growth (OTCPK:TWMJF) This appears to have turned on the light bulb for investors and industry participants as well. Cannabis stocks commenced a strong rally as cannabis companies began to go on a buying spree of companies in the industry. I expected a modest correction based on tax loss selling between December 15th and Christmas to give us one last chance to buy some of these stocks at temporarily depressed prices. When that did not materialize, I called for a strong post-Christmas rally that carried into the new year.
In this report, we look at what lies in store for the cannabis stocks in 2018.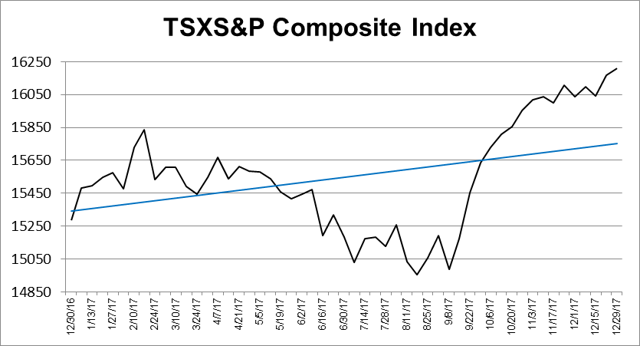 Looking first at the Toronto Stock Exchange in 2017 we see it was a bumpy ride for investors. By the end of the summer, it appeared that concerns about our trading relationship with the Americans and worries about the outlook for resource companies would lead to a bear market. However, a strong recovery in the final months resulted in an overall 6% advance and the index closed at an all-time record high. This provided a neutral to a slightly positive tailwind for the cannabis group. I expect this to be the case again in 2018 primarily because of a rising U.S. market.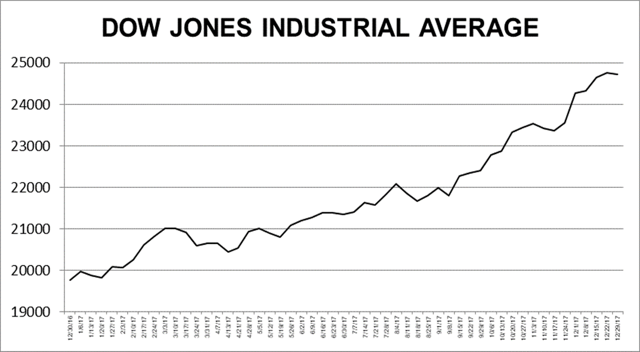 The American stock markets surged ahead in 2017 based on President Trump's business-oriented policies. Despite the objections of many market pundits, the Dow Jones Average posted another strong year with a gain of 25.1% on top of a 13.5% rise the year before. As I said recently, people may not like President Trump's politics but they love his economics. With tax reform passed, it appears the Trump administration will set its sights on infrastructure spending which is also good for the economy. The U.S. markets influence Canadian investors so hopefully, it will with be a positive factor for us again in 2018.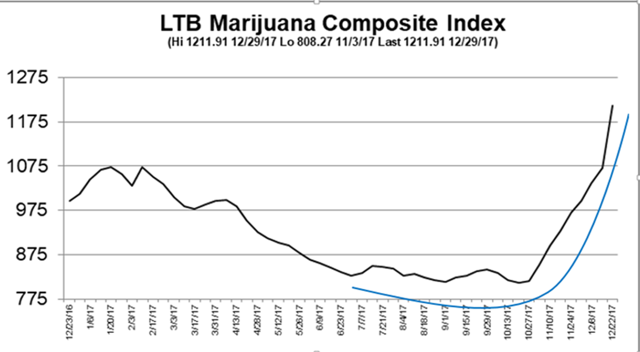 The next chart shows the LTB Marijuana Composite Index in 2017. I anticipated the strong closing days after Christmas but the strength of the advance surprised even the most optimistic cannabis advocates. For example, in the week after Christmas, this index posted a gain of 13.1% and sent us scrambling for the record books. This was the ninth largest weekly advance on record and you have to go back to March 21, 2014, to find a better week. This performance also answered the question of whether the index would attain a new high during this rally. It certainly did!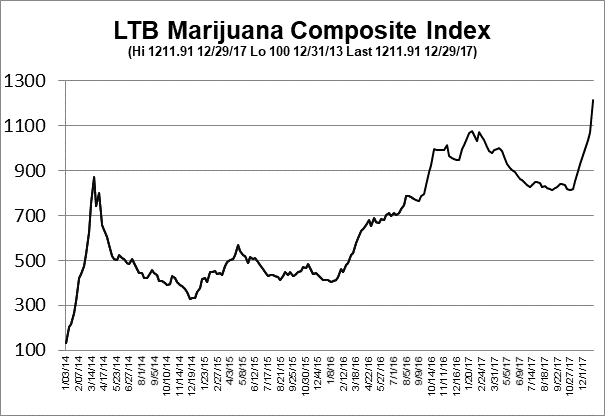 A look at the longer term chart for the LTB Marijuana Composite Index is also revealing. First, the compound rate of return implied by this chart is 86.6% per annum over four years. By comparison, the Toronto Stock Exchange Index produced a return of 4.4% per annum over the same time period. But we must also look back at the last time we saw an increase on a par with the 13.1% posted last week. This was the 12-week spike at the extreme left side of the chart. In 8 of those 12 weeks of higher prices, the market advanced more than it did last week. But that was followed by a prolonged decline for the rest of 2014 and 2015.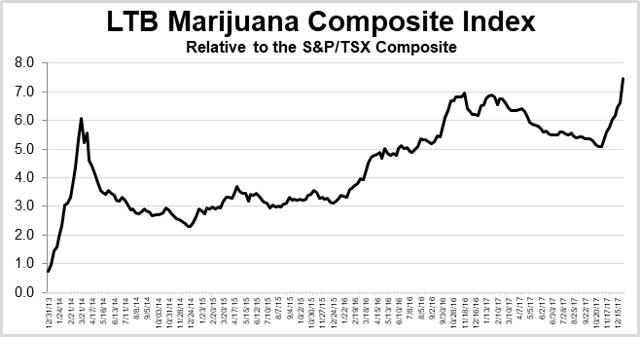 The next chart plots the LTB Marijuana Composite compared to the Toronto Stock Exchange Index. As the chart rises to the right, it shows the cannabis stocks outperforming the average Canadian security. This superior performance is critical for portfolio performance. For example, a $5,000 investment in the TSX Index would have grown to $5,940 over this time period. The same investment in the Marijuana Composite Index would be worth $60,620! Some portfolio exposure to the cannabis stocks would have increased your retirement savings significantly.
I conclude the cannabis stocks will likely continue to rise strongly but volatility will probably increase as well. Moving forward we must be aware that somewhere in the future we will face an extended period of market weakness. This is necessary to reset the overly optimistic psychology that builds up in the markets after a prolonged advance. I have every reason to remain optimistic for now but we must also stay alert.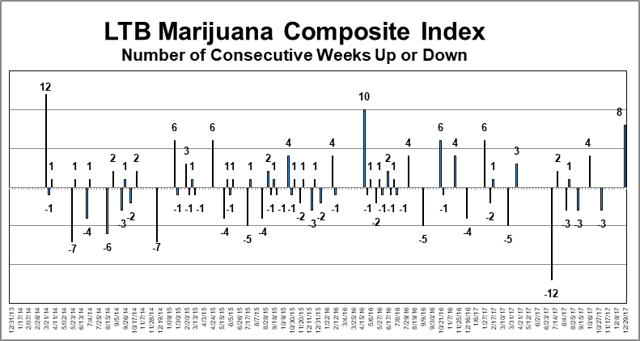 The next chart shows the length of uptrends and downtrends in the LTB Marijuana Composite Index. It reveals the current rally stands at eight weeks in duration which is the third longest on record. As I said over the previous couple of weeks, if the rally goes past 6 weeks it will probably have the momentum to go on for 10 or 12 weeks. I still feel that way although last week was almost too strong. Looking ahead, the current rally seems a little long in the tooth but momentum is also so strong I think there are still higher levels to come.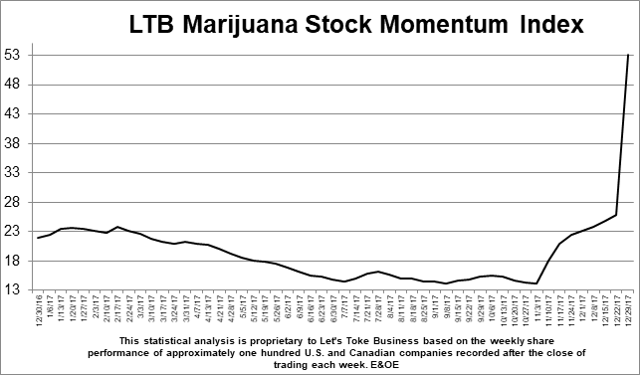 The most significant change in recent weeks is the improvement in market momentum. The final week of trading in 2017 produced a staggering ratio of over 28 stocks rising in price for every one declining. There has never been a spread like this in the four years I have been monitoring the cannabis stocks. Positive momentum is a good thing. It means a price advance is being shared by a broad list of stocks. But in the final week of trading, 85% of the stocks in our index rose in price. It left me wondering how much better this can get.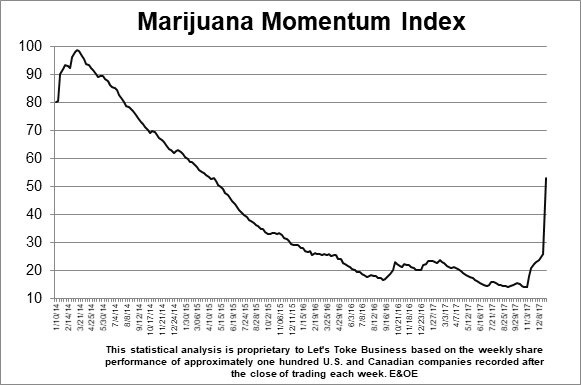 To avoid a misunderstanding, here is the long-term momentum chart. Given that prices according to the LTB Marijuana Composite Index have reached all-time highs, we can see momentum still has some catching up to do. However, my preference would be closing the gap over several months instead of one or two weeks. This chart shows that runaway positive momentum is not necessarily a bad thing but again it is one of those indexes that are starting to push the envelope.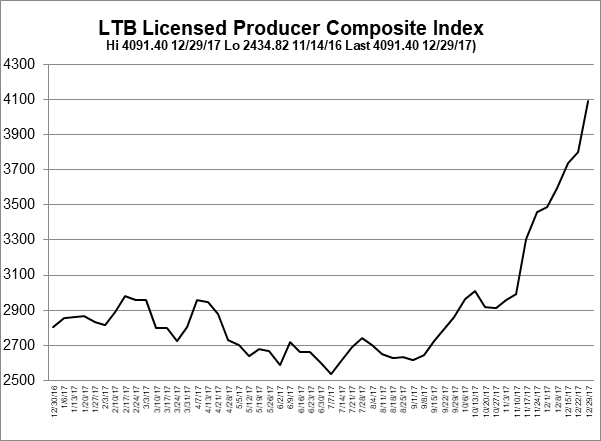 I think it is important for the Licensed Producers to lead the parade and they have been. The LTB Licensed Producer Composite was the first of my proprietary indexes to reach a new record high in the current cycle. The LP Index posted a leading 46.0% gain in 2017. The investment by Constellation Brands in Canopy Growth in late October 2017 triggered a strong rally in the group. In addition, it set off a round of activity involving LPs acquiring or investing in other LPs and/or other cannabis companies. I anticipate this activity will continue into 2018.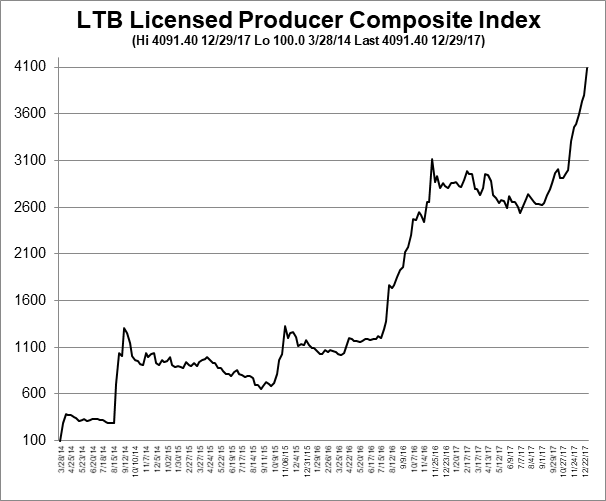 Here is a look at the LP Composite Index over its 3+ year history. As can be seen, these stocks seem to surge and consolidate before repeating the process. I have referred to this pattern often in the past. The current rally was prompted by the Constellation Brands investment in Canopy as investors woke up to the fact that other LPs might be targets as well. The previous rally started when investors realized the Cannabis Task Force recommendations would favor the LPs. The rally before that happened as the Liberals surged ahead in the election polls and investors decided a party supporting cannabis legalization might form the government. The first jump happened while Canopy Growth was the only public Licensed Producer and investors were excited by the prospect of Bedrocan and Organigram going public. I think the current advance will continue a while longer and if another major investor comes in to take a position in one of the LPs, the response could be spectacular.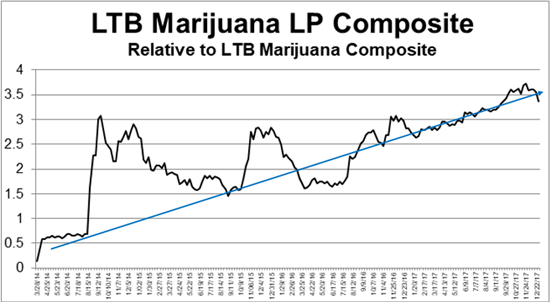 This is a longer-term chart of the LTB Licensed Producer Index relative to the LTB Composite. By rising to the right, this graph illustrates how much better the LP stocks have performed even compared to the compound annual growth rate (CAGR) of 86.6% for the average cannabis stock. The LP average return has been nearly double at 169.1% relative to the average cannabis stock. This means your $5,000 portfolio that would have grown to $5,940 in the average Toronto listed stock and to $60,620 in the average cannabis stock would have been worth over $200,000 invested in the average Licensed Producer in a slightly shorter time period. A typical equity portfolio with a 10% to 20% exposure to cannabis investments would have produced a much higher current value. I expect the rewards from investing in cannabis stocks will likely continue to justify the higher risks necessary to get there.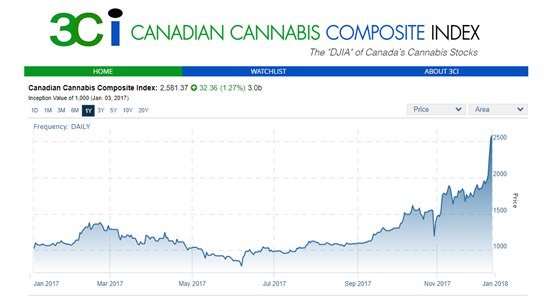 I am pleased to introduce the Canadian Cannabis Composite Index that can be accessed at www.3cindex.ca This index is referred to as the Dow Jones of Canada's cannabis stocks because it is made up of the twenty largest cannabis stocks by market cap. The 3Ci is available in real time so by going to the chart on the Internet you can get a snapshot of what the market is doing intraday and back one year. As time goes on, a longer history of the index will build up. As I mentioned in the Let's Toke Business newsletter last week, I have agreed to serve as a member of the committee that determines the additions and deletions to the list of component stocks. Go to www.3cindex.ca at your earliest convenience and give it a try. I think you will find this a useful tool for your investment program.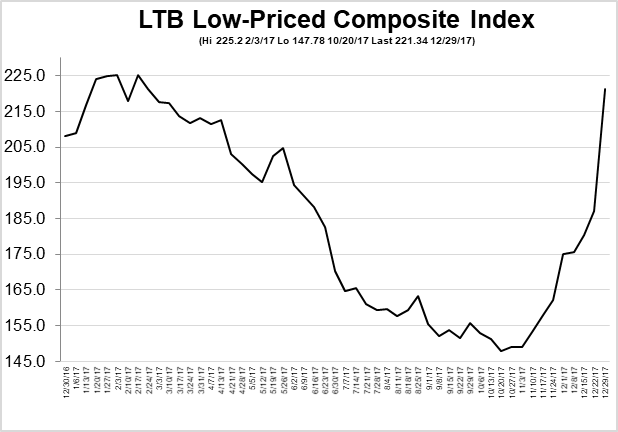 The next chart is the one-year LTB Low-Priced Composite that I use as a mandate to measure investor psychology. If this group is performing well, I interpret that to mean investors are more willing to take risks buying stocks priced under $.10 per share and vice versa. When I called for the market to turn up in October 2017, I looked for this index to lag as a sign there wasn't too much optimism in the market. I did note, however, that the index was likely to catch and surpass the other indexes because this is a more volatile group. The chart shows the group did lag coming off the bottom but in the past two weeks it has been charging to the forefront. Although it is still below its all-time high, that is changing and I expect new highs from this group momentarily.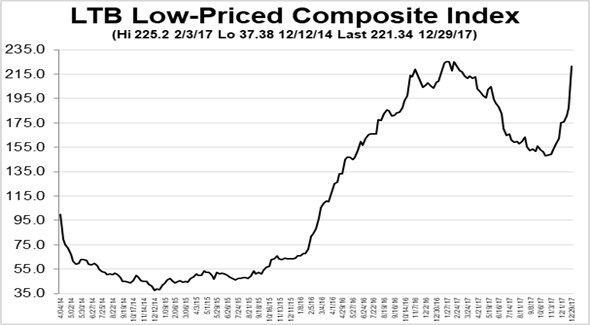 A couple of things are evident from a look at the longer term Low-Priced stock chart. First, there is potential for the index to go much higher into new record territory. I expect this to start in the early months of 2018. Second, I have warned at several points in this report that the various indexes are at or close to extreme levels, which suggests overall risk in the group is building. Although this may sound counterintuitive, this means it is also the best time to speculate in higher risk stocks. Of course, you must remember to take profits when and if you have the opportunity.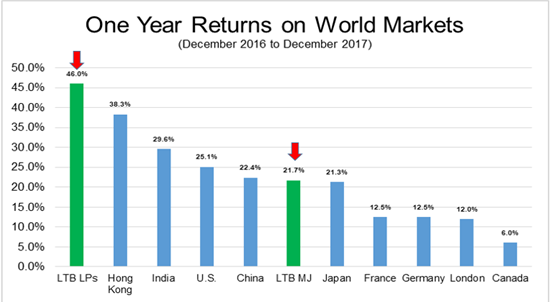 International market returns: the cannabis stocks recorded another positive year. The LTB Licensed Producers topped the list (+46.0%) and the LTB Marijuana Composite was mid-range (+21.7%). To illustrate the effect of these returns, consider the following effect on a $10,000 portfolio over five years:
In Canadian stocks at 6% $13,382
In the LTB Composite at 21.7% $26,696
In U.S. stocks at 25.1% $30,640
In Cannabis LPs at 46.0% $66,338
Clearly, diversification into cannabis stocks has been positive for portfolio investors. I believe this will continue to be the case in 2018 and beyond in this young and evolving industry.
Because of the dramatic price changes that were seen in recent weeks, here is a summary of my current thinking regarding my specific stock recommendations. Please remember our ongoing advice not to chase stocks that are rising or dump stocks that are falling.
Aphria (OTCQB: APHQF): I continue to like APHQF as it pursues its aggressive growth policies. The cloud is the status of their TSE listing. At the current time, APHQF is in conflict with TSE regulations regarding U.S. investments in businesses that are contrary to U.S. Federal regulations. The TSE indicated earlier that a decision would be made coincident with a year-end review. It is difficult to see how this can be resolved to the satisfaction of the three parties involved: the exchange, APHQF and the other TSX and TSXV listed companies that followed the rules and did not make such investments. An announcement is expected shortly.
Aurora Cannabis (OTCQX: ACBFF): I also continue to favor ACBFF and think the company will benefit if the acquisition of CanniMed (USOTC: CMMDF) is concluded successfully in 2018. However, I have watched the twists and turns other hostile takeovers have taken in the past. With ACBFF, CMMDF and Newstrike Resources (TSXV: HIP) all having shareholder meetings in January 2018, this is when the mud will fly in earnest. The market in very recent trading reflects a belief that the chances of success for ACB are improving. I would maintain positions and hold off buying until the after the meetings are concluded.
Canopy Growth (OTCPK: TWMJF): the only comment I have about WEED is it continues to reward shareholders. Since I first recommended it on Seeking Alpha, the stock is up over fivefold. I continue to believe TWMJF should form a core holding in every portfolio and for those who can only own one stock in the industry, this would be my choice. Expect TWMJF to continue to lead the industry at almost every turn.
Emerald Health (OTCQX: EMHTF): recently SmallCapPower identified EMHTF as the leading cannabis stock in its Ubika Index. I called EMHTF's joint venture with Village Farms (USOTC: VFFIF) a "transformational transaction" and the market is recognizing it as such. The move has also triggered a number of "copycat" transactions in the industry. I believe the market will continue to appraise the valuation of EMHTF to higher levels and management has positioned the company to have a strong role in post-legalization Canada. I look for EMHTF to evolve as one of the larger, lower cost growers.
Lexaria (OTCQB: LXRP): investors benefited in 2017 as the market began to recognize the many possible alternative applications for its technology. When the U.S. patent announcement covered not only THC (US$8 billion market) but also fat soluble vitamins (US$31 billion market), non-steroidal anti-inflammatory pain medications (US$60 billion market) and nicotine (US$770 billion market) it was an eye-opener for the investment community. Subsequently, LXRP applied for a patent in the delivery of phosphodiesterase type 5 (PDE5) inhibitors better known by the trade names ViagraTM (sildenafil) and CialisTM (tadalafil). As investors realized THC was by far the smallest of the potential markets and there are still applications that haven't been considered, a reassessment of the value of the technology has been taking place. Looking ahead 12 to 24 months, I can see the technology sold in whole or in part to one of the giants in pharmaceuticals, tobacco or even cannabis.
Namaste Technologies (OTCQB: NXTTF): after many frustrating months, NXTTF was recognized by investors for the value it was building as an industry consolidator and potential licensed seller of cannabis in Canada. Unfortunately, the market rose out of control and the stock spiked to a high of $3.47 before spiking back down to $2.35 per share. As is often the case, it seems many investors buy high. Hopefully, our readers were able to avoid that trap by following the principal of not chasing stocks up. In the meantime, NXTTF remains a dominant force in e-marketing vaporizers and other accessories, it is an industry consolidator and a leader in Europe, Australia, and Brazil. In addition, the expected licensing of Cannmart in January/February will be a major development. In the meantime, it is difficult to pick a spot to buy because stocks that spike higher than anyone expected often correct back down much further than anyone expects. I continue to like NXTTF but the short-term market trend is a little murky right now.
Organigram (OTCQB: OGRMF): this company continues to chug along getting ready for legalization. OGRMF had a major bump in the road in the form of product recall problems a year ago but that is behind them and I expect their organic certification to be restored before recreational cannabis is approved. OGRMF also signed an important sales contract with its native province of New Brunswick that positions it very strongly for near-term revenue and income. OGRMF has been focused on building out its operations to satisfy upcoming product demands in the market. I also see OGRMF as an attractive asset for someone to own so I suspect some kind of transaction is in store for shareholders in the next 12 to 24 months.
Radient Technologies (OTC: RDDTF): has a unique technology called Microwave Assisted Processing, or M.A.P., for extracting THC and CBD from the cannabis plant. Initially, the technology was given credibility when Aurora Cannabis invested in RDDTF. More recently, ACBFF increased its holding in RDDTF from 8.8% to 19.18% on an undiluted basis. This provided capital to enable RDDTF to accelerate plant capacity expansion and increased throughput at its Edmonton facility. ACBFF increasing its holding of RDDTF to over 10% is important because it makes it clear ACBFF intends to make RDDTF's technology an important part of its strategic plans moving forward and makes ACBFF an insider of RDDTF. The reason it stopped at 19.18% is probably because if the holding exceeds 20%, any future offer must be made to all RDDTF shareholders. RDDTF lagged a bit in the latest market rally because its association with ACBFF is well known and diminishes the chances of an offer from anyone else. In the meantime, I am very satisfied with all developments to date.
Conclusion: I continue to look for superior returns from the cannabis group. I am a little concerned that the post-Christmas rally that I thought would be strong was exceptionally robust. As a result, I have noted a few reasons to be at least a little careful. But overall, I expect portfolios with cannabis exposure will outperform portfolios with none.
Editor's Note: This article covers one or more microcap stocks. Please be aware of the risks associated with these stocks.