Factors Affecting the Global Climate System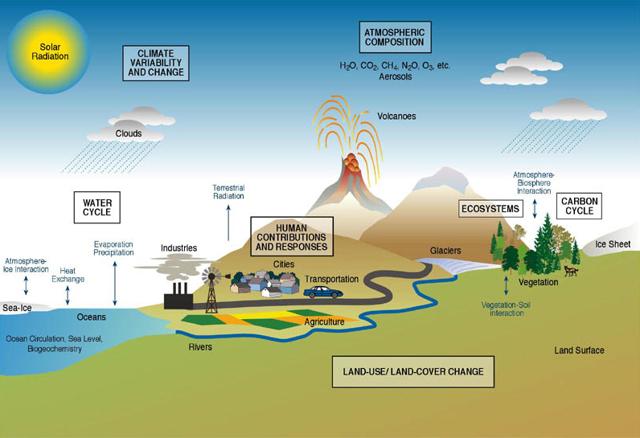 Introduction
The global climate system has long exhibited a high degree of natural variability (Eric T. Sundquist & Wallace S. Broecker (Eds.), 1985; The Carbon Cycle and Atmospheric CO2: Natural Variations Archean to Present, Geophysical Monograph 32, American Geophysical Union, Washington, DC, 625p). However, in recent decades, there has been a vast accumulation of data suggesting that the global climate system is being altered by the effects of human activity. That is, anthropogenic global warming is being superimposed on the natural system due to inputs of CO2 and other greenhouse gases to the atmosphere and oceans (Wallace S. Broecker & Tsung-Hung Peng, 1982; Tracers in the Sea, Lamont-Doherty Geological Observatory, Columbia University, Palisades, NY, 689p). There is now a broad scientific consensus that these man-made sources of greenhouse gases could be, and probably are, affecting global climate in a significant way (Robert Hensen, 2006; The Rough Guide to Climate Change, Rough Guides, New York, 340p).
This is likely to strongly impact corporate strategies, both fixed and variable costs, taxes, and profitability in the coming decades. Since corporations should be valued on their net income from discounted future cash flows with a duration of at least 50 years, the business impact of this should already be important to investors. However, it is not clear how much impact should actually be discounted by investors. There is much confusion amongst scientists about future impacts, and there are many unsubstantiated claims in the media about the severity of what is coming. This article is an attempt to quantify the potential risks to corporations and investors from climate change.
I want to stipulate here that I absolutely believe that the apparent scientific consensus on global warming is essentially correct: the earth's surface temperatures are on a long-term warming trend, and this trend is at least partially, and perhaps substantially driven by human activity. I also want to stipulate that something must be done over time to mitigate the main effects of global warming, i.e., sea level rise and changes in precipitation patterns. Where I differ from the so-called "scientific" consensus (which in part is more of a political consensus) is that I do not believe the rate of climate change projected into the future by various models has been either accurate or reliable, nor that it justifies the level of hysteria we see in parts of the scientific community, the media, and international politics. The damage to civilization, especially in coastal areas, will indeed eventually (i.e., many decades or even a couple centuries hence) turn out to be very serious, but not this week, nor this year, nor in the next decade. A careful examination of the entire spectrum of climate and oceanographic data indicate cause for concern amidst a potentially worsening situation, but do not support the notion of impending catastrophe. The impacts on business may be less severe than some imagine, and are likely to be fully manageable in most cases.
Thus, it should be noted that while anthropogenic climate change is well supported by the evidence, it is not at all clear how that will play out over time, because global climate models or "GCMs" (cf. Warren M. Washington & Claire L. Parkinson, 1986; An Introduction to Three-Dimensional Climate Modeling, University Science Books, Mill Valley, CA, 422p) have so far been unable even to "predict" our current climate conditions (Chart 1). This has been due to: 1) the extreme complexity (Chart 2) of the climate system; 2) the huge range of natural climate variability that occurs over time scales ranging (Charts 3, 4, 5) to hundreds of thousands or even millions of years; 3) the inherent difficulty of nailing down certain climate model inputs like cloud dynamics, oceanic circulation changes, and atmospheric turbulent flow; and 4) the fact that since climate is affected by things like volcanic activity (Chart 6), glaciation (Chart 7), ocean currents (Chart 8), and atmospheric chemistry, a whole range of "black box" models (Chart 9), each with its own uncertainties, must be incorporated into the master "GCMs." Surface mass balance and ice dynamics models are also subject to significant uncertainty. Hence, scientists' forecasts of future changes in temperatures, precipitation, glacial melting rates, and sea level rise are clearly subject to significant error, and it may be fairly premature, or even irrational, to base major and expensive global mitigation decisions on what are essentially poorly defined and error-prone "black box" models.
Chart 1: Apparent Temperature Forecast Errors by Global Climate Models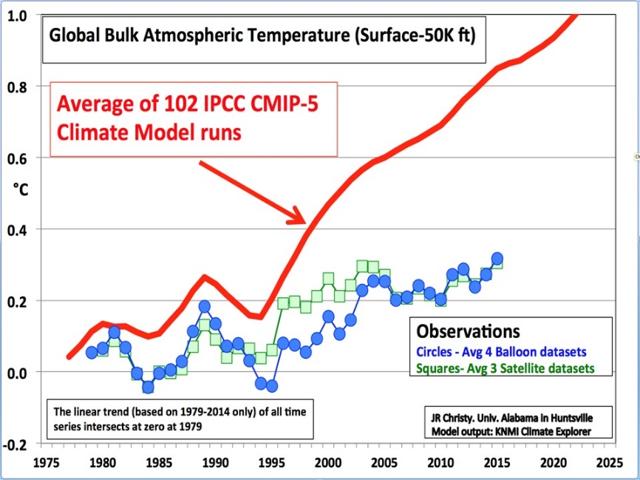 Chart 2: Feedback Loops Make The Climate System Extremely Complex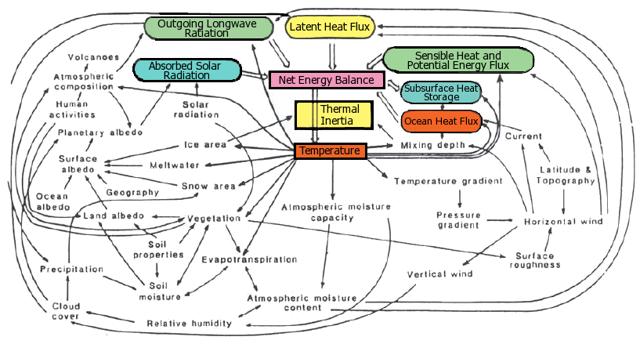 Chart 3: Global CO2 and Temperature Estimates Indicate Huge Natural Variability Over the Last 600 Million Years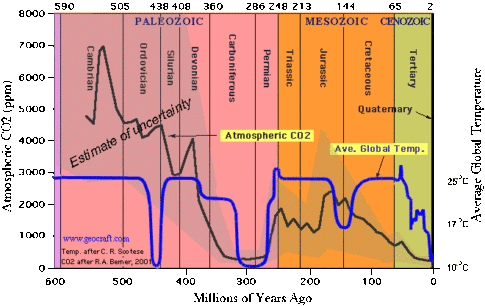 Chart 4: Huge Global Sea Level Fluctuations Over the Last 542 Million Years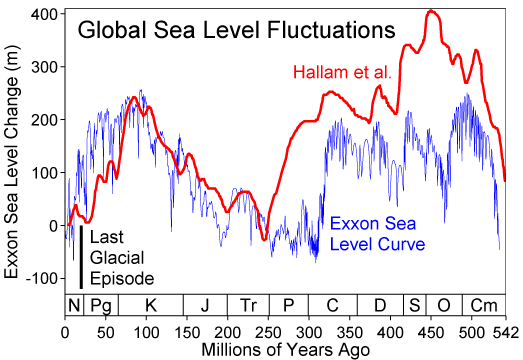 Chart 5: Large Temperature and CO2 Variations in Ice Core Data Over the Last 260,000 Years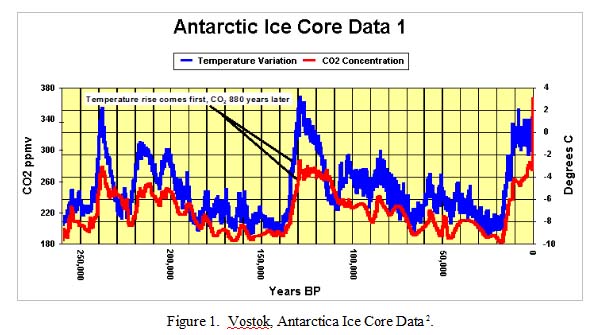 Chart 6: Probable Volcanically Induced Cold Episodes Over the Last 4,400 Years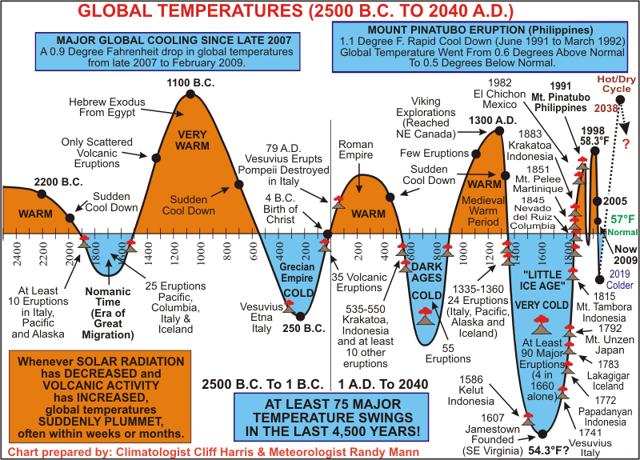 Chart 7: High Variability of Glacial Melt Contribution to Global Sea Level Rise Since 1800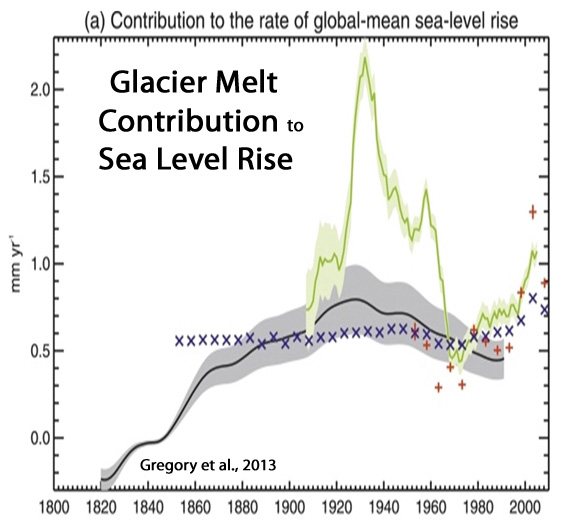 Chart 8: 1,470 Yr. Cyclical Fluctuations in the Formation of Atlantic Meridional Overturning Circulation ("AMOC")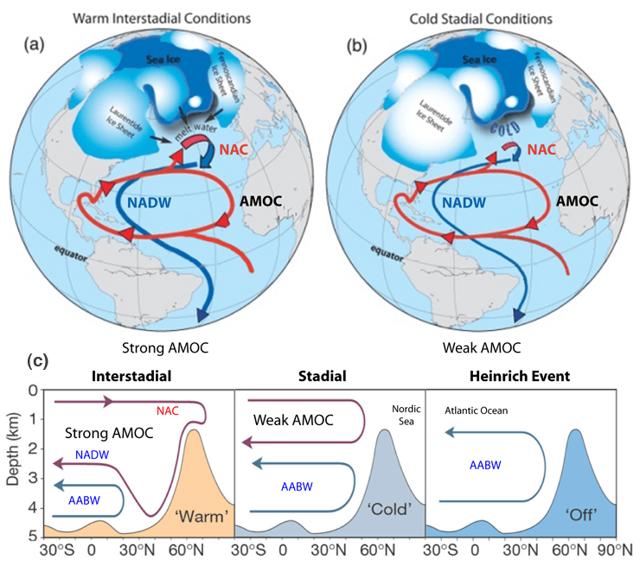 Chart 9: The Nested "Black Box" Models for Planetary Systems That Interact With Climate and "GCMs"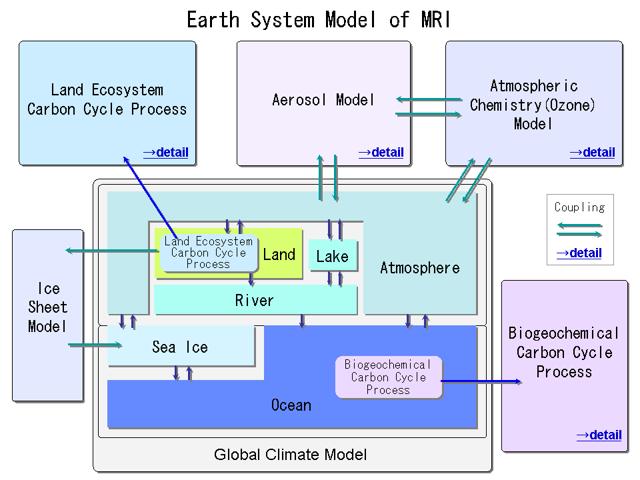 Limits to What We Know
Nor is it all that clear what we should be doing to either mitigate the presumed deleterious effects, or to adapt to them if they cannot be mitigated (Bjorn Lomborg, 2007; Cool It, Alfred A. Knopf, New York, 253p). The efforts of the Intergovernmental Panel on Climate Change ("IPCC"), the UN-sponsored organization that has worked on the scientific aspects of the problem, have at times been quite controversial, especially when projections into the future are made (Chart 10). Although it makes sense for most corporations to develop sustainability efforts and even contingency plans, and it is practical for them to budget for climate impacts, it is also critical that corporations avoid an over-reaction to media hysteria about climate change. Controversy probably cannot be avoided, but perhaps it can be managed. Examples abound of over-stated climate change impacts, and our knowledge is still far from perfect about how the natural system works. For example, there have been significant anomalies in the global temperature data (e.g., the famous warming pause of recent years, cf. Chart 10 below) that have gone essentially unexplained, or are given post facto explanations that stretch credulity. This level of probable model error makes it difficult to accept the claims of extreme urgency regarding climate mitigation efforts being issued by scientists and politicians, many of whom, after all, will tend to benefit indirectly from any such concerted government action. Claims that the "science is settled" on all aspects of the problem are essentially political claims: they are by definition unscientific (Wilson, 2017). These apparent problems with global warming projections, and public suspicion about some of the politically motivated hype associated with them, have tended to weaken the general public's faith in the series of international protocols (e.g., Kyoto; Paris) intended to mitigate the effects of global warming. These efforts have so far been very expensive, and yet have achieved very little (Wilson, 2016). They don't pass any kind of reasonably rigorous cost/benefit analysis, in my opinion. The better-run part of the corporate world would never act with so little attention paid to cost/benefit analysis, and they should consider that in their responses to political pressures to change their businesses because of poorly defined climate change.
Chart 10: IPCC's 1990 Global Warming Model Projections Vs. Terrestrial and Satellite Observations Since 1990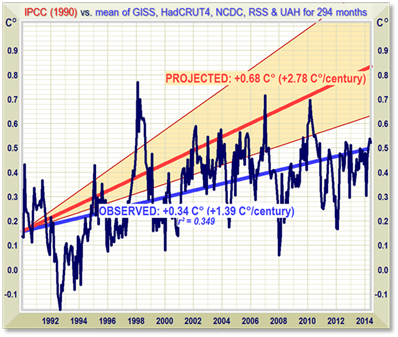 Data on the recent, quickly rising global sea level have been trumpeted by politicians like Al Gore, Barack Obama, John McCain, Peter King, and others as signs of impending doom for civilization; however, the total data set actually indicates only about 8.25 inches (i.e., the length of my letter opener) of sea level rise over the last 130 years, which is hardly a catastrophe (Chart 11). Examination of the data in Chart 7 (above) indicates that a major surge in the rate of sea level rise occurred in the 1930s-1950s due to rapid melting of the Greenland ice sheet, similar to what we are seeing now; however, the earlier event appears to have been natural because the era of rapid anthropogenic global warming technically had not yet begun. Note also that this sea level surge faded back to the trend line by the 1970s. Almost no one talks about this apparently natural event, but it is just as significant as the presumably almost purely anthropogenic event we are seeing now. And since this 1930s-1950s melting episode was probably a natural event, it also raises the question: how much of current ice sheet melting is natural? We simply can't answer this yet, and in my opinion, this calls for a certain amount of caution in forecasting the future. This doesn't mean by any stretch that we won't end up deciding (based on accumulated evidence) that some or even most of the current melting is anthropogenic; but extrapolation of current rates of melting into the future are highly speculative and likely to contain significant errors. Corporations should be viewing these data skeptically but realistically, i.e., they should plan on some significant sea level rise over the decades ahead, and on changing precipitation patterns that could affect agriculture over time, but they should try to avoid wasting money on politically correct posturing.
Chart 11: Global Sea Level Rise Estimates Indicate About 8.25 Inches of Cumulative Rise in 130 Years (or 6.35 Inches/100 Years)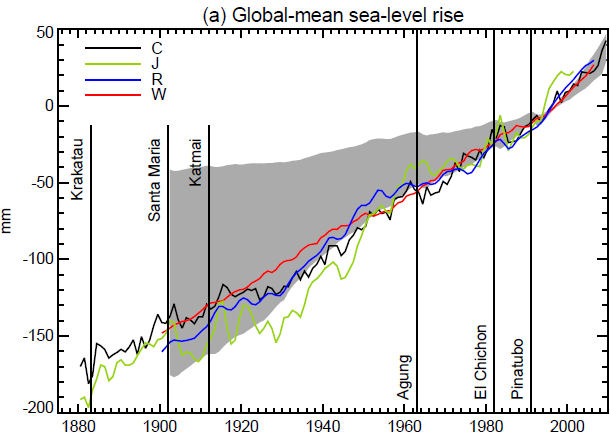 Even if the highest measured rate of sea level rise in recent decades actually doubles again in the next 130 years, as expected by many (due to rapid glacial melting), we would likely see only about 17 inches of additional rise by the year 2145, according to a recent data survey (Gregory et al., 2013, cited in Real Climate blog, 2013). Extreme outlier data from some research studies published in 2012 and later suggest even higher rates with more like a maximum of 48 inches of cumulative sea level rise by the year 2145 (Chart 12), but the uncertainty on these estimates is very large; note that the baseline for that forecast is only about double the rate shown in Chart 12. While a 17-inch cumulative sea level rise would no doubt be challenging, with smart engineering we could likely adapt to that almost everywhere. Admittedly, however, a 48-inch sea level rise by 2145 (the high end of the high probability range on Chart 12) would be extremely challenging in places like the Netherlands, Venice, Italy, New Orleans, USA, and the Maldives, to name a few. But given a century of preparation, many people could be moved from such areas without the risk of destroying all of human civilization; thus, it would be very damaging in places, but not catastrophic for all of us (i.e., civilization). Indeed, over the entire 10,000 year history of civilization, mankind has already adapted to a cumulative sea level rise of some 197 feet (cf. Chart 13). Note also that the long-term rate of post-glacial sea level rise prior to 7,000 years ago (during the rapid melting phase for continental glaciers) was an enormous 33.12 inches/100 years (cf. Chart 13); but still, humanity survived (if they moved inland). Corporations should develop localized threat maps for their facilities, but they should do so with a thorough knowledge of the attendant uncertainties, the relevant local history of impacts, and the meaning of widespread disputes about the quantity of impacts from particular events, like sea level rise. Merely acquiescing to political pressure without an internally consistent take on the actual risks will waste shareholders' money. Investors should hold corporations accountable for the reasonableness and practicality of their climate change plans.
Chart 12: Projected Sea Level Rise to 2100 (Dark Grey Area Shows Huge Uncertainty in Estimates)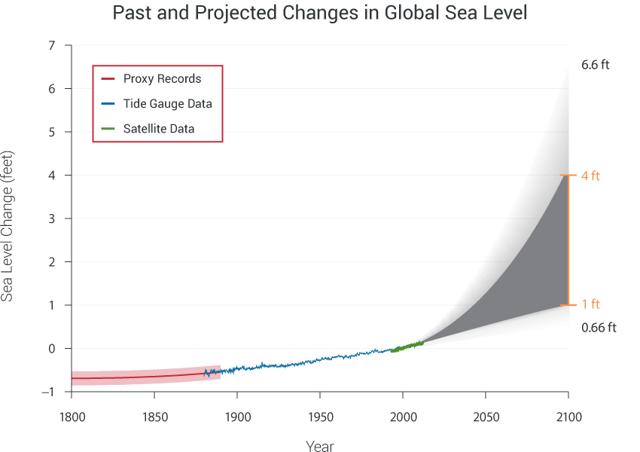 Chart 13: Post-Glacial Global Sea Level Rise Over 24,000 Years
(Avg. Rate Prior to 7,000 Years Ago Was = 33.12 Inches/100 Years)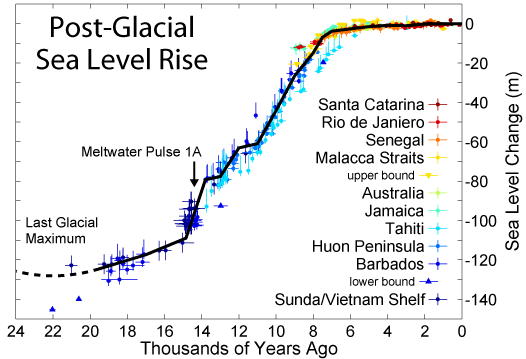 In the more subdued period since about 7,000 years ago, the rate of sea level rise slowed dramatically to only about 2.14 inches/100 years (cf. Chart 14); since this has been the approximate natural background rate for several millennia, future sea level would likely have continued to rise at that rate (at a minimum) regardless of any global warming effects. Or perhaps the 6.69 inches/century rate for the last 310 years should be used as the baseline (Chart 15). It should also be noted that several big jumps in the sea level rise rate occurred (apparently naturally) over those last 310 years; in each of the prior cases, the rates eventually returned to the slower, long-term trend. It should be noted that there are lags of decades to centuries between a warming episode and the response of glaciers to that warming; thus, current glacial retreats are likely partially a function of events that occurred as long ago as the end of the Little Ice Age, in 1850 (Roger Barry, 2006; S.C.B. Raper & R.J. Braithwaite, 2009). The portion of glacier loss that can be attributed to anthropogenic warming has increased over time, but may still be as low as 45%, given the wide uncertainty of its measurement (Ben Marzeion et al., 2014). For corporations in coastal areas, this is potentially a reprieve, in that they will have much more time to prepare than media reports have suggested. The most recent (1992-2015) rate of sea level rise has jumped to about 12.91 inches/100 years (Chart 16), which is quite substantial. However, if that rate is actually sustained, sea walls and tidal barriers can be built (as suggested above) going forward that will either buy us significant time, or permanently solve (in some, but not all cases) the problems associated with rising sea levels (note that such barriers are already in place in the Netherlands and Venice, Italy; Diane Raines Ward, 2002; Water Wars: Drought, Flood, Folly, and the Politics of Thirst, Riverhead Books, New York, 307p). It has been estimated (Lomborg, Op. cit.) that contrary to the very expensive United Nations protocol-driven cost of climate mitigation, which involves sharp cuts to global CO2 emissions, the adaptation costs for projects such as sea walls and tide barriers will only amount to about 1% of GDP over time.
Chart 14: A Closer Look at Natural Post-Glacial Global Sea Level Rise Over the Last 7,000 Years (Rate = 2.14 Inches/100 Yrs.)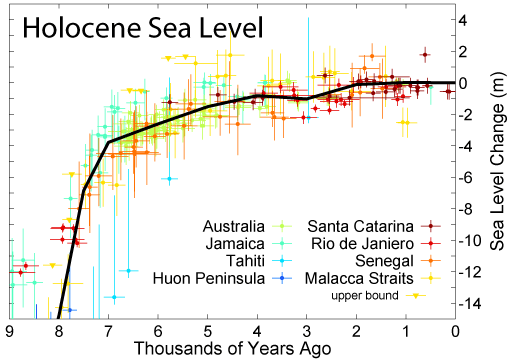 Chart 15: Global Sea Level Rise Over the Last 310 Years
(Showing Periodic Rate Jumps Above Trend of 6.69 Inches/100 Years)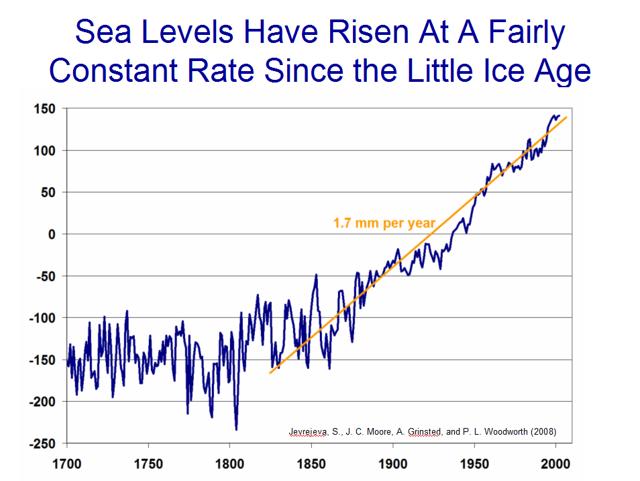 Chart 16: Global Sea Level Rise (1992-2015)
(Rate = 12.91 Inches/100 Yrs.)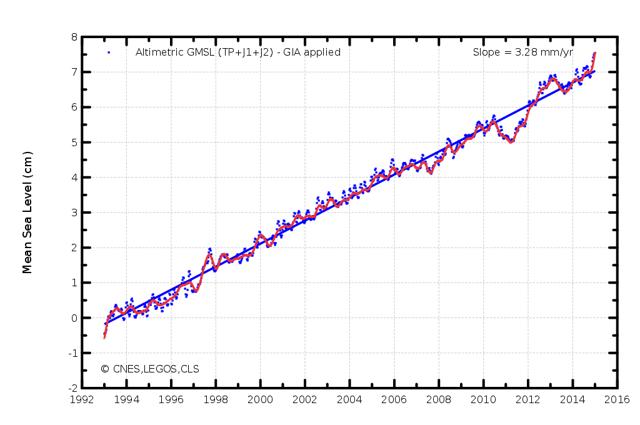 There are a number of components to sea level rise of which many people are unaware, but the two main ones are the cryospheric melting component and the thermosteric (thermal expansion of seawater) component. Sea level rise can obviously be driven by increased rates of glacial melting, especially at the poles (i.e., Greenland, Antarctica), as almost everyone now knows (Charts 17, 18). This has already been significant both in the distant past (cf. Chart 13 above) and on a smaller scale in recent decades (cf. Chart 7 above); it has the potential to be very large in the decades and centuries to come (Chart 19), if ice sheet melting rates continue to surge. The thermal expansion of seawater is the second major component of sea level rise (Chart 20), and it seems to be very important (Chart 21); in fact, it may be comparable in impact to glacial melting in recent decades. The thermal expansion forcing factor would still be very important even if glacial melting slowed down for some reason, because it is a lagging impact, and it will take a fair amount of time (decades or more) for it to fade. This is an area that may not have received much attention from corporate leaders; thus, they might want to evaluate the industrial water outflows from their facilities for their associated temperature impacts, because these are potentially very serious due to their potential for worsening the existing thermal expansion problem in the oceans, and they are likely to be very long-lasting effects.
Chart 17: Rapid But Variable Loss of Ice Mass in Greenland Ice Sheet Since 2000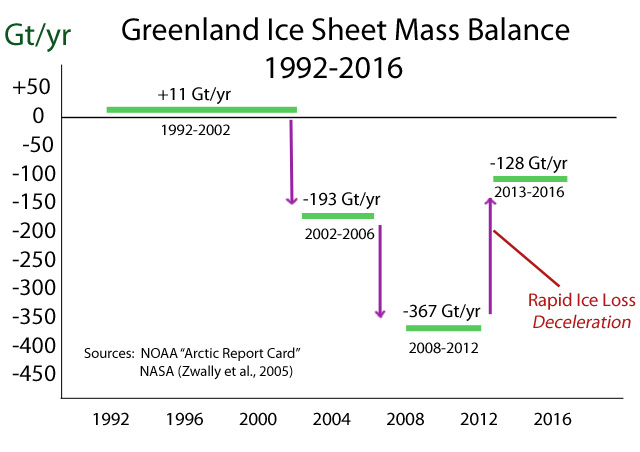 Chart 18: Melting of the Antarctic Ice Sheet Since 2003
(Green Line = Total Mass Trend)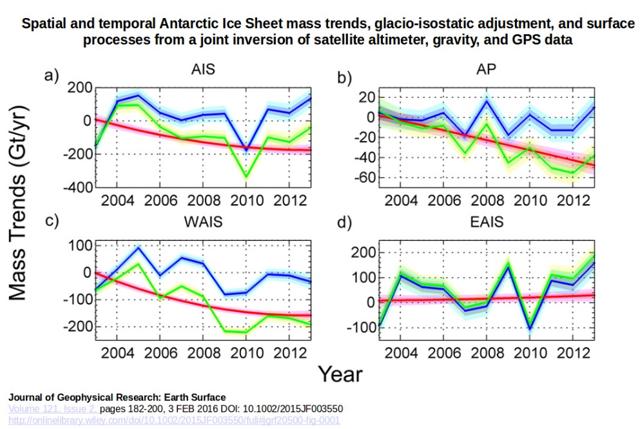 Chart 19: Potential Cumulative Sea Level Rise If Continental Ice Sheets Melt Entirely in Coming Centuries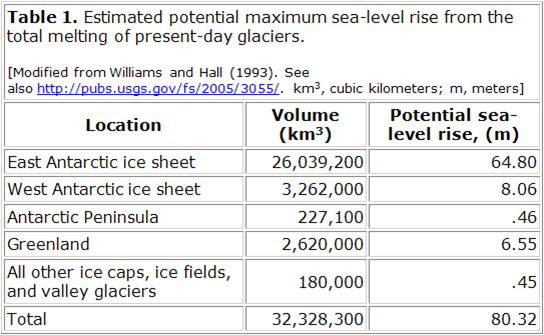 Chart 20: Thermal Expansion Effects on Sea Level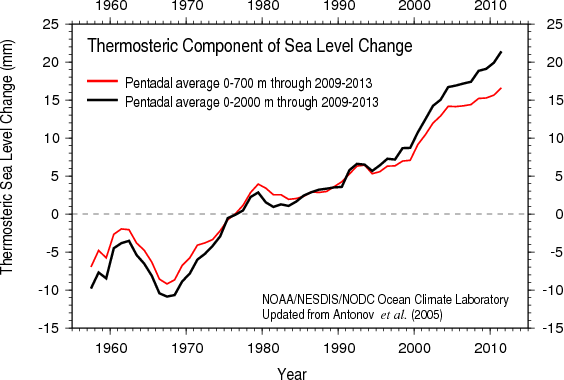 Chart 21: Thermal Expansion Effects on Sea Level Appear to Be Very Important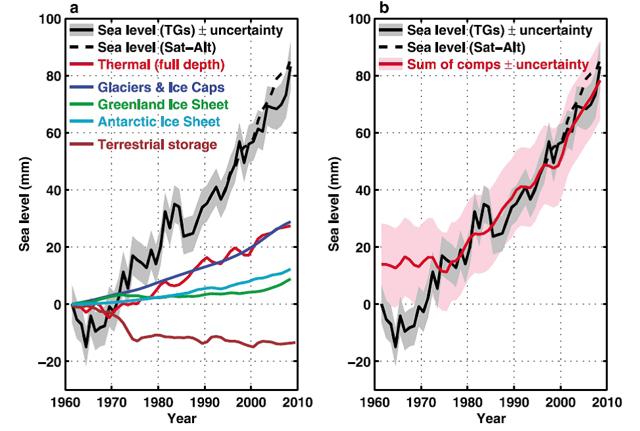 Anthropogenic Warming vs. Natural Warming
The question of how big the anthropogenic contribution to global warming may be, relative to the natural contribution, is very important. On the face of it, assuming that the recent CO2 increases are the main driver, it seems obvious that almost all of the observed warming is anthropogenic (cf. Chart 22). However, that may be an over-simplified approach, since we know certain ice core data sets indicate specific ancient temperature surges which occurred many years before the associated CO2 rise (cf. Chart 5 above), suggesting that the mechanism of global warming may not be fully understood. Still, in detail, quantitative data such as carbon isotopic measurements of anthropogenic inputs, although somewhat hard to pin down, seem to indicate at least a strong contribution by human activity; note also that these contributions have varied with time (Chart 23). This kind of analysis works because carbon isotopes are sequestered by biologic activity; the burning of fossil fuels and/or modern forests injects a lighter mix of carbon isotopes into the atmosphere, and we can measure that effect, although with significant uncertainty (Real Climate blog, 2004).
Chart 22: Sharp Spike in Atmospheric CO2 After 1900 Implies (But Doesn't Prove) Most Warming Is Anthropogenic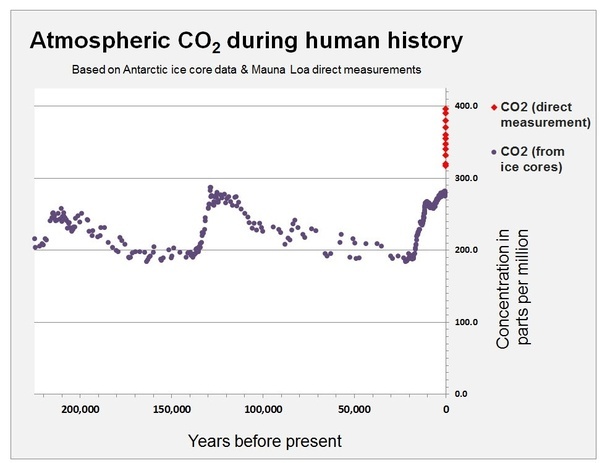 Chart 23: Carbon Isotopic Measurement of Anthropogenic CO2 Inputs (Increasing Over Time)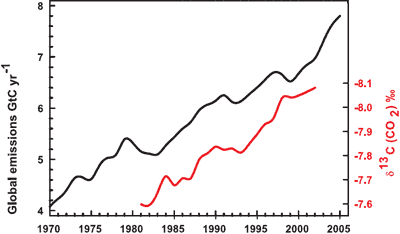 Atmospheric oxygen should decrease in direct proportion to anthropogenic CO2 inputs, which does appear to be happening (Chart 24). We should also see simultaneous warming in the troposphere and cooling in the stratosphere if warming is mainly anthropogenic, and that is indeed what we do see (Chart 25). The 2013 "IPCC" committee summary report on the probable anthropogenic contribution to warming presents a graph showing the relative probabilities; it is centered on a 110% gross human contribution (orange line in Chart 26), but could range to as low as 50%, albeit with "low" probability. Even the very quantitative carbon isotopic estimates have large ranges, indicating anthropogenic contributions as low as 14% or as high as 95%, depending (as usual with climate data) on the assumptions made; in this case, the assumptions are made about the relative importance of carbon sinks (oceans and forests). If corporations want to donate some money in support of research, this is a very good place to put it. Much more needs to be discovered about global carbon and methane sources and sinks.
Chart 24: Decreasing Oxygen Due to Anthropogenic CO2 Inputs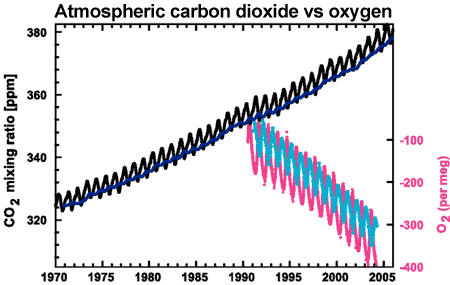 Chart 25: Stratified Cooling and Warming Layers in the Atmosphere Indicate Anthropogenic Warming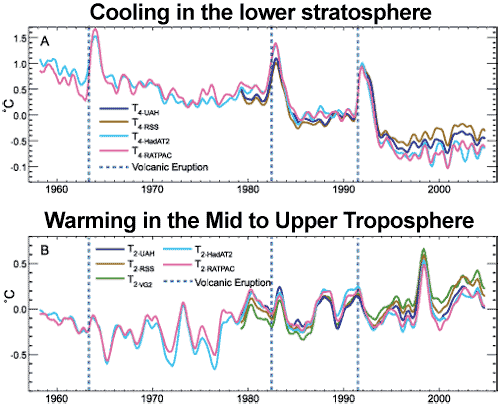 Chart 26: "IPCC" 2013 Probabilistic Estimate of Anthropogenic Warming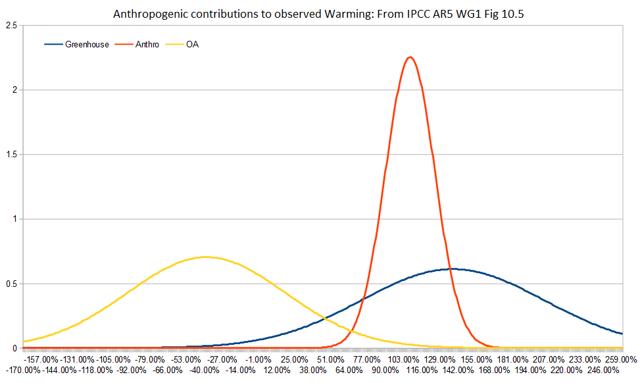 It is also important to note that increases in extreme weather phenomena, long predicted on the basis of theory and modeling, have generally failed to materialize (Benjamin Zycher, 2017). Thus, there is no trend in total US tornado activity since 1954, nor in the occurrence of strong tornadoes since 1970 (Chart 27); no trend in tropical cyclone activity since the early 1970s; no trend in the frequency of global hurricanes (cf. Geophysical Fluid Dynamics Laboratory, 2017); no trend in the frequency of US wildfires (Chart 28) since 1985 (although their severity is getting worse); no trend in the Palmer drought severity index (Chart 29) since 1895 (cf. T.C. Peterson et al., 2013); and there is no correlation between rising greenhouse gas concentrations and US flooding (cf. R.M. Hirsch & K.R. Ryberg, 2011). Corporations should take note that warnings of dire weather ahead are either based on temporary natural phenomena like El Nino and La Nina, or they are based on speculation by media outlets. Projected insurance costs should not be adjusted much for climate impacts in the near term, as there is no real pattern so far, except for gradual sea level rise.
Chart 27: Occurrence of Strong Tornadoes in US (1970-2013)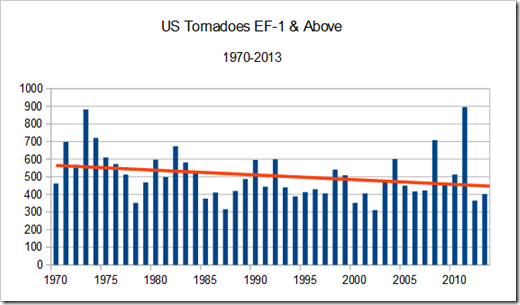 Chart 28: Frequency of Wildfires in US (1980-2015)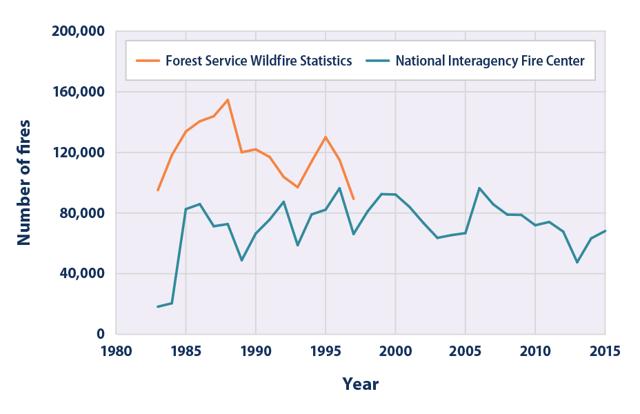 Chart 29: Palmer Drought Severity Index for Contiguous US (1895-2008)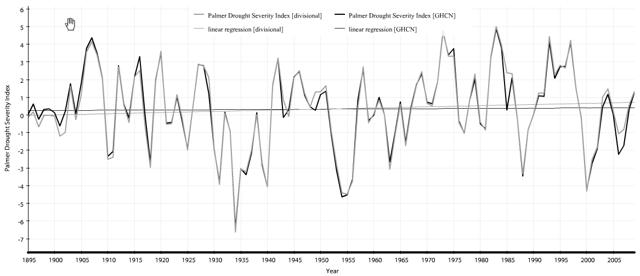 The systematic errors generated by various "GCMs" have also finally been recognized, as shown by steadily decreasing estimates of climate sensitivity to CO2 forcing (Chart 30) in recent years. This recognition has improved model accuracy lately, but suggests significantly less drastic damage has been caused by anthropogenic CO2 emissions to date than originally thought; hence, the urgency for mitigation is less clear now (on that basis anyway) than it seemed to be 15 years ago. Sea level has been rising relatively rapidly in recent years, as already discussed, but the previous episode of strong sea level rise associated with accelerated melting of the Greenland ice sheet some decades ago (1930s-1950s; cf. Chart 7 above) suggests that there are natural cycles, which although rather large in scale, are yet poorly understood. Underlining this relatively poor understanding of the cryosphere is the recent observation that West Antarctica is apparently losing ice (through glacier discharge and melting) more rapidly than has been seen before; this is an observation relentlessly trumpeted as a sign of our impending doom by some scientists and most media outlets. However, East Antarctica is experiencing additional ice accumulation that has so far mostly or even fully offset that West Antarctic melting (NASA Goddard Center, 2015; cf. Chart 31); however, this may have shifted to a more negative balance in the last five years. This observation is in direct contradiction of previous interpretations made by the "IPCC." It should be noted that there are over 85 ice sheet mass balance studies in print, and more coming. Corporations should realize that there is quite a wide spread in modeled results, and the actual quantity of ice loss is highly disputed. In fact, another recent study (M. Frezzotti et al., 2013) has shown that the surface mass balance (ice and snow accumulation) for the Antarctic ice sheet has actually been increasing for some 150 years (Chart 32), but over the last 800 years shows no net change in its surface mass balance. The real problem is to be found in Greenland, but that has happened before under natural forcing conditions (cf. Chart 7 above).
Chart 30: Declining Estimates of Climate Sensitivity To CO2 Forcing Delineate Previous Model Errors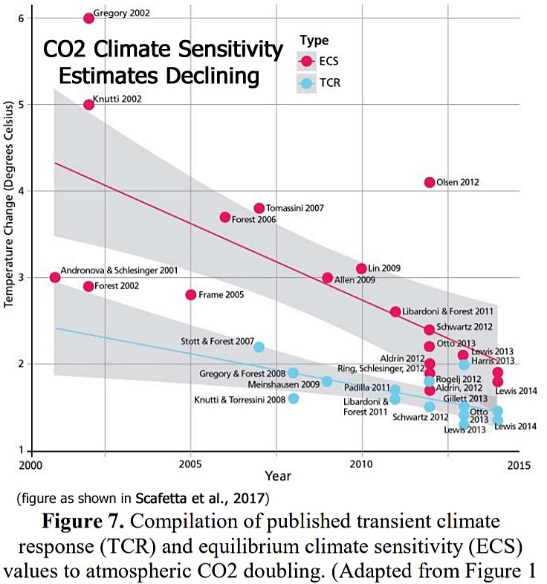 Chart 31: Antarctic Ice Discharge/Melting vs. Accumulation (2003-2008) Indicates Net Gain of Ice Mass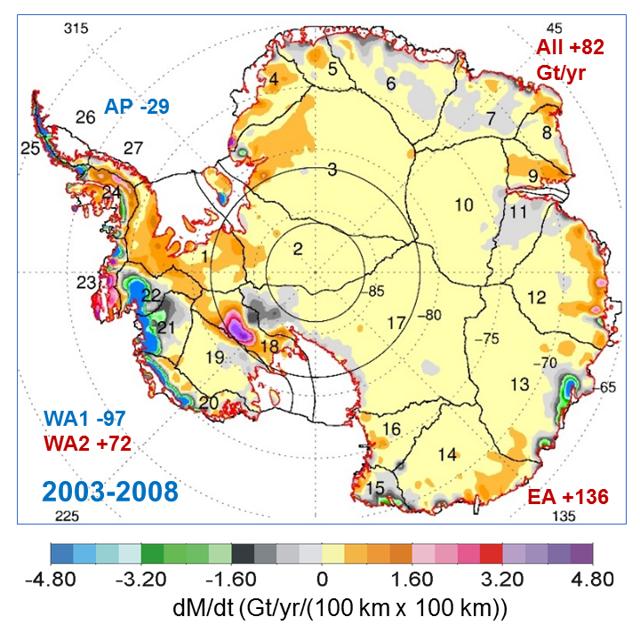 Chart 32: Antarctic Surface Mass Balance History Indicates Net Gain in Ice Volume Over 150 Years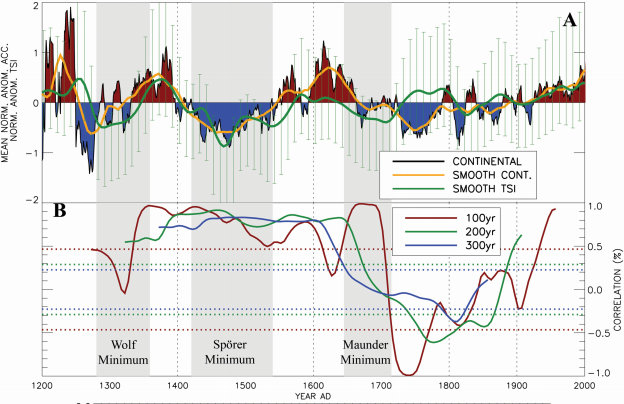 Still, the preponderance of climate, oceanographic, and cryospheric data would suggest that it is safe to assume for now that a substantial amount, and possibly the majority of warming is indeed anthropogenic, and that the positive trend (upwards) in global mean surface temperature over time is accurate, even if the specific rates involved are somewhat in doubt. We don't really know what the effects of this will be, but there is certainly cause for concern about what might happen in the long run.
Mitigation vs. Adaptation
There are significant economic constraints on the mitigation of (as opposed to adaptation to) climate change. This seems obvious since we are talking about the entire earth as a system, which tends to make the efforts of mankind look puny in comparison. Of course, we made whatever mess there is, so we clearly can and will have to be the ones to fix it; but it is going to take time. The problem is that the very phenomenon that caused (or at least contributed to) the warming (i.e., primarily the burning of fossil fuels) is also what gave us our modern standard of living. It is not a simple thing to keep improving our standard of living over time, but somehow burn substantially less energy while doing so. Efforts by corporations to mitigate carbon footprints are laudable but appear to have little impact. Corporations would be much wiser to spend their money on helping governments develop adaptation solutions such as sea barriers. Progress has been made on mitigation by some developed economies, but not much good has happened yet in the larger emerging economies. This has been borne out by the dismal failure of the Kyoto Protocol due to increased pollution by emerging economies like China, India, etc. (Chart 33), which essentially fully offset the reduced emissions in developed economies like the US and the Eurozone. The rising global population is also a major driver of increased greenhouse gas emissions (Chart 34); however, the demographic collapse in many countries (e.g., Japan, China, the Eurozone) may allow that factor to improve in a few more decades.
Chart 33: Failure of Kyoto Protocol to Limit Emissions Due in Part to Non-Compliance by Emerging Economies (e.g., China, India, etc.)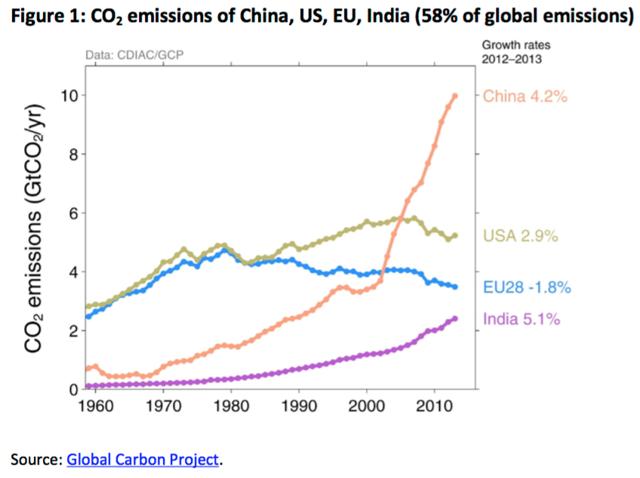 Chart 34: Close Correlation of Global Population Growth and Global CO2 Emissions Since 1900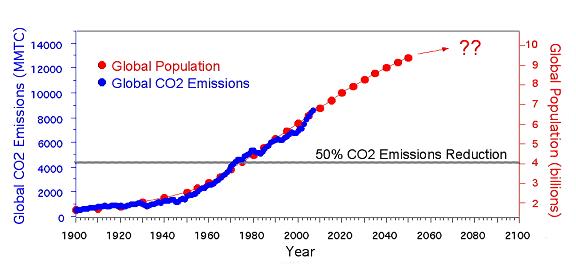 The recently agreed (2015) Paris Climate Accord (from which the US has just withdrawn) would have required an additional cut (from today's level) in our CO2 emissions of about 12% below baseline 2005 levels (Chart 35). This is a substantial decrease in a fairly short amount of time. However, the trend line for US emissions has already been in decline for over 15 years, and the projected Paris cuts are not that far below the trend line, so it may not have been a severe strain for the US to have hit the goal. On the other hand, the Paris Climate Accord's goals for the world as a whole are completely unrealistic, according to a number of studies (e.g., John Reilly et al., 2015). The lack of realism is reflected by the fact that although the scientific claim has been made by the "IPCC" that an increase in global temperature of more than 2 degrees Centigrade above the pre-industrial level would be catastrophic, the Paris agreement only shoots for about half of the emissions cuts necessary to avoid such an outcome (Chart 36). Not only that, the Paris Climate Accord operates under a pledge system rather than any kind of binding or effective national commitments. Given the abysmal failure of the Kyoto Protocol, it seems silly to think mere pledges carry enough weight with sovereign nations to yield a happy result decades from now. But even if all initial pledges are met over the first 15 years of the agreement, an impossible amount of emission cuts would then have to be approved and acted upon after 2030 (Chart 37), in order for the global emissions and temperature goals to be met. Corporations with international operations should be aware that this time bomb is waiting in those countries that adhere to the Paris Climate Accord.
Chart 35: Projected Decline in US CO2 Emissions Under the Paris Climate Accord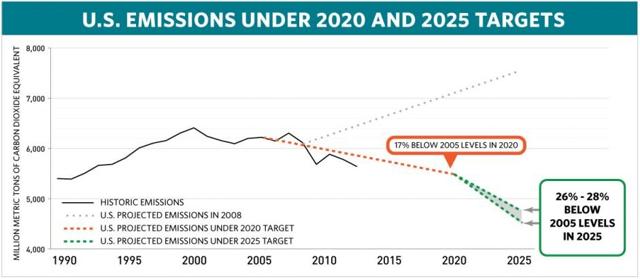 Chart 36: Projected Impact of Paris Climate Accord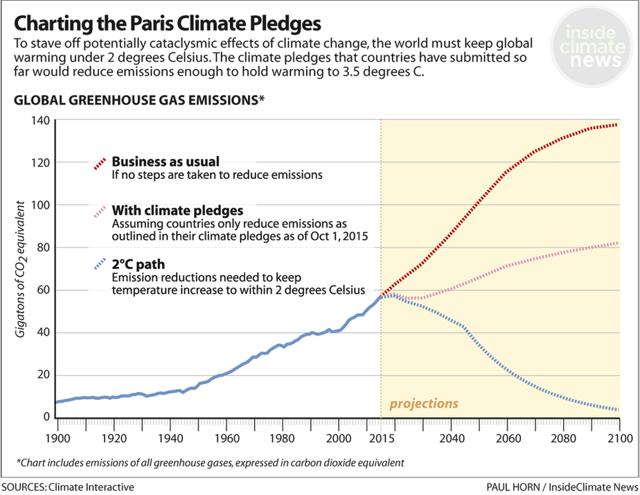 Chart 37: Projected Failure of Initial Paris Climate Accord Pledges To Reach the Reduced Emissions and Temperature Goals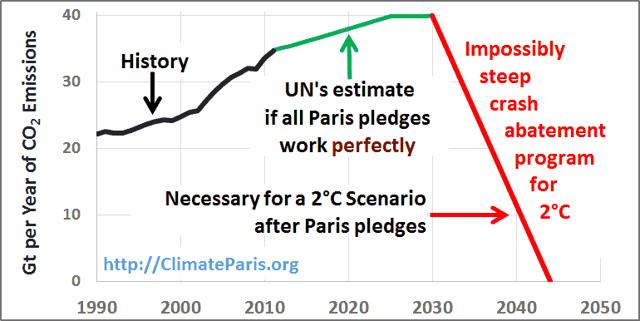 Returning to the original US pledge made by the Obama Administration (which has since been repudiated by the Trump Administration), the projected increased cost for US household electricity expenditures would have been on the order of $325/year (about 14%/year) for many years (Chart 38). On top of that, the total lost income to US households resulting from the Paris Climate Accord would have reached as much as $2,300/year, although some years would have been significantly lower than that (Chart 39). Corporations should use their lobbying power to insist that workers not be punished in the name of "climate change prevention." Corporations should rather lobby for sensible answers that have some chance of working (i.e., adaptation) and do not have unfair impacts on the working classes that they employ. Finally, the US originally committed to paying $3 billion into the Paris Accord's "Green Climate Fund," and $1 billion has already been paid in. This fund is to be used to pay emerging economies an incentive so they make and keep larger pledges over time; the original intent was to raise at least $100 billion. After two years, the amount pledged by donor nations stands at only $10.3 billion (Chart 40). These are not huge sums for the US or many other donor countries to pay, so it's interesting to note the extremely weak commitment being made by nations that supposedly believe we face an existential crisis. It is hard, based on all of the above, not to conclude that the whole Paris Climate Accord, like Kyoto before it, is a sham.
Chart 38: Projected US Household Increase in Electricity Expenditures Under Paris Climate Accord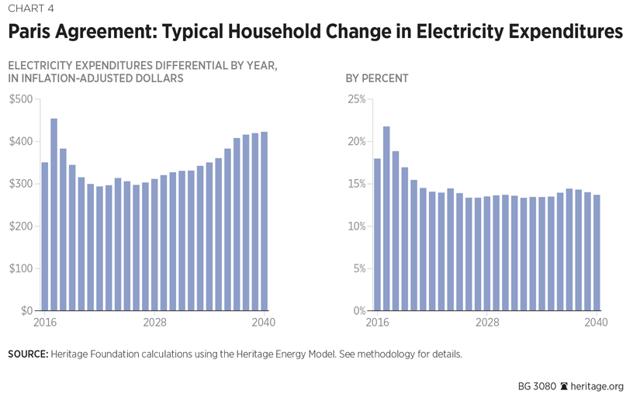 Chart 39: Projected US Household Lost Income Under Paris Climate Accord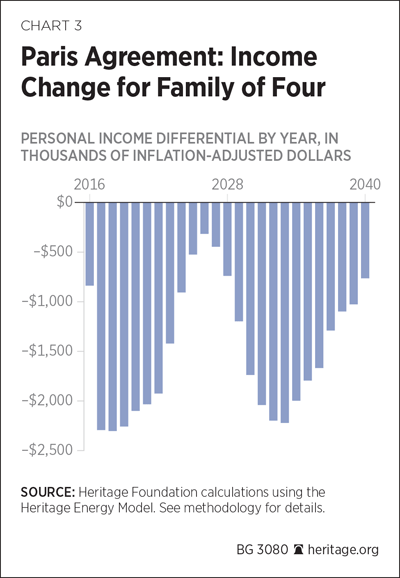 Chart 40: Paris Climate Accord "Green Climate Fund" Status in 2017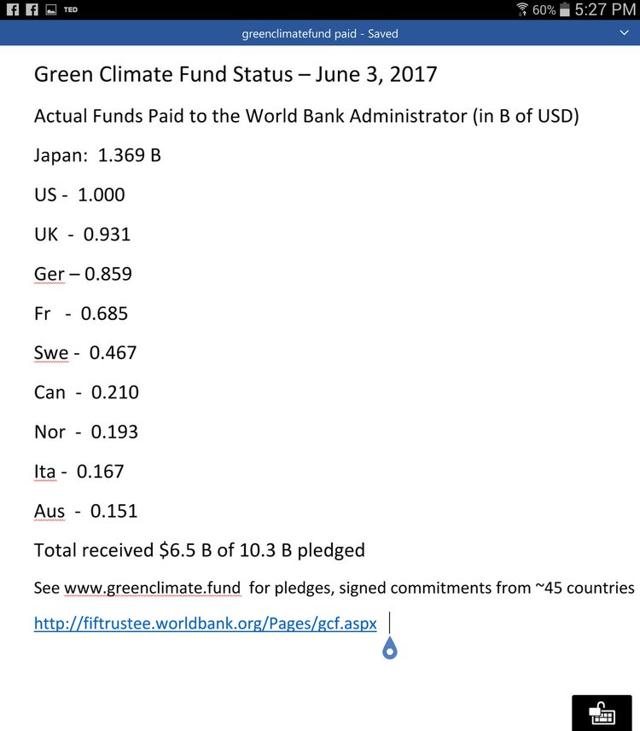 The cost of adaptation is an important consideration because, given the weakness of the Paris Climate Accord, it is far more likely, for example, that we will end up adapting to coastal flooding caused by sea level rise and other climate-induced problems, rather than mitigating the CO2 emissions and temperature rise in advance of incurring such damage. Cost estimates for the different aspects or components of adaptation are all over the place depending on the assumptions made, and who makes them, but it appears that mitigation is far more expensive than adaptation. Adaptation is estimated by some to cost an average of only about 1% of GDP (cf. Lomborg, Op.cit.), whereas mitigation ranges from 2% to 4% of GDP in additional costs when coupled with some adaptation (Chart 41). Engineering firms should provide a public service (if they haven't already) to governments by developing reasonable rough estimates of adaptation costs for particular regions. It will net them much good will later.
Chart 41: Comparison of the Costs (% GDP) For Mitigation vs. Adaptation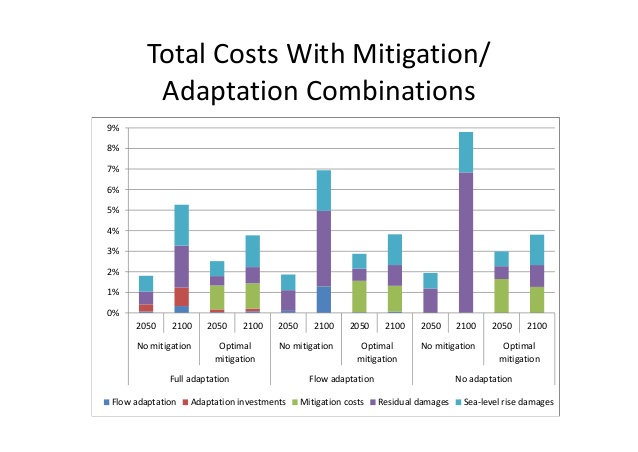 If we assume that sea level rises by just 2 feet by the year 2100, major coastal zones in the Netherlands, Vietnam, the Maldives, parts of the US (e.g., New Orleans), and many other places worldwide will experience heavy damage from wave action and storm surges. The construction of seawalls, tidal barriers, storm surge barriers, and dikes would allow us to protect coastal areas (i.e., adapt), much as the Dutch have done (see photo below) for many decades in the Netherlands (Lee Krystek, 2011). The Dutch have already spent about $9 billion over just the last 50 years to hold back the sea (Jeroen Aerts, 2010). This seems like a lot of money for a small country, but since it was spread out over five decades, it was manageable. Even the projected real annual costs for a 2-foot sea level rise by 2100 would likely amount to only around $1.38 billion, which would be about 0.13% of 2016 GDP. US corporations with coastal zone facilities would do well to consult with Dutch or Italian engineering firms that have already successfully dealt with rising sea level impacts.
Dutch-Engineered Sea Barrier at Amsterdam
(Each Gate Is 1,000 Ft. Across and 70 Ft. High)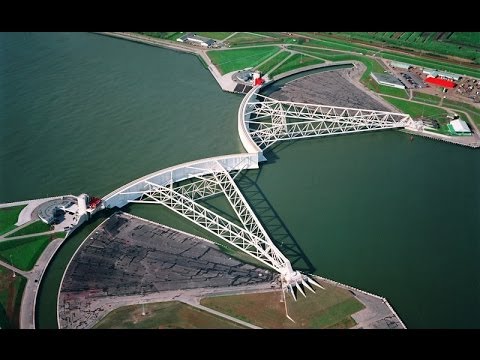 Investing Implications
Investors can benefit from the foregoing by realizing that 1) some sea level increase (2-7 inches per century) is inevitable; 2) the highest estimates (37 inches/century) may be apocryphal, and are low probability anyway, given the state of current knowledge; 3) the economic impacts of sea level change, while significant over a 100-year time span, will likely not be catastrophic except in easily predicted localized areas; and 4) corporations that take realistic and appropriate measures to adapt to climate change will be preferred investments, compared to those which kowtow to media pressure or pay lip service to politically correct and/or hysterical themes. All of this means that corporations and governments need to continue making plans and setting aside money for reducing their carbon and methane footprints, and for stronger adaptation efforts, especially in coastal regions. Insurance companies need to allow for the presumed minimal increase of about 7 inches per century based on recent trends, with contingency plans for at least double that. Coastal governments will have to impose some rules about land use or they will literally be "swamped." Residents of coastal regions (and all of us nationally) should expect higher taxes over time to support adaptation measures.
Retirees and/or the wealthy need to realize that shoreline property could be converted to sub-tidal sandbars (swept by huge waves during storms) along a huge stretch of the Gulf and Atlantic coasts within a few more decades; it will not pay to ignore changing sea levels forever. Some, perhaps many, low lying areas will have to be protected by man-made sea barriers, or even abandoned outright if no barriers are built. The value of beachfront property is going to plummet over the next 100 years, and owners cannot expect anything to stop this trend, even if we get rid of fossil fuels, because everything in the oceans operates with huge lag times. What has already happened will reverberate for decades or even centuries. Today's beachfront property prices thus may already have reached the peak levels to ever occur.
This would all be facilitated by regional and national planning, and current efforts towards such planning should be coordinated at the state and federal levels. Governments should prepare to declare coastal evacuation zones that prohibit rebuilding of beach homes on barrier island coasts at taxpayer expense; this was attempted long ago in the Delmarva region, but the effort failed due to lobbying by wealthy beachfront property owners. This kind of nonsensical behavior cannot continue, as future losses will have a devastating impact on state and federal government budgets, and support for beach home rebuilding would be seen as welfare for the wealthy by the average taxpayer (that's only about half of us, but anyway, the point still applies). Geologists and engineers know which areas might be saved on a cost-effective basis, but again, there needs to be coordination by local and regional governments to optimize adaptation efforts.
Over the long haul, engineering firms like Tetra Tech (TTEK), Fluor (FLR), and Jacobs Engineering (JEC) should do increasingly well over time. There are many international players as well, some of which can be captured in an ETF like First Trust Global Engineering & Construction ETF (FLM).
Disclosure: I/we have no positions in any stocks mentioned, and no plans to initiate any positions within the next 72 hours.
I wrote this article myself, and it expresses my own opinions. I am not receiving compensation for it (other than from Seeking Alpha). I have no business relationship with any company whose stock is mentioned in this article.
Additional disclosure: Disclaimer: This article is intended to provide information to interested parties. As I have no knowledge of individual investor circumstances, goals, and/or portfolio concentration or diversification, readers are expected to complete their own due diligence before purchasing any stocks or other securities mentioned or recommended. This post is illustrative and educational and is not a specific recommendation or an offer of products or services. Past performance is not an indicator of future performance.