Net natural gas exports have been keeping pace with natural gas production growth over the last year. Additional natural gas export facilities are scheduled to open. This raises the possibility that net natural gas exports will keep pace, or possibly exceed, natural gas production growth in 2018.
The EIA just published the latest Natural Gas Monthly for October. The agency takes a couple of months to gather and verify data before publishing it. This makes October 2017 the most recent data set available to investors and industry participants. Below is a look at the summary of natural gas supply and disposition: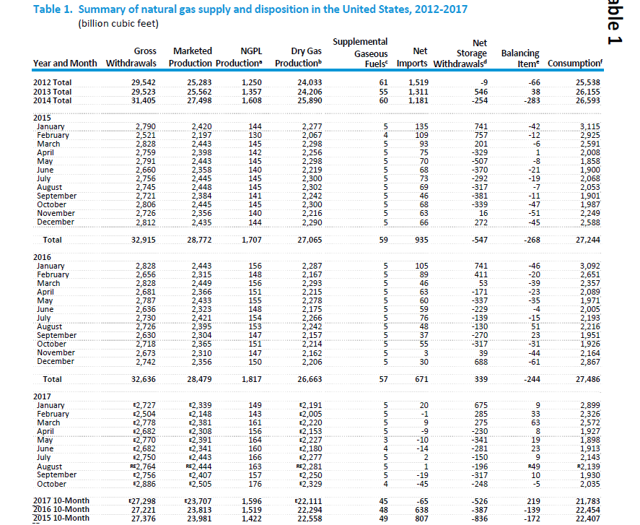 The font above may be small and hard to read. It shows that in October of 2016 the Lower 48 United States had monthly production of 2,214 Bcf and net imports of natural gas of 55 Bcf. Fast forward to October of 2017 and natural gas production has grown to 2,329 Bcf, which is 115 Bcf more than in 2016. Natural gas net exports are reported as -45 Bcf. This means the United States is now a net exporter of natural gas. We exported a total of 45 Bcf in the month of October of 2017, versus being a net importer of natural gas of 55 Bcf in October of 2016. This was a swing in net exports of 100 Bcf year over year.
So while production grew ever the last year by 115 Bcf, net exports almost kept pace growing by 100 Bcf. Fast forward to December of 2017 and Dominion Energy (D) has announced that it is taking feed gas into its Cove Point LNG facility: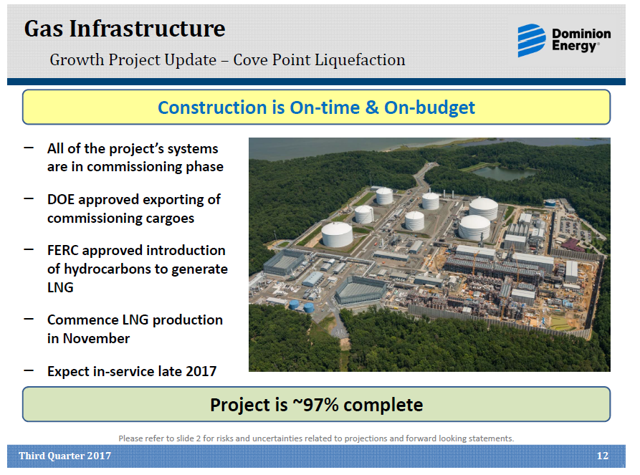 Cove Point already has a 20 year commitment for its LNG. The facility is expected to export .75 Bcf of natural gas per day, which equates to 23 Bcf per month. When the 23 Bcf per month is added to the net export growth of 100 Bcf per month over the last year it adds up to 123 Bcf per month, which is more than the 115 Bcf of production growth year over year. Cove Point is expected to be fully operational in the first quarter of 2018.
It can be pointed out that natural gas production may be continuing to grow and may be keeping pace with net natural gas exports. However, there are multiple projects to export more natural gas either to Mexico or via LNG. And it is not just the United States looking to LNG exports. Canada is starting to ramp up LNG exports, particularly from British Columbia. Over time Canada may be able to find a home for its natural gas somewhere other than the United States, further raising U.S. net exports.
The bottom line is while natural gas production is growing, the growth in net exports are keeping pace with production growth. This means investors may be seeing a production glut that is a mirage. Demand appears to be keeping pace with supply. Natural gas prices may be too low and could rise rapidly to encourage more supply to meet the seemingly ever growing demand for natural gas.
ETFs to which natural gas fundamentals are relevant:
Disclosure: I/we have no positions in any stocks mentioned, and no plans to initiate any positions within the next 72 hours.
I wrote this article myself, and it expresses my own opinions. I am not receiving compensation for it (other than from Seeking Alpha). I have no business relationship with any company whose stock is mentioned in this article.