This article will be a review of my 2017 Dow stock-picking strategy selections, along with my 2018 strategy picks. I created the strategy to select stocks in the Dow in hopes of outperforming the Dow (DIA) as well as the popular "Dogs of the Dow" Strategy. In 2017 my strategy slightly underperformed the Dogs of the Dow and lagged behind the Dow.
My Strategy
The building point for my strategy is to look at the dividend growth and stability for all 30 stocks of the Dow. As a secondary set of criteria, I used two simple technical indicators, a moving average and momentum. My method is different from other methods in that it employs both dividend fundamentals and technical analysis, compared to selecting picks based purely on dividend yield like the Dogs or the Dow strategy or just buying the Dow ETF.
*All positions are an equally weighted
Dividend Stability and Growth Criteria
To get my initial list of Dow stocks, I only included stocks that have increased their dividend over the previous 4 quarters and excluded any companies that have cut their dividends. I also exclude companies that kept the dividend flat, which for 2017 meant I excluded Caterpillar (CAT) and DuPont (DD) because they did not raise their dividends in 2016.
Technical Criteria
The technical data I used is from the TD Ameritrade's ThinkorSwim platform, but also can be found on many other charting websites.
*The chart Scale I used was Weekly.*

Condition 1: The weekly close at the end of the year is less than the 10 period simple moving average.

Condition 2: The stock must have a 52 period momentum value that is positive.

Condition 3: Out of the stocks that meet the first two conditions, select the stocks with the three highest 52 period momentum values.
* Additional Notes: In the case where at least three stocks do not meet both condition 1 and condition 2, as was the case in 2009, use condition 1 and condition 3, and exclude condition 2.
2017 Results
In the following table are the average returns of the stocks selected by the strategy for 2017 compared to the Dow, and the Dogs of the Dow [DOD]. For my calculations, I wanted to make sure dividends were included and reinvested, so I used the DRIP returns calculator on DividendChannel.com to get my final total return.
For 2017, the three stocks that met my above dividend and technical criteria were Wal-Mart (WMT), Merck (MRK), and Procter & Gamble (PG). As I noted in my opening paragraph my strategy underperformed during 2017. This underperformance was due to Merck posting a negative return and Proctor & Gamble underperforming. Wal-mart posted strong returns in 2017, which significantly helped bring up the average of my selections.
The performance of Merck and Proctor & Gamble can be attributed to poor sector/industry performance. Both the consumer staples and pharmaceuticals sectors lagged the overall market this year. Consumer Staples as represented by the Consumer Staples Select Sector SPDR ETF (XLP) returned 12.57% and pharmaceuticals as represented by the iShares U.S. Pharmaceuticals ETF (IHE) returned only 8.88%. Wal-mart is also in the consumer staples ETF, and its performance was stellar this year, which can be attributed to the traction they have gained in e-commerce since their acquisition of Jet.com
My Strategy

WMT

47.52%

MRK

-3.57%

PG

12.54%

Average

18.83%

DOW

DIA

27.49%

Dogs of the Dow

(VZ)

1.73%

(PFE)

14.06%

(CVX)

10.48%

(BA)

93.17%

(CSCO)

29.90%

(KO)

13.44%

(IBM)

-4.67%

(XOM)

-4.46%

(CAT)

72.68%

(MRK)

-3.57%

Average

22.28%
Historical Data
In the table below, I have compiled the return data for each year of my strategy compared to the Dow & the Dogs of the Dow. As you can see in the table below for 2017, my strategy returned 18.83%, which underperformed but was still above my average return/year that my strategy has posted for the last 10+ years.
| | | | | | | |
| --- | --- | --- | --- | --- | --- | --- |
| | Mine | DOW | DOD | | Mine vs DOW | Mine vs DOD |
| 2017 | 18.83% | 27.49% | 22.28% | | -8.66% | -3.45% |
| 2016 | -1.91% | 16.37% | 20.47% | | -18.28% | -22.38% |
| 2015 | 18.41% | 0.10% | 2.63% | | 18.31% | 15.78% |
| 2014 | 20.10% | 9.72% | 10.83% | | 10.38% | 9.27% |
| 2013 | 24.24% | 29.64% | 34.87% | | -5.40% | -10.63% |
| 2012 | 11.11% | 8.36% | 9.86% | | 2.75% | 1.25% |
| 2011 | 20.49% | 8.06% | 16.71% | | 12.43% | 3.78% |
| 2010 | 28.57% | 13.55% | 20.31% | | 15.02% | 8.26% |
| 2009 | 24.08% | 22.75% | 22.06% | | 1.33% | 2.02% |
| 2008 | -20.31% | -32.17% | -38.72% | | 11.86% | 18.41% |
| 2007 | 25.26% | 8.74% | 2.03% | | 16.52% | 23.23% |
| | | | | | | |
| Average | 15.35% | 10.24% | 11.21% | | 5.11% | 4.14% |
Now onto 2018…
2018 Strategy Picks
General Electric (GE) was not eligible for inclusion because they cut their dividend this year and Chevron (CVX) & DowDupont (DWDP) were not eligible for inclusion because they had flat dividends.
Using my strategy criteria I found only three stocks met my criteria for dividend growth and were below their 10 period moving average. Each of the three companies has a positive momentum value and thus are my selections for 2018. Those three companies are Apple (AAPL), Johnson & Johnson (JNJ) and Coca-Cola (KO).
| | | | |
| --- | --- | --- | --- |
| | | < 10 MA | Momentum |
| AAPL | Apple Inc. | Yes | 53.41 |
| JNJ | Johnson & Johnson | Yes | 24.51 |
| KO | The Coca-Cola Company | Yes | 4.42 |
[Chart Data from ThinkorSwim Platform]
Apple
I believe the biggest catalysts for Apple in the coming year will be the launch of the iPhone X and finally being able to economically return cash from overseas. For the majority of 2017, shares of Apple have been trading above the 10-week moving average and only recently fell below that level. The reason the stock fell below the 10-week moving average was a report that came out with lowered sales estimates for the iPhone X in Q1 2018. The iPhone X is extremely important for Apple because the overwhelming majority of their revenues and profits come from the iPhone and any weakness will hit the stock. However, I do not believe this will be the case for Apple because we have seen this movie before where everyone thinks Apple is going to miss estimates by a wide margin, but in the end Apple ends up beating the estimates.
The impact on the stock price due to soft iPhone X sales could be limited because of the recent change in taxes, which will allow Apple to repatriate a large portion of their cash. This cash could be used to further enhance the massive capital return program that Apple has, or could be used for an acquisition that would help diversify Apple away from being so reliant on iPhone sales.
Johnson & Johnson
I believe the biggest catalyst for Johnson & Johnson in the coming year will be the continued growth in the pharmaceuticals segment of J&J. Pharmaceuticals make up nearly 50% of sales for J&J and is the fastest growing segment of the business. Another reason the pharmaceuticals segment should be the focus of investors is because of the $30 billion acquisition of Actelion that J&J completed in mid 2017.
The main focus of this acquisition is pulmonary hypertension or high blood pressure in the heart. With current dietary trends that are leading to a more obese population as well as an aging population, this acquisition appears to be a smart move for J&J. The following chart shows a small sample of things to come for Actelion's product portfolio. As you can see the data is for the U.K. only and shows a steady increase in the number of patients using pulmonary hypertension therapies. This by itself is not that meaningful without knowing the patient population size, which is shown in the second chart below. For 2016, the number of patients receiving treatment as a percentage of the population stood at 56%, therefore, J&J still has a lot of runway on the number of patients that can be treated.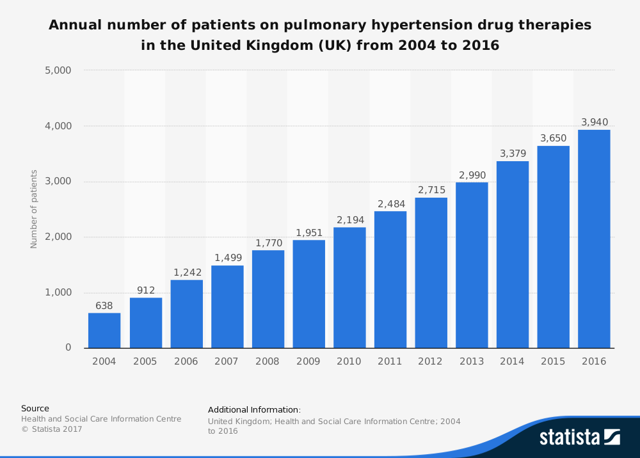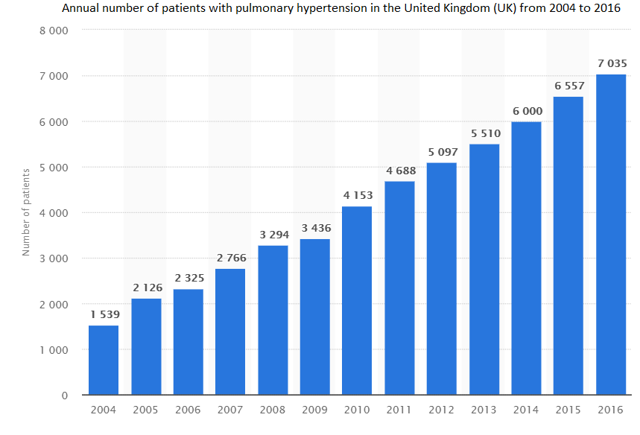 Coca-Cola
I believe the biggest catalyst for Coca-Cola in the coming year will be the ability to maintain the dividend. In 2017 there were numerous calls that Coca-Cola is on the verge of cutting the dividend given that they are using a high percentage of cash flows for dividends. The new tax law should alleviate the concern of a dividend cut in 2018. Coca-Cola should be able to be more profitable. On their recent earnings call they guided for an effective tax rate of 26%, which will now be lower.
"we continue to expect that our effective tax rate will increase to 26% in 2018."
In addition, Coca-Cola has $24.7 billion in cash held overseas that they can bring back and easily cover any potential shortage in cash flow they have to cover the dividend. The combination of a lower tax rate and the ability to bring back overseas cash means that a dividend cut in 2018 is not likely. Beyond 2018 is a different story as Coca-Cola will have to find a way to stabilize its trend of declining revenues to help sure up cash flows.
Disclaimer: See here.
Disclosure: I/we have no positions in any stocks mentioned, and no plans to initiate any positions within the next 72 hours.
I wrote this article myself, and it expresses my own opinions. I am not receiving compensation for it (other than from Seeking Alpha). I have no business relationship with any company whose stock is mentioned in this article.