In the first week of 2018, I'd like to lay out the pieces that I will be watching in the upcoming year for future reference.
Earlier this week, I shared my expectation for "How Much Will Oil Demand Grow In 2018?" Next up:
U.S. Oil Production Growth
Bear arguments have fallen by the wayside one by one, and oil prices have risen a great deal in recent months: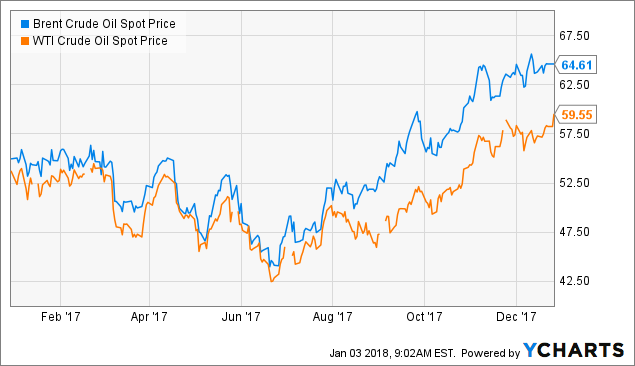 Global oil supply remains severely below global demand, as oil inventories across the OECD continue to draw at a high rate. This bodes well for oil bulls, but there are risks:
Primary Risk to Oil Bulls
Two groups that can possibly reverse the ongoing bullish trend are OPEC and U.S. shale oil producers. Since OPEC seems committed to its production cut deal, oil bulls should keep a close eye on U.S. oil production.
Rig Count
U.S. rig count remains flat into the new year: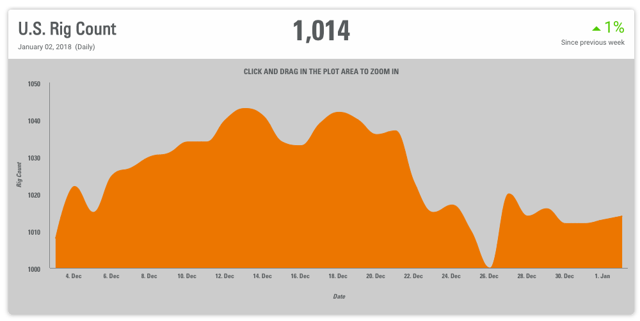 As I discussed in "Rig Count Is Dead, Or Is It?," some bears expect rig counts to start increasing in January, but this has not yet materialized, although it is too early to tell. This is a metric I will be watching in the coming weeks, months, and quarters.
Oil Price
I expect oil prices to continue to rise throughout 2018, leading rig counts by four to five months. Readers should keep in mind, however, that the rise will likely not happen in a straight line, and will be influenced by factors both related and unrelated to global and country-by-country oil market demand and supply dynamics. Short-term moves will be unpredictable and based primarily on the whims and fancies of oil market participants. I will discuss my price expectations in an upcoming article.
DUCs
In "Will DUCs Sink Oil Prices?," I discussed why I do not expect drilled but uncompleted wells to pose a significant threat to bulls in 2018.
As oil prices rise throughout the coming months, however, there will be two opposing forces that act simultaneously on the number of DUCs. Oil bulls should keep an eye on this in order to understand at what oil price completions exceed new inventory of uncompleted wells that accumulate simply as part of increasing drilling activity. As I will discuss in a future article, there are indications that this trend may have already started in the Bakken and Eagle Ford shale plays.
Bottom Line
U.S. oil production will rise, but I do not expect the increase to halt the bullish trend in oil prices. I expect Lower 48 oil production to rise between 1.0 mb/d to 1.2 mb/d from December 2017 to December 2018, or just below my global oil demand growth estimate. I will update my expectation as further data becomes available.
Follow for Free Articles
As my followers know, I keep a close eye on oil market dynamics as energy prices affect many of my investments. If you'd like to stay on top of my future articles on this topic, the offshore drilling industry, as well as other companies, please click the "Follow" button at the top of this page.
Premium Research
Despite my conviction in oil prices, I see even better opportunities elsewhere. If you are interested in learning about my investment strategy and reading high-quality detailed research on Tesla, which will affect the future of oil markets, join Tesla Forum. I am confident that you will find my research to be very insightful and I look forward to discussing ideas with you.
Disclosure: I am/we are long TSLA, ESV, NE.
I wrote this article myself, and it expresses my own opinions. I am not receiving compensation for it (other than from Seeking Alpha). I have no business relationship with any company whose stock is mentioned in this article.